DAVID WILLIAM STRANGER (1874-1917)
MARGARET HARPER (1880-1961)
(Last Updated: December 04, 2014)
David William STRANGER was born 1874 in the St Peters Indian Reserve, son of Marguerite HOPE and Levy STRANGER (1844-1907).
Census 1881:  David (age 7) was recorded with his parents in Prince Albert (SK). Unable to find this STRANGER family anywhere in the 1891 census.
Marriage to Margaret HARPER
1898
On Jan 20, 1898 David married Margaret HARPERin St Clements Parish, the daughter of Margaret THOMAS & Robert HARPER (1842-1914).
Census of 1906:  Living with his father (Levi) in the St Peters Reserve: David (age 31), his wife Margaret (age 25) and their children:  Eliza (age 7), Solomon (4), Robert (3) and Thomas (age 1).
In 1907 David's father (Levi STRANGER) died in St Clements Parish at the age of 64.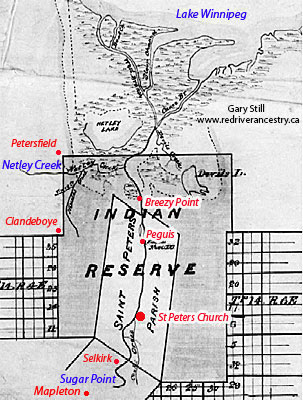 Plan showing the St Peters Indian Reserve after 1871
Surrender of the St Peters Indian Reserve
1907
In the fall of 1907 the St Peters Indian Reserve was surrendered to the Crown.
Census of 1911 in the St Peters Reserve: David William STEVENSON, age 36; wife Margaret, age 28.  Children: Eliza Ann (age 12), Solomon George (10), Robert William (8), Thomas Charles (6), Walter Gordon (4) and Joseph Rolland (age 1).
ICC: Events subsequent to the Surrender, in particular a 1911 Manitoba Royal Commission investigating the titles to the river lots and the surrendered land, were to vindicate those who had opposed the surrender's validity. In the meantime, however, a significant proportion of the Band had relocated to Fisher River, patented lots had been sold, a sale of the remaining surrendered reserve land had taken place, and proceeds had been distributed to band members. The dominion government was unwilling to turn back the clock and reopen the St Peter's land question. It was perhaps inevitable that the surrender would ultimately be validated by special legislation: the St. Peter's Reserve Act.Under its provisions, purchasers would be required to pay an extra $1 per acre (to be added to the St Peter's Band fund) to obtain a secure title to their land. The legislation had the effect of increasing the balance in the Band's trust account by $40,000, but the St Peter's Reserve was gone forever.
First World War
1914-1918
On Aug 4, 1914 Great Britain (Canada on Aug 5) declared war on Germany and Austria-Hungary to uphold treaties with France and Belgium which were under German attack. This marked the beginning of World War I.
WW I Attestation: Dated Sep 22, 1915 at Winnipeg: David William STRANGER, farmer; born May 20, 1874 in St Peters, MB; age 41, 5' 10", dark complexion, brown eyes, dark hair. Next of kin: Wife Margaret of St Peters Dynevor. He served with the 1st Canadian Mounted Rifles.
Census of 1916, Lot 218 in St Peters Parish: David STRANGER, Cree, age 43; wife Margaret, age 36. Children: Eliza (age 18), Solomon (16), Robert (14), Thomas (11), Walter (9) and Joseph (age 7).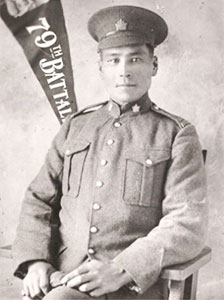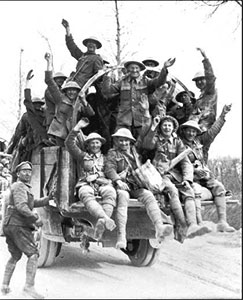 David William Stranger, husband of Annie (nee Harper) from St Peters Indian Reserve
Died at Vimy Ridge. No known grave marker at Vimy or in Canada (From VAC)
On March 29, 1917 David William STRANGER died at the age of 42 in the Battle of Vimy Ridge (France).
** MORE ABOUT THE BATTLE of VIMY RIDGE (CANADIAN WAR MUSEUM)
November 11, 1918, Armistice Day (Remembrance Day) marked the end of the First World War.
In 1919 eldest daughter Eliza Ann married Alexander James SANDERSON of uncertain origins.
Census of 1921, Lot 218 in St Peters Parish:Widow Margaret STRANGER, age 41. Children: Eliza (age 22), Solomon (20), Robert (18), Thomas (16), Walter (14), Joseph (12) and Victor (age 4).
In 1921 eldest son Solomon married Annie McLENNAN in St Andrews, the daughter of Mary Olive TELIER and Frank McLENNAN (1873-1954).
In 1926 youngest son Victor died at the age of nine.
In 1930 son Walter married Victoria SANDERS of uncertain origins.
In 1931 son Thomas Charles STRANGER died at the age of 25.
On June 23, 1961 Margaret (nee HARPER) STRANGER died in Selkirk at the age of 81.
Comments and queries at this link: FORUM DISCUSSING the DAVID STRANGER FAMILY
========================= Family Details =========================
Children:
1. Mar 17, 1899 ELIZA ANN STRANGER (m. Alexander James SANDERSON)
2. 1902 SOLOMON GEORGE STRANGER (m. Annie McLENNAN)
3. 1903 ROBERT WILLIAM STRANGER
4. Sep 2, 1905 THOMAS CHARLES STRANGER
5. Sep 26, 1907 WALTER GORDON STRANGER (m. Victoria SANDERS)
6. Aug 22, 1909 JOSEPH ROWLAND STRANGER
7. 1917 EARL VICTOR STRANGER (Died age 9)