JOSEPH TETROE (1849-1911)
JOSEPHINE LEMAY (1858-1930)
(Last Updated: March 31, 2015)
Joseph TETROE was born Jul 15, 1849 in Hinsdale, Berkshire, Massachusetts, son of Lydia SHEPARD and Isaac TETREAU (1822-1906).
Surname variations: TETRO, TETREAU. TETREAULT
Joseph Immigrates to Canada
1872
In 1872 the Dominion Lands Act and the Homestead Act were passed, to encourage settlement in Canada's Prairie Provinces. Anyone over 21 could make entry for a quarter-section of land. If the homesteader built a house and made improvements on his land, after three years he would receive full title to the property.
It was in 1872 that Joseph TETROE immigrated to Canada.
Marriage to Josephine LEMAY
1879
On July 8, 1879 Joseph married Josephine LEMAY in St Norbert (MB), daughter of Camille AUGER & Joseph LEMAY (1829-1892).
Census of 1881 in the District of North Dufferin: Joseph TETRO, age 28; wife Josephine (age 22) and baby Edward.
** Note: The RM of North Dufferin was first organized in 1880 with Carman at its centre. It extended south to Nelsonville near present-day Morden.
Molson, Manitoba
In later census records (1901, 1906 and1911) this TETROE family was recorded in Township 13-6-Epm which is in the Molson area as shown on the map below.
In 1903 the CPR railroad was extended from Selkirk to Winnipeg Beach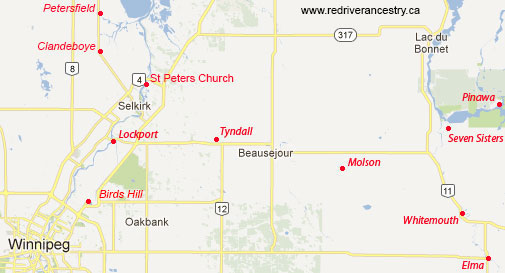 Census of 1901 in the Brokenhead District (13-6-Epm in the Molson area): Joseph TETRO (age 51), his wife Josephine (age 41) and children:  Joseph (age 14), Elaine (13), Homer (11), Frank (9) and Emma (age 7).
Census of 1906 in the Molson area(9-13-6-E1): Joseph TETROE, age 61; wife Josephine, age 45. Children: Joseph (age 18), Homer (15), Frank (13), Emma (12) and Margaret (age 1).
In 1906 eldest living son Joseph married Harriet HURRELL in Winnipeg, the daughter of Esther COX and William Henry HURRELL (b-1861).
In 1907 the threat by the CPR to leave Selkirk off the main line altogether was realized when the CPR built a new section from Molson to Winnipeg (The Molson cut-off; through Oakbank to Birds Hill) thereby shortening the main line route by 10 miles. Henceforth all transcontinental traffic moved over the new section and the original line to Selkirk and thence east was used only for local traffic.
Census of 1911 (13-6-Epm in the Moslon area): Joseph TETRO, age 64; wife Josephine, age 51. Children: Homer (age 21), Frank (18), Emma (17) and Margaret (age 7). Grandchildren: Harper TETROE (age 8) and Opel TETROE (age 4).
** The origins of these grandchildren are a complete puzzlement to me.
Around 1911 Joseph TETROE died at Garson, MB.
Widow Josephine moves to Selkirk
1812
Sometime after Joseph died, Widow Josephine moved to Selkirk (Dufferin Avenue).
World War I
1914-1918
On May 9, 1914 daughter Emma married Otto HEADLAND in Selkirk. ** Unable to determine Otto's origins.
On Aug 4, 1914 Great Britain (Canada on Aug 5) declared war on Germany and Austria-Hungary to uphold treaties with France and Belgium which were under German attack. This marked the beginning of World War I.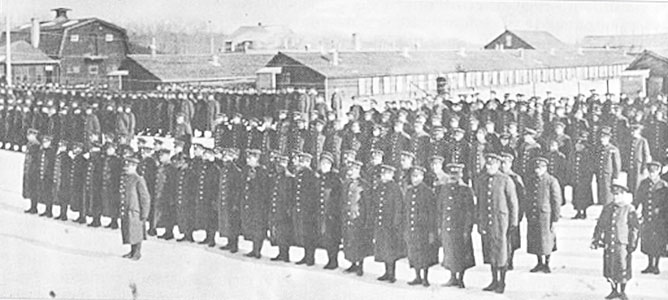 Soldiers at Red Feather Farm barracks during World War I (on Eveline Street in Selkirk)
On Oct 21, 1914 son Frank married Helen Elizabeth NORQUAY in Selkirk, the daughter of Helen TAYLOR and Alexander Charles NORQUAY (1876-1935). About a month later, on Nov 29, 1915, Frank enlisted in Selkirk.
On March 3, 1916 son Joseph James enlisted at Selkirk.
Census of 1916 in Selkirk (352 Dufferin Ave): Widow Josephine TETROE, age 56. Children still with her: Homer (age 25) and Margaret (age 12).
On Oct 16, 1916 son Homer enlisted at Winnipeg.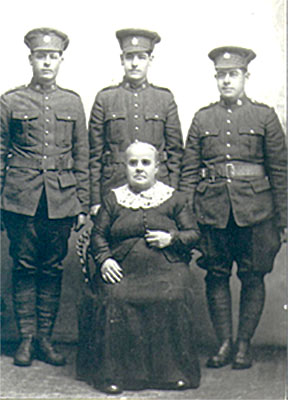 Soldiers Sons L-R: Joseph, Frank and Homer Tetroe behind their mother (Josephine)
On Jan 31, 1918 son Homer married Sarah NORQUAY (his sister-in-law) in Selkirk, also a daughter of the aforementioned Nellie TAYLOR and Alexander Charles NORQUAY.
November 11, 1918, Armistice Day (Remembrance Day) marked the end of the First World War.
Census of 1921 in Selkirk (325 Manitoba Ave): Widow Josephine TETROE, age 62. With her are daughter Margaret SINCLAIR (age 19), son-in-law Norman SINCLAIR (age 24) and their daughter Helen SINCLAIR (age 9 months).
On Feb 12, 1930 Josephine (nee LEMAY) TETROE died in Selkirk at the age of 72.
Comments and queries at this link: FORUM DISCUSSING the JOSEPH TETROE FAMILY
========================= Family Details =========================
Children:
1. 1880 JOSEPH EDWARD TETROE (Died age 4)
2. Dec 28, 1882 MARY LOUISA CELINA TETROE
3. Apr 15, 1884 MARIE EUGENIE TETROE
4. June, 1884 JOSEPH GEORGE TETROE (Died in infancy)
5. July 15, 1886 JOSEPH JAMES TETROE (m. Harriet "Hattie" HURRELL)
6. Mar 19, 1888 ELAINE TETROE
7. Apr 12, 1890 JOHN HOMER TETROE (m. Sarah NORQUAY)
8. Jun 26, 1892 FRANCIS "FRANK" TETROE (m. Helen Elizabeth NORQUAY)
9. Jan 22, 1894 EMMA TETROE (m. Otto HEADLAND)
10. Oct 31, 1904 MARGARET EMILY TETROE (m1. Norman SINCLAIR, m2. John HAMPSON)