RAYMOND ORTIN THOMAS (1922-2012)
DORIS WOIKEN (1922-2003)
(Last Updated: May 02, 2013)
** Most of the information and pictures in this narrative were provided by Raymond Thomas Junior.
On Sep 3, 1922 Raymond Ortin THOMAS was born at the Selkirk General Hospital, son of Catherine GUIMOND & Ventrice THOMAS (1893-1985). ** MORE ABOUT VENTRICE THOMAS
On Oct 23, 1922 Raymond's wife-to-be, Doris WOIKEN was born in Arran, Saskatchewan, a village located about 90 km northeast of Yorkton and 10 km west of the Manitoba border. The area around Arran was part of the "North Reserve", also known as "Thunder Hill Reserve", one of the block settlement areas allocated for the Doukhobor immigrants who arrived here in 1899 from Russia's Transcaucasian provinces
Raymond & his sister Doris
World War II
1939-1945
On Sept 4, 1939 Canada and Britain declared war on Germany, and almost immediately new recruits began pouring into Winnipeg to sign up with the Winnipeg Grenadiers and the Royal Rifles of Canada.
In May of 1940 Ray's brother Don THOMAS enlisted (Royal Canadian Engineers). I was told that he became a Sniper during the war.
On June 14, 1940 Raymond THOMAS enlisted with the Royal Winnipeg Rifles; He was only 17 when he enlisted so he gave his birth date a couple of years earlier in order to qualify.
Ray's sister Peggy THOMAS also served briefly (a few months) with the Canadian Women's Army Corp. I don't have more precise details of Peggy's service.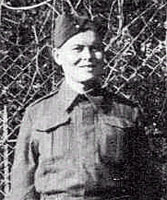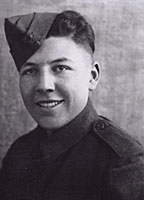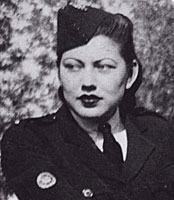 L-R: Soldiers siblings Don, Ray and Peggy Thomas
Ray served in the UK and continental Europe as a machine gunner, flame gunner and Bren Gun 1st class.
It was probably around 1942 that Ray's mother and father (Catherine & Ventrice) parted ways; Ventrice marrying Irene (nee DICKINSON-MOORE) ZELISKO and his mother (Catherine) became the wife of Lawrence SMITH, son of Hannah Sarah FRANKS and William Robert Pemble SMITH (1855-1901).
During 1944-45 Raymond served as an Infantryman in France.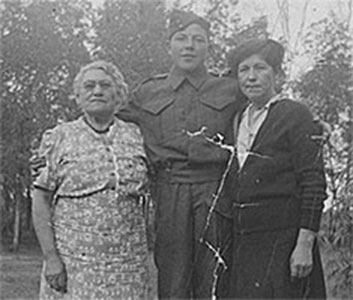 Raymond in 1945 with Granny (Catherine nee Sayer) and his mother Katherine (nee Guimond)
On Dec 13, 1945 Ray received a military discharge.
After the War Raymond became a Miner
1945
On May 7, 1945, Germany surrendered and the war in Europe ended. On August 14 Japan surrendered and the Second World War was officially over.
After the war Ray went to Beardsmore, Ontario and started work in the Gold mines in the area as a surface miner and after about a year went to work as an underground miner where the pay was more.
Ray Moves to British Columbia
1948
In the summer of 1948 Raymond and a couple of friends heard there was a lot of work with good pay for miners in British Columbia. They left by train and arrived in Trail, BC in July. He said at the time there was a big flood in BC and the Columbia River was flooding the bank all over southern BC and they were delayed a few days.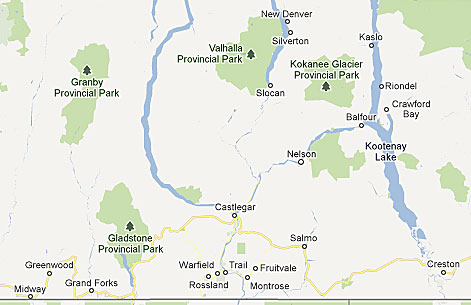 When Raymond THOMAS and his friends arrived in Trail they thought that the area had a big fire but were told that the smelter at Trail had killed all the vegetation in the area. Ray worked in the mines in Silverton and Sandon, and then in 1949 he went to work on the Diverson tunnel for the Whatchan dam near Needles, BC. Around this time, Ray met and started dating Doris WOIKEN who was working at the General Store in Needles.
Marriage to Doris WOIKEN
1950
On Jul 8, 1950 Ray married Doris WOIKEN in Nelson, BC. He adopted her daughter Linda. They then moved south to Salmo, and in 1951 to Ymir (midway between Salmo and Nelson).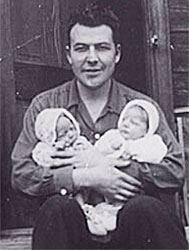 Raymond and twins Raymond & Richard 1951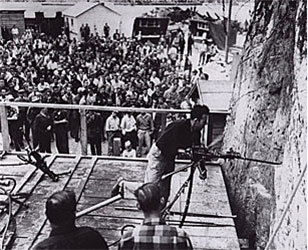 Ray in Drilling Contest at Kemana 1953
In 1957 Ray's step-father Lawrence SMITH died and in 1961 his mother (Catherine) died in a car accident near Clandeboye, MB.
Crippled for Life in a Vehicle Accident
1964
Ray Jr: Dad worked in the mine around Salmo until January 8th, 1964. It was at this time that he was seriously hurt in a motor vehicle accident while working at the Velvet Mine near Rossland BC. He was in a car with five other miners when it left the road on the Old Cascade Highway. The vehicle went over the bank and went down over 600 ft where it went over a 75 ft cliff. The driver of the car had put boulder in the trunk of the car for weight and one of these hit Ray and broke his back. The driver was killed and the other passengers had minor injuries. Ray was about 41 years old at the time.
Dad spent two years in Shaunessy Hospital and GF Strong spinal unit. After he was released he learned to drive with hand controls. He was totally paralyzed from the waist down.
He went to work has a handicap advocate and Regional Consultant for the Canadian Paraplegic Society and won a Governors General Award for his work for the handicapped at the same time my mother (Doris) was awarded the same medal for her work for the United Way and many other charities.
Sue Cote met Ray at a Nelson and District United Way meeting and she was so impressed with the man that she wrote an article in the Special People column of a local newspaper entitled "Rae Thomas: Paraplegia Couldn't Stop Him." "I realized that this was a man of energy, forthrightness and determination. (He single handedly canvassed the Salmo and Ymir areas on his crutches when he was having difficulty getting other more mobile canvassers out.)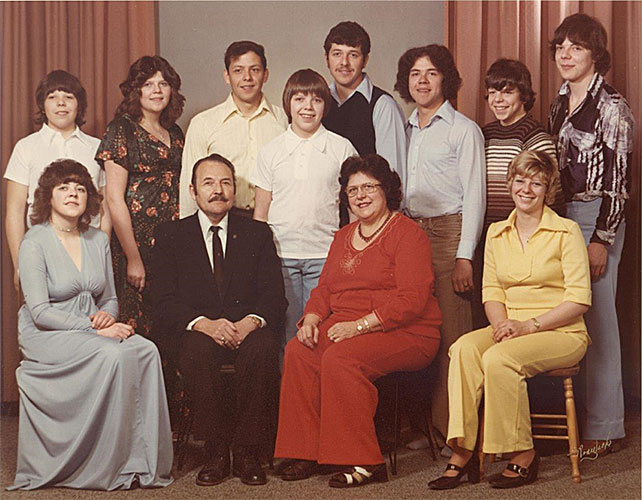 The Raymond Thomas family in 1977
Back Row L-R: Martin, Fern, Richard, John, Raymond Jr., Harlan, Ventris and Brian
Front Row L-R: Catherine, Raymond Sr., Doris (nee Woiken) and Linda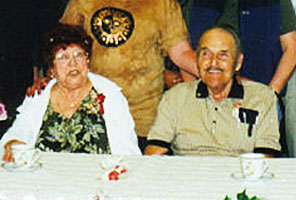 Doris & Raymond Thomas at their 50th Wedding Anniversary
That would have been in 2000
In 2003 Doris THOMAS died. She would have been about 81 years old.
On Sep 24, 2012, Raymond THOMAS died, probably in Salmo, BC. He would have been about 90 years old.
Please post comments and queries at this link: FORUM DISCUSSING the RAYMOND THOMAS  FAMILY
============================ Family Details ============================
Child of Doris:
1. 1948 LINDA THOMAS
Children of Doris & Ray:
1. 1951 RAYMOND VENTRIS (Twin) THOMAS JR
2. 1951 RICHARD KENNETH (Twin) THOMAS
3. 1953 CATHERINE ANN THOMAS
4. 1954 BRIAN LARRY THOMAS
5. 1957 FERN (Twin) THOMAS
6. 1957 HARLAND DAVID (Twin) THOMAS
7. 1959 VENTRIS GERALD THOMAS
8. 1961 JOHN CHARLES (Twin) THOMAS
9. 1961 MARTIN ROBERT (Twin) THOMAS