JOSEPH ALEXANDER TURNER (1838-1919)
JANE WHITFORD (1845-1928)

(Last Updated: June 29, 2017)
Joseph Alexander TURNER was born Dec 8, 1838 at Moose Factory, son of Jane Chisholm BOLAND & Philip TURNER (1812-1882). ** MORE ABOUT PHILIP TURNER
In 1853 Reverend William COCKRAN(1798-1865) started a mission at Portage la Prairie. At the same time about 12 other families from Middlechurch and St Andrews settled in Portage as members of the first St Mary's Congregation. These people included Peter and Simon WHITFRORD as well as Joseph TURNER.
** MORE ABOUT ST MARY'S MISSION CHURCH in MHS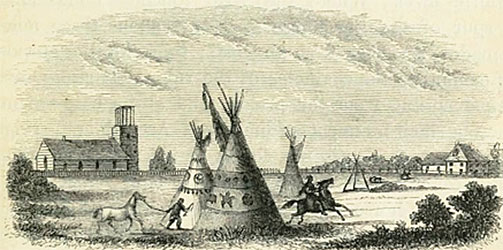 "Prariie Portage", 1858 showing a First Naions enacmpment near the Church of St Mary's
Woodcut by John Arnot Fleming,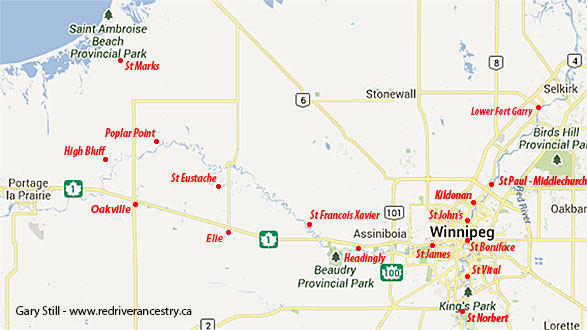 Marriage to Jane WHITFORD
1862
Around 1862 Joseph married Jane WHITFORD in Portage la Prairie (MB), daughter of Mary HENDERSON and Samuel WHITFORD (1821-1911). Their first 2 children were born at Portage, the rest (from 1867) at Victoria Mission, AB.
Victoria Settlement:  The settlement was augmented in 1865 by 25-30 halfbreed families, including Samuel WHITFORD, Joseph TURNER and Adam HOUSE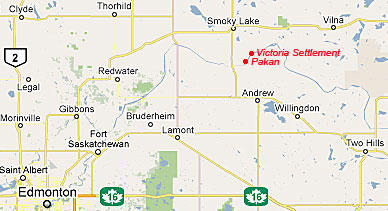 Canadian Confederation
A Red River Rebellion
Manitoba becomes a Province
On July 1, 1867 the British colonies in North America were united under the British North American Act to become the Dominion of Canada.  Sir John A MACDONALD (1815-1891) was appointed as Canada's first Prime Minister. William McDOUGALL (1822-1905) became the Minister of Public Works, and he began negotiations to acquire Rupert's Land from the HBC; surveyors were sent to Red River to prepare the way for an expected influx of settlers.
On Oct 11, 1869, Louis RIEL (1844-1885) placed his foot on the surveyors' chain to tell them their work was finished! This marked the beginning of the historic Red River Métis Rebellion.
On July 15, 1870 the Rebellion ended when RIEL's Provisional Government accepted the terms of the Manitoba Act and Manitoba became the fifth province of Canada.
Census of 1881 in Battleford Territory (SK):  Joseph Alex TURNER, age 38; Jane, age 33. Children:  Mary J (age 18), Margaret E (16), Eliza (13), Robert W (11), Philip R (8), Ann B (6), Henry G (4) and John F (age 2).
A North-West Rebellion
1885
1885 was the year of the historic North West Rebellion.
** MORE ABOUT THE NORTH-WEST REBELLION in WIKIPEDIA
In 1885 daughter Elizabeth Margaret married Joseph Louis CHABOT (1859-1927) in Fort Saskatchewan.
Census of 1891 in Fort Saskatchewan: Joseph TURNER, Carpenter, age 53; wife Jane, age 45. Children: Robert (age 21), Phillip (19), Frederick (12), Archie (9) and Alexander (age 2).
In 1897 son Robert married Catherine BROWN at Ft Simpson, daughter of Isabella and Magnus BROWN (1840-1924).
In 1898 son Philip married Mary Margaret COUTTS in Fort Saskatchewan, daughter of Amelia HENDERSON and Peter COUTTS (1849-1927).
Census of 1901 in Fort Saskatchewan: Joseph A TURNER, age 62; wife Jane, age 55. Children: John F (age 21), Archibald (20) and Alexander H E (age 12).
In 1904 son Archibald married Eleanora GAUTHIER in Pakan Settlement, AB, daughter of Caroline FOISIE and Henri GAUTHIER (b-1856).
Census 1906in Fort Saskatchewan: Joseph TURNER, age 70; wife Jane, age 60. Children: Fred (age 26) and Alick (age 17).
Census of 1911 in Fort Saskatchewan: J TURNER, age 78; wife J W, age 67. Children: F (age 33) and A (age 22).
On Nov 14, 1912 Joseph Alexander TURNER died in Fort Saskatchewan.
World War I
1914-1918
On Aug 4, 1914 Great Britain (Canada on Aug 5) declared war on Germany and Austria-Hungary to uphold treaties with France and Belgium which were under German attack. This marked the beginning of World War I.
Census of 1916 in Fort Saskatchewan: Widow Jane TURNER (age 70). Sons Frederick (age 36) and Alexander (age 26).
On Mar 20, 1916 son Alexander enlisted at Fort Saskatchewan.  On Aug 15, 1917 he died a soldier in France; buried in Rue-Petillon Military Cemetery in Pas de Calais, France.
November 11, 1918, Armistice Day (Remembrance Day) marked the end of the First World War.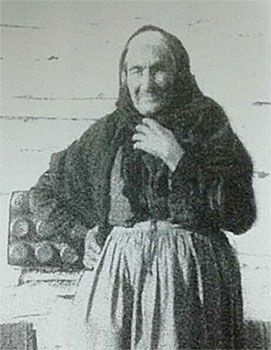 Jane Turner (Whitford) – Shared by Janice Turner
Census o 1921 in Fort Saskatchewan: Widow Jane TURNER (age 76) and granddaughter Georgina TURNER (age 16) are with son Frederick (age 41) on Burleigh Street.
On Dec 15, 1928 Jane (nee WHITFORD) TURNER died in Fort Saskatchewan.
** Comments and queries at this link: FORUM FOR DISCUSSING THE JOSEPH ALEXANDER TURNER FAMILY
========================== Family Details ==========================
Children:
1. Mar 18, 1863 MARY JANE TURNER
2. May 27, 1865 ELIZABETH MARGARET TURNER (m. Joseph CHABOT)
3. Nov 22, 1867 ELIZA TURNER (m. William Edgerton DIAMOND)
4. Feb 17, 1870 ROBERT WILLIAM TURNER (m. Catherine BROWN)
5. Apr 27, 1872 PHILIP RICHARD TURNER (m. Mary Margaret COUTTS)
6. 1874 ANNABELLA TURNER (Died age 12)
7. Feb 14, 1877 HENRY GEORGE TURNER (Died age 9)
8. Aug 23, 1879 JOHN FREDERICK TURNER
9. Aug 13, 1881 ARCHIBALD TURNER (m. Eleanora (Lenora) GAUTHIER)
10. Dec 2, 1884 BARBARA ELLEN TURNER (Died age 2)
11. Dec 20, 1888 ALEXANDER HUNTER EDGAR TURNER (Died age 29 in France)