WILLIAM WAINWRIGHT (1874-1939)
MINNIE KNOX (1888-1973)

(Last Updated: March 18, 2017)
William C WAINWRIGHT was born Jul 19, 1874 in Leeds, England, the son of Selina LUNN and James WAINWRIGHT (1825-1884).
In 1894 William came to Canada.
Census of 1901 in the Brokenhead District of Manitoba (13-8-Epm): William WAINWRIGHT, age 27.
Census of 1906 in the Town of Dauphin: One of many boarders in household of Joe McKERVEN (age 56): William WAINWRIGHT, age 30
.
In 1907 the threat by the CPR to leave Selkirk off the main line altogether was realized when the CPR built a new section from Molson to Winnipeg (The Molson cut-off; through Oakbank to Birds Hill) thereby shortening the main line route by 10 miles. Henceforth all transcontinental traffic moved over the new section and the original line to Selkirk and thence east was used only for local traffic.
Marriage to Minnie KNOX
1908
On Sep 16, 1908 William married Minnie KNOX in Winnipeg, daughter of Sarah NELSON and David Tindall KNOX (1856-1926).
Land Grants 1870-1930:  Undated, William WAINWRIGHT, NW-23-12-9-EPM (Molson area)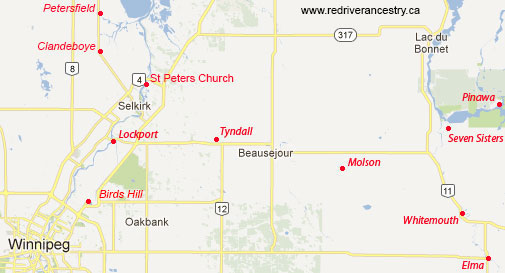 Census of 1911 in the Molson area:Wm WAINWRIGHT, farmer, age 36; wife Minnie, age 21; son Willie, age 2.
World War I
1914-1918
On Aug 4, 1914 Great Britain (Canada on Aug 5) declared war on Germany and Austria-Hungary to uphold treaties with France and Belgium which were under German attack. This marked the beginning of World War I.
WW I Attestation: Dated Apr 5, 1916 at Winnipeg: William WAINWRIGHT, farmer of Molson, MB; born July 10, 1874 in Leeds, England. Age 41; 5' 3 ½", dark complexion, brown eyes, dark hair. Next of kin: his 'partner', Minnie WAINWRIGHT of Molson, MB. Ciwpr: William was a member of Winnipeg Grenadiers 100th Batallion 11th Reserve 1st Expeditionary Force.
Census of 1916 in the Molson area: William WAINWRIGHT, age 41; wife Minnie, age 26. Children: William (age 7), Mary Elizabeth (4) and baby Benjamin.
November 11, 1918, Armistice Day (Remembrance Day) marked the end of the First World War.
Census of 1921 in the Molson area: William WAINWRIGHT, age 47; wife Minnie, age 30. Children: Willie (age 12), Mary E (8), Benjamin (5) and baby Charles (11 months).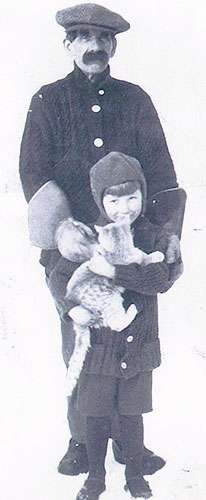 William Wainwright with his youngest son John Thomas in Molson, Manitoba
It is uncertain when daughter Mary Elizabeth married Percival PRUDEN, son of Alice SUTHERLAND and Alexander PRUDEN (1868-1900). Percival died in 1943.
On May 28, 1939 William WAINWRIGHT died in St James, age 64.
World War II
1939-1945
On Sept 4, 1939 Canada and Britain declared war on Germany, beginning World War II. Almost immediately new recruits began pouring into Winnipeg to sign up with the Winnipeg Grenadiers and the Royal Rifles of Canada.
By about 1941 son William Jr. was married to Eileen PHILLPS, daughter of Prudence BROWN and Michael Alexander PHILLIPS (1863-1948).
In Jun 6, 1942 son Charles married Margaret Bertha RATT in Selkirk, daughter of Margaret Anne SMITH and John James RATT (1889-1949).
In 1942 son James joined the Army. He married Barbara Edith HURD, his warbride born 1924 in Uckfield, Sussex. England.
On May 7, 1945 Germany surrendered and the War in Europe ended; the next day, May 8, was declared VE Day.
In 1947 son John Thomas married Yvonne Shirley CHASTELLAINE, daughter of Louis BAKER and Irene Hilda CHASTELLAINE (1913-1957).
In 1950 widowed daughter Mary Elizabeth married James Albert SHEPPARD (1911-1996).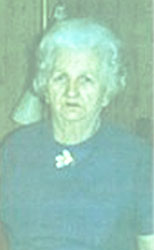 Minnie (nee Knox) Wainwright
On Nov 20, 1973 Minnie (nee KNOX) WAINWRIGHT died in Smith Falls, Ontario.
Comments and queries at this link: FORUM FOR DISCUSSING THE FAMILY of WILLIAM WAINWRIGHT
========================== Family Details ==========================
Children:
1. Oct 1909 WILLIAM "BILLIE" WAINWRIGHT (m. Eileen PHILLIPS)
2. Jun 29, 1912 MARY ELIZABETH WAINWRIGHT (m1. Percival Louis PRUDEN; m2. James SHEPPARD)
3. 1916 BENJAMIN WAINWRIGHT
4. July 1921 CHARLES WAINWRIGHT (m. Margaret Bertha RATT)
5. Mar 3, 1924 JAMES HORACE WAINWRIGHT (m. Barbara Edith HURD)
6. Aug 3, 1927 JOHN THOMAS WAINWRIGHT (m. Yvonne Shirley CHASTELLAINE)