WILLIAM WHIPPLE WARREN (1825-1853)
MATHILDA AITKEN (1822-1901)
(Last Updated: August 28, 2012)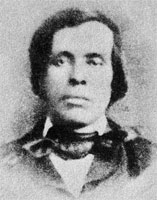 William Whipple Warren (c1851)
From Wikipedia
William Whipple WARREN, the noted historian and Interpreter, was born May 27, 1825 at La Pointe, WI, on Madeline Island. He was the mixed-blood (Ojibwe) son of Lyman WARREN, a fur trader, and Mary CADOTTE, the French-Chippewa daughter of Michael CADOTTE. He was well educated and travelled to New York to further his studies at Clarkson and the Oneida Institute.
On August 10, 1843 William married Mathilda AITKEN (1822-1902), daughter of GIN-CUMIG-OKE & William Alexander AITKEN.
In the fall of 1845 WARREN moved from Wisconsin to Crow Wing. In 1850 he was elected to the Minnesota Legislature.
In 1852 WARREN completed a manuscript, History of the Ojibways, Based Upon Traditions and Oral Statements. His work (History of the Ojibway People) was published posthumously. He suffered from lung problems for many years and died from tuberculosis on June 1, 1853.
WARREN was a descendant of WAUBOJEEG and of MAMONGAZIDA (through his mother)