ANCIENT STILL ANCESTORS OF ABERDEENSHIRE, SCOTLAND
(Last Updated: May 06, 2017)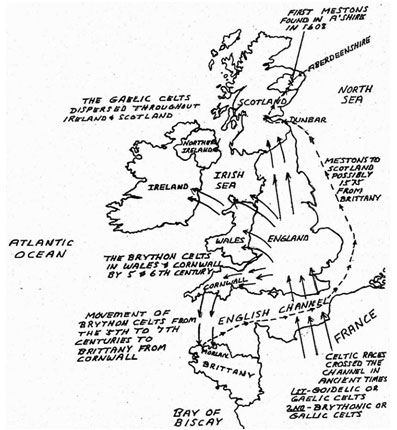 Early Immigration Paths between France and the UK
Note the location of Aberdeenshire
http://home.earthlink.net/~jcranmer01/data/Meston_Genealogy.pdf
History books, literature and on-line searches reveal that there were families with the surname STILL in the Aberdeenshire area of Scotland at least 500 years ago. As with most ancient surnames, there were numerous spelling variations; a few of the most common ones: STILL, STILLE, STILEY, STILLY, STILLEY, STILLIE, STEELEY.
Archaeologically, at least some 8, 000 years ago prehistoric villages existed in this region, around the mouths of the rivers Dee and Don. My own earliest STILL ancestors were found primarily in the Parish of Old Machar (later Newhills Parish), near the River Don in Old Aberdeen. Aberdeenshire is in an area often referred to as the Scottish Lowlands, but it does include part of the Scottish Highlands as well.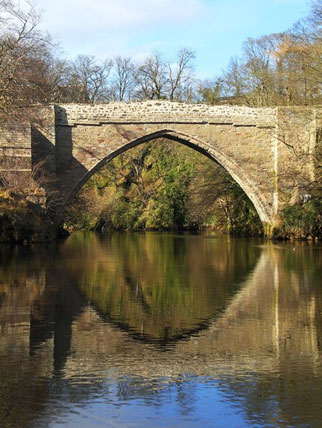 The Old Brig o' Balgownie
Spanning the River Don in Old Aberdeen (Heartland of my ancestors)
Scotland's oldest surviving bridge
http://en.wikipedia.org/wiki/Brig_o%27_Balgownie
The Brig o'Balgownie was built around 1290 and is now only used by  pedestrians and cyclists. It is further upstream than the current Bridge of Don which was built in 1830.
Old Aberdeen is now part of the City of Aberdeen. It was originally a separate burgh, which was erected into a burgh of barony on December 26, 1489. Old Aberdeen was for a long time fairly isolated at the edge of the main city, being followed to the north by the River Don, Seaton Park and the small Brig o'Balgownie hamlet.
I found an Alexander STILL who was a 'burgess of Aberdeen' in 1451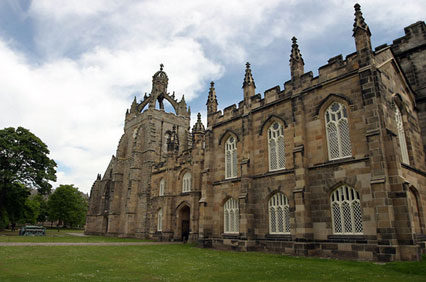 King's Chapel, Old Aberdeen (Founded in 1494)
Andrew STILE in 1511 and James STILL in 1591.
Some History related to Old Aberdeen
The years following the accession of Charles I in 1633 were turbulent ones for the people of Aberdeen. From the onset of his reign, Charles advanced a policy of religious conformity and he went on to impose a number of observances on a reluctant Scottish people.  - - In the spring of 1638, a National Covenant was issued. Almost alone at this stage, Aberdeen remained loyal to Charles.
In 1639 William KEITH, 7th Earl MARISCHAL and the Marquess of Montrose led a Covanter army of 9000 men in the first battle of the Civil War by marching over the Causey Mounth to attack forces at the Bridge of Dee, effectively gaining control of Old Aberdeen.
In January, 1640 the Town Council (of Aberdeen) received notice from the Tables in Edinburgh that, in order to defray the expenses of the campaign, each individual was to pay a tenth part of their yearly rents for the year 1639, to include profits from property ownership, trade or fishing rights. Before this levy could be imposed, a general band was drawn up in the Spring of 1640 to be signed by the citizens, either agreeing or refusing to pay the assessment and was entitled the "General Band of Relief for the year of God 1639". The document lists the names of the subscribers and non-subscribers to the band and gives the occupation of individuals:
1639 Band of Relief: List of Subscribers included:
ALEXANDER STILL, weaver
JOHN STILL, weaver

Some Possible (Unproven) Ancestors
Numerous STILL's who lived during the 17th and early 18th centuries  in Aberdeen can be found in the Mormon Genealogy, Ancestry.com, and other on-line websites. Unfortunately, at this date, after many years of searching, I cannot provide any substantive evidence (documented proof) for my own STILL lineage prior to that of Jean ANDERSON & and Alexander STILL (below) who was born around 1742 in Balgownie, Old Machar. I did however find a few that stand out as strong possibilities. I will present them here in hopes that someone out there will be able to provide some further enlightenment via the Forum I have provided for this website (click on the Link below).
c1600 ALEXANDER STILL  (m. Isobel HUNTAR)
Very little other information found, except that they lived in Old Aberdeen.
c1630 ROBERT STILL (m. Janet LIDDELL)
Robert STILL, born c1630 in Aberdeen; married there in 1648 to Janet LIDDELL
c1640 ALEXANDER STILL (I) (m. Agnes BIRS)
Alex born c1640 in Old Machar; married Agnes BIRS
      ** Ancestors of Gary STILL and Lorna HEARN **
      These were the parents of Alexander STILL JR (II) (1659-1714)
      ** MORE ABOUT ALEXANDER STILL JR (II)
1657 ALEXANDER STILL (m. Jean)
Alex born 1657, this Alex married 1876 in Old Machar to a lady named Jean
c1670 ALEXANDER STILL (m. Marjorie THOMSON)
OPR: Alexander STILL married May 11, 1690 in Old Machar to Marjorie THOMSON
Two sons, Andrew b-1697 and William b-1700, both born in Banchory-Devenick, both candidates as parents of our Alexander b-1835 who married Jean ANDERSON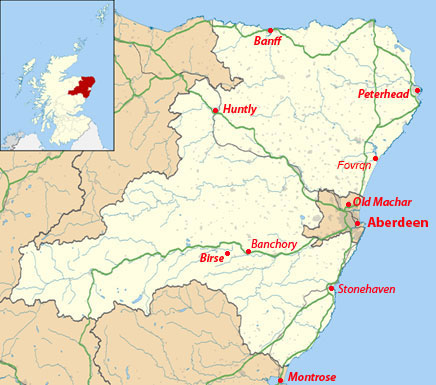 The County of Aberdeenshire
My Great-great grandfather (John STILL) grew up in Old Machar
As a young man he moved to Birse

For centuries our STILL ancestors essentially lived their entire lives in a region of Aberdeenshire encompassing an area not much bigger than that of metropolitan Winnipeg. This is from the perspective of a Red River descendant, accustomed to the vast expanses of the Canadian northwest. For example, my great-great grandfather (John STILL) moved from Old Aberdeen to Birse, not much more than 30 miles out of the city. That's like moving from Winnipeg to Selkirk.
The Scottish Clearances
Between 1811 and 1820, brutal clearances were conducted in Aberdeenshire by the 1st Duke of Sutherland. Evictions at the rate of 2,000 families in one day were not uncommon. Many starved and froze to death where their homes had once been.  
The Clearances swept aside a traditional way of life, causing immense upheaval and trauma for rural dwellers, many of whom moved to the new towns and cities or emigrated. Many small settlements were torn down, their occupants moved to new, purposely built villages (ie John's move to Birse). Many thousands of Scots emigrated, taking advantage of new opportunities offered in Canada and the USA where they could own and farm their own land.
In 1812 the first of Lord SELKIRK's settlers arrived in Red River, in what would later to become the Province of Manitoba, Canada.
We have absolutely no information regarding Jane and William after 1801.  After 1812 they would have been in his mid forties, assuming they were both living. Their eldest sons, John and James were in their mid twenties by then, old enough to have perhaps established separate farmsteads of their own. The other, younger, siblings around that time ranged in age from 20 year old Alex down to 11 year old Martha.
We don't know how the family was affected by the Clearances, but we do know that son John (my ancestor) moved about 30 miles out of town where he established a farmstead of his own near Birse (southeast of Aboyne). The rest of the family, however, remained in Newhills Parish where James probably established a place of his own as well.
John's younger brother, James STILL, became a sea captain (according to granddaughter May RITCHIE-GAULEY).
On Apr 16, 1816 son John STILL married in Birse to Margaret YOUNG, granddaughter of Alexander YOUNG (1725-1806), an earlier pioneer in that area. John remained in Birse and began to raise a family. Meanwhile, the rest of the STILL family were still in Newhills Parish where they managed to 'hold the fort' during the Clearances.
It wasn't until Apr 26, 1829 that son James STILL (39 years old then) married 16 year old Ann DAVIE.
As previously mentioned, we have no information regarding the disposition of Jane and William at this point. In 1830 William would have been over 60 years old. Were they both living? As far as we know, Jane produced no more children after 1901, when she was still relatively young. Is it possible that she died and William re-married, or otherwise had more children?
In 1833, the Old Parish Records of Scotland (OPR) recorded the death of a William STILL in Old Machar. Was this our William? On the Scotland's People website I found a Will (Testament) involving the disposition of a William STILL who died that same year. However, the Testament names several children as heirs with different names than the children we are familiar with (Margaret, Isobel Christian and Jessie). No mention is made of his wife, and the children appear to have been born after the ones we are familiar with. The daughter named Margaret was the widow of John DUNCAN, and the daughter named Jessie was married to George GORDON. If anyone is familiar with these names I would love to hear from you.
The STILL family immigrates to Canada
1836 - 1840
We know that in 1836 son John and his family, and all of his siblings except James, sailed to Boston, and  from there they trekked overland all the way to Mono Township in Ontario. According to Gail Freitas, someone in the family (other than John) was able to pay everyone's passage to Canada. In my mind that almost had to be James.
James would however remain in Newhills for another four years. In 1840 he and his family immigrated to Canada (Mono Centre, Ontario).
Comments and queries at this link: ** FORUM DISCUSSING ANCIENT STILL ANCESTORS of ABERDEENSHIRE
============================ Family Details ============================
Children of Jane SINCLAIR & William STILL:
1. Apr 20, 1787 AGNES STILL
2. Sep 14, 1788 JOHN STILL (m. MARGARET YOUNG)
** MORE ABOUT OHN STILL (1788-1876)
3. May 2, 1790 JAMES STILL (m. Anne DAVIE)
4. Apr 11, 1792 ALEXANDER STILL
5. Feb 28, 1794 ELIZABETH STILL
6. Feb 21, 1796 HANNAH STILL
7. Mar 24, 1798 WILLIAM STILL
8. Nov 23, 1801 MARTHA STILL