CHARLES ROBERT BEGG (1814-1902)
CATHERINE SPENCE (1824-1915)
(Last Updated: June 20, 2015)
Charles Robert BEGG was born Feb 14, 1814 at Haddington, Scotland.
On May 12, 1831 Charles was engaged bye the Hudson's Bay Company (HBC) on Wyre Isle, Sandwick, Orkneys. After a long voyage his ship arrived at the Port of Montreal. For the next five years Charles worked in the Company's Northern Department as a labourer.
Arctic Discovery Expedition
1836-1839
A significant highlight of Charles BEGG's career was his participation in the historic Arctic Discovery Expedition of 1836-1839 led by Peter Warren DEASE (1788-1863) and Thomas SIMPSON (1808-1851), cousin of Governor George SIMPSON (1786-1860).
During the expedition Charles worked under DEASE as a middleman (middle oarsman) and General Labourer (included fishing and hunting as well as numerous other tasks).
A brief summary of the expedition: From 1836 to 1839 Peter Warren DEASE was placed in charge of a 12 man expedition to explore the Arctic coast of North America, from the mouth of the Mackenzie River to Point Barrow (Alaska), filling in information gaps left by other expeditions in search of the Northwest Passage. The expedition left on June 1, 1837, and arrived at Point Barrow on August 4. They wintered at Fort Confidence on Great Bear Lake and set out westward in the spring, mapping 100 miles of coastline and naming Victoria Land and Cape Pelly. They again wintered at Fort Confidence, and in the spring of 1839 explored eastward from the mouth of the Coppermine River to the Gulf of Boothia.
** More about PETER WARREN DEASE in Wikipedia
** More about PETER WARREN DEASE in the Dictionary of Canadian Biography Online
If you are interested in the details of the expeditions you will find them in this book: From Barrow to Boothia: the Arctic Journal of Chief Factor Peter Warren Dease, by Peter Warren DEASE & William BARR. DEASE's Journal entries frequently mention the activities of Charles BEGG.
After the expedition (1840) Charles became a 'Slooper' (a crew member of a sloop) and in 1841 he was assigned to the Red River District where his travels brought him to Lower Fort Garry, the warehouse and distribution centre for the Company's northern region. This would be his base of operations for the next five years. A sloop is generally described as a vessel having one mast and fore-and-aft rig, consisting of a boom-and-gaff mainsail, jibs, staysail and mainsail, and gaff topsail, probably similar to the boats he worked on in the Arctic.
Charles marries Catherine SPENCE
1845
At Lower Fort Garry, Charles (about 30 years old now) met and fell in love with 21 year old Catherine SPENCE, the eldest half-breed daughter of a Cree woman (also named Catherine) and George SPENCE (1773-1859) from the Orkneys. Catherine was a frequent visitor to the Lower Fort; her home was in Mapleton, just north of the fort.
On May 16, 1844, Charles and Catherine were married by Reverend William COCKRAN (1798-1865). Soon after their marriage, Charles was promoted to Sloop Master and sent to work on Lake Superior in the Company's Southern Department.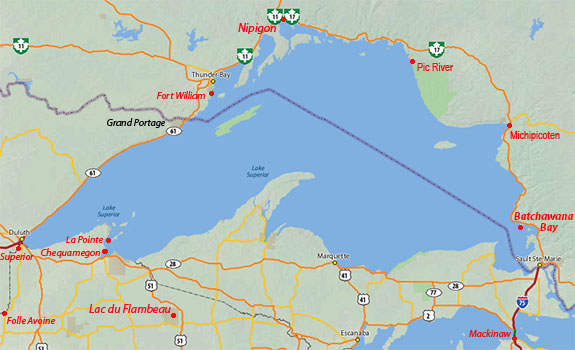 In 1845 their first child, Duncan was born at Michipicoten and in 1846 daughter Mary Ann was born in Batchwana Bay, just north of Sault Ste Marie.
Charles had become quite fluent in the Cree language spoken by his wife Catherine, so much so that he left his boating career to become an Interpreter-Clerk. He spent the winter of 1847-48 back in the far north at Albany Factory, and in the summer of 1848 at Osnaburgh Post (north of Thunder Bay).
In 1849, having gained experience in fur-trading he was promoted to a Post Master at Long Lake (north of Nipigon), where son Edward Charles was born in October of 1850.
In 1851 Charles was relocated to Pic River Post where he remained for the next 10 years. When a Census of the Algoma District was taken in 1861 Charles was recorded a Fur Trader with nine people in his household; seven children consisting of four boys (Duncan, Charles, John George and Robert) and three girls (Mary Ann, Margaret & Catherine).
The Family moves to Red River
1862-65
In 1862 Charles decided to move the family to Red River (Mapleton). To get there from Lake Superior they had follow the traditional fur trade route that began at the Pigeon River and the Grand Portage. From there, up Rainy River to Lake of the Woods and Rat Portage (now Kenora); down the Winnipeg River to its mouth at Lake Winnipeg; then up the Red River to Mapleton. This was an arduous trip involving numerous portages along the way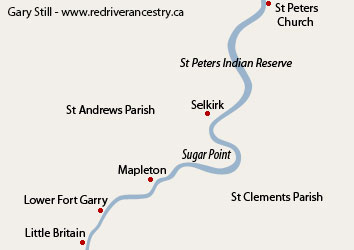 They built a log cabin on the river flats at Mapleton on River Lot 5, owned by the SPENCE family consisting of Catherine's elderly mother (Widow Catherine SPENCE) and her two brothers, Peter & Jacob SPENCE.
Building on the river flats was definitely a bad decision; their home was destroyed by spring flooding, a common occurrence with the Red River. The family returned to the Pic where Charles continued his employ as a Clerk for another few years.
On Jun 28, 1863, daughter Ellen was born. She died in infancy.
In 1865 Catherine's mother died at Mapleton and Charles retired from HBC service for good and moved to Mapleton where he and Catherine remained the rest of their lives. They built another house, this time on higher ground at the west end of River Lot 5. River lots are narrow strips of land that extend two miles back from the river.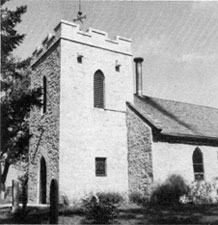 St Clements Church at Mapleton
Mapleton had changed a lot since Charles and Catherine were married there almost 20 years ago. The district was now settled north of Lower Fort Garry to the Indian Settlement (mostly retired HBC families). Now there were stone walls around the Lower Fort. The St Clements Church of stone was holding regular services and there was a school nearby.
Around 1866 daughter Mary Ann married William ISBISTER, son of Fanny SINCLAIR and John ISBISTER (1794-1884). ** MORE ABOUT JOHN ISBISTER
Around 1866-67 their last child, William Charles was born.
Canadian Confederation and a Red River Rebellion
 Manitoba becomes a Province
1867-70
On July 1, 1867 the British colonies in North America were united under the British North American Act to become the Dominion of Canada.  Sir John A MacDONALD (1815-1891) was appointed as Canada's first Prime Minister. William McDOUGALL (1822-1905) became the first Minister of Public Works for the new Dominion of Canada, and he began negotiations to acquire Rupert's Land from the HBC.
On July 10, 1869 McDOUGALL appointed Surveyor Colonel John Stoughton DENNIS (1820-1885) to draw up a plan for the laying out of townships in the North-West, in anticipation of a vast migration of settlers. The French Métis and English half-breeds of the Settlement (and many Selkirk Settlers as well) were much displeased with this plan to take over their territory without first consulting with them to arrange terms for doing so. On Oct 11, 1869, Louis RIEL (1844-1885) placed his foot on the surveyors' chain to tell them their work was finished! This marked the beginning of another Red River Métis Rebellion.
While the BEGG family did not become directly involved in the events that followed, many other Mapleton and Little Britain residents would have significant roles to play. When it was all over, RIEL's Provisional Government accepted the terms of the Manitoba Act and on July 15,1870 Manitoba became the fifth province of Canada, the Canadian Government having acquired the territory previously governed by the HBC.
In December of 1870 a Census of Red River was completed. The results recorded 5, 757 French-speaking Métis; 4, 803 white settlers and 558 Indians in the census region. This information would be later used to determine who would be eligible for Land Grants and Scrip.
Included in the 1870 Census of the Mapleton area were Charles BEGG (age 56); wife Catherine (age 46); and their children/-ages: Duncan F-25; Marguerite-21; Charles-20; Catherine-17; John J-16 and Robert J-11. Eldest son Duncan Finlayson BEGG was actually recorded in a separate household; just recently married to Jane Rutherford BOULTON. He had two children with him (possibly step-sons, William (age 5) and James (age 1). Daughter Mary Ann was married now to William ISBISTER and was living at Gods Lake in northern Manitoba. Son John George, who would have been around 16 years old doesn't appear in this census. Later information suggests he may have gone to Rat Portage, perhaps to find a job.

The elder Catherine gained a great deal of respect in the community as a mid-wife and nurse.  She was often called upon to administer to the sick using her own remedies comprised of various plants and herbs.
On Jan 7, 1872, son Charles died at Mapleton. He was only 21 years old. On July 11, 1874, daughter Catherine died. She was only 11 years old. They were both buried in the St Clements Mapleton Cemetery.
On Jul 4, 1876, the elder Catherine applied for her Half-breed Scrip. In 1877 Charles claimed Scrip for his two deceased children (Charles & Catherine).
In the mid to late 1870's grandsons James and Charles ISBISTER, sons of daughter Mary Ann & William ISBISTER, stayed with their grandparents (Catherine & Charles BEGG) so they could attend  the Mapleton School. At that time William ISBISTER was an HBC Clerk-in-Charge in the Norway House District. ** MORE ABOUT WILLIAM ISBISTER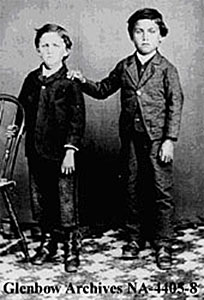 James & Charles Isbister
Around 1878 son John James married Margaret WILSON at York Factory. Around the same time, son John George married an Indian named Juliet STURGEON EYE at Rat Portage.
The Census of 1881 in Mapleton enumerated Charles BEGG as age 67; wife Catherine, age 56 and son Robert (age 20).  Also with them (probably going to Mapleton School) are four of their young grandsons William Charles BEGG (age 14) and James Robert BEGG (age 10), sons of Duncan BEGG who at the time was the HBC Postmaster at White Dog Post (NW of Rat Portage); also James ISBISTER (age 14) and Charles ISBISTER (age 11), sons of daughter Mary Ann and William ISBISTER who at the time was an HBC Clerk-in-Charge at Norway House. Also staying with them were George LINKLATER (age 39) and Margaret JOHNSTONE (age 15). George LINKLATER was probably Catherine's nephew, son of her sister Margaret (SPENCE) and Hugh LINKLATER (1815-1891). Margaret JOHNSTONE was a daughter of Margaret LAMBERT & Archibald JOHNSTONE (1829-1904). This is the Margaret who would later marry Jake PRUDEN and become the mother-in-law of Bert DICKENSON who owned the store at Mapleton.
In 1883 the Rural Municipality of St Clements was formed. Without going to a lot of detail, essentially St Andrews RM now only referred to the area west of the Red River, while the RM of St Clements referred to the East side of the Red River as far as Garson. That same year the Town of Selkirk was incorporated (first mayor was James COCLEAUGH) and a CPR branch line was under construction from Winnipeg to Selkirk, passing within a stone's throw of the BEGG home.
The Census of 1891 in Mapleton enumerated Charles BEGG as age 76; wife Catherine, age 66. With them are son Robert (age 20); his wife Margaret (age 25) and their two children, Mary Ann (age 4) and Minota (age 1). Grandson Charles ISBISTER (age 22) was still with them. Also with them were Margaret SPENCE (age 18) and John SPENCE (age 14). These teenagers were related to Catherine in some way, but so far I have been unable to determine their origins (help would be appreciated).
When the Census was taken in 1901 Robert was 87 years old, Catherine 76. Son Robert BEGG, his wife Margaret and their four children (Mary Ann, Minota, Euphemia and baby Jessie) were living on the same property; also John E SPENCE (age 23) and Herbert McKENZIE (age 12), a "Domestic". I cannot trace the origins of this Herbert McKENZIE. I do know that he is NOT Herbert Douglas McKENZIE, (son of the Reverend Benjamin McKENZIE). This 12 year old Herbert is somewhat of a misfit. Over the next 10 years he was a lodger at several other places in the Selkirk area until in 1915 he married Olga DALMAN. Daughter Mary Ann, her husband William ISBISTER (age 65) and their family had retired from Norway House and were now recorded as neighbours.
On Aug 25, 1902, Charles BEGG died at the age of 88. Widow Catherine would then live with son Robert for the last 13 years of her life.
On Sep 16, 1909 son John George (widowed) re-married to Annie (nee CALDER) WHITE in Kenora, daughter of Charlotte LYONS and George CALDER (1823-1906). ** MORE ABOUT GEORGE CALDER
On Jan 24, 1915, Catherine BEGG died at the age of 90. News of her death appeared in the Selkirk Record. Part of her obituary: "The late Mrs. BEGG whose father was an officer in The Hudson's Bay Company was the daughter of George SPENCE, a native of Orkney Islands who was employed by The Hudson's Bay Company and in later years Sheriff of the York Factory District. She leaves to mourn two daughters and two sons, namely Mrs. William ISBISTER, Mapleton, Mrs. Margaret MITCHELL of Kenora, Ont. Mr. Robert BEGG of Mapleton and Mr. Duncan BEGG of Warroad, Minn.; also 52 grandchildren 26 great grandchildren and seven great-great grandchildren."
Please post comments & queries at this link: FORUM DISCUSSING CHARLES ROBERT BEGG & FAMILY
============================= Family Details =============================
Children:
1. Feb 23, 1845 DUNCAN FINLAYSON BEGG (m. Jane RUTHERFORD BOULTON)
** MORE ABOUT DUNCAN FINLAYSON BEGG
2. Nov 10, 1846 MARY ANN BEGG (m. William ISBISTER)
** MORE ABOUT WILLIAM ISBISTER
3. Jan 10, 1848 MARGARET BEGG (m. George MITCHELL)
4. Oct 14, 1850 EDWARD CHARLES J BEGG JR (m. Died age 21)
5. Feb 22. 1853 CATHERINE BEGG (Died age 11)
6. 1854 JOHN JAMES BEGG dit COCHRANE (m. Margaret WILSON)
7. Feb 18, 1855 JOHN GEORGE BEGG (m1. Juliet STURGEON; m2. Annie (nee WHITE) CALDER)
8. Apr 23, 1860 ROBERT JAMES BEGG (m. Margaret Jane "Maggie" FIDLER)
** MORE ABOUT ROBERT JAMES BEGG
9. Jun 28, 1863 ELLEN BARNSTON BEGG (Died in infancy)
10. c1867 WILLIAM CHARLES BEGG