GEORGE SPENCE c1773-1859)
CATHERINE (A Cree Woman) (c1791-1865)
(Last Updated: April 16, 2016)
George SPENCE was probably born around 1773 (S&F) in the Orkneys of Scotland. As with many genealogical references to ancient ancestors, including S&F, birth dates are often very arbitrary and one often has to look to circumstances of the subject's known historical activities to arrive at a plausible estimate. (S&F refers to the book 'Genealogy of the First Métis Nation', compiled by Sprague & Frye). With George SPENCE the problem becomes even more difficult when we cannot be sure of at least one of his offspring, purported to be John (Jean Baptiste SPENCE) born around 1811 (S&F). Assuming this birth date to be reasonably accurate, perhaps a birth-date for his father should be somewhat later than 1773.
In the 1815 obituary of his daughter Catherine, then the widow of Charles BEGG (1814-1902), it was reported: "The late Mrs. BEGG whose father was an officer in The Hudson's Bay Company was the daughter of George SPENCE, a native of Orkney Islands who was employed by The Hudson's Bay Company and in later years Sheriff of the York Factory District.
Based on the above information it appears that George began his career with the Hudson's Bay Company (HBC) at York Factory (sometimes referred to as York Fort).
The only George SPENCE of that era found in the HBC Archives is George SPENCE (1792-1845), son of halfbreed Margaret Nestichio BATT & James SPENCE (c1753-1795). Many genealogists confuse that George with our (this) George SPENCE, probably because there is no other George of that vintage to be found in the Hudson's Bay Company Archives (HBCA).That George is obviously NOT our George SPENCE whose wife is clearly identified in the Scrip records of his children with a wife named Catherine. ** More about Margaret BATT & George SPENCE born 1792
Perhaps the reason that our George doesn't appear in the HBC Archives is because he was one of those HBC employees who chose to leave the Company service in order to partake in the benefits offered by Lord SELKIRK.
HBC history indicates that most of its new employees were recruited at very young ages, very often while they were yet teenagers. There were absolutely no white women around York Factory in those early days but there were plenty of young flirtatious Cree and half-breed maidens, children of families that were known as the 'Home-Guard Cree", who lived in the vicinity of York Fort.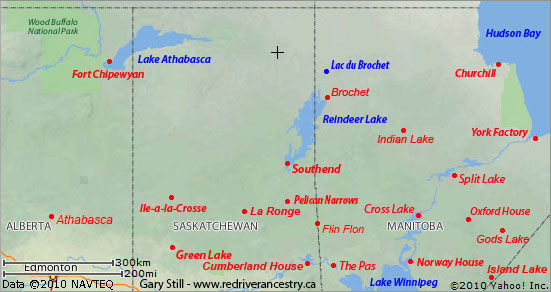 After apprenticing for a year or so at York Factory, most young men were assigned to work as members of inland fur brigades either as Labourers or Voyageurs (canoe oarsmen). In the late summer or fall these men transported trade goods to remote inland posts where they would often spend the winter. In the spring and summer they returned to the Bay laden with furs for export.

George marries a Cree woman named Catherine
c1807-1810

Around 1807-1810 George began a life-long relationship with a Cree woman named Catherine (some references indicate her Cree name was TCHI-TCHIT. The first child that appears in Scrip records with Catherine Cree and George SPENCE as parents is John aka Jean Baptiste SPENCE (in French communities, names John and Jean Baptiste were often used synonymously), born at Cumberland House (west of The Pas, MB) during that period.

Thomas DOUGLAS (1771-1820), the 5th Earl of Selkirk was a major shareholder in the HBC. He convinced the Company owners to give him a large grant of land in Rupert's Land that became the District of Assiniboia. In 1808, for the nominal price of 10 shillings, SELKIRK was granted jurisdiction over some 116,000 square miles in the valley of the Red and Assiniboine Rivers (the new District of Assiniboia). ** See the map at my Home Page

However, to add further uncertainty and confusion of George's origins you can scrutinize the numerous lists of Selkirk settler names found in historic records and you will not find a George SPENCE anywhere among them. If someone can prove me wrong I would be delighted to hear from you.

Selkirk Settlers begin to Arrive
1811-1814

Beginning in 1811 Lord SELKIRK's Settlers began arriving at York Factory, bound for Red River. However, it wasn't until the fall of 1812 that the first group (of three) arrived at the Forks and attempted to establish their settlement in what would become the Parish of Kildonan. They were accompanied by Peter FIDLER (1769-1822) who had just returned to York from a year's furlough in England, newly assigned to assist the new settlers by surveying river lots and helping them build their houses. At the same time he was placed in charge of Brandon House where he established his home base and settled his family. Miles MACDONELL (1767-1828) also arrived with this advance group, as the HBC's first Governor of Assiniboia. Two months later (mid October of 1812) a second party of settlers led by Owen KEVENY arrived at the Forks. It was too late in the season to seed crops or to build houses, so this group proceeded on to Pembina where FIDLER was building Fort Daer, and badly needed provisions were available to see them through the winter of 1812-13.

We don't really know when George SPENCE ceased to be an HBC employee and became a settler. Having already gained some experience, it seems likely that he was part of the advance party whose duty it was to prepare the way for more settlers yet to come. These men were mostly voyageurs (boat men) and general labourers who worked under  FIDLER & MACDONELL.

In September of 1813 a third group of settlers arrived at Fort Churchill, led by Archibald McDONALD (1790-1853). Arriving so late, this group was forced to spend the winter there.

Meanwhile back at Red River, MACDONELL faced a serious problem of obtaining enough food to maintain his growing flock of starving settlers; crops had failed and buffalo meat and pemmican were in short supply. It would again be necessary to send the settlers south to Pembina for the winter. This time their reception by the Métis there was not so friendly as before.

The North West Company (NWC) and the HBC had of course been in fierce competition for many years. They were opposed to the increasing influx of settlers into what they considered their domain. Settlement would cause the already diminishing buffalo herds to move away.They would do whatever they could to make things difficult for these intruders. They purposefully encouraged opposition from the Indians and Métis buffalo hunters of the region. During the winter of 1813-14, John PRITCHARD (1777-1855), under orders of John WILLS (1775-1815), both in the employ of the NWC, bought up most of the provisions available at the Forks and sent them off to their fort at La Souris (SE of Brandon House). This of course created a shortage for the Settlers. The NWC would later claim they needed pemmican as food supply for their voyageurs.

Peter FIDLER was busy that winter establishing Brandon House.Some names of men who lived around Brandon House during this period who are later associated with the first settlement of Mapleton include the following: Peter FIDLER's sons, brothers Thomas Jonathan FIDLER (1795-1875) & Charles FIDLER (1798-1886); John LYONS (1786-1875); brothers Humphrey FAVEL (1775-1850) & Thomas FAVEL (1781-1848); brothers John KIPLING (1774-c1850) & George KIPLING (1805-1878); Magnus SPENCE (1755-1845); George SPENCE (1773-1859).

The Pemmican Proclamation
Cuthbert GRANT on a Rampage
1814-1815

On Jan 8, 1814, anticipating the arrival of yet another large group of settlers (the SUTHERLAND Settlers) and seeking to solve the colony's food problems once and for all, Miles MacDONELL issued his historic Pemmican Proclamation. The proclamation prohibited the export of provisions of any kind from within the limits of Assiniboia without a special license from the Governor (himself). MACDONELL followed this up by forcibly seizing the NWC's stash of provisions at La Souris. For two winters the Métis had provisioned the colonists with bison meat, so this severe measure was considered an insult, not only to them but to the NWC. This would prove to be the fatal blunder by MACDONELL that would touch of a civil war in the North-West with Cuthbert GRANT (1796-1854) at the forefront.

Enough has been written about the events that followed that I need not go into the details here. We need only refer to Peter FIDLER and his relationships with those voyageur families who resided at Brandon House during the rebellion, and who later became prominent first settlers of Mapleton. FIDLER, a loyal HBC servant to the end, had been purposely selected by the Company to play the role of an intermediary and peacemaker. This was not the first time he was placed at the forefront of NWC-HBC turmoil. ** More about Peter FIDLER

These Mapleton forefathers were all essentially Scotch-English half-breed families who suddenly found themselves in the middle of a bitter struggle between their Métis brethren and settlers who came from the homeland of their own white ancestors. Most of them did not share FIDLER's dogged loyalty to the HBC. The 'Honorable Company' in fact was notoriously discriminatory when it came to its treatment of its half-breed employees (including Peter's own children); whites were always favored when it came to promotions, etc.

Peter FIDLER himself was a reluctant participant in the struggles that unfolded. These men all had Indian wives, and consequently half-breed children. Their wives had family ties with native families from the region of Hudson Bay and some were probably even related to each other. Nevertheless, during the conflict FIDLER considered it necessary to actually fire some of these men, notably including Humphrey FAVEL, Tom FAVEL and Magnus SPENCE. John LYONS was not directly fired, but he was prematurely retired.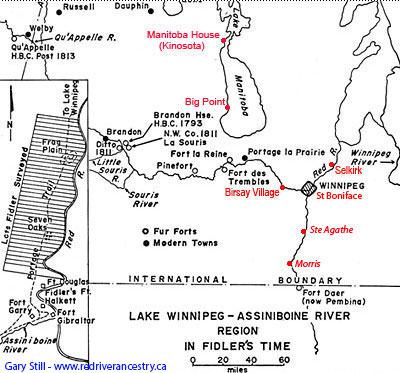 Birsay Village later became St Francois Xavier
Birsay Village "Orkney Town"
1817
Finally, in the fall of 1817 the Red River Rebellion came to an end when Lord SELKIRK's de Meuron soldiers recaptured Fort Douglas; Cuthbert GRANT was arrested and the Métis were forced to retreat. Most of the voyageurs at Brandon found that their services were no longer required. They decided to group together and create a settlement of their own further down the river. The place they selected would become known as Birsay Village or "Orkney Town"; named after the homeland of Magnus SPENCE, the elder who led them there.
Whooping cough and measles hit Orkney Town; several deaths were recorded. To add to their misery, swarms of grasshoppers destroyed their crops. By mid-September of 1819, the aforementioned families from Brandon had abandoned by their new village and moved to areas along the Red River from Kildonan north to the Lower Fort Garry and Mapleton. Soon after, French Canadian Freeman and Métis families from Pembina moved in, recreating the settlement and re-naming it as St Francois Xavier.
On May 2, 1828 George SPENCE & his Cree spouse Catherine were church-wed at St Johns (Winnipeg). This was the first Anglican Church built in the area, and that year Reverend David JONES (1796-1844) and Reverend William COCKRAN (1798-1865) were the only clergymen there. Actually, JONES departed that same year, so COCKRAN was more likely the one who married them.
The Red River Census of 1827 (Gail Morin) offers two Georges to choose from; my guess for our George: George SPENCE #85 on Lot 171; age 35, Protestant, Rupert's Land (1 man, 1 woman); 2 sons (under 16 ) and 1 daughter (under 15). He has a house, barn, 2 horses, 3 cows, 2 oxen, 2 calves, 2 swine and a canoe
In 1831 John SPENCE (presumed son) may have married Margaret DENNETT, daughter of Sophia BALLENDINE and William DENNETT (1780-1864). ** MORE ABOUT WILLIAM DENNETT
Construction of Lower Ft Garry was begun in 1832.  This new fort became an important trading center for supplying goods to northern fur trading posts and packing furs for shipment to York Factory.  The fort, constructed from large blocks of limestone, also provided protection from the threat of unfriendly Indians and other enemies. 
George SPENCE died in 1859; Catherine in 1865.
Please post comments & queries at this link: FORUM DISCUSSING the GEORGE SPENCE FAMILY
=========================== Family Details ===========================
Children: (The ? preceding the following names indicates uncertainty; more verification required)
?1. c1811 JOHN SPENCE (m1. Margaret DENNETT, m2. Charlotte COOK)
?2.  c1809 or 1823 JOHN CLARKE SPENCE (m. Annabella McKENZIE)
?3. est c1820 ELIZABETH SPENCE (m. Hugh LINKLATER)
4. Dec 11, 1824 CATHERINE SPENCE (m. Charles BEGG)
6. June 16, 1830 JACOB SPENCE (m. Sarah BIRSTON)
5. Dec 18, 1827 PETER SPENCE (m. Clarissa "Clara" SABISTON)