THOMAS BUNN (1830-1875)
ISABELLA CLOUSTON (1835-1857)
RACHEL HARRIOTT (1840-1909)
(Last Updated: March 09, 2017)
Thomas BUNN was born May 16, 1830, probably in St Paul Parish (Middlechurch), eldest son of Catherine THOMAS & Dr John BUNN (1803-1861) who were both half-breeds. Tom's father was a Chief Factor with the Hudson's Bay Company (HBC) and also a Surgeon who retired to Red River in 1824. Young Tom received his education at the Red River Academy.
Marriage to Isabella CLOUSTON
1854-1857
On March 16, 1854 Tom married in St Paul (Middlechurch) to Isabella CLOUSTON, daughter of Nancy SUTHERLAND & John Robert CLOUSTON (1793-1850). Isabella's sister, Jemima CLOUSTON later married Tom's brother, John Robert BUNN (1855-1932).
On March 15, 1857, Isabella died (buried St Johns), leaving Tom with two children, John Robert (age 2) & Isabella (a baby).
Marriage to Rachel HARRIOTT
1859
On March 31, 1859 Tom re-married at St Andrews to Rachel HARRIOTT, daughter of Nancy ROWAND (1818-1849), the second wife of her father, John Edward HARRIOTT (1797-1866). She was a step-daughter of her father's third wife, Frances BUNN, daughter of Phoebe SINCLAIR & Thomas BUNN (1765-1852).
** MORE ABOUT JOHN EDWARD HARRIOTT
Tom BUNN hired stonemason Samuel TAYLOR (1812-1894) who in June of 1862 commenced to build a 1 ½ storey stone house high on the banks of the Red River overlooking the east landing of the Mapleton Ferry.  The stone was quarried from the banks of the river and from local fields. This of course is the same Sam TAYLOR who built the St Clements stone church. The approach road to the ferry passed close by as it descended the river bank to the Mapleton Ferry landing. The ferry was in operation until the lift bridge was opened at Selkirk in 1937. ** MORE ABOUT SAMUEL TAYLOR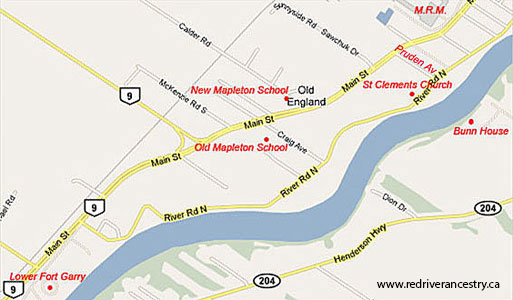 In August of 1864 the Bunn House was completed, and it was called "Victoria Cottage" after the reigning monarch. That year Tom is listed as a signee on the Petition for the Consecration of St Clements Church.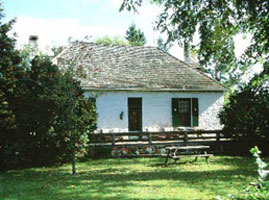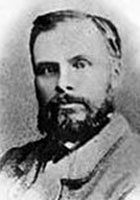 Bunn House, River Lot 97, St Clements Parish – Thomas Bunn
Manitoba Provincial Heritage Site No. 69
In 1865 BUNN began to serve as a Clerk of the Council and the Quarterly Court of Assiniboia.
Canadian Confederation
1867
On July 1, 1867 the British colonies in North America were united under the British North American Act to become the Dominion of Canada.  Sir John A MacDONALD (1815-1891) was appointed as Canada's first Prime Minister; a month later he won the first federal election. William McDOUGALL (1822-1905) became the Minister of Public Works, and he began negotiations to acquire Rupert's Land from the HBC.
In 1868 Tom was appointed to the Council of Assiniboia. By this time he and Rachel had two children, Flora (age 6) and baby Margaret.
Louis RIEL and the Red River Resistance
1869
In August of 1869, Colonel John Stoughton DENNIS (1820-) arrived in Red River. At that time William MacTAVISH (1815-1870), HBC Governor of Assiniboia, was not informed that Rupert's Land was to become Canadian territory in a few months. MacTAVISH warned DENNIS that when the surveying was started, he anticipated that the Métis and Indians would be upset; he predicted that they would assert their rights to their lands. On Oct 1, 1869 William McDOUGALL (1822-1905) was appointed as Lieutenant Governor of Rupert's Land.
On Oct 11, 1869, Louis RIEL (1844-1885) placed his foot on the surveyors' chain to tell them their work was finished! This marked the beginning of another Red River Métis Rebellion.
On Nov 6 RIEL issued an invitation to the English-speaking inhabitants to elect 12 representatives from their parishes to attend a convention with the Métis representatives. Somewhat reluctantly the country-born and the Selkirk settlers agreed with the proposal. Thomas BUNN was elected as the delegate representing St Clements Parish.
On Nov 16 MacTAVISH, as governor at Red River, issued a proclamation requiring the Métis to lay down their arms. In response RIEL proposed a further step to the convention on Nov 23: the formation of a provisional government to replace the Council of Assiniboia and to negotiate terms of union with Canada. He did not succeed in rallying the English-speaking parishes behind this move. On Dec 17, 1869 Thomas BUNN succeeded W.R. SMITH as Executive Officer of the Council with a salary of £100 per year. On Dec 27, RIEL took over from BRUCE as president of the provisional government.
Rebellion
1870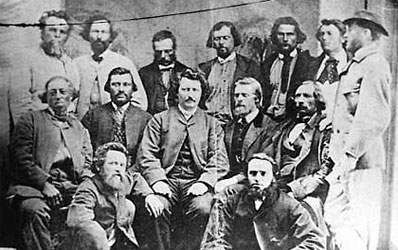 Riel's Provisional Government (Glenbow Archives)
                Back L-R: Bonnet TROUMAGE, Pierre DELORME, Thomas BUNN, Xavier PAGE, Baptiste BEAUCHEMIN, Baptiste TOUROND             
Centre Row L-R:  Pierre POITRAS, John BRUCE, Louis RIEL, John D'ONOGHUE, Francois DAUPHINAIS
                Front Row L-R: Robert O'LONE, Paul PROULX, Joseph Thomas SPENCE (standing at right)
On Jan 19, 1870 a large crowd assembled in the square at Fort Garry and, with Thomas BUNN in the chair and RIEL acting as interpreter, Donald A SMITH made his case. He promised a liberal policy in confirming land titles to present occupants and representation on the proposed territorial council. The meeting was continued on the following day with an even larger crowd. The country-born and the Scottish delegates (including BUNN) were now satisfied that they should cooperate further with RIEL.
On Feb 10, 1870, the National Committee of the Métis officially became the Provisional Government, with BUNN as the Assistant Secretary of State.  BUNN then served on the committee arranging the elections to the Convention of Forty and he himself became on of the delegates to the Convention representing St. Clements. He then served as Secretary of State in the Provisional Government.
BUNN recognized the need for a peaceful and united front in order to negotiate terms for a union with Canada. He tried indeed to pursue an intermediate position and the strains were sometimes great. By accepting RIEL's policy, BUNN, in a sense, made himself RIEL's English half-breed lieutenant, despite the fact that there was no bond between the men.
RIEL had reached the pinnacle of his hopes and ambitions, and he could afford a gesture of generosity – he promised to release all the prisoners held at Upper Fort Garry; on June 24 the Provisional Government accepted the terms of the Manitoba Act; and on July 15,1870 Manitoba became the fifth province of Canada, the Canadian Government having acquired the territory previously governed by the HBC.
On Dec 30, 1870 St Clements returned BUNN as its first member to the provincial Legislative Assembly.
In May of 1871 BUNN was called to the bar and was clerk for the first General Quarterly Court.
On Aug 21, 1870, Colonel Garnet Joseph WOLSELY (1833-1913) and his soldiers arrived at Fort Alexander; on Aug 24 they forced their way into Upper Fort Garry. Having learned that the soldiers were planning to lynch him, RIEL vacated the fort just a few hours before they arrived. After going to the bishop's residence to tell TACHE that he had been tricked by the politicians, RIEL fled to the United States. He took refuge at St Joseph's Mission, about 10 miles south of the border in Dakota Territory. On Aug 24 Donald SMITH was appointed as the Interim Lieutenant Governor of Manitoba.
On Sep 2 Adams George ARCHIBALD (1814-1892), the new Lieutenant Governor of Manitoba, arrived at the settlement, replacing SMITH. WOLSELEY welcomed him and then he departed with the British regulars, leaving the 700 Canadian Militia to maintain order. On Sep 6 ARCHIBALD proclaimed the new Government of Manitoba but he had difficulty finding suitable candidates to sit on his council. Certainly he had no intention of including in his ministry John Christian SCHULTZ, whom he viewed as the major instigator of trouble in Manitoba. For almost his entire term in the province, ARCHIBALD was convinced that he could isolate SCHULTZ and destroy his influence. One of his priorities was the establishment of a provincial legislature. Before an election could be held, he had first to arrange for a census of the population.
Red River Census of 1870
In December of 1870 a Census of Red River was completed. The results recorded 5, 757 French-speaking Métis; 4, 803 white settlers and 558 Indians in the census region. This information would be later used to determine who would be eligible for Land Grants and Scrip.
On Dec 27, 1870 Manitoba held its first provincial election.There were 24 electoral districts; 12 French speaking; 12 English Speaking. Thomas BUNN was elected as MPP for St Clements.
In 1870 Tom's family was recorded on Lot 97 in St Clements Parish (East Mapleton) with children/ ages as follows: John 15; Isabel 14; Flora 8; Marguerite 2. A daughter Frances Jemima was born after the census was taken but apparently died in infancy before the year was out. Daughters Flora (age 12) and Margaret (age 6) both died in 1874.
Thomas BUNN died on April 11, 1875 in Mapleton. He was only 44 years old. Rachel stayed with her youngest son, Thomas George BUNN until she died at his home in St Anne on March 31, 1909 (age 68). She was buried in the St Clements Cemetery in Mapleton.
In 1898 son Thomas married Frances Jane HODGSON in St Andrews, daughter of Jane Mary PRUDEN and Edwin HODGSON (1857-1907). ** MORE ABOUT EDWIN HODGSON
Please post comments & queries at this link: FORUM DISCUSSING THOMAS BUNN & FAMILY
======================== Family Details ========================
Children by Isabella CLOUSTON:
1. Aug 26, 1855 JOHN ROBERT BUNN (m. Vashti GUNNE)
2. Mar 15, 1857 ISABELLA BUNN
Children by Rachel HARRIOTT:
1. 1862 FLORA BUNN (Died age 12)
2. 1868 MARGARET BUNN (Died age 7)
3. 1870 FRANCES JEMIMA BUNN (Died in infancy, age 1)
4. Nov 2, 1874 THOMAS WILLIAM GEORGE BUNN (m1. Frances Jane HODGSON)
======================== Notes & References ========================
The Dictionary of Canadian Biography Online: THOMAS BUNN