SAMUEL TAYLOR (1812-1894)
NANCY McKAY (1831-1867)
(Last Updated: June 09, 2016)
Samuel TAYLOR was born on Dec 22, 1812 at Firth in the Orkney Islands of Scotland, the only known son of Margaret (nee OLAY) GOUDIE and her second husband, James TAYLOR, a tenant farmer at Holland in the Orkney parish of Firth. ** This information thanks to Neil – See his comments on the Forum at the link provided below.
Sam joins the Hudson's Bay Company
1836
From Vernon Railton's St. Clements Church History: As a young man, Sam joined the HBC and arrived at York Factory Sep 3, 1836.  He spent 21 yrs in the Southern Dept, being stationed during this time at Moose Factory, Rupert House, Fort George, East Main, Mistassini, etc. ** MORE ABOUT VERNON RAILTON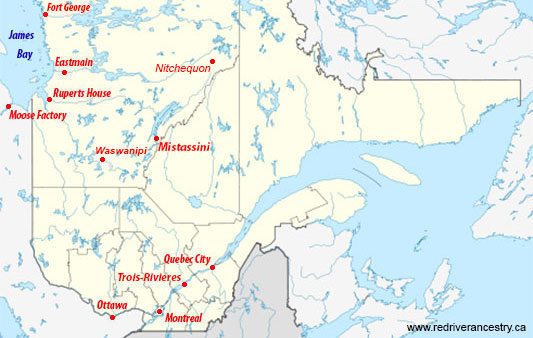 Marriage to Nancy McKAY
1847
On March 2, 1847, Sam married Nancy McKAY at Ruperts House, the 16 yr old daughter of Mary BUNN & William McKAY (1793-1864) who was in charge of the HBC Post at Mistassini at the time. Her brother was the Reverend John Alexander McKAY (1838-1923). ** MORE ABOUT WILLIAM McKAY
Sam arrives in the Red River Settlement
Building of St Clements Church
1857-1860
Railton: In the summer of 1857 the McKAYs and the TAYLOR's moved from the Moose Factory District to the Red River Settlement using the Albany River route, and took up land at Mapleton.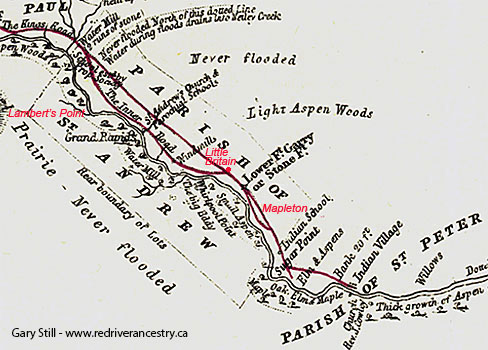 St Andrews Parish from Hind's Map of 1857
Sam's handwritten Diary June 13, 1859:  "The first Steamer that ever came down the Red River came down about the middle of the day." This was the steamer Anson Northrop which had its winter base at the mouth of Cooks Creek, not far from the Old St Peters Church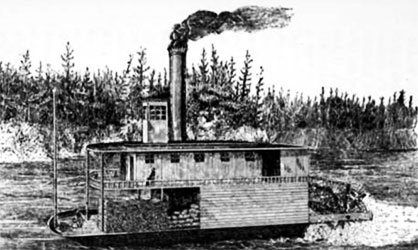 The Anson Northrop. The name changed to the 'Pioneer' in 1860
By 1860 construction of the St Clements Church was under way, the primary builder was Samuel TAYLOR. Perhaps the most prominent other stonemason of Red River during that era was Sam's predecessor, Duncan McRAE (1818-1898)
** MORE ABOUT STONEMASON DUNCAN McRAE
More from Sam's Diary
1861
May 31, 1861: "Dr BUNN died suddenly in the morning".  Sam's wife, Nancy McKAY, daughter of Mary BUNN & William McKAY.,was Dr BUNN's niece.  Her mother was Dr John BUNN's sister.

June 6, 1861: "Dr RAE came to survey a telegraph line to the West Coast" ** MORE ABOUT DR JOHN RAE in DCBO

Nov 9, 1861: "John HUDSON (HODGSON) put in the windows in Mapleton Church"

Dec 1, 1861: "The Church of St Clements was opened for divine worship by Lord Bishop of Rupertsland and Mr HUNTER.  The church was full of people from up above and down below.  Indeed, many had to go home as it was rather cold that evening" ** MORE ABOUT ARCHDEACON JAMES HUNTER in DCBO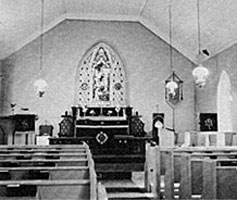 St Clements Anglican Church built in 1860-61
Stonework by Samuel TAYLOR
Sam builds the Historic Bunn House
1862
In 1862 TAYLOR notes the hanging of the "John West Bell" in the St Clements church.  The bell was brought over by Reverend John WEST (1778-1845), the first missionary in Red River.  It was hung in the first St Johns Church in North Winnipeg.  Since they needed a set of 3 bells for their larger church, the original bell was sent to St Clements.
** MORE ABOUT REVEREND JOHN WEST
Sam's Diary June 23, 1862:  "- - began to build T. BUNN's stone house" ** MORE ABOUT THOMAS BUNN
Manitoba Archives: The construction of stone buildings was an ambitious undertaking in Manitoba before 1870 (the Red River Settlement era). Usually reserved for institutional or commercial structures, few private individuals could afford the expense. The former Thomas Bunn House is one of these rare examples. It was built between 1861 and 1864 by Samuel Taylor, a local farmer and stonemason who also worked on a number of other stone buildings, the most notable being St. Clement's Anglican Church. Thomas BUNN, a Métis farmer, was also a well-known lawyer and politician of the day and was active as a representative in both Louis Riel's first Provisional Government and Manitoba's first Legislative Assembly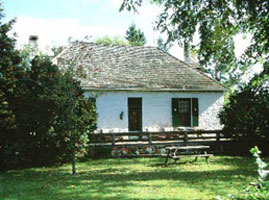 Bunn House, River Lot 97, St Clements Parish
Manitoba Provincial Heritage Site No. 69
Canadian Confederation
Nancy Dies
A Red River Metis Rebellion
Manitoba becomes a Province
1867-1870
On July 1, 1867 the British colonies in North America were united under the British North American Act to become the Dominion of Canada.  Sir John A MacDONALD (1815-1891) was appointed as Canada's first Prime Minister; a month later he won the first federal election.William McDOUGALL (1822-1905) became the Minister of Public Works, and he began nnegotiations to acquire Rupert's Land from the HBC; surveyors were sent out to prepare the way for an expected influx of settlers.
In 1867 Sam's wife Nancy McKAY-TAYLOR died. She was only 36 years old. At that time their surviving children were William (age 19), James (17), Jane (15), Mary (14), Robert (11), Ann Elizabeth (8) and Louisa (age 6).
In 1869 Louis RIEL (1844-1885) began to organize resistance to the transfer of the North-West to the Dominion of Canada without prearranged terms. This marked the beginning of the historic Red River Metis Rebellion.
** MORE ABOUT THE RED RIVER METIS REBELLION in WIKIPEDIA

On July 15, 1870 Manitoba became the fifth province of Canada, the Canadian Government having acquired the territory previously governed by the HBC. The Rebellion was essentially over.
Treaty Number One and the Creation of the St Peters Indian Reserve
1871
Shortly after the entry of Manitoba into Confederation, the dominion government made plans to extinguish the Indian title in anticipation of the expected influx of agricultural settlers into the province. The government's negotiator, Wemyss SIMPSON (1824-1894) arrived in the province on July 16, 1871, and immediately issued proclamations to the Indian leaders of the territory to come to Lower Fort Garry to negotiate the terms of a treaty. The first to arrive was Chief Henry "Red Eagle" PRINCE (1819-1899), who had become chief of the Peguis Band on the death of his father, Chief PEGUIS, in 1864.
** MORE ABOUT CHIEF HENRY PRINCE and the SIGNING OF TREATY NUMBER ONE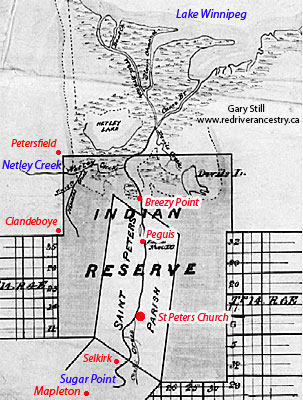 Plan showing St Peters Indian Reserve No. 1 established in 1871
In 1872 eldest son William married Mary BIRSTON, the youngest daughter of Nancy LYONS and Magnus BIRSTON (1811-1875). ** MORE ABOUT MAGNUS BIRSTON
Also in 1872 son James married Annabelle SCOTT, daughter of Ann SETTER and William SCOTT (1815-1874) from the Orkneys of Scotland. ** MORE ABOUT WILLIAM SCOTT
In 1875 daughter Jane became the second wife of widower John Edward HARRIOTT, son of Nancy ROWAND and Chief Factor John Edward HARRIOTT SR (1797-1866). ** MORE ABOUT JOHN EDWARD HARRIOTT SR
On Feb 12, 1876 the St Clements Cemetery was consecrated. The first burial there was little George KIPLING.
Around 1878 daughter Louisa married Reverend William BURMAN from England, son of Elizabeth BRAY and William BURMAN (1837-1897).
In the 1881 census of St Andrews Parish, Sam was recorded as a 68 year old widower. With him were son Robert (age 26) and daughter Elizabeth (age 21).
In 1881 daughter Mary married David ARMIT, son of Christina PEARSON and Robert John ARMIT (1810-1892) from the Orkneys.
In 1881 son Robert married Sarah MOORE, daughter of Helen ALDER and Joseph MOORE (1818-1895).
Sam's son, the Reverend James TAYLOR became a farmer, and was a leader in efforts to obtain land grants which former HBC servants felt had been promised them. He was deeply religious, and decided to go into the ministry. He went to the Prince Albert and served in various Anglican churches in the area. He studied at Emmanuel College in Prince Albert (and later was principal there for seven years). He graduated and became secretary for the Diocese of Saskatchewan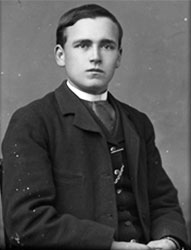 Reverend James Taylor (April, 1885)
(Topley Studio / Archives Canada)
Railton: Sam bought property on Taylor Ave in Selkirk, and built a house on the SE corner of Eveline St, which still stands. Taylor Ave was named after him.
On Nov 17, 1894 Samuel TAYLOR died.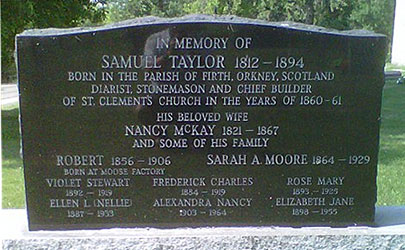 St Clements Cemetery, Mapleton
Comments and queries at this link: FOURM DISCUSSING the SAMUEL TAYLOR FAMILY
========================== Family Details ==========================
Children:
1. Apr 6, 1848 WILLIAM McKAY TAYLOR (m. Mary BIRSTON)
2. Apr 2, 1850 JAMES TAYLOR (m1. Anabella SCOTT, m2. Hortense Almida ROY)
3. Aug 28, 1852 JANE TAYLOR (m. John Edward HARRIOTT JR)
** MORE ABOUT JOHN EDWARD HARRIOTT JR
4. Mar 13, 1853 MARY TAYLOR (m. David ARMIT)
5. Sep 2, 1856 ROBERT TAYLOR (m. Sarah Ann "Ada" MOORE)
6. Jan 11, 1859 ANN ELIZABETH FRANCES TAYLOR
7. Nov 28, 1861 LOUISA TAYLOR (m. Rev William Alfred BURMAN)
8. Dec 19, 1863 JOHN TAYLOR (Died in infancy 1865, 2 yrs old)