CHIEF HENRY (MIS-KOO-KE-NEW) "RED EAGLE" PRINCE (1819-1902)
SARAH BADGER (1826-1898)
(Last Updated: July 27, 2017)
Henry "Red Eagle" PRINCE was born around 1819 in the St Peters Indian Reserve. He was the youngest son of an Indian woman (later baptized as Victoria) and Chief PEGUIS (1774-1864), the famous chief of the Saulteaux.
The Hudson Bay Company & North West Company Merger
1821
On March 26, 1821 the Hudson's Bay Company (HBC) and the North West Company (NWC) signed an agreement that would merge the two companies into one. George SIMPSON (1786-1860) was appointed as Governor of Rupert's Land.

On October of 1825, Reverend William COCKRAN (1798-1865) arrived at the Red River with his wife as the assistants to Reverend David JONES (1796-1844) at the Middle and Upper Churches (St Paul and St Johns).  In 1829, after JONES had returned from England, Mr. and Mrs. COCKRAN moved to The Grand Rapids, now St. Andrew's, built their home there, and the first St. Andrew's (or Lower) Church was opened and dedicated on 1st May, 1832.
It wasn't until 1832 that old Chief PEGUIS was finally persuaded by COCKRAN to establish an agricultural settlement at Netley Creek. He also agreed at that time to leave one of his sons with COCKRAN at The Rapids to begin his education. This son was apparently not Henry although he would have been about 13 years old that year.
By the fall of 1833 a 20' x 40' house was built at Sugar Point (Mapleton) that was used for a school room and store with the upper floor holding seed grain. Joseph COOK (1788-1848) was the first schoolmaster. By the fall of 1835 there were 60 children enrolled in this school, polygamy was reducing and many of the Indian people were receiving Christianity.
The First St Peters Church and School
1836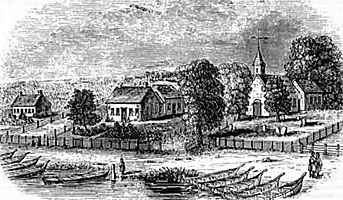 Indian Settlement at Red River, from G.J. Mountain's Journal, 1846 (Archives Manitoba)
Note: The stone church was not completed until after Rev COWLEY took charge in 1854.
About a year later the Sugar Point site was considered unsuitable, and the project was moved between three and four miles down the river, to a situation where a creek joins it on the east side, which has long been known as Cook's Creek. Here in 1836, sufficient progress had been made to build the first St Peters Church which was used until 1854, and here Mr. COOK and the school were located. This was a 54' x 24' building capable of holding 300 people, and it was officially opened on Jan 4, 1837. This first church on the site of St Peters was described by Bishop MOUNTAIN on his visit in 1844 as "a wooden building, painted white - - with a cupola over the entrance and square-topped windows."
Henry PRINCE was educated at this school and attended the St Peters Church. He would have been about 18 years old by that time.
Family Baptisms
Chief PEGUIS Marries
1837-38
In November of 1837 Rev William COCKRAN baptized three of PEGUIS' sons who would bear the surname PRINCE: William (No. 313), William (No.323) and George (No.328). The two Williams are particularly puzzling and problematic. Was one of them possibly William Henry? Henry must have been baptized or at least became a Christian around that time in order to be church-wed a few years later.
Henry marries Sarah BADGER
1840
Rev John Smithurst's Registry:  Mr. SMITHURST had to wait until 7th October, 1840, for his first Wedding, but it was a notable one: "William KING (PEGOWYS) and "Victoria", and it seemed strange to note at the top of the next page and right opposite to it, the entry of the marriage of "Henry PRINCE" (the youngest son of the famous Chief) to "Sarah BADGER." The chief witness to all the early weddings was Joseph COOK, who acted in that capacity at forty-two of them.
In 1864 Henry's children and their approximate ages were Joseph (age 19) , William Henry (16), Annabella (9), John Henry "Long Jake" (7), Victoria (3)and Jane (age 1). Eldest son Joseph was married by this time to Elizabeth SPENCE and they had a baby daughter (Marie), Henry's first grandchild.
Chief PEGUIS dies and Henry becomes the Chief of the St Peters Indians
1864
After his father Chief PEGUIS died in 1864, his son, Henry PRINCE, MISKOOKENEW or RED EAGLE as he was known to the Band, became Chief of the Saulteaux.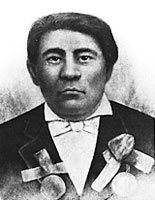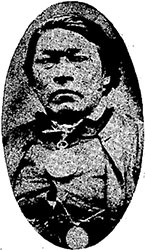 Chief Henry' Red Eagle' Prince (1819-1902)
Chief Henry was a 45 year old grandfather now with six children. Son Joseph was married now to Elizabeth SPENCE. Their baby daughter (Marie) was Henry's first granddaughter.
Canadian Confederation
1867

On July 1, 1867 the British colonies in North America were united under the British North American Act to become the Dominion of Canada.  Sir John A MACDONALD (1815-1891) was appointed as Canada's first Prime Minister.
In 1868 William McDOUGALL (1822-1905) became the first Minister of Public Works for the new Dominion of Canada, and he began negotiations to acquire Rupert's Land from the HBC. Plans were already under way to create a new province in Red River territory. Land speculators saw an opportunity to make a fortune by being the first to grab up the most valuable farm sites. There were many easterners who jumped at the opportunity to acquire free land for homesteads.
One of McDOUGALL's first actions was to send John Allan SNOW (1824-1888), a Surveyor, to build the Dawson Road so settlers could have a shorter route from Ontario through Canadian territory to Red River.
Colonel John Stoughton DENNIS (1820-1885), a soldier and a surveyor, was sent to delineate plots of land for settlers. He would introduce a new system of land surveys termed the Dominion Land Survey (DLS) using the Township System. The old system of long narrow river lots was discontinued. Among DENNIS' survey crew was a young soldier named Alexander MUCKLE (1844-1908) who would later become the Indian Agent for the St Peters Reserve.
** MORE ABOUT ALEXANDER MUCKLE
Louis RIEL and another Red River Rebellion
1869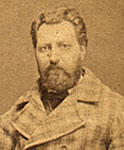 Louis Riel
On Oct 11, 1869, Louis RIEL (1844-1885) placed his foot on the surveyors' chain to tell them their work was finished! This marked the beginning of another Red River Métis Rebellion.
Under the leadership of RIEL, the Métis soon after established their National Committee of the Métis of Red River. Then, on Nov 2, he and 120 armed men took control of Upper Fort Garry. RIEL knew he would need the support of the English speaking settlers north of the Forks to support his actions. On Nov 6, he issued an invitation to the parishes to send 12 representatives to a meeting that would be held at Fort Garry.  The intention was to form one body with their Council to consider the present political state of their Country, and to adopt such measures as may be deemed best for their future mutual welfare. The English speaking settlers complied with his request, although with some reluctance. If not convinced that they should support RIEL, saw no reason why they should not talk.
The men selected to represent the northern Parishes were Donald GUNN (1797-1878) for St Andrews; Thomas BUNN (1830-1875) for St Clements (Mapleton); and Chief Henry PRINCE for St Peters. ** MORE ABOUT THOMAS BUNN
Thompson pg 35:  PRINCE met with RIEL on more than one occasion and voiced his disapproval of the Métis' behaviour.  He was particularly annoyed when RIEL called a general meeting, and refused to allow his speech, in French, to be translated into Cree.  When there were rumours of RIEL taking over the Lower Ft Garry as well, Chief Henry PRINCE led 100 men to the fort.  Here the Canadian Govt surveyors were billeted.  PRINCE offered to assist the chief surveyor, Colonel S DENNIS, is suppressing the Métis uprising. DENIS did not wish to engage Red River in civil war but he gratefully received a dozen Saulteaux as guards.  PRINCE kept his young men at St Peters and rejected all appeals from RIEL to join forces with him.
On Nov 27, after a number of meetings, RIEL reached a compromise with the English-speaking delegates and they agreed to the formation of a Provisional Government to replace the Council of Assiniboia.
On Dec 18, having been informed that the Canadian Government had in fact postponed union until a peaceable transfer could be guaranteed, McDOUGALL, DENNIS and company (including Alexander MUCKLE) left Pembina for Ontario.
The Rebellion ends and Manitoba becomes a Province
1870
On May 2, 1870 Sir John A MACDONALD introduced the Manitoba Act. The Bill provided for the appointment of a Lieutenant Governor, a Legislative Council of seven members, and a Legislative Assembly of 24 members. The seat of government was to be at Fort Garry, or within a mile thereof.
Colonel Garnet Joseph WOLSELY (1833-1913) was chosen to lead an expedition to Red River to oversee the Transfer from the HBC to Canada. Thomas HOWARD (1845-1903) was his Captain and Paymaster. Donald "Lord Strathcona" SMITH (1820-1914) was sent as a special emissary to replace RIEL's Provisional Government. One of those soldiers was Alexander MUCKLE, returning once more to Manitoba after spending the winter in Toronto.
On Aug 24 WOLSELEY and company forced their way into Upper Fort Garry. Having learned that the soldiers were planning to lynch him, RIEL vacated the forty and fled to the USA. Having accomplished their mission, many of the soldiers were then billeted to Lower Fort Garry.
On Sep 2 Adams George ARCHIBALD (1814-1892), the new Lieutenant Governor for Manitoba, arrived at the settlement to replace SMITH. ARCHIBALD was now able to settle the boundaries of the 24 electoral divisions stipulated in the Manitoba Act of 1870. On Dec 27, Manitoba held its first provincial election. John NORQUAY (1841-1889), a half-breed, would become the first Premier of Manitoba. Thomas BUNN was elected as MPP for St Clements Parish.
In December of 1870 a Census of Red River was completed. The results recorded 5, 757 French-speaking Métis; 4, 803 white settlers and 558 Indians in the census region. This information would be later used to determine who would be eligible for Land Grants and Scrip.
In 1870, according to the online version of Sprague & Frye, Henry PRINCE and his family were on Lot 83-85 in St Peters. Children at home were Joseph, William, and Annabella. This is a rather problematic record. Birthdates appear to be erratic and where were his younger children (John, Victoria and Jane)? These S&F records never indicate the heads of families and only list the children. Henry was known to have had marital problems, so it is possible that his wife and younger children were living separately at that particular time.
Shortly after his arrival, ARCHIBALD met with a large delegation, headed by Chief Henry PRINCE, of Indians from the Indian mission at the mouth of the Red River. The Indians indicated that they wanted to sign a Treaty and stated that they had never been paid for the lands supposedly surrendered to Lord Selkirk.At the time of Confederation, none of the land in Manitoba was surrendered to the Crown by First Nations people. It remained entirely subject to aboriginal title. In spite of this fact, the Manitoba Act affirmed the rights of settlers who occupied land, including the members of Peguis Band (under the Selkirk Treaty of 1817), the Métis and other persons occupying land by recognized HBC grants or other authority.
Treaty Number One
1871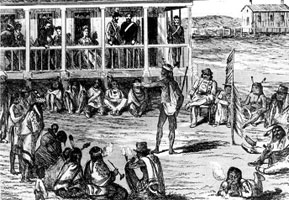 Signing Treaty One, Lower Fort Garry: Archives of Manitoba
In 1871 Wemyss SIMPSON (1824-1894) was selected by the Department of Indian Affairs (DIA) as General Indian Agent (Indian Commissioner) to make Treaties with the Indian Tribes between Thunder Bay and Fort Garry and to represent the Government in the Northwest. Wemyss was a brother-in-law of the illustrious late HBC Governor Sir George SIMPSON (1786-1860).
On July 18, 1871, SIMPSON issued a proclamation inviting the Indians to meet with him at Lower Fort Garry on the 25th. Lieutenant Governor ARCHIBALD issued his own proclamation forbidding the sale or supply of liquor to the Indians. To add circumstance to the negotiations, ARCHIBALD asked Major IRVINE of the garrison to provide some soldiers, commenting that "Military display has always a great effect on savages, and the presence, even of a few troops, will have a good tendency."A large supply of food was also provided. Thus, the logistics completed Commissioner SIMPSON and Lieutenant-Governor ARCHIBALD prepared to negotiate the First Indian treaty of the Dominion of Canada.
On July 25, 1871, negotiations began at Lower Fort Garry.
On Aug 3, 1871, Red Eagle (Mis-koo-ki-new or Henry PRINCE was one of the signatories of Treaty One. Signing on behalf of the government were Lieutenant-Governor ARCHIBALD, Commissioner SIMPSON, Major IRVINE and eight witnesses.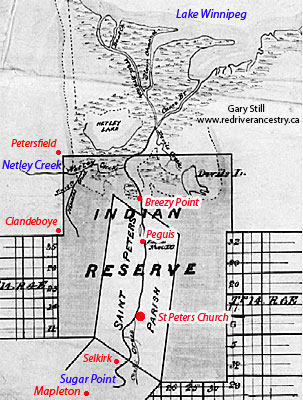 Plan showing St Peters Reserve No.1
From Selkirk The First 100 Years:  In exchange for their promises of obedience to the Crown and abandonment of all land claims, the Indians of the St Peters Band were to receive, among other gifts, "so much of land on both sides of the Red River, beginning at the south line of St Peters Parish, as will furnish 160 acres for each family of five. St Clements Parish had not yet been surveyed by the government between St Andrews and St Peters, and consequently the southern boundary of the new reservation began just south of Sugar Point. As such, it included all of the planned Town of Selkirk.
In December 1872, after the departure of SIMPSON and ARCHIBALD, the newly appointed Lieutenant-Governor Alexander MORRIS (1826-1889) wrote to Ottawa urging that the terms of the treaties be fulfilled. MORRIS was soon busy travelling throughout the region dealing with Indian treaties under his jurisdiction. Accompanying him as an assistant was Alex MUCKLE, who also provided a military escort.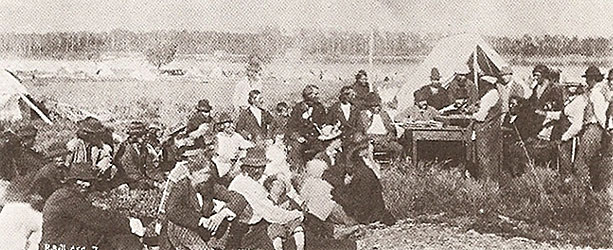 First treaty payment being made in 1872 at St Peters Reserve north of Selkirk
Courtesy Public Archives of Canada
In 1873 daughter Annabella married William HARPER, son of Eliza CUMMINGS and Thomas HARPER (1807-1877).
May 26, 1874 Govt House Fort Garry, a letter from MORRIS: I find myself frequently subjected to great inconvenience in dealing with the Indians who call on me owing to their want of an Interpreter and am obliged to employ the service of such a person as I can, at the time, find capable of conversing with them. On two recent occasions I have sent for William SINCLAIR, an employee of the Land Office who is a reliable man and speaks several dialects.
Henry PRINCE was also a signatory to Treaty Number Two on Aug 23, 1875. On Sep 12, 1875 it was formally ratified by the Governor General in Council.
It has been said that during the 1870's the Saulteaux and Cree became openly antagonistic toward one another and the Parish of St Peters, and that by 1876 it was divided in two.  The formal split caused the Reserve to alter in appearance with the southern half (Dynevor) occupied by the Cree basically with the northern half (Peguis) housing the Saulteaux.

More than 1000 people lived between Sugar Point and Netley Marsh, mostly half-breeds and Indians. Less than 50 were whites.  These were settled people with a 40-year tradition of agriculture. Those lots closest to Sugar Point seemed to take best to farming, but lately even they had not had much success because of grasshopper plagues that ravaged their fields every few years.  Still, most families had a small herd of cattle, some pigs and a few chickens to help them through the winter months. Some of the men found work on the HBC boats that plied Lake Winnipeg and it's tributaries, while others cut hay and wood on the east side of the Red for sale to white settlers closer to Winnipeg.
In October of 1875 the first group of Icelandic Settlers arrived in Manitoba.
The First Indian Act is Passed
Dr. David YOUNG as Indian Agent for St Peters
1876-1881
In 1876 Henry PRINCE was Chief of the St Peters Band; Councillors were (John and William PRINCE), MATWEKAKETOOT and MAGUAMEWAGNUM.  This comes from the online version that lists all the Chiefs and Councillors from 1871 onward. Hereafter I will simply use CC to indicate that as the source of my information through this narrative. Anyone who wants to know exactly who many of the names on this list refer to is left completely in the dark; very frustrating and problematic for a genealogist. Most people know that John PRINCE (Long Jake) was Henry's son, about 18 years old and that he continued as a Councillor throughout most of his life. My guess is that William PRINCE was perhaps Henry's brother, also known as SENNA.
On Oct 7, 1876 the Federal Government passed the first Indian Act, and much like its predecessor, the Act continued to subordinate Aboriginal peoples to the discretion of federal lands.
In 1877Dr. David YOUNG (1847-1931), a resident of Little Britain (near Lower Fort Garry), became Indian Agent for the Reserves at Brokenhead River, St Peters, Fort Alexander and other Reserves on the south part of Lake Winnipeg as may be conveniently reached by him. In addition, he became the Medical Officer for the Clandeboye Indian Agency. By this time MUCKLE had a home near Clandeboye which served as a headquarters for the Agency.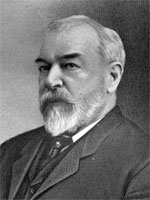 Dr David Young (1847-1931)
CC-1877: Chief: Henry PRINCE; Councillors: ASHAWAN, MAGUAMEWAGNUM and John & William PRINCE.
One of the first problems that YOUNG had to deal with as Indian Agent occurred when he received a petition of complaints from members of the St Peters Band against their Chief, Henry PRINCE. At the top of the petition were charges made by James ASHAM Jr. (1823-1901) and John FLETT (1826-1888). ** MORE ABOUT JAMES ASHAM
Their different outlooks led to a minor civil war on the reservation in the 1870's, with the northern 'heathens' loudly complaining about the election of HENRY PRINCE as Chief. They wrote letter after letter to the Indian Commissioner to point out PRINCE's shortcomings.
YOUNG called for a general meeting of the Band to be held on Feb 22, 1877 and gave notice that any persons having Complaints against the Chief were to make them known then and there. There was good attendance at the meeting and the Chief was confronted face to face. Two days later YOUNG sent a report to Joseph Alfred Norbert PROVENCHER (1843-1887), then the Acting Indian Commissioner for Manitoba. Quotes from that report: "I append the charges brought against PRINCE at the meeting and the replies he made." The charges included that he was arrested in Winnipeg for drunkenness and put in jail; that he received license money from Traders which he kept for his own use; that he received 12 axes from the Acting Superintendant (PROVENCHER) which he sold to a Saloon Keeper; that he received $25 for potatoes which he spent on furniture for his own house. He ended his report by saying "The Indian whose name heads the petition against PRINCE is now his greatest supporter. There is no doubt that most of the charges brought against him are true, but yet it would be in my opinion very explosive to remove him from his position as there is not a number of his Band who would be able to secure the confidence and support of the Band to the same extent. It would also be a source of annoyance as having once changed their chief new parties would arise every year demanding the same privileges. At the same time I consider it would be very advisable to force the Chief to understand that he would not be permitted to act in the same manner in future." Ultimately the charges were dismissed with a sever reprimand; Henry PRINCE retained his Chieftainship.
At the end of August, 1877, Interior Minister David MILLS arrived in Winnipeg to examine the operation of various branches of his department. On Sept. 8 he visited St Peters Reserve accompanied by PROVENCHER. There the visitors were treated to a speech of almost five hours' duration by Chief Henry PRINCE. It was mainly a litany of grievances delivered with the Chief's "rugged eloquence and quaint illustrations." PROVENCHER, presumably to his embarrassment, was accused of being invisible when called upon and of treating the Indians "like dogs."
On Sep 20, 1877 Ebenezer McCOLL (1835-1902) was given the title of Inspector of Indian Agencies. He was also appointed to a commission that would investigate allegations of fraud in the office of the Indian Affairs Branch at Winnipeg.
Scandalous and fraudulent activity amongst Indian leaders wasn't much different than those that have plagued white politicians throughout history. The stresses and empowerments of high office often led to heavy drinking and illicit extramarital activity. PRINCE was also well known for his love of 'fire water' and carousing about. Sir John A MACKDONALD himself was a known boozer.
On Dec 18, 1877, after hearings conducted by McCOLL and the other commissioner, lawyer W. H. ROSS, Acting Commissioner PROVENCHER was removed from office.
1878
CC-1878: Chief: Henry PRINCE; Councillors: ASHAWAN, MAGUAMEWAGNUM and John PRINCE.
From ICC Proceedings: In the spring of 1878, after conducting investigations McCOLL concluded that Chief Henry PRINCE had little cause to complain about lot sales, since he had participated in many of them, but that the claims of persons who purchased from treaty Indians were without merit. "I am of opinion that those who purchased lots from treaty Indians," he wrote, "have no legal right whatever to them, although they might have been misled in doing so, for inasmuch as Treaty Indians are wards of the government, they have no more power to convey lands than minors have."
1879
CC-1878: Chief: Henry PRINCE; Councillors: John PRINCE, ASHAWAN, MATWEKAKETOOT and George IRVINE.
On May 30, 1879 Edgar DEWDNEY (1835-1916) became Indian Commissioner of the North-West Territories. He was now the principal officer for the Indian Affairs Branch in the northwest.
ICC: Despite continuing pressure from the Peguis Band, no action was taken as a result of McCOLL's report until the spring of 1879. At that time, VANCOUGHNET recommended to the Superintendent General that all non-Indians who had acquired lots from Indians after the date of Treaty 1 should be ejected by notice, pursuant to the provisions in the Indian Act. When steps were taken to affect this plan, however, the residents refused to leave, and departmental officials began to consider the introduction of special legislation to resolve the problem.
1880
CC-1880: Chief: Henry PRINCE; Councillors: John PRINCE, ASHAWAN, MATWEKAKETOOT and George IRVINE.
As a result, in the spring of 1880 the department devised legislation creating a two-year time limit within which all claims under the Manitoba Act were required to be submitted, and a further six-month time limit for the proving of such claims, failing which they would be considered forfeited.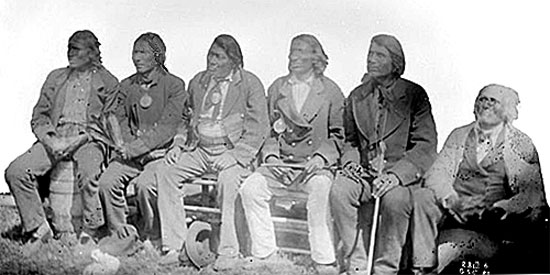 Photo titled: Chief Henry PRINCE, Councillors and interpreter, St. Peters, Man.
(LAC: Date 1880; Photographer: Dr Robert Bell; photo adjustments by G. N. Still)
Of the five Indians sitting on the bench, two are fairly obvious. That would be Chief Henry PRINCE in the centre; the man sitting to his left is almost certainly his son, John "Long Jake" PRINCE, a lifetime councillor. Other Councillors in 1880 were ASHAWAN, MATWEKAKETOOT and George IRVINE. Perhaps the Interpreter seated off to the side is William SINCLAIR or Henry McCORRISTER?
Census of 1881: In this census Henry was recorded as the Chief of the St Peters Band. Both he and his wife were recorded as 55 years old. Children at home were John (age 23), Victoria (age 20) and Jane (age 18).
Alex MUCKLE becomes Indian Agent
1881
CC-1880-81: Chief: Henry PRINCE; Councillors: John PRINCE, MATWEKAKETOOT, George IRVINE, ASHAWAN.
Alexander Montgomery Muckle (1844-1908)
On Dec 31, 1881 DEWDNEY was made Lieutenant Governor of the North-West Territories. He then asked Alex MUCKLE to accept the important post of Agent for the St Peters Indians, including Fort Alexander and Brokenhead Bands.
William PRINCE replaces Henry as Chief
Town of Selkirk is Incorporated
1882-1887
William PRINCE was elected to replace Henry as Chief. There are so many unidentified Williams in the PRINCE family it makes it very difficult to know which one is this is. My guess is that this William was Henry's older brother, also known as SENNA, probably a little older than Henry. Henry PRINCE was now about 63 years old.
It wasn't long before William PRINCE developed a strong dislike for MUCKLE. It was demeaning to have this young white upstart (MUCKLE would have been much younger than PRINCE) dictating the affairs of his reserve, interfering with his supreme authority when it came to Band management. William tried hard to get MUCKLE removed from his position as Indian Agent. His term as Band Chief is highlighted by numerous complaints and grievances directed at MUCKLE and the DIA and is best described at the following link:  ** MORE ABOUT WILLIAM PRINCE vs ALEX MUCKLE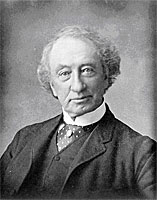 Sir John A MacDonald (1815-1905)
On June 28, 1886 the first through passenger train of the new CPR left Montreal for the Pacific and arrived in Winnipeg crossing the Louise Bridge on July 1, 1886.
On July 13, 1886, Sir John A MACDONALD arrived in Winnipeg. He was the first Prime Minister to visit the city while in office. Henry was able to meet Sir John and was so honored by the visit that less than a month later he wrote a letter to him. Some excerpts: "The great honor you did to me in permitting me to see you at the Winnipeg will ever follow me all my life time. - - I must again make a remark that since I was deposed of the Chieftainship, left me by the happy memory of my late father PEGWYS, I have endured the penalty laid upon me, but being denied to defend myself before a Court and before Her Majesty's Judges, was the severest discipline I ever endured in my life. - - I do here confess that while I held the Chieftainship of the St Peters Reservation I strongly maintained what I considered we had legitimate claim, solely for the benefit of my Band, the Land, timber and hay."
In 1887 the first Merchant's Hotel was built in Selkirk by John Christian SHULTZ (1840-1896).
Henry PRINCE Returns as Chief
1888-1890
CC-1888-1890: Chief: Henry PRINCE; Councillors: John PRINCE, MATWEKAKETOOT, William HENDERSON, Thomas SMITH.
After six years of sitting on the sidelines, Henry (about 70 years old now) was re-elected as Chief of the St Peters Band, but only for two years.
William ASHAM as Chief
1891-1896
From 1891 to 1896 William ASHAM (1853-?) was elected as Chief of the St Peters Band.
Henry's last term as Chief
1897-1899
CC-1897-1899: Chief: Henry PRINCE; Councillors: John PRINCE, , William HARPER, William SINCLAIR, John FLETT.
On Feb 19, 1898 Henry's wife Sarah died at the age of 70.  Henry PRINCE died on June 7, 1899.
After Henry died his son, the Reverend William Henry PRINCE, replaced him as Chief until 1902.
I look forward to queries and discussions; please post them here:
** FORUM DISCUSSIONS regarding CHIEF HENRY PRINCE
========================== Family Details ==========================
Children:
1. c1845 JOSEPH PRINCE (m. Elizabeth SPENCE)
2. 1848 WILLIAM HENRY PRINCE (m. Catherine BAUER aka BEAR)
3. 1855 ANNABELLA PRINCE (m. William HARPER)
4. 1858 JOHN HENRY "LONG JAKE" PRINCE (m. Maria Jane SINCLAIR)
5. 1861 VICTORIA PRINCE
6. 1863 JANE PRINCE