HERBERT VERNON "VERN" RAILTON (1914-1995)
ETHEL MAE PRUDEN (1920-2003)
(Last Updated: March 19, 2014)
Herbert Vernon "Vern" RAILTON was born Oct 27, 1914 in Pontypridd Glam, South Wales, the eldest son of Daupiter Mae & Edwin RAILTON (1886-1952).
In 1928 Vern (about 10 years old) came to Canada with his parents who settled in Mapleton (Selkirk). His father (Edwin) became a life-long employee at the Manitoba Rolling Mills (MRM). ** MORE ABOUT EDWIN RAILTON
A quote from Vern: "The fame of the Old England Sled Run spread far and wide. Young people from the surrounding municipalities held their sliding parties at the hill. The writer (Vern) as a teenager spent many happy evenings at the slide. Generally accompanied by a group of young people from Selkirk, we would slide all night. On the way home, we would stop in at Alec FIDLER's log cabin. Alec FIDLER at that time was Verger at the St Clements Church. - - Alec FIDLER's log cabin was situated where William STILL has his home on the River Road."The Alec FIDLER that Vern refers to was Alexander George FIDLER (1875-1959). Youngsters of my own generation will also fondly remember this Sled Run, then located below the home of Archie McLEOD.
From 1938 to 1984 Vern was President of the Gordon Howard Senior Centre in Selkirk.
Vern marries Ethel Mae PRUDEN
1940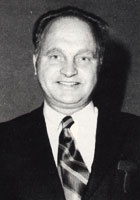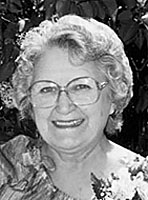 Vern & Ethel Mae
In 1940 Vern married at St Clements to Ethel Mae, adopted daughter of Esther STEVENSON and Bert PRUDEN (1883-1931) ** MORE ABOUT BERT PRUDEN
New information reveals that Ethel Mae was a daughter of Edith HARPER and that her maternal grandfather was William Thomas HARPER (b-1867). ** MORE ABOUT JOHN THOMAS HARPER
From 1940 to 1943 Vern served on the Vestry of St Clements Church.
The Anglican Young People's Association
(Square Dancing Club)
Those of us who were teen-agers in Mapleton during the mid to late 1950's fondly remember the Anglican Young People's Association (AYPA) created and chaperoned by Vern RAILTON. Every Friday night we would gather in the St Clements Church Hall for a fun-filled evening of dancing. For most of us this was where we learned to dance the polka, waltz, two-step,the Bird Walk, etc, with Vern as our instructor, and of course square-dancing was the main event.
Whenever I hear the song "Jingle Bells" it brings back memories of the 'one-horse open sleigh' rides we used to go on, probably also organized by Vern. He also organized us youngsters to go about the neighbourhood singing Christmas carols at the door of some of the old folks. At his house, his mother was so touched by this she was reduced to tears.
From 1957 to 1967 Vern was the People's Warden for St Clements Church.

In 1980 Vern again served on the Vestry.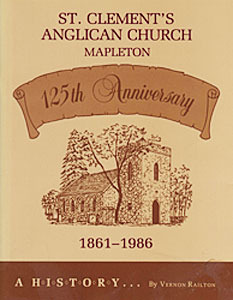 Vern Railton was the author of this booklet
We should all be eternally grateful for Vern RAILTON for his excellent research presented in the above booklet. I refer to it often. ** MORE ABOUT SAMUEL TAYLOR and the ST CLEMENTS CHURCH
Vern died in 1995.

Selkirk Journal Obit:  Suddenly, on December 02, 2003 at the Seven Oaks Hospital, Ethel RAILTON, aged 83 years of Selkirk, MB. She was predeceased by her husband Vernon in 1995; her mother Esther ISBISTER (this should be STEVENSON) in 1978; father Bert PRUDEN in 1931; brother Kamloops PRUDEN in 1955 and granddaughter Keri JONASSON in 1975. Ethel is survived by her daughters Beverley JONASSON, Glenys (Bill) BOBLINSKIi and Barbara (Ron) PETASKI; grandchildren, Kevin JONASSON, Brent and Jason (Tamara) BOBLINSKI, Rhonda (Mark) SEARS and Ryan PETASKI; great-grandchildren, Sarah and Madison BOBLINSKI, Jack and Michael SEARS; sister-in-law Corinne GODDARD and brother-in-law Luther RAILTON of BC; as well as many nieces and nephews. Ethel was a very vibrant and beautiful person who especially enjoyed her family, grandchildren and great-grandchildren. She had travelled to Hawaii, England and through both the States and Canada. Ethel enjoyed playing cards with a group of friends or going for coffee and outings. She had been a tireless worker with St. Clements Church as well as volunteering at House of Economy. She arranged the birthday parties for 2003 at the Lyon's Center. She enjoyed going to the farm and selling and riding in the old corn truck. She would talk and laugh with everyone. Ethel loved to go for coffee and would never refuse a chance to go out "anytime or anywhere". She will be truly missed.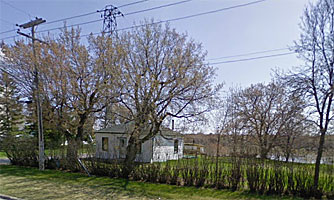 Vern Railton's house at 30 Eveline Street (River Road)
The house where Vern RAILTON lived is located approximately where the River Road ends and Eveline Street begins. The site is one of particular historic interest in the history of Mapleton. Looking closely at the above picture you can see the Red River where it makes a sharp turn to the east at Sugar Point, once a popular camping site for Chief PEGUIS and his family. The first Mapleton School was located in this vicinity. The old St Clements Church is a short walk south. In the old days there was a ferry located nearby that brought people across the river from below the home of Thomas BUNN (1830-1875).
** MORE ABOUT THOMAS BUNN
Please post comments & queries at this link: FORUM DISCUSSING the VERN RAILTON FAMILY
=========================== Family Details ===========================
Children:
1. BEVERLY MAE RAILTON (m. Hubert John "Jack" JONASSON)
2. PATRICIA GLENYS RAILTON (m. William BOBLINSKI)
3. BARBARA JEAN RAILTON (m. Ronald Michael PETASKI)