JEREMIAH "JERRY" COOK (1804-1872)
ELEANOR "ELLEN" SPENCE (1807-1882)
(Last Updated: February 12, 2016)
  Jeremiah "Jerry" COOK was born around 1804 at Split Lake, son of a half breed woman named KE-CHE-COW-E-COM-E-COOT, a daughter of Matthew COCKING. His father was William Hemmings COOK (1768-1846), a Hudson's Bay Company (HBC) fur trader from England who was in charge of all of the Company posts in the Nelson River District, inland from York Factory. ** MORE ABOUT WILLIAM HEMMINGS COOK
Eleanor "Ellen" SPENCE, was the Half-breed daughter of Mary (Assiniboine Indian) and James SPENCE (1778-1857), an HBC Tailor from the Orkneys.  ** MORE ABOUT JAMES SPENCE
Jerry was about 15 years old in 1819 when his father resigned from the HBC and settled in Red River.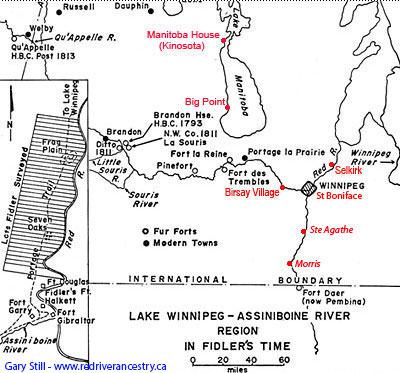 Union of the North West Company with the Hudson's Bay Company
1821
In 1821 the union of the North West Company (NWC) and the Hudson's Bay Company (HBC) occurred, ending years of bitter rivalry for dominance of the fur trade in Western Canada.George SIMPSON (1786-1860) became the Governor of Rupert's Land. Reverend John WEST (1778-1845) arrived from England as the first Chaplain in the northwest.
** MORE ABOUT GOVERNOR GEORGE SIMPSON
** MORE ABOUT REVEREND JOHN WEST
In 1821 Ellen SPENCE's Indian mother Mary died, and in 1822 her father (James SPENCE) re-married to Jane MORWICK who was the widow of Oman NORQUAY (1773-1820).
Marriage to Ellen SPENCE
1823
On Apr 7, 1823 Jeremiah and Eleanor SPENCE were married at St John's Anglican Church by Reverend John WEST; witnessed by James SPENCE and Joseph BIRD. On June 8, 1823 Jeremiah was baptized.
In 1843 eldest daughter Mary married Andrew Dominique PAMBRUN, son of Catherine BUDD and Pierre PAMBRUN (1793-1841) who for many years was an HBC trader in the Columbia District.
In 1845 daughter Ellen married George HOURIE, son of Margaret BIRD & John HOURIE (1779-1857) from the Orkneys. ** MORE ABOUT JOHN HOURIE
In 1846 Jerry's father, William Hemmings COOK died in Red River.
In 1856 son William married Charlotte FIDLER in St James, the daughter of Ann HALLETT and Andrew FIDLER (1806-1846). ** MORE ABOUT ANDREW FIDLER
Canadian Confederation
A Red River Rebellion
Manitoba becomes a Province
1867-1870
On July 1, 1867 the British colonies in North America were united under the British North American Act to become the Dominion of Canada.  Sir John A MACDONALD (1815-1891) was appointed as Canada's first Prime Minister. William McDOUGALL (1822-1905) became the Minister of Public Works, and he began negotiations to acquire Rupert's Land from the HBC; surveyors were sent to Red River to prepare the way for an expected influx of settlers.
On Oct 11, 1869, Louis RIEL (1844-1885) placed his foot on the surveyors' chain to tell them their work was finished! This marked the beginning of the historic Red River Métis Rebellion.
Around 1869 daughter Margaret married John HIGGINS who was born 1825 in Ireland, son of Thomas HIGGINS. Margaret died in 1870, probably in childbirth of her son John HIGGINS who died in 1874.
In 1870 son Robert married Caroline BOUVET in St Boniface, daughter of Charles BOUVET.
On July 15, 1870 the Rebellion ended when RIEL's Provisional Government accepted the terms of the Manitoba Act and Manitoba became the fifth province of Canada.
Census of 1870 in Headingly Parish: Jeremiah COOK, age 76; wife Ellen, age 70, Children: George (age 26), Harriet (22) and Letitia (age 19).
In January of 1872 Jeremiah COOK died.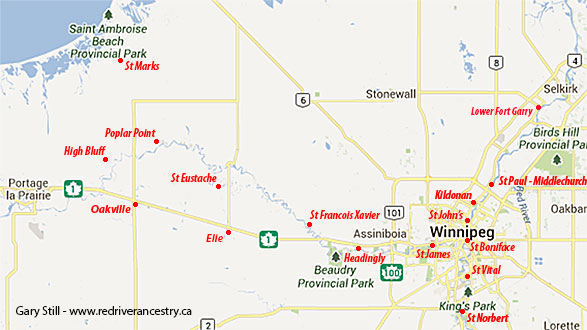 In 1872 son George married Flora Elizabeth CLOUSTON, the daughter of Catherine CAMPBELL & William CLOUSTON (1817-1877). ** MORE ABOUT WILLIAM CLOUSTON
Around 1873 daughter Harriet married Roderick Alex McKENZIE, son of Matilda BRUCE and Donald McKENZIE (1800-1865).
In 1873 youngest daughter Letitia married Magnus BROWN in Winnipeg, the son of Charlotte OMAND and William BROWN (born 1809 in Orkneys).
On Aug 12, 1875 Widow Ellen (nee SPENCE) COOK of Headingly claimed Scrip on behalf of herself and the following five children as heirs of her deceased husband (Jeremiah): 1) Margaret (wife of John HIGGINS who died in 1871 leaving one child, John HIGGINS who died in 1874); 2) Harriet, wife of Roderick McKENZIE; 3) Letitia, wife of Magnus BROWNof Headingly; 4) George; and 5) Mary, wife of Dominic PAMBER(PAMBRUN) of British Columbia.
Census 1881: Widow Ellen COOK, age 74, with son George in St James, Assiniboia.
In 1882 Ellen (nee SPENCE) COOK died in St James.
Comments and queries at this link: FORUM DISCUSSING the JEREMIAH COOK FAMILY
======================= Family Details =======================
Children:
1. 1824 MARY COOK (m. Andrew Dominique PAMBRUN)
2. 1826 HELEN (ELEANOR) COOK (m. George HOURIE)
3. 1829 JOSEPH COOK (Died in infancy)
4. 1832 CHARLOTTE COOK (Died in infancy)
5. 1835 WILLIAM COOK (m. Charlotte FIDLER)
6. 1832 EMMA COOK (Died age 11)
7. 1842 DAVID COOK
8. Nov 27, 1844 GEORGE DOMINIQUE COOK (m. Flora Elizabeth (Laura) CLOUSTON)
9. 1845 ROBERT COOK (m. Caroline BOUVET)
10. 1846 MARGARET COOK (m. John HIGGINS)
11. May 11, 1850 HARRIET COOK (m. Roderick Alex McKENZIE)
12. Feb 11, 1852 LETITIA COOK (m. Magnus BROWN)