WILLIAM COOK (1836-1859)
CHARLOTTE FIDLER (1836-1864)
(Last Updated: February 17, 2015)
William COOK was born about 1836 in St Johns Parish, the son of Ellen SPENCE and Jeremiah COOK (1804-1872).
** MORE ABOUT JEREMIAH COOK
Marriage to Charlotte FIDLER
1856
In 1856 William married Charlotte FIDLER in St James, On Dec 25 that year son Joseph Jeremiah was born there. Charlotte was the daughter of Ann HALLETT and Andrew FIDLER (1806-1846).  
In October of 1859 William COOK died and was buried in St Johns. He was only about 23 years old.
Widow Charlotte remarries to Walter BOURKE
St James Parish
1861
In 1861 Widow Charlotte (nee FIDLER) COOK re-married to Walter BOURKE in St James, son of Nancy CAMPBELL & John Palmer BOURKE (1792-1851) from Ireland. The marriage was witnessed by Joseph SPENCE, Mary WISHART, James HALLETT and Harriet FIDLER.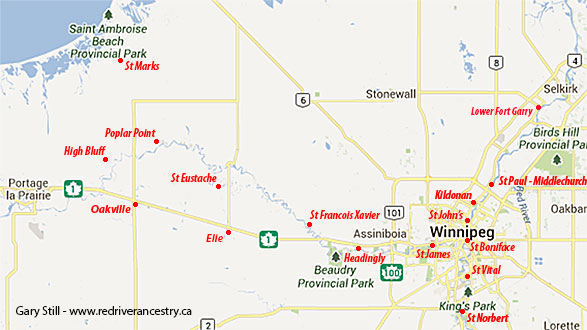 In 1862 Charlotte's only child with Walter BOURKE. Catherine Mary BOURKE, was born.    
On Feb 9, 1864 Charlotte (nee FIDLER) BOURKE died in St James. Son Joseph COOK (age 8) was thereafter raised by his maternal grandmother, Widow Ann (nee HALLETT) FIDLER in St James.
In 1865 Walter BOURKE remarried to Flora HALLETT in St James, daughter of Sally FIDLER and James HALLETT (1800-1885).
In December of 1880 Walter BOURKE was nominated for Councillor in Ward 2 of Assiniboia RM.
On July 26, 1889 Walter BOURKE died.
Comments and queries at this link: FORUM DISCUSSING the WILLIAM COOK FAMILY
========================== Family Details ==========================
Child:
1. Dec 25, 1856 JOSEPH JEREMIAH COOK (m. Margaret Jane "Maggie" ISBISTER)