JOSEPH COOK (1788-1848)
CATHERINE SINCLAIR (c1795-1881)
(Last Updated: July 23, 2015)
Joseph COOK was born around 1792, probably at York Factory, to a Cree woman named KAHNAWPAWAMAKAN. His father was William Hemmings COOK (1768-1846), and Englishman who became an HBC Governor at Fort York. 
** MORE ABOUT WILLIAM HEMMINGS COOK
Catherine SINCLAIR was born around 1795 at York Factory, daughter of Margaret NOHAVWAY and William SINCLAIR (1766-1818).  Catherine's father also became an HBC Governor, and was in charge of a large area that included most of Manitoba. Donna SUTHERLAND who authored the book named NAHOVWAY was a descendant of Catherine SINCLAIR and Joseph COOK. ** MORE ABOUT NAHOVWAY & WILLIAM SINCLAIR
Joseph COOK and Catherine SINCLAIR knew each other from childhood. They both attended the York Factory School in their younger years. 
Joseph begins his career with the Hudson's Bay Company
1803
In 1803 Joseph, about 15 years old, began his career with the HBC at York Factory where his father was Governor. He began as a Labourer and by 1806 he was termed a Trader.
On Aug 26, 1806 Joseph went to England on the King George III. He would have been about 18 years old then, presumably to further his education. He returned to York in 1808 to resume his career as an Assistant Inland Trader. An outline of Joseph's entire HBC career can be seen at this link: HBC ARCHIVES BIOGRAPHY of JOSEPH COOK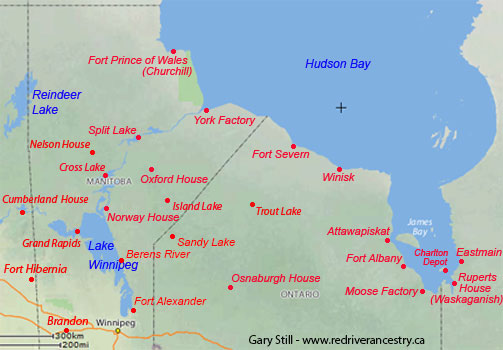 Nahovway Book pg 204:  1809 York Factory Post Journal: The York school continued to operate and by September the "carpenter & others employed building a small house for the accommodation of the YF children". A month later on Oct 3, "Bricklayer erecting a chimney in the Beer Shed for the purpose of converting this place into a Winter School Room, entered Sam COOK on the School List," and  shortly after James SUTHERLAND Jr. was added. Joseph COOK, son of Wm COOK and shortly after KAHNAPAWANAKAN also attended part time, but is mentioned more often as a hunter who provided food for the school children. This was likely the time when he (Joseph) and Catherine formed a likeness for each other. They formed a union shortly thereafter.
Joseph marries Catherine SINCLAIR
1810
Around 1810 Joseph COOK & Catherine SINCLAIR were married in an "Indigenous ceremony"Catherine was only about 15 years old at that time. On Jan 15, 1811 their first child, Sarah (Sally) was born at Moose Lake.
The Selkirk Settlers Arrive
1811-1819
On Sep 24, 1811, the first group of Lord Selkirk's Settlers arrived at York Factory, bound for Red River
led by Miles MacDONELL (1767-1828), the newly appointed Governor of what was to become the District of Assiniboia. This first group was forced to overwinter at York, and it wasn't until the fall of 1812 that the first settlers arrived at the Forks of the Red and Assiniboine Rivers. Peter FIDLER (1769-1822) arrived with them, having been assigned to take charge at Brandon House. However, he was soon sent to assist MacDONELL and his settlers by surveying river lots and building houses.Many more settlers would follow in the next few years.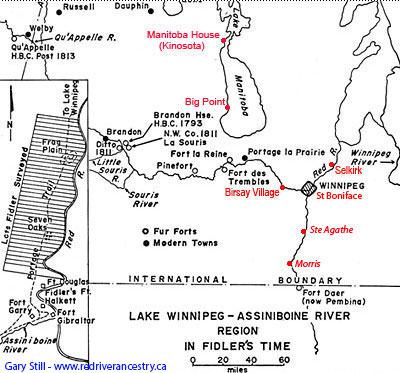 From 1811 to 1819 Joseph was a Master Trader at various outposts around Lake Winnipeg, at Cumberland House and in the Athabasca, Moose Lake and Swan River districts.
The COOK Family settles in Red River
1819
William Hemmings COOK (Joseph's father) resigned in 1819, and he and his family became settlers in the Red River settlement. Apparently Joseph 'resigned to the Colony" that summer as well, but from 1820 to 1824 he continued his employ as a Trader in the Island Lake district.
Union of the North West Company with the Hudson's Bay Company
1821
In 1821 union of the North West Company (NWC) and the Hudson's Bay Company (HBC) occurred, ending years of bitter rivalry for dominance of the fur trade in Western Canada. After the merger, almost 1,300 employees lost their jobs since the single HBC organization that emerged had no need for most of the voyageurs and retired fur traders. At the time of the HBC-NWC union, (Sir) George SIMPSON (1786-1860) became the Governor of Rupert's Land.
Joseph and Catherine are Church-Wed
1824
In 1824 Joseph retired, and on Oct 27 that year he and Catherine were church-wed at St Johns, Red River Settlement by Reverend David JONES (1796-1844). They already had about six children by that time, and probably lived in the vicinity of Sugar Point (Mapleton-St Peters area).
Red River Census of 1827
In the Red River Census of 1827 Joseph was recorded as a 35 year old Protestant with a wife and six children; two adult sons and four young daughters. He had a house and stable; a horse, two cows, four oxen a calf and three pigs. He had a plough and harrow; three boats and two canoes. He had two acres under cultivation.
In 1828 Reverend William COCKRAN (1798-1865) was an assistant to Reverend JONES at the Lower Church (St Andrews). While there, his attention was caught by the bands of Swampy Cree and Saulteaux Indians led by Chief PEGUIS (1774-1864) who customarily gathered at Netley Creek, 11 miles down-river. For some years prior to this the Indians had visited the settlement, begging for food to replace the game whose habitat had been destroyed to make way for agriculture. It was clear they needed assistance but it was not until COCKRAN arrived that any organized program was undertaken.  Hoping to evangelize them as well as improve their material condition, COCKRAN began encouraging the Indians to pursue an agricultural existence. It was felt that Indians who were supporting themselves by cultivating the land were easier to convert and that religious instruction had relatively little effect until they were so settled. ** MORE ABOUT CHIEF PEGUIS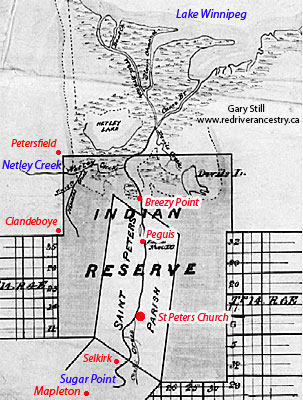 Joseph COOK was fairly well educated, and he was fluent in English as well as Cree and Ojibwe. In comparison to most of his half-breed brethren and he was a natural to be recruited as a school-teacher by Rev. COCKRAN. In several interviews that COCKRAN had with Chief PEGUIS around 1832, Joseph COOK is mentioned as his interpreter when he was trying to entice the Indians to take up farming.
School at Sugar Point
1834
A school under Joseph COOK was opened in 1834 at Sugar Point (Mapleton-Selkirk) and people were encouraged to build houses and learn to farm.  The log school-house (6 x 12 meters) also functioned as a teachers residence, and had a loft that doubled as a granary. COOK was the first teacher, with 32 children attending.
COOK devoted the rest of his life to the instruction and betterment of these particular Indians, and some dim recollections of him as a schoolmaster of a somewhat exacting type was often recollected by the older people of St. Peter's Parish.
Furrows: The children who attended received a substantial meal daily on the five school days of the week. COOK not only had a perfect knowledge of Cree, but also thoroughly understood the habits and peculiarities of the Indians, and best of all was of a kindly disposition and sincerely desirous of using his knowledge to the best interest of his pupils.
On Jan 7, 1835, the first marriage in the family was that of eldest daughter Sarah to James SETTEE (1809-1902), a 26 year old Indian who at a young age was one of the first native children taken in by Reverend John WEST and/or Reverend David JONES to be trained as a teacher and evangelist. SETTEE would later be ordained as one of the first Native clergymen in Rupert's Land.
The move to St Peters
1836
MHS:  About a year later the Sugar Point site was considered unsuitable, and the project was moved between three and four miles down the river, to a situation where a creek joins it on the east side, which has long been known as Cook's Creek. Here in 1836, sufficient progress had been made to build the first Church which was used until 1854, and here Mr. COOK and the school were located.
In 1836 eldest son William married Mary Ann BEARDY, daughter of Betsy and James BEARDY, a Cree Indian from Saskatchewan.
In 1838 son Henry married Harriet GARRIOCH (his cousin), daughter of Nancy COOK (his aunt) & William GARRIOCH (1779-1844) from the Orkneys of Scotland.  ** MORE ABOUT WILLIAM GARRIOCH
Wedding of Chief PEGUIS
1840
Mr. SMITHURST had to wait until 7th October, 1840, for his first Wedding, but it was a notable one: "William KING (PEGOWYS) and "Victoria", and it seemed strange to note at the top of the next page and right opposite to it, the entry of the marriage of "Henry PRINCE" (the youngest son of the famous Chief) to "Sarah BADGER." Joseph COOK was a chief witness at these historical marriages.
In 1844 daughter Elizabeth married John KIRKNESS, son of Margaret MOWAT & Andrews KIRKNESS (born c1770 in Orkneys). ** MORE ABOUT ANDREW KIRKNESS
    
In 1845 daughter Caroline married Edward McKAY, son of Harriet BALLENDINE & John Richards "Little Bearskin" McKAY (1797-1854). ** MORE ABOUT JOHN RICHARDS McKAY
In 1846 daughter Mary married her brother-in-law, William McKAY at St Johns (her sister Caroline being married to William's brother, Edward McKAY).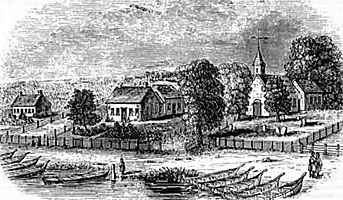 The old St Peters Chnrch
From Pannekoek: Joseph COOK, a catechist for the Anglican Church Missionary Society, was upset at having been treated as only 'half an Englishman,' and expressed his discontent to the Society's secretary: 'I can assure you sir that we are rather beginning to get disgusted with our situation and treatment and the distinction which has been made between us and the European catechist and the too much lordship being exercised over us.'
(CMSA, Joseph Cook to the Secretaries, 29 July 1846)
Joseph COOK Dies
1848
On Feb 24, 1848 Joseph COOK died.
In 1851 son Thomas married Catherine McKENZIE, daughter of Angelique MALLETTE and Roderick McKENZIE (1772-1859). Catherine died two months after this marriage. Catherine was a sister of Reverend Benjamin McKENZIE (1837-1928) ** MORE ABOUT RODERICK McKENZIE
In 1855 son Thomas re-married Ann BRUCE, daughter of Mary McNAB & James BRUCE (1801-1889)

In 1855 son Joseph married Genevieve (nee PICARD) CADOTTE, daughter of Lalouise and Joseph PICARD (b-1784).
In 1856 daughter Catherine married John TAIT, son of Mary BEAR & William TAIT (1792-1878).
** MORE ABOUT WILLIAM TAIT / TATE
In 1859 son James married his sister-in-law, Mary Matilda BRUCE(his brother, Thomas BRUCE being married to Mary Matilda's sister, Ann BRUCE).
Around 1861 son Matthew married Matilda McKENZIE, daughter of Matilda BRUCE and Donald McKENZIE (b-1800).
Around 1863 son Edward married Mary BALLENDINE of uncertain origins.
               
Around 1868 son Philip married and Indian woman name Nancy.
Catherine COOK Dies
1881
In 1881 Catherine COOK died in Winnipeg.
The COOKs were well represented in the Anglican ministry.  Rev Thomas COOK and Rev James COOK were their sons.  Daughter Sally married 1835 to the Rev James SETTEE.  Their grandson became the Rev Gilbert COOK.Of course the first family minister was Joseph's half-brother, Rev Charles COOK.  Joseph's half-sister, Fanny, married the Rev George FLETT.
Please post comments & queries at this link: FORUM DISCUSSING the JOSEPH COOK FAMILY
============================== Family Details ==============================
Children:
1. Jan 15, 1811 SARAH SALLY COOK (m. Reverend James SETTEE)
** MORE ABOUT REVEREND JAMES SETTEE
2. c1815 WILLIAM COOK (m. Mary Anne BEARDY)
** MORE ABOUT WILLIAM COOK
3. Sep 2, 1819 REV THOMAS COOK (m1. Catherine McKENZIE, m2. Ann BRUCE)
4. 1824 MARY COOK (m1. William McKAY, m2. Charles Richard McKAY)
5. Apr 17, 1825 ELIZABETH COOK (m. John KIRKNESS)
6. 1827 HENRY COOK (m. Harriet GARRIOCH)
7. 1827 CAROLINE COOK (m. Edward McKAY)
8. Dec 26, 1831 REV JAMES COOK (m. Mary Matilda BRUCE)
9. 1833 JOHN COOK
10. 1834 CATHERINE COOK (m. John TATE)
11. 1835 JOSEPH COOK (m. Marie Genevieve (nee PICARD) CADOTTE)
12. Aug 25, 1838 MATTHEW COOK (m. Matilda McKENZIE)
13. 1843 PHILIP COOK (m. Nancy UNKNOWN)
14. 1847 REV EDWARD COOK (m1. Mary BALLENDINE, m2. Mary HUMPHREYVILLE)