WILLIAM "WALLACK" TAIT/ TATE (1792-1878)
MARY BEAR (1815-1864)
(Last Updated: July 23, 2015)
William "Wallack" TAIT was born around 1792 in the Northwest, the son of an Indian woman and James TATE, a Scotchman. This description comes directly from his Scrip affidavit filed in 1875 and would therefore be a reliable source. This suggests that he is most likely the William TAIT (TATE) 'B' from the HBC Archives who came from Ronaldshay, Scotland, as opposed to the William TAIT (TATE) 'A" from Hudson Bay who it is suggested married Mary AULD.
** HBC BIO FOR WILLIAM TAIT (TATE) 'B'
According to HBCA, in 1818 William 'B' began to work for the Hudson's Bay Company (HBC) as a voyageur based at Indian Lake until 1820 and then at the New Churchill Post until he became a 'freeman' in 1822.
Union of the North West Company with the Hudson's Bay Company
1821
In 1821 the union of the North West Company (NWC) and the Hudson's Bay Company (HBC) occurred, ending the years of bitter rivalry for dominance of the fur trade in Western Canada. After the merger, almost 1,300 employees lost their jobs since the single HBC organization that emerged had no need for most of the voyageurs and fur traders.
It appears that our William was one of those men who lost his job due to the cutbacks, described as a 'freeman' in 1822.
Nephew William ASHAM (b-1853) referred to William TAIT as a white man nicknamed "Wallack" who selected his Aunt Mary as a wife.  William ASHAM's Aunt Mary was a sister of his mother, Elizabeth BEAR, both daughters of WHITE BEAR (1780-1844).
Marriage to Mary BEAR
1825
Uncertain when William and Mary BEAR were united; most likely in the early 1820's. Mary was the daughter of WHITE BEAR (1780-1844). Her brother, William BEAR, married William TATE's sister Margaret.
In 1828 William was church-wed to Mary BEAR, at St Johns in the Red River Settlement.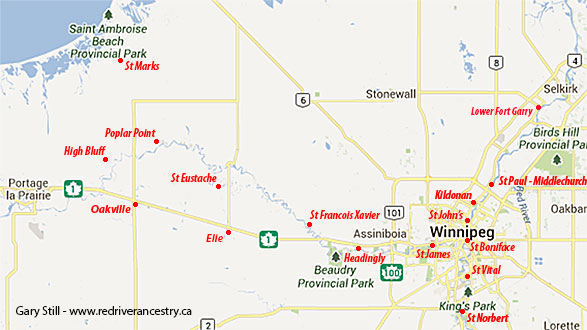 Red River Census of 1827: William TAIT, married with two sons and two daughters, all under the age of 16). He has a house and stable; a horse and a mare, three cows, two oxen and two calves. He has a cart and a canoe. He has three acres of land under cultivation.
In 1843 daughter Maria married Henry McCORRISTER at St Johns (Red River), son of Catherine JONES and Alexander McCORRISTER (1784-1845). ** MORE ABOUT ALEXANDER McCORRISTER
In 1848 daughter Matilda married James IRWIN (IRVINE) at St Johns, an HBC voyageur who was born 1816 in England.
In 1851 son William Jr. married Catherine CUMMINGS, daughter of Clementine HARPER and Robert CUMMINGS (1795-1862).
In 1852 son Philip married Mary MONKMAN at St Johns (Red River), daughter of Nancy CHABOYER and James MONKMAN (1805-1865). **MORE ABOUT JAMES MONKMAN
In 1856 son John married Catherine COOK, daughter of Catherine SINCLAIR & Joseph COOK (1788-1848).
** MORE ABOUT JOSEPH COOK
In 1857 son James married Margaret PAQUIN dit POCHA at St Johns, daughter of Marie LAPOINTE and Joseph PAQUIN dit POCHA (1800-1896).
Around 1860 son Andrew married Eliza ANDERSON, daughter of Mary Anne DESMARAIS and John ANDERSON (1804-1884). ** MORE ABOUT JOHN ANDERSON
On March 23, 1864 Mary (nee BEAR) TAIT died in St Johns.
Canadian Confederation
A Red River Rebellion
Manitoba becomes a Province
1867-1870
On July 1, 1867 the British colonies in North America were united under the British North American Act to become the Dominion of Canada.  Sir John A MACDONALD (1815-1891) was appointed as Canada's first Prime Minister. William McDOUGALL (1822-1905) became the Minister of Public Works, and he began negotiations to acquire Rupert's Land from the HBC; surveyors were sent to Red River to prepare the way for an expected influx of settlers.
In 1867 son David married Jane KNIGHT at the St Clements Church in Mapleton, the daughter of Margaret CUMMINGS and William KNIGHT (1824-1854).
Also in 1867 daughter Jane Mary married John WHITFORD in Victoria (AB), son of Christiana SPENCE and Peter WHITFORD (1794-1872).
On Oct 11, 1869, Louis RIEL (1844-1885) placed his foot on the surveyors' chain to tell them their work was finished! This marked the beginning of the historic Red River Métis Rebellion.
On July 15, 1870 the Rebellion ended when RIEL's Provisional Government accepted the terms of the Manitoba Act and Manitoba became the fifth province of Canada.
Poplar Point
1870
In the 1870 census William was recorded on Lots 73-74 in Poplar Point.
On Sep 27, 1875 William TATE, farmer of Poplar Point, claimed his Half-breed Scrip, indicating that he was born 1792 in the Northwest, son of an Indian woman and James TATE, a Scotchman.
On Mar 12, 1878 William TAIT died in Poplar Point.
Comments and queries at this link: FORUM DISCUSSING THE FAMILY OF WILLIAM TAIT / TATE
=========================== Family Details ===========================
Children:
1. c1825 MARIA (MARIE) TATE (m. Henry McCORRISTER)
2. 1827 WILLIAM TATE JR (m. Catherine CUMMINGS)
3. 1828 PHILIP TAIT (m1. Mary MONKMAN, m2. Ann FRASER, m3. Eliza STEINHAUER)
4. 1828 JOHN TAIT (m. Catherine COOK)
5. 1829 MATILDA TATE (m. James IRWIN aka IRVINE)
6. 1831 JAMES TATE (m. Margaret PAQUIN dit POCHA)
7. 1833 GEORGE TATE
8. 1835 MAGNUS TATE
9. 1837 JOSEPH TATE (Died at birth)
10. 1837 DAVID TAIT (m. Jane KNIGHT)
11. June 7, 1840 ANDREW TAIT (m. Eliza ANDERSON)
12. 1841 FREDERICK TATE
13. 1842 NANCY (ANN) TATE
14. Jan 8, 1843 JANE MARY TATE (m. John WHITFORD)
15. 1845 CHARLES TATE
16. 1846 ELIZABETH TATE