CORNELIUS "CORNEL" FIDLER (1832-1909)
JANE BIRSTON (1832-1918)
(Last Updated: June 23, 2017)
Cornelius "Cornell" FIDLER was born Jun 19, 1832 in St James (Winnipeg), baptized July 8 that year at St John's Church, Red River. He was the son of Ann HALLETT & Andrew FIDLER (1806-1846). ** MORE ABOUT ANDREW FIDLER
Marriage to Jane BIRSTON
1853
On Jan 20, 1853 Cornel married Jane BIRSTONat St Johns, daughter of Angelique MARCHAND dit BERCIER William BIRSTON (1802-1835)of St Pauls Parish - Middlechurch. 
Canadian Confederation
A Red River Rebellion
Manitoba becomes a Province
On July 1, 1867 the British colonies in North America were united under the British North American Act to become the Dominion of Canada.  Sir John A MACDONALD (1815-1891) was appointed as Canada's first Prime Minister. William McDOUGALL (1822-1905) became the Minister of Public Works, and he began negotiations to acquire Rupert's Land from the HBC; surveyors were sent to Red River to prepare the way for an expected influx of settlers.
On Oct 11, 1869, Louis RIEL (1844-1885) placed his foot on the surveyors' chain to tell them their work was finished! This marked the beginning of the historic Red River Métis Rebellion.
On July 15, 1870 the Rebellion ended when RIEL's Provisional Government accepted the terms of the Manitoba Act and Manitoba became the fifth province of Canada.
In the Census of 1870 Cornelius' family was recorded on Lot 41 in St James; children as Andrew (age 18), Charles (15), Harriet (11), Henry (9), Cyrus (5), Magnus (4), Albert (3) and Mary (age 1).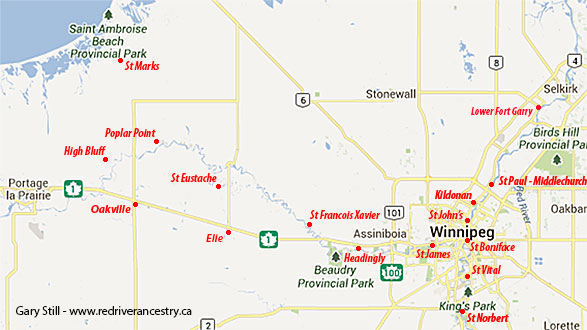 In 1871 Cornelius FIDLER is included in a List of Provincial Constables who travelled widely and administered many claims on both sides of the Red River and up into the Lake Winnipeg area.
In 1875 both Jane and Cornelius of St James both claimed their Half-breed Scrip.
In 1877 eldest son Andrew married Caroline McLEOD in St James, daughter of Elizabeth SWAIN and John McLEOD (1793-1873). ** MORE ABOUT JOHN McLEOD

In 1879 son Charles married Delilah TALMAN alias WELSH in St James, an illegitimate child of "Mary Ann GOOD and Antoine TALMAN alias WELSH of uncertain origins.
Census of 1881 in Assiniboia: Cornelius FIDLER and his wife Jane (both age 48). Children at home: Harriet (age 21), Henry (20), Joseph (18), Cyrus (16), Magnus (14), Albert (10), Mary Ann (12) and Elizabeth (age 7).
In 1882 daughter Harriet married Peter Isaac GOOD in St James, the son of Mary Ann KIRTON and Joseph William GOOD (1838-1907).
In 1883 Cornel was elected to the Council of RM of Assiniboia.

In 1886 son Henry married his cousin, Sarah Ann McLEOD, in Whitemouth (MB), the daughter of Mathilda "Hilda" (nee FIDLER) SINCLAIR and Donald McLEOD (1831-1890).
Also in 1886, son Joseph married Annie BIRD at St Paul (Middlechurch), daughter of Elizabeth HEYWOOD & George BIRD (1841-1872).
Around 1887 son Cyrus began a common-law relationship with Mary BALLENDINE, daughter of Annie HEYWOOD and John BALLENDINE (1835-1880). They had two children together; Norman in 1888 and Ethel in 1889 when they parted ways; Mary BALLENDINE to be with Peter KIRTON (1869-1927); and Cyrus FIDLER to be with Annie HOOKEY, daughter of Julia JEFFERSON and George ANTILL aka HOOKEY. 
In 1890 daughter Mary Ann married her second cousin, Alexander HALLETT at Poplar Point, son of Eleanor McNAB and Andrew HALLETT (1827-1869).
Census of 1891 in RM of Belcourt (St Francois Xavier): Cornelius FIDLER and wife Jane (both age 59). Children at home: Albert (age 22) and Elizabeth (age 16), Grandson (Child of son Cyrus): Norman FIDDLER, age 3. ** Note: Belcourt, as a municipality, disappeared before 1914. It was in the general area of St Francois Xavier.
Heather Hallett: Cornel is on the 1892 Municipal Voters List for the RM of St Francois Xavier, as co-owner with Albert FIDLER, of Lot 156. Previous owners of this Lot had been the LaPLANTE family. In 1896 he was the Ferryman for the Baie St Paul East Ferry.
In 1892 son Magnus married Margaret McNAB in Portage la Prairie, daughter of Mary WISHART and John McNAB (b-1836).
Census 1901 in St Francois Xavier: Cornelius FIDLER and wife Jane (both age 68); their son Albert, age 32; their grandson Norman (age 12). Norman was son Cyrus' child)
In 1901 son Albert married his second cousin, Mary Ann DENNISON, daughter of Mary HALLETT and Robert DENNISON (1851-1907).
Census 1906 in the Town of Portage la Prairie: Cornelius FIDDLER, (age 74) and wife Jane. "Boarder" Charles Cornelius, age 20 (most likely grandson).
On June 2, 1909 Cornelius FIDLER died at Poplar Point. He was buried in the St Anne's Anglican Church Cemetery at Poplar Point.
Census 1916: Widow Jane FIDLER (age 84) with daughter and son-in-law (Mary Ann & Alexander HALLETT) in Poplar Point.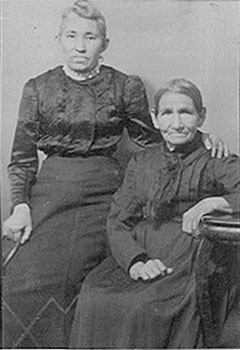 Standing: Henry Fidler's wife, Sarah Ann (nee McLeod)
Sitting: Cornelius Fidler's wife, Jane (nee Birston)
On Jan 1, 1918 Jane (nee BIRSTON) FIDLER died (both she & Cornel were buried at St Anne's, Poplar Point).
Comments and queries at this link: FORUM DISCUSSING the CORNELIUS FIDLER FAMILY
============================ Family Details ============================
Children:
1. Oct 9, 1853 ANDREW FIDLER (m. Caroline "Carrie" McLEOD)
2. Oct 15, 1856 CHARLES ALEXANDER FIDLER (m. Delilah WELSH)
3. Feb 23. 1860 HARRIET FIDLER (m1. Peter Isaac GOOD)
4. Aug 5, 1861 HENRY FIDLER (m. Sarah Ann McLEOD)
5. Feb 13 1862 JOSEPH FIDLER (m. Annie Caroline BIRD)
6. Feb 13, 1865 CYRUS FIDLER (m1. Mary BALLENDINE, m2. Annie HOOKEY aka ANTILL)
7. Mar 8, 1866 MAGNUS "MAGMO" FIDLER (m. Margaret Louise McNAB)
8. Mar 29, 1867 ALBERT FIDLER (m. Mary Ann DENNISON)
9. Mar 23, 1870 MARY ANN FIDLER (m. Alexander HALLETT)
10. 1870 JANET FIDLER
11. 1874 ELIZABETH FIDLER