JOHN McLEOD (1793-1873)
ELIZABETH SWAIN (1813-1895)
(Last Updated: January 06, 2017)
Around 1793 John McLEOD was born in Uig, Scotland, son of Malcolm McLEOD.
Around 1823 John came to Canada as a settler, and became the owner of River Lot 161 in St Andrews Parish. This location is southeast of Little Britain (on map below) on the east side of the Red River.
Marriage to Elizabeth SWAIN
1829
On Sep 8, 1829 at St John's Anglican Church in Red River, Reverend William COCKRAN married John McLEOD to Elizabeth SWAIN, daughter of an Indian woman & James SWAIN, (1775-1829), a Hudson's Bay Company (HBC) fur trader from England. Witnesses were William Robert SMITH and Donald GUNN. ** MORE ABOUT JAMES SWAIN
In 1835 John was recorded as the owner of Lot 161 in St Andrews Parish. There were five persons in his household; four cattle, a farm implement and cart. He has three acres under cultivation. The three children would have been Donald (age 4), John (age 3) and James (age 1).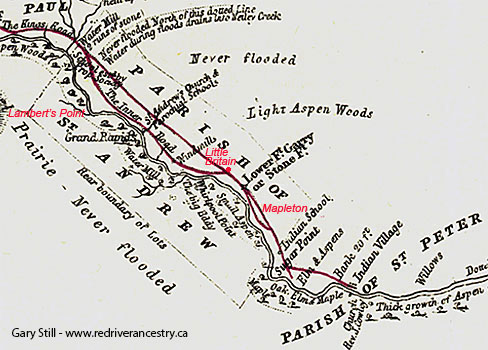 St Andrews Parish from Hind's Map of 1857
In 1859 eldest son Donald became the 2nd husband of Hilda (nee FIDLER) SINCLAIR, daughter of Jane KIPLING and Thomas Jonathan FIDLER (1795-1875) and widow of William SINCLAIR (1836-1858).
** MORE ABOUT THOMAS JONATHAN FIDLER
Around 1860 son John married Georgina FRANKS, daughter of Justina STEVENS and James FRANKS (1813-1884) from England. ** MORE ABOUT JAMES FRANKS
Canadian Confederation
A Red River Rebellion
Manitoba becomes a Province
1867-1870
On July 1, 1867 the British colonies in North America were united under the British North American Act to become the Dominion of Canada.  Sir John A MACDONALD (1815-1891) was appointed as Canada's first Prime Minister. William McDOUGALL (1822-1905) became the Minister of Public Works, and he began negotiations to acquire Rupert's Land from the HBC; surveyors were sent to Red River to prepare the way for an expected influx of settlers.
In 1868 daughter Sarah married Gilbert SMITH in Little Britain, son of John SMITH of uncertain origins.
On Oct 11, 1869, Louis RIEL (1844-1885) placed his foot on the surveyors' chain to tell them their work was finished! This marked the beginning of the historic Red River Métis Rebellion.
On July 15, 1870 the Rebellion ended when RIEL's Provisional Government accepted the terms of the Manitoba Act and Manitoba became the fifth province of Canada.
Census of 1870 in St Andrews Parish (Lot 161): John McLEOD (age 80); wife Margaret (age 50). Children: Children: Angus(age 30), Malcolm (24), Thomas (23), Mary (20), Jane (19), Duncan (17), Caroline and (14) Mathilda (age 9).
In 1871 son Malcolm married Widow Isabella (nee STEVENS) YOUNG in St Andrews, daughter of Mary MEENISH and Richard STEVENS (1793-1872) from England. Isabella was previously married to James YOUNG (1822-1870).
** MORE ABOUT RICHARD STEVENS
John McLEOD Dies
1873
On Sep 21, 1873 John McLEOD died. He was buried in the Old St Andrews Church Cemetery.
Around 1873 daughter Ann became the second wife of John CLOUSTON (1825-1902), a stonemason from the Orkneys of Scotland.
Also around 1873, son William married Annabella THOMAS, daughter of Mary BOUVIER and Charles THOMAS (1814-1904). ** MORE ABOUT CHARLES THOMAS
In 1875 Elizabeth (of St Andrews) claimed Half-Breed Scrip as the widow of John McLEOD. She listed their 14 children as 1) Donald; 2) John; 3) James; 4) Angus; 5) William; 6) Malcolm; 7) Thomas; 8) Duncan; 9) Sarah (wife of Gilbert SMITH); 10) Ann (wife of John CLOUSTON);  11) Mary; 12) Elizabeth; 13) Caroline; 14) Matilda. Another attached statement by Elizabeth states that she was born abt 1820 in the NW; and is the halfbreed daughter of an Indian Woman & James SWAIN, an Englishman. 
In 1877 daughter Caroline married Andrew FIDLER in St James, son of Jane BIRSTON & Cornelius FIDLER (1833-1909). ** MORE ABOUT CORNELIUS FIDLER
Census of 1881 in St Clements Parish: Widow Elizabeth McLEOD, age 68. Children at home: Angus (age 40), Thomas (35), Elizabeth (28) and Matilda (age 20).
Around 1882 daughter Matilda married David FOULDS, son of Nancy CALDER and Samuel FOULDS (1803-1870) from England. ** MORE ABOUT SAMUEL FOULDS
Census of 1891: Widow Elizabeth McLEOD (age 79) with son Malcolm in St Clements Parish.
On Feb 13, 1895 Elizabeth (nee SWAIN) McLEOD died in St Clements, age 83.
Around 1895 daughter Jane Elizabeth was married to Erick OSTLUND or OSTLAND who was born in 1886 in Sweden and died before 1916.
Comments and queries at this link: FORUM DISCUSSING DESCENDANTS of JOHN McLEOD
=========================== Family Details ===========================
Children:
1. Jan 31, 1831 DONALD McLEOD (m. Mathilda  (nee FIDLER) SINCLAIR)
2. May 31, 1832 JOHN McLEOD (m. Georgina FRANKS)
3. Nov, 1834 JAMES McLEOD
4. Oct, 1836 ANGUS McLEOD 
5. Sep 25, 1838 SARAH McLEOD (m. Gilbert SMITH)
6. May, 1840 ANN (NANCY) McLEOD (m. John CLOUSTON)
7. Feb, 1842 WILLIAM McLEOD (m. Annabella THOMAS)
8. Apr 15, 1844 MALCOLM McLEOD (m. Isabella (nee STEVENS) YOUNG)
9. June, 1846 THOMAS McLEOD
10. Dec 1848 MARY McLEOD
11. Apr 2, 1850 JANE ELIZABETH McLEOD (m. Erick OSTLAND or OSTLUND)
12. Mar 11, 1852 DUNCAN McLEOD
13. Feb 18, 1856 CAROLINE McLEOD (m. Andrew FIDLER)
14.  Aug 30, 1860 MATILDA McLEOD (m. David FOULDS)