RICHARD STEVENS (1793-1872)
MARY (nee MEENISH-O'CONNOR) THOMAS (c1793-1877)
(Last Updated: January 03, 2016)
Richard STEVENS was born Sep 13, 1793 in Bourton On the Water, Gloucester, England.
In 1816, Richard was around 20 years old and living in Overton, near Frampton on Severn in Gloucester, when he offered his services to the Hudson's Bay Company (HBC) and was accepted. His original contract was dated May 8, 1816. He was to receive received 30 pounds for his first year as a clerk/ writer. He sailed aboard the Emerald, arriving at Moose Factory on James Bay aboard on Sep 23.  On Oct 3 he proceeded to Albany Factory where he spent the next year serving under post master Jacob CORRIGAL (1772-1844).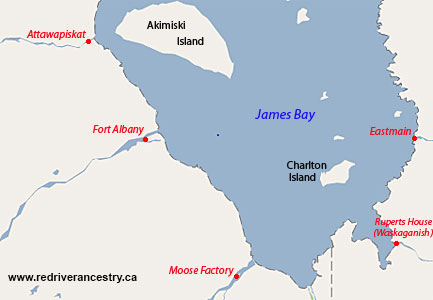 Rupert's House, a Cree village (now Waskaganish, PQ) was located on the Rupert River
(The first and oldest HBC trading post; established in 1868 as Fort Charles)
Richard is mentioned in the Moose Factory Journal of 1816-17. In his first employee assessment, CORRIGAL reported that Richard  "Came out to the country last year, he frequently gave me reason during the winter and last fall to find fault with him for drinking to excess, but lately he has refrained from it and in every other respect would be a good officer"
HBC Heritage: Liquor was a standard issue item for employees. Rations were set at 1 quart per man per week – roughly 7.5 gallons per man per year –issued twice a week on Wednesday and Saturday. Extra rations were issued to mark special holidays like Christmas, New Year's or to toast the reigning monarch on his or her birthday. In this the Europeans, like their native neighbors, used liquor in support of ceremonial. An employee could also earn additional rations of liquor in recognition of outstanding performance.
Rupert House and Marriage to MEENISH
1817-1822
On Aug 26, 1817, Richard was sent by sloop from Albany to Moose Factory, arriving there on Aug 31. On Oct 1 that year he left Moose on the Mainwaring Schooner with Alexander CHRISTIE (1792-1872) and others, arriving at Eastmain on Oct 4. From there, on Oct 10, they left for Rupert House, when CHRISTIE assumed his new position as Superintendant of the Eastmain District. That winter, CHRISTIE filed a 'character report' regarding Richard STEVENS: "This young man is a good accountant and not deficient of general information – But during the winter I observed that he was addicted to liquor whenever he could get it. Being a young man, he may through time give up this habit – He is at present left in charge at Rupert's House (during CHRISTIE's absence), which gives him a fair opportunity of displaying his ability"
During the spring or summer of 1818, Richard began a connubial relationship with Widow Mary (MEENISH) THOMAS at Rupert's House. Their first child(Henry) was born on Feb 8,1819.
Mary O'CONNOR aka MEENISH was born around 1793, probably at Rupert House. Around 1806-07 she began a relationship with John THOMAS (1784-1816) who died in the summer of 1816 in the Moose Factory district. Mary had two children from that union (Eleanor & Charles THOMAS) who were 13 and six years old respectively in 1820. Click here for ** MORE ABOUT JOHN THOMAS
Richard remained at Ruperts River through to 1821. On Mar 11, 1821, son George was born.
By October of 1821, the HBC and the North West Company (NWC) agreed on terms and approved an "amalgamation." The new, merged Company retained the HBC name and governing board in London.

Richard remained at Rupert House until he was discharged on Aug 22, 1822, his services "no longer required". On Sep 20, 1822,  Chief Factor Thomas VINCENT (1776-1832) and others wrote to London: "We have been obliged to make some alterations in the classification of clerks in the Southern Department - - Messrs - - Richard STEVENS - - have likewise been dismissed the Service, these people are all strongly addicted to the immoderate use of Spirituous Liquors and are in consequence unfit for service - -"
1822 was also the year that Governor William WILLIAMS was transferred to Moose Factory, having abandoned his 'wife of convenience' (Sally FIDLER) and their daughter. WILLIAMS was joined by his English wife and family at Moose. On Sep 22, 1822
On May 1, 1823, daughter Theresa was born.
On Sep 10, 1823 Governor WILLIAMS of the Southern Department wrote to London: "We have felt much difficulty in making satisfactory arrangement for a Class of Clerks, who ought certainly to be discharged from the Service, but still from the motives of humanity, have been retained in the Country on half pay for two years – with the option of going to the colony – which they decline – the instances of particular persons are as follows – Richard STEVENS – declines going to the Colony (Red River), if discharged and sent home, has no money to support him, his family consisting of a Woman and three small children (Henry, George & Theresa), would then be thrown on the mercy of the Company – the Man's Character has already been sent home. It is therefore most earnestly solicited by Council, the Honorable Committee would take the two last mentioned clerks (ie. Richard GOOD and Richard STEVENS) cases into their consideration (as their half pay ceases next year) which will enable us to act, without subjecting ourselves to unpleasant animadversions, as well as give us great pleasure in executing any compassionate recommendations for adoption."
Undoubtedly MEENISH influenced Richard's refusal to go to the Colony. I'm sure she wasn't keen on making a long arduous journey to an unfamiliar far-off place like Red River with two toddlers, a baby and an alcoholic husband. Her daughter from her previous marriage, Eleanor THOMAS, although yet a teenager, was probably living with Richard THOMAS (1800-1861) by this time. Richard, no relation [halfbreed son of Chief Trader William THOMAS (1780-1818) from England], was then working in the district as a steersman (boat man). She also had a nine year old son, Charles THOMAS. ** MORE ABOUT WILLIAM THOMAS (1780-1818)
Moose Factory at Half Pay, Then Discharged to England
1823-24
Richard spent the winter of 1823-24 at Moose Factory,  and The Servants' Characters for 1824 from Moose reported: "On Half Pay employed as Factory Steward and occasionally copying letters, addicted to liquor, cannot be trusted when he has accounts to be paid - - but upon the whole discharged his duties very well as steward." He also superintended the transport of the Kenogamissi outfit from Moose to the first portage on the Kenogamissi River.
That summer a reply dated Mar 18, 1824, came from the London office to Gov WILLIAMS: " - - We do not consider Richard STEVENS to have any claim upon this fund [retired officers' fund], and if he will not retire with his family to the colony on receiving reasonable assistance until he can, if industrious, maintain himself and family; he must be discharged, if addicted to liquor as reported, in which case, we are bound to give him a passage to Europe, and his family will no doubt have to be assisted as others are in similar circumstances." And so it was in the autumn of 1824, Richard was ultimately discharged to England, sailing home on the ship Camden.
England held nothing for Richard STEVENS. The only way he could return to his wife and children was for him to accept a move to Red River. We don't know what arrangements he made, but he must have managed to win the sympathy of someone in London, for the following summer of 1825 he did indeed return. The Council of August, 1825, received: "That as Mr STEVENS is come out to go to Red River, but the Season being too far advanced to undertake the voyage, the Governor and Council grant to Mr STEVENS the Sum of there pound per month (for the time employed in office business) his Rations and Stores usually given to Clerks, and although Mr STEVENS is not required for this place, yet he being poor, the Governor and Council grant him this benefit, whereby he may be able to provide for his family."
On Dec 23, 1825, Richard accidentally shot away "the greatest part of the middle finger of his left hand" (HBCA Archives). Can we not help but feel sorry for this pitiful wretch? Have faith! With sympathetic employers and the support of a loving wife, he would eventually get his life turned around.
The STEVENS Family Settles in Lockport, Manitoba
1826
The STEVENS family and fellow traveler James SETTER (1810-1857), like so many others in the summer of 1826, travelled to Red River Settlement by canoe, via Lac la Pluie (Rainy Lake) and the post at the Dalles on the Winnipeg River. On Jul 20, 1826, daughter Isabella was born. We aren't certain exactly when the trip to the Colony was made, but it seems possible that Isabella may have been born on the way.
On Sep 16, 1826, the HBC Archives recorded: "Mr. James SETTER and Mr. Richard STEVENS, with their families arrived in a canoe from the Southern Department, with a view of becoming Settlers here" (in Red River)
Many of the officers and servants who were retired from service after the HBC-NWC union, and had no desire to leave Canada, took up land along the Red River in an area that extended from the St Paul-Middlechurch area north to present day Mapleton (south of Selkirk). These river lots were long narrow strips of land that extended two miles back from the river (east and west). Reverend William COCHRANE (1798-1875) arrived in the area in 1824 and in 1825 a church was opened in a part of the Settlement known as Image Plains (now Middlechurch).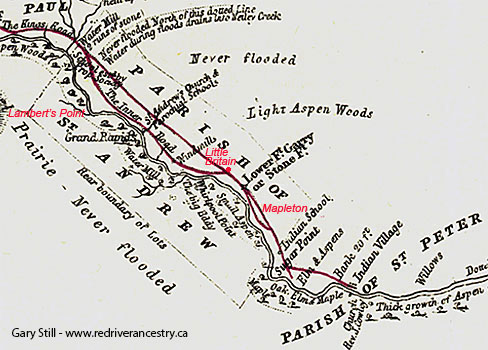 Part of Henry Hind's Map based on his observations of 1857
By 1827 MEENISH & Richard STEVENS had settled on River Lots 41 and 42. Interestingly, this is precisely the area where present day Stevens Avenue is located at Lockport, extending from just south of the Lockport Bridge west to Highway #9. The Red River Census that year enumerated the family as follows: Richard STEPHENS, age 30, Protestant, England. One married man; one woman; two sons under 16 (Henry & George); two daughters under 15 (Theresa & Isabella); one acre farmed. MEENISH's daughter (Eleanor THOMAS, (age 20) had remained at Rupert's House with her hubby.
On Sep 25, 1827 the following children of Mary & Richard STEVENS, settlers at the Rapids (Lockport), were baptized by Rev David T JONES, HBC Chaplain: Henry, George, Thirza and Isabella. On Nov 27,1827, Mary & Richard were church-wed by Rev JONES at St Johns, in the presence of Donald GUNN and John McDONALD.
Son William Richard was born on June 15, 1829. On Aug 12 that year he was baptized at St Johns by Rev William COCHRANE.
Red River Census 1831:  Richard STEVENS: Age 36 (b-c1795); wife, one son over 16 (step-son Charles THOMAS, age 17), 3 three sons under 16 (Henry, age 12; George, age 10; William, age 2); and two daughters under 16 (Theresa, age 8, & Isabella, age 5).
On Dec 27, 1831, Mary (MEENISH) was baptized by Rev COCHRANE
On May 1, 1832, Rev William COCHRANE preached his first sermon at the Old St Andrews Anglican Church. At that time it was just a log structure and was referred to as the "Rapids Church". Also in 1832 construction of Lower Ft Garry was begun.
On May 31, 1832 in Red River, MEENISH told Thomas SIMPSON that her daughter Eleanor was at Rupert River (by then Eleanor was the wife of Richard THOMAS) and Charles was in Red River. 
In 1832 MEENISH's son, Charles THOMAS, began his career with the HBC as a middleman in the Cumberland District (Saskatchewan).
Daughter Mary was born Nov 10, 1832 in St Andrews. She was baptised by Rev William COCHRANE on Dec 20 that year.
Census 1832: Richard STEVENS was recorded as having a house , stable and barn; three oxen, a bull, five cows, three calves, six pigs, a plough, harrow and cart; a canoe; and five acres cultivated for a household of eight people. This suggests six children in 1835 (Henry, George, Theresa, Isabella, William and Mary).
Census 1833: Same buildings; 9 oxen, five cows, four calves and two pigs; a plow, harrow and cart; a canoe and five acres cultivated for a household of nine people.
It appears that Richard had finally matured, turned his life around and was becoming a successful farmer.
In 1836 MEENISH's daughter and son-in-law (Eleanor & Richard THOMAS) retired from Rupert's River and settled in the Lockport area.
On Apr 23, 1838, son Robert was born (their last child).
In 1841 daughter Theresa married Charles FOX.
In 1842 son George was recruited as an HBC middleman in the English River District. I846 he retired from the HBC and became a free trader at Ile a la Crosse. Around 1851 he married there to halfbreed Sarah McKENZIE, and on.Nov 25, 1852 Richard's first granddaughter (Mary Ann) was born.
Around 1848 daughter Isabella became the wife of James YOUNG from England.
In 1849 construction of the new stone church of St Andrews was completed.
In 1850 son William married Mary FOULDS, daughter of Mary FIDLER and John FOULDS (1798-1868).
** MORE ABOUT JOHN FOULDS
In February of 1852 Richard STEVENS served on the petty jury for the trial of Jane HECKENBERGER for the murder of her daughter Margaret's newborn baby.
In 1852 daughter Mary married Henry LYONS
By the spring of 1857 son George's family had returned to St Clements from Ile a la Crosse, and in April that year they presented Richard with a second granddaughter (Sarah).
In 1858 the Anson Northrup became the first steamboat to navigate the Red River. It reached Upper Fort Garry (Wpg) in 1859.
On Dec 1, 1861 the beautiful Church at Mapleton, known as St. Clements was opened by Bishop ANDERSON.  Abraham COWLEY was the Incumbent.
On Oct 31, 1867, Richard deeded part of Lot 42 (HBC numbering) to the Church Missionary Society (CMS), which was to put up a school chapel there. This became St Thomas Church, Lockport, and was originally a Chapel of Ease for the Elderly, established because some elderly persons found it difficult to get to St Andrews. It was known as North St Andrews Chapel, and the area was called North St Andrews until the locks were built in 1912, when it became known as Lockport.
Around 1869 son Robert married Mary Ann BUTLER
On July 15,1870 Manitoba became the fifth province of Canada, directly as a result of RIEL's leadership.  On Aug 23, 1870 RIEL fled for his life to the USA, fearing that an anticipated amnesty would not be obeyed by the 1200 soldiers coming to the province.
In 1870 John YOUNG died, and in 1871 widowed daughter Isabella re-married to Malcom McLEOD, son of Elizabeth SWAIN and John McLEOD (1793-1873). ** MORE ABOUT JOHN McLEOD
On Mar 12, 1872 Richard STEVENS died. He would have been about 79 years old. Richard's will bequeathed to Henry STEVENS Lot 42 (HBC numbering) on the west side of the river, to Robert STEVENS Lot 41 (HBC numbering), to William STEVENS Lot 464 (HBC numbering) on the east side of the river. The remaining property was divided between Henry and Robert to provide for their mother (HBC Arch E6/14). Their sister, Mary SMITH, lived at Lot 100 as well. George moved to Lot 44 in the Parish of St Clements.
In 1873 Winnipeg was incorporated as a City (population about 2,000).  Selkirk's population was about 400.  150 Red River carts departed Fort Garry for Fort Edmonton.  Three contingents of the newly formed North-West Mounted Police were stationed at Lower Ft Garry (1873-74). 
In 1875 joint Scrip Affidavits were made by 1) Mary b-1800 (who didn't know her parents names), as widow of Richard STEVENS, and another 2) Mary KIRKNESS (wife of William BIRSTON, daughter of Margaret MOWAT & Andrew KIRKNESS).
On Mar 10, 1877, MEENISH died at the age of 85.
Please post comments & queries at this link: FORUM DISCUSSING RICHARD STEVENS & FAMILY
========================== Family Details ==========================
MEENISH's Children by John THOMAS JR:
1. 1807 ELEANOR THOMAS (m. Richard THOMAS)
2. 1814 CHARLES THOMAS (m. Marie BOUVIER)
?3. 1815 JOHN THOMAS
Children of MEENISH & STEVENS:
1. Feb 8, 1819 HENRY STEVENS
2. Mar 11, 1821 GEORGE STEVENS (m. Sarah McKENZIE)
3. May 1, 1823 THERESA (THIRZA) STEVENS (m. Charles FOX)
4. July 20, 1826 ISABELLA STEVENS (m1. James YOUNG, m2. Malcolm McLEOD)
5. Jun 15, 1829 WILLIAM RICHARD STEVENS (m. Marie FOULDS)
6. Nov 10, 1832 MARY STEVENS (m1. Henry LYONS, m2. Henry SMITH)
7. Apr 23, 1838 ROBERT STEVENS (m. Mary Anne BUTLER)