JOHN FOULDS (1798-1868)
MARY FIDLER (1811-1842)
(Last Updated: January 22, 2017)
John FOULDS was born around 1798 in Mansfield Parish, Nottingham County, England. John and his younger brother, Sam FOULDS, both enlisted by the HBC, arrived at York Factory on Aug 22, 1821 aboard the Prince of Wales.
** MORE ABOUT JOHN'S BROTHER - SAMUEL FOULDS
John spent his first winter at the Rock Depot Post in the York District as a general labourer. This post was located about 120 miles upstream from the Bay on the Hayes River.
Upper Fort Garry – Red River
1822-1825
In 1822 John was sent to Upper Fort Garry in the Upper Red River District as a servant to Donald McKENZIE (1783-1851), the Governor of Assiniboia. ** MORE ABOUT DONALD McKENZIE in DCBO
Marriage to Mary FIDLER
John becomes a Red Rive Colonist
1825
John continued as a Labourer at Fort Garry until his contract expired in 1825, after which he left the HBC service to become a Red River colonist.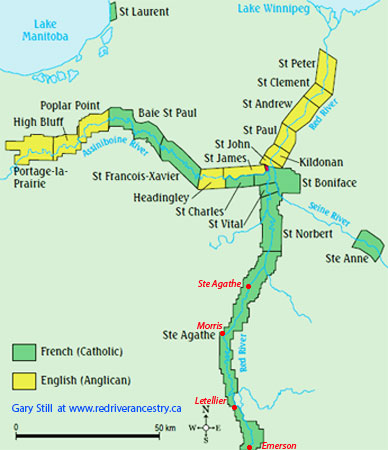 Early Red River Parishes
On Oct 25, 1825 John married Mary FIDLER at St John's Anglican Church, daughter of Mary MACKAGONNE and Peter FIDLER of Bolsover (1769-1822). ** MORE ABOUT PETER FIDLER OF BOLSOVER
Their first child, Mary, was born Mar 22, 1828 in St Andrews Parish. She was baptized Apr 20, 1828 at St John's.
In 1826 Mary's mother (Mary MACKAGONNE - FIDLER) died in Red River.
In 1835 John and his family were located on Lot 61 in St James Parish.
In 1842 Mary (nee FIDLER) FOULDS died at the age of 31, not long after giving birth to son Abraham. Their other children at that time would have been Mary (age 14), John (12), Nancy (9), Helen Elizabeth (7) and Harriet (age 4).
In 1850 daughter Mary married William Richard STEVENS in St Andrews, son of Mary (nee MEENISH) THOMAS and Richard STEVENS (1796-1872). ** MORE ABOUT RICHARD STEVENS
In 1851 daughter Nancy died (she was only 18 years old).
In 1855 son John Jr married Mary Anne Nancy ADAMS at St Johns, daughter of Ann HEYWOOD and George ADAMS (1796-1865). ** MORE ABOUT GEORGE ADAMS
In 1857 and 1861 daughter Helen Elizabeth gave birth to two illegitimate children (fathers unknown) (William and Miles respectively), after which she married Peter McLAUGHLIN(1821-1898)from Ireland.
In 1861 youngest son Abraham married Elizabeth HARKNESS, daughter of Sarah STEVENSON and Andrew HARKNESS (1796-1869), a retired HBC voyageur from Quebec.
On Aug 27, 1868 John FOULDS died in St James at the age of 70.
Comments and queries at this link: FORUM DISCUSSING the JOHN FOULDS FAMILY
============================= Family Details =============================
Children:
1. Mar 22, 1828 MARY FOULDS (m. William Richard STEVENS)
2. Apr 27, 1830 JOHN FOULDS (m. Mary Anne Nancy ADAMS)
3. 1833 NANCY FOULDS (Died 1851)
4. Feb 13, 1835 HELEN ELIZABETH (ELLEN, ELIZA) FOULDS (m. Peter McLAUGHLIN)
5. 1838 HARRIET FOULDS
6. Jan 8, 1842 ABRAHAM FOULDS (m. Elizabeth HARKNESS)