JAMES SWAIN (c1775-1829)
A NATIVE WOMAN (c1776-)
(Last Updated: March 03, 2016)
James SWAIN was born around 1775-77 in London, England.
Employed by the Hudson's Bay Company
1791
In 1791 James sailed aboard the Seahorse to York Factory in Hudson Bay where he began his career with the Hudson's Bay Company (HBC) as a 'Writer'. In 1793 he began to work inland as far as Buckingham House (near Elk Point, Alberta).
** MORE ABOUT JAMES SWAIN in the HBC ARCHIVES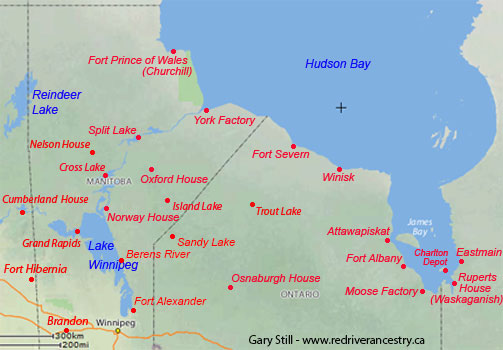 James marries an Indian Woman
1797
In 1797 James was posted to Fort Severn where he soon began a connubial relationship with an Indian woman (probably a Cree woman). In 1799 son James Jr. was born.
In the fall of 1805 James went home to England on a furlough leave. By this time he had fathered five children at Severn; James, Sarah, Margaret, Thomas and Mary Ann.
When he returned from England to the Severn District in 1806 he continued as a 'Writer' and spent time at Beaver Lake House and Trout Lake until 1810 when he became a Master Trader at Severn and posts inland.
In 1814 daughter Brigitte was born.
In 1817 daughter Mary Anne married "a la facon du pays" at York Factory to Englishman William Robert SMITH (1797-1869).
Retired to England
1819
In 1819 at York Factory, daughter Margaret married Englishman Donald GUNN (1797-1878), an assistant trader from Trout Lake Post.
1819 was the year that James sailed home to England aboard the Prince of Wales, never to return.
In 1825 eldest daughter Sarah married John McDONALD (b-c1791) at St Johns (Red River), a retired HBC trader from Scotland.  Also that year, son Thomas married Marguerite DUMAIS of unknown origins.
In 1826 at St Johns (Red River) eldest son James Jr. married Margaret RACETTE, daughter of Suzette (Indian) and Charles RACETTE (1766-1833), a French Canadian. ** MORE ABOUT CHARLES RACETTE
In 1829 the elder James SWAIN died in London.
In 1829 daughter Elizabeth married John McLEOD (1793-1872) from Scotland. ** MORE ABOUT JOHN McLEOD
Around 1832 son Thomas married a second time to Isabelle Elizabeth SABISTON of unknown origins. 
In 1837 son John married Marie Marguerite ALLARY, daughter of Marie SERPENTE and Michel ALLARY.
Comments and queries at this link: FORUM DISCUSSING the JAMES SWAIN SR FAMILY
========================= Family Details =========================
Children:
1. Feb 14, 1799 JAMES SWAIN (m. Margaret RACETTE)
2. 1800 SARAH SWAIN (m. John McDONALD)
3. Feb 4, 1802 MARGARET SWAIN (m. Donald GUNN)

4. 1804 THOMAS SWAIN (m1. Marguerite DUMAIS, m2. Isabelle Elizabeth SABISTON)
5. c1805 MARY ANN SWAIN (m. William Robert SMITH)
** MORE ABOUT WILLIAM ROBERT SMITH
6. c1807 CHARLOTTE SWAIN
7. 1814 BRIDGIT SWAIN (Died 1844)
8. 1818 JOHN (JACK) SWAIN (m. Marie Marguerite ALLARY)
9. 1820 ELIZABETH SWAIN (m. John McLEOD)