DAVID FOULDS (1857-1921)
MATILDA McLEOD (1860-1935)

(Last Updated: May 20, 2016)
David FOULDS was born Dec 5, 1857 (baptized Jan 6, 1858) in St James Parish (Red River), the youngest child of Nancy CALDER and Samuel FOULDS (1803-1870). ** MORE ABOUT SAMUEL FOULDS
In 1870 David's father (Samuel) died in St James, and in the census that year he was recorded there (age 13) with his widowed mother, Nancy (age 65).
In 1875 his mother (Nancy) claimed Half-breed Scrip for David.
Census of 1881 in Assiniboia (St James): David (age 21) with his widowed mother Nancy (aged 60).
David marries Matilda McLEOD
1881
Around 1881 David married Matilda "Tillie" McLEOD in Winnipeg, the daughter of Elizabeth SWAIN (a half-breed) and John McLEOD (1793-1873) who was born in Scotland. ** MORE ABOUT JOHN McLEOD
Lake Manitoba
1891
By about 1891 David had moved his family up to the east side of Lake Manitoba near Lundar (Posen Diestrict). In 1892 son Robert George was born in St Laurent.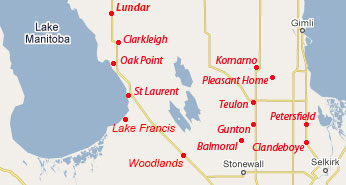 Census of 1901 in the Posen District (Lundar):  David FOULDS, age 33; wife Matilda, age 40. Children: Caroline (age 18), Albert E (16), Ethel (14), A Herbert (12), Robert J (9) and Victoria M (age 6).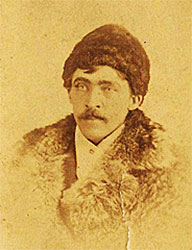 David Foulds (Courtesy Allan Johnson)
Census of 1906 in the Dauphin District (near Lundar): David FOLDS, age 47; wife Matilda, age 45. Children: Caroline (age 23), Herbert (17), Robert G (15) and Victoria (age 13).
In 1907 eldest daughter Caroline married Henry John Ernest STONE in Winnipeg, a railroad section man who was born about 1882 in England. They settled in Lake Francis (See map above).
In 1910 daughter Ethel married Robert "Fred" HARMER, son of Sarah WOOLSEY and Elijah HARMER. They made their home in Lundar.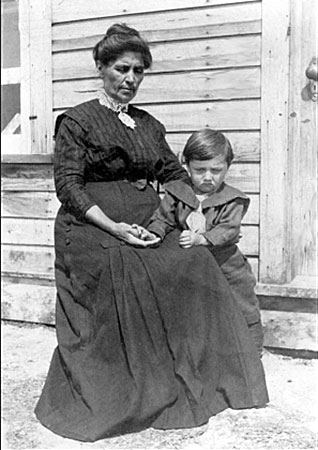 Matilda (nee McLeod) Foulds and Robert (Bert) Forbister (Courtesy Allan Johnson)
Census of 1911 near Lundar (20-5-Wpm): David FOULDS, age 53; wife Matilda (age 51) and daughter Victoria M (age 17). They have an adopted son, Robert FORBISTER (age 2), and a boarder named Munder GOODMANDSON (age 21).
** Robert FORBISTER was the son of Victoria CHABOYER and Samuel FORBISTER (1865-1929).
On June 17, 1914 son Alexander Herbert married Ellen MALCOLM in Winnipeg, daughter of Ellen DICKEY and Thomas MALCOLM (1844-1929).
World War I
1914-1918
On Aug 4, 1914 Great Britain (Canada on Aug 5) declared war on Germany and Austria-Hungary to uphold treaties with France and Belgium which were under German attack. This marked the beginning of World War I.
On Dec 4, 1914 youngest daughter Victoria married Cecil Orval DEAMEL in Manitou (MB).
On Feb 16, 1916 son Albert Edward enlisted in Timmins, Ontario where he was working as a miner.
Canadian Virtual War Memorial: In memory of Private Albert Edward FOULDS, who died Oct 21, 1916; Vimy Memorial Cemetery; Pas de Calais, France. Service Number: 178223; age 29, Canadian Infantry (Quebec Regiment, Army), 87th Battalion; son of Matilda and David FOULDS of Coldspring, Quebec.
Census of 1916 on 20-5-Wpm: David FOULDS, age 56; wife Mathilda, age 56; son Albert, age 30. Adopted son Robert FORBISTER, age 8.
On June 5, 1917 son Robert George FOULDS (age 25) of Spooner, Wisconson (USA) enlisted in the American Army. His Registration Card indicates that he was a deaf-mute.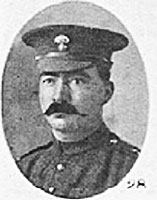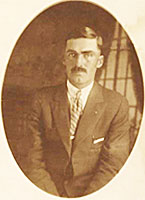 Left: Private Albert Edward Foulds (From Canadian Virtual War Memorial)
Right: Robert George Foulds (Courtesy Allan Johnson)
November 11,1918, Armistice Day (Remembrance Day) marked the end of the First World War.
Census of 1921 on 20-20-5-Wpm: David FOULDS, age 52; wife Matilda, age 60.
On Nov 24, 1921 David FOULDS died in RM of Coldwell, age 62.
In 1931 adopted son Robert James FORBISTER married Ingibjorg Sigridur HALLSON in Ericksdale, MB. Ingibjorg was the daughter of neighbors who lived on the same section as the FOULD family, Alof ALAFSON and Hallur Jonsson HALLSON (1867-1927) from Iceland who came to Canada in 1900. She and Robert FORBISTER were probably childhood sweethearts.
On Jul 1, 1935 Matilda (nee McLEOD) FOULDS died in RM of Coldwell, age 74.
Comments and queries at this link: FORUM DISCUSSING THE FAMILY OF DAVID FOULDS
========================== Family Details ==========================
Children:
1. Oct 10, 1882 CAROLINE FOULDS (m. Henry John Ernest STONE)
2. Jan 7, 1885 ALBERT EDWARD FOULDS
3. Aug 26, 1886 ETHEL MARY FOULDS (m. Robert Fredrick HARMER)
4. Feb 17, 1889 ALEXANDER HERBERT FOULDS (m. Ellen MALCOLM)
5. Feb 29, 1892 ROBERT GEORGE FOULDS
6. Jun 3, 1894 VICTORIA MADELINE FOULDS (m. Cecil Orval DEAMEL)
Adopted son:
1. Dec 10, 1908 ROBERT JAMES FORBISTER (m. Ingibjorg Sigridur HALLSON)