CUTHBERT GRANT (1751-1799)
MARGARET UTINAWASIS
(Last Updated: May 07, 2014)
Cuthbert GRANT was born around 1751 in Cromdale, Strathsprey, Inverness, Scotland, son of Margaret GRANT and David GRANT of East Lethendry. The exact date of his arrival in Canada and his early activities are unknown.
** MORE ABOUT CUTHBERT GRANT in DCBO

Around 1780 Cuthbert, along with his younger brother Robert, came to Quebec to work for the North West Company (NWC, the Nor'Westers).  They became 'wintering partners' in that company. Typically these were shareholders whose main headquarters was at Montreal. In the fall they transported trade goods via Lake Superior and inland waterways to posts in the Northwest. They spent the winter trading for furs which they then transported back east in the spring. Their main depot and warehouses were located at Fort William.
** MORE ABOUT THE NORTHWEST COMPANY in WIKIPEDIA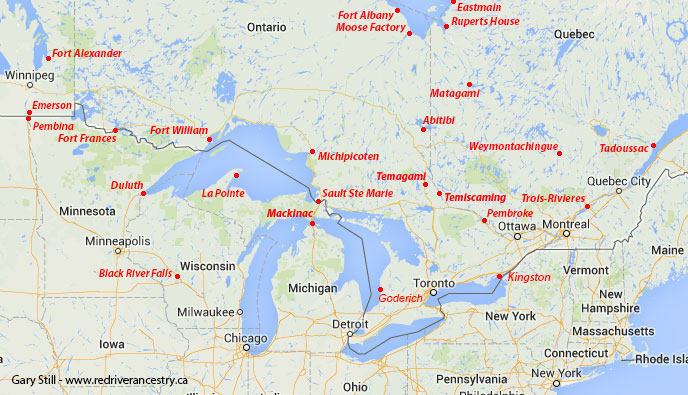 Cuthbert and Margaret UTINWASIS
1789
Around 1789 Cuthbert married Margaret UTINWASIS, a woman of the Qu'Appelle district, the daughter of a white trader and a Cree or Assiniboine woman. This trader may have been French, for some of his children were associated with the Métis community at Red River (DCBO). Around 1790 daughter Marguerite was born at Qu'Appelle. By 1792 they had two more children, James and Josephte. Note: very little is truly known about Cuthbert's wife or wives; when or where they were born and died. Some sources indicate that he had a wife named SONGAB. There is a lot of confusion and contradiction regarding who his children were as well. If anyone can provide more definitive information, please post your comments on the Forum at the link provided below.
Fort de la Rivière Tremblante
1793-1798
From 1793 to 1798 Cuthbert GRANT SR was in charge at Fort de la Riviere Tremblante on the Assiniboine River. It was also known as Grant's House and was established in 1791 by his younger brother Robert GRANT (1752-1801). Cuthbert GRANT JR was born there in 1796. This location was near Fort Pelly as shown on the map below.
1793 was the year that fellow Nor'Wester Alexander MACKENZIE (1764-1820) completed his historic overland trip to the Pacific.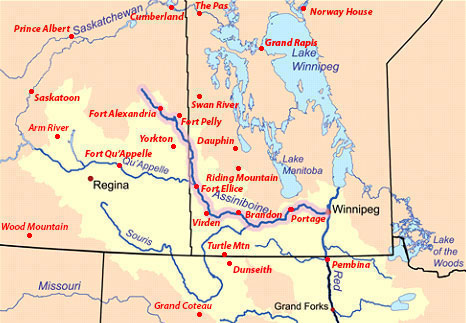 Assiniboine River Forts
The New XY Company
1798-1804
In 1798 Joseph FROBISHER (1748-1810) retired and William McGILLIVRAY (1764-1825) took his place as a director of the NWC. Also that year, the New North West or XY Company was formed. This company began to work in opposition to the NWC from the Great Lakes to the Athabasca.
Cuthbert GRANT SR Dies
1799
In 1799 Cuthbert GRANT SR died at Kaministiquia (Thunder Bay, Fort William). In accordance with his Will, William McGILLIVRAY became the guardian of young Cuthbert Jr. (age 6) and his brother James (about 7).
Around 1801 daughter Maggie married Michel, Monet BELHUMEUR, son of Marie Anne Josphte BOISELLE and Martin Monet BELHUMEUR (1726-1769).
On July 6, 1804 Simon McTAVISH died, and the new head of the NWC, William McGILLIVRAY, immediately set out to put an end to the five years of rivalry, and the merger of the XY Co and the NWC occurred in November of 1804.
Around 1805 daughter Josephte re-married to John WILLS (1775-1815), a NWC Partner from England.
In 1812 daughter Marie-Suzette married Pierre FALCON, son of a Cree woman and Pierre Jean Baptiste FALCON (1778-1807).
In 1814 son Cuthbert Jr. married Elizabeth McKAY, daughter of Mary FAVEL and John McKAY (1758-1810) from Scotland.
Perhaps around 1818 alleged daughter Marie married Francois PERREAULT dit MORIN who was born around 1784. This child and marriage needs a lot more validation. So far no convincing evidence found to support this.
Comments and queries at this link: FORUM DISCUSSING the CUTHBERT GRANT SR FAMILY
====================== Family Details ======================
Children:
1. 1790 MARGUERITE "MAGGIE" GRANT (m1. Michel MONET dit BELLEHUMEUR, m2. Andre Henry POITRAS)
2. c1791 JAMES GRANT (Died age 13)
3. 1792 JOSEPHTE "JOSETTE" GRANT (m1. Charles LATOUR, m2. John WILLS, m3. Pierre MONTOUR)

4. Dec 22, 1794 MARIE-SUZETTE GRANT (m. Pierre FALCON)
?5. c1795 MARIE (MARIA) GRANT (m. Francois PERREAULT dit MORIN)
6. 1796 CUTHBERT GRANT JR (m1. Elizabeth McKAY, m2. Marguerite DESMARAIS, m3. Marie McGILLIS)
** MORE ABOUT CUTHBERT GRANT JR