CUTHBERT GRANT (1796-1854)
"Warden of the Plains"
ELIZABETH "BETHSY" McKAY (1800-1817)
MARIE (MARGUERITE) DESMARAIS (1805-1822)
MARIE McGILLIS (1804-1856)
(Last Updated: December 18, 2016)
Cuthbert GRANT was born in 1796, at Fort de la Rivière Tremblante (near Fort Pelly on map below), son of Margaret UTINAWASIS and Cuthbert GRANT SR (1751-1799). ** MORE ABOUT CUTHBERT GRANT SR
** MORE ABOUT CUTHBERT GRANT JR in DCBO
When Cuthbert's father died in 1799. In accordance with his father's will, William McGILLIVRAY (1798-1804), Director of the North West Company (NWC), became young Cuthbert's guardian. He was six years old then.
** MORE ABOUT WILLIAM McGILLIVRAY in DCBO
Educated in Scotland or Montreal?
1801-1810
On Oct 12, 1801 Cuthbert (age 8) was baptized in the Scottish Church on St. Gabriel Street in Montreal, a church his father donated money to help build. His father's will stated that he wished his sons to be educated in Scotland.
Many sources indicate that Cuthbert spent approximately the next ten years of his life in Scotland and returned to Montreal in 1810. **Note: In DCBO, George Woodcock states: Despite conjecture that he followed his brother (James) to Scotland for his schooling, he would appear to have been educated in Montreal under McGILLIVRAY's supervision.
Employed by the North West Company
Fort William – Fort Espereance
1810-1812
In 1810 Cuthbert began his employ with the NWC in their Montreal offices. In 1812 he travelled with the annual brigades to Fort William where he was assigned as a clerk to the Upper Red River department and posted to Fort Esperance, a small outpost on the Qu'Appelle River under John PRITCHARD (1777-1855).Built in 1787 by Robert GRANT (Cuthbert's uncle), Fort Esperance was one of the earliest and most permanent of the NWC posts in the Assiniboine basin. It was the mainpemmican depot in theirs continental fur trade, and provisioned brigades to the Churchill andAthabasca regions.
** MORE ABOUT JOHN PRITCHARD in DCBO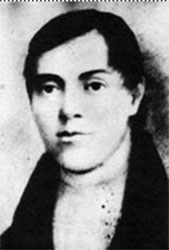 Cuthbert GRANT (1796-1854)
Arrival of the First SELKIRK Settlers in Red River
1812-1813
In 1812, there was a growing conflict between the two major companies, the HBC and the NWC with the arrival of the first of Lord SELKIRK's settlers at Red River, led by Miles MACDONELL (1767-1828), the first Governor of Assiniboia. The Nor'Westers saw the colonists as a threat to the fur trade and supply of pemmican.
** MORE ABOUT LORD SELKIRK in DCBO
** MORE ABOUT MILES MACDONELL in DCBO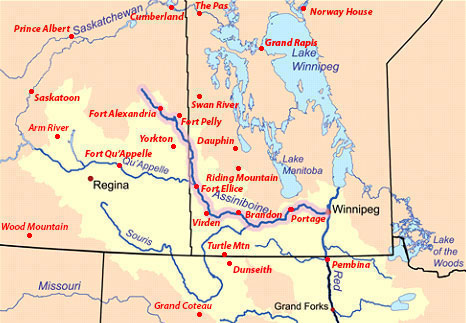 Assiniboine River Forts
During the winter of 1813-14, John PRITCHARD, under orders of John WILLS (1775-1815), both in the employ of the NWC, bought up most of the provisions available at the Forks and sent them off to their fort at La Souris (SE of Brandon House). This of course created a shortage for the Settlers. The NWC would later claim they needed pemmican as food supply for their voyageurs. ** John WILLS was Cuthbert's brother-in-law, married to his sister, Josephte GRANT.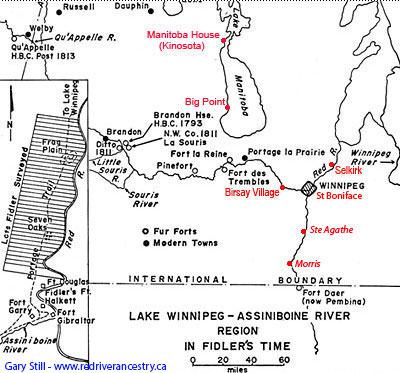 The Pemmican War
Cuthbert becomes a "Captain of the Metis"
Marriage to Elizabeth McKAY
1814
On Jan 8, 1814, anticipating the arrival of yet another large group of settlers and seeking to solve the colony's food problems once and for all, Miles MACDONELL countered PRITCHARD's actions by issuing his historic Pemmican Proclamation. He would have been at Pembina at that time. The proclamation prohibited the export of provisions of any kind from within the limits of Assiniboia without a special license from the Governor (himself). For two winters the Métis had provisioned the colonists with bison meat, so this severe measure was considered an insult, not only to them but to the NWC.
To enforce his proclamation, MACDONELL the sent John SPENCER (1790-1881), Councilor and Sheriff of Assiniboia, to La Souris bearing the Governor's "Warrant for Seizure" .SPENCER forcibly entered the fort there and seized the stashed provisions that had been stashed there by PRITCHARD.
In 1814, at Fort Gibraltar (Winnipeg), Cuthbert married Elizabeth "Bethsy" McKAY, daughter of Mary FAVEL and John McKAY (1758-1810). ** MORE ABOUT JOHN McKAY
In July of 1814 the NWC held its annual meeting at Fort William where an indignant William McGILLIVRAY declared regarding MacDONELL's actions "It is the first time the Nor'Westers have permitted themselves to be insulted".  From that day there would be civil war in the North-West. To meet force with force the NWC later appointed a soldiery of men often referred to as "Captains of the Métis". Included were: Cuthbert GRANT, Simon FRASER (1776-1862), Angus SHAW (c1765-1832), Nicolas MONTOUR (1790-1846) and Bostonnais PANGMAN (b-c1778).
Metis Rebellion - Cuthbert GRANT on a Rampage
1815
John Duncan CAMPBELL (1773-1835) saw the Pemmican Proclamation as an open invitation to bribe the colonists to leave the settlement. If results weren't achieved in this endeavour, he further believed he was given a free hand to harass the settlers into departing. ** MORE ABOUT JOHN DUNCAN CAMPBELL
CAMPBELL wrote to Cuthbert: "I wish that some of your Pilleurs who are fond of mischief and plunder would come and pay a hostile visit to these sons of gunpowder and riot, they might make a very good booty if they went cunningly to work."
On Mar 13, 1815 Cuthbert GRANT (1796-1854) wrote to CAMPBELL that he was game for harassing the settlers, "and never to see any of them again in the colonizing way in Red River ..."
After HBC men had arrested Bostonnais PANGMAN on a charge of assault, GRANT at the head of 27 Métis seized four colonists as hostages. On this occasion, there was an exchange of prisoners, but as the year went on the pressure applied by the Nor'Westers to the colonists increased and GRANT was in the thick of the action.
On June 7, 1815 GRANT established a Métis camp on the west bank of the Red River, four miles downstream from Point Douglas, the colony's headquarters and the harassment and intimidation continued with intensity. He and his men began to harry the settlement, stealing horses and ploughs, and there were exchanges of fire between the Métis and the remaining settlers.
On June 17 Governor MACDONELL gave himself up to the Nor'Westers who sent him down to the Canadas under arrest. Peter FIDLER (1769-1822) was left in charge of the colony. ** MORE ABOUT PETER FIDLER
On June 25 GRANT and his soldiers made another sudden, armed attack on the Settlement. Each of the remaining settlers was served with notice signed by four Nor'Westers (GRANT, PANGMAN, SHAW and MONTOUR), and by the mutual consent of their fellows. That day, Peter FIDLER capitulated under an agreement consenting to the complete evacuation of the colony. Apparently nobody signed the agreement on behalf of the NWC, but the Métis, and Cuthbert GRANT, were held responsible.
A few days later the Settlement was abandoned. The majority of Settlers, and some contract servants, under the protection of, and guided by, the NWC (CAMERON) left for Canada, while a remnant that remained loyal to Lord SELKIRK proceeded to the north end of Lake Winnipeg (Norway House). 
GRANT and most of his men returned to the Qu'Appelle River to celebrate their conquests. However, the conflict was far from over. The Metis victory did not end either of the Selkirk colony or of the HBC's presence on the Red River.
In August Colin ROBERTSON (1783-1842), a former Nor'Wester who had joined the HBC, arrived with a group of about 50 of the departing settlers who had asked him to lead them back.
** MORE ABOUT COLIN ROBERTSON in DCBO
On Aug 30 SEMPLE appointed Thomas THOMAS (1766-1828) and Peter FIDLER Councilors of the British District of Assiniboine. ** MORE ABOUT THOMAS THOMAS
In November Robert SEMPLE (1777-1816) arrived as Governor-in-chief of the HBC territories to take over the administration of the settlement. ** MORE ABOUT ROBERT SEMPLE in DCBO

The Seven Oaks Massacre
1816
On May 8, 1816 Cuthbert GRANT set out again, this time with a troop of 60 Métis horsemen, on an expedition clearly intended to prevent the resurgence of the rival power on the Red River. First they ambushed the HBC boats, under Pierre-Chrysologue PAMBRUN (1793-1841) and James SUTHERLAND (1777-1844), bringing pemmican down the Qu'Appelle. Joined by Alexander Greenfield MACDONELL (1782-1835) and the NWC boats, GRANT then escorted the pemmican down the Assiniboine, and at the Souris River he and his men captured and ransacked the HBC's Brandon House, commanded by FIDLER.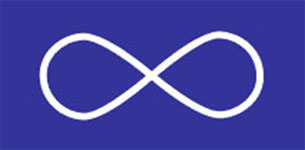 The Metis Flag
On June 1, 1816 Peter FIDLER recorded the first sighting of the Metis Flag in his diary: "At half past noon about 48 Half-Breeds, Canadians, Freemen and Indians came riding on horseback with their flag flying, blue, about four feet square and a figure '8' horizontally in the middle".
GRANT then proceeded to Red River, and on June 19 The Battle of Seven Oaks occurred with Governor SEMPLE and twenty of his men killed on Frog Plain. The Metis then took Fort Douglas.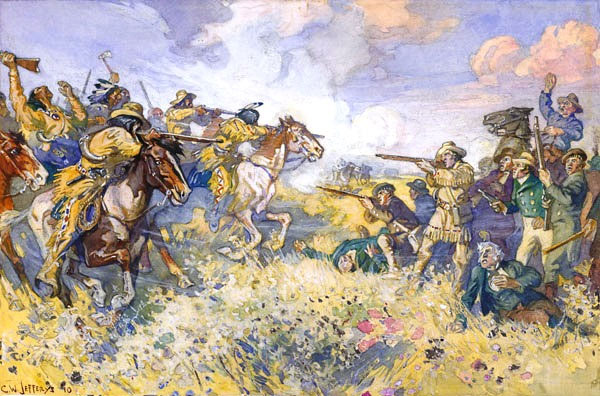 The Battle at Seven Oaks
(Archives Canada)
In August 1816 GRANT was at the NWC post at Bas-de-la-Rivière (Fort Alexander) on Lake Winnipeg and he was later reported to have been implicated in the murder of HBC officer Owen KEVENY on the Winnipeg River the following month.
** MORE ABOUT OWEN KEVENY in DCBO
On their way east, GRANT and his men learned that Lord SELKIRK had captured the NWC depot at Fort William, and that he and his soldiers were on their way to put down the rebellion. GRANT retreated back to Red River and in October he returned yet again to Fort Qu'Appelle.
Recapture of Fort Douglas by Miles MACDONELL
1817
After the re-establishment of the colony and the arrival of William B COLTMAN as commissioner from Lower Canada to inquire into the conflict in the northwest, GRANT, in August 1817, gave himself up. COLTMAN recorded his deposition on the events of 1815 and 1816, and then took him to Montreal to face charges of murder, theft, and arson. GRANT arrived there about the end of October and was held in the common jail while awaiting his hearing on the first of the charges, that of the murder of KEVENY. In this case his guilt was indeed doubtful and he was released, but in the spring of 1818 true bills were found against him and other NWC men at York (Toronto) for theft and pillage of HBC property and for the murder of SEMPLE the colonists killed at Seven Oaks. GRANT jumped his bail and fled in a light canoe to the northwest. The law officers in the Canadas, where the Montreal-based NWC was favoured over the London-based HBC, were unenthusiastic about pursuing the matter. After GRANT's lieutenant at Seven Oaks, François-Firmin BOUCHER, was acquitted of the murder of SEMPLE, the charges against GRANT were quietly shelved.
Cuthbert and Marie Madeline DESMARAIS
1818-1820
While Cuthbert was away (for Trial in Montreal) his wife Elizabeth McKAY and their son disappeared and were never heard from again.
Heather Hallett's version (Children of the Rivers, pg 152):  Cuthbert James GRANT (1793-1854) later decided that he wanted a 2nd wife.  Elizabeth absolutely refused to entertain the idea and when GRANT brought his new bride, Madeline Marie DESMARAIS, into their home, Elizabeth very angrily and obdurate, slipped away with her baby and neither one of them were ever seen again.
The origins (and demise) of Madeline DESMARAIS are uncertain. I suspect she may have been related to Jean Baptiste DESMARAIS (b-c1780), a NWC employee who is also mentioned in some references with regard to the murder of the aforementioned Owen KEVENY.
Stan Hulme: The relationship between Cuthbert and Marie DESMARAIS, as far as I can determine, began after his return from Montreal in 1818 and ended after the birth of a daughter Maria on July 15, 1820. Maria was placed with Cuthbert's sister Mrs John WILLS until he eventually settled.
We will look forward to comments of enlightenment on the Forum in these regards.
North West Company absorbed by the Hudson's Bay Company
Cuthbert settles in Grant Town
Marriage to Marie McGILLIS
1821-1824
In 1821 the union of the North West Company (NWC) and the Hudson's Bay Company (HBC) occurred, ending the years of bitter rivalry for dominance of the fur trade in Western Canada. ) George SIMPSON (1786-1860) became the Governor of Rupert's Land. ** MORE ABOUT GOVERNOR GEORGE SIMPSON
In July of 1823 the HBC appointed GRANT to the position of a clerk at Fort Garry (Winnipeg) and made him a Special Constable.
In October of 1823 Cuthbert was church-wed to Marie McGILLIS in St Boniface, daughter of Marguerite NOTINIKABAN and Angus McGILLIS (1774-1842).
Cuthbert established a permanent home in Grant Town where he built a flour mill along the banks of Sturgeon Creek, now known as "Grant's Old Mill". He was also a private freighter.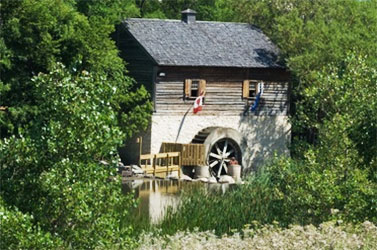 Grant's Old Mill (Restored by the St James Assiniboia Pioneer Association)
** Read more: GRANT'S OLD MILL MUSEUM
In 1824 Governor SIMPSON was concerned about the conflict between the Sioux and the Metis living at Pembina and, knowing that Pembina would be south of the 49th parallel, he asked GRANT for his help to establish a new community 29 km west of Fort Garry. This was the district of White Horse Plains. They formed the community of Grant Town with 80 Metis families who were displaced from Pembina. The people of Grantown supplied fur traders with pemmican, and being some of the best fighters, they acted as a buffer between the Sioux and the Red River Settlement. The location of Grant Town is shown on the above map as Birsay Village, later named St Francois Xavier.
In 1836 eldest daughter Maria married Pascal BRLAND in St Francois Xavier, son of Josephte BELLY and Pierre BRELAND (1764-1829). ** MORE ABOUT PIERRE BRELAND
In 1841 daughter Eliza married Henri PAGE in St Francois Xavier, son of Marguerite POITRAS and Joseph PAGE (b-1783).

Around 1842 daughter Nancy Anne married Charles AZURE, son of Charlotte PELLETIER and Antoine AZURE (1792-1882).
By the 1840s GRANT's influence among the Métis had waned. A new generation of young and rebellious men had appeared and a French element led by men such as the elder Louis RIEL (1817-1864) began to take leadership away from the Scots half-breeds such as GRANT. The crucial issue was freedom of trade; in defiance of the HBC monopoly, the Métis were beginning to trade furs with Americans at Pembina (N.Dak.) and St Paul (Minn.), following the example of McDERMOT, whose HBC license was not renewed in 1843, and James SINCLAIR. Here GRANT, as warden of the plains, magistrate, and sheriff, was on the side of the company.
In 1843 son Charles married Euphrosine GLADU in SFX, daughter of Margaret ROSS and Charles GLADU(born c1776 in Quebec).
In 1848 daughter Marie Rose married Pierre GARIEPY in St Francois Xavier, son of Louise GLADU & Pierre GARIEPY (1797-1855).
In 1849, when Pierre-Guillaume SAYER (1800-1868) was tried for illicit trading in 1849, GRANT was on the bench as one of the magistrates. ** MORE ABOUT LOUIS RIEL SR and GUILLAUME SAYER
In 1849 daughter Marguerite married John ROSS, son of Sarah SHORT and Hugh ROSS (1793-1863).
In 1853 daughter Elizabeth married William McKAY in St Francois Xavier, son of Julie CHALIFOUX & William McKAY SR (1795-1887). ** MORE ABOUT WILLIAM McKAY SR
On July 15, 1854 Cuthbert GRANT died after he was injured in a fall from his horse. He was buried inside the Church (under the altar) of St François Xavier which he had built at Grant Town after his conversion to Roman Catholicism.
On Apr 29, 1856 Marie (nee McGILLIS) GRANT died in St Francois Xaver.
======================= // =======================
In 1859 daughter Caroline married Francois GARIEPY in St Francois Xavier, son of of Helene POITRAS and Francois GARIEPY (b-1824).
In 1860 son Cuthbert Jr. married Marie GINGRAS in Pembina, daughter of Scholastique TROTTIER and Antoine GINGRAS (1824-1877).

In 1861 youngest daughter Julie Rose married Jean Baptiste DESJARLAIS, son of Catherine ALLARY & Antoine DESJARLAIS (1795-1864).
In 1862 son James married his sister-in-law Josephte Helene GARIEPY in Pembina, daughter of Helene POITRAS and Francois GARIEPY (b-1824).
Comments and queries at this link: FORUM DISCUSSING this CUTHBERT GRANT FAMILY
====================== Family Details ======================
Child by Ellizabeth McKAY:
1.  1815 JAMES GRANT
Child by DESMARAIS:
1. Jul 15, 1820 MARIE (MARIA) GRANT (m. Pascal BRELAND)
Children by Marie McGILLIS:
1. 1821 ELIZA GRANT (m. Henri PAGE)
2. Mar 4, 1823 NANCY ANNE GRANT (m. Charles AZURE)
3. c1823 CHARLES GRANT (m. Euphrosine GLADU)
4. 1828 MARIE ROSE GRANT (m. Pierre GARIEPY)
5. 1831 ELIZABETH GRANT (m. William McKAY)
6. 1832 NANCY GRANT (Died age 2)
7. 1833 MARGUERITE GRANT (m. John ROSS SR)
8. Dec 28, 1835 CHARLES CUTHBERT GRANT (m. Marie GINGRAS)
9. 1837 JAMES GRANT (m. Josephte Helene GARIEPY)
10. Apr, 1840 CAROLINE SOPHIE GRANT (m1. Francois GARIEPY, m2. Alexandre CAMPION)
11. Jan 6, 1844 JULIE ROSE GRANT (m. Jean Baptiste DESJARLAIS)