JOHN INKSTER (1799-1874)
MARY SINCLAIR (1805-1892)
(Last Updated: July 01, 2016)
John INKSTER was born Sep 29, 1799 in Orphir (Orkney), Scotland, the eldest son of Margaret GUNN and John INKSTER SR (1762-1838).
Hudson's Bay Company and North West Company Merger
John sails to Hudson Bay as a Hudson's Bay Company Employee and a Red River Settler
1821-1825
In 1821 the union of the North West Company (NWC) and the Hudson's Bay Company (HBC) occurred, ending the years of bitter rivalry for dominance of the fur trade in Western Canada. George SIMPSON (1786-1860) became the Governor of Rupert's Land. ** MORE ABOUT GOVERNOR GEORGE SIMPSON
After the merger, almost 1,300 employees lost their jobs since the single HBC organization that emerged had no need for most of the voyageurs and fur traders. Retirees were offered free land in Red River (Assiniboia) and the newly restructured HBC.
The Nor'Westers (NWC retirees) and those retirees of French Canadian origin tended to settle in areas to the south and west of the Forks of the Red and Assiniboine Rivers. Orkney Scots and Englishmen settled mostly to the north of the Forks, where they established the Parishes of Kildonan, St Johns, St Paul (Middlechurch), St Andrews (Lockport and Little Britain) and St Clements.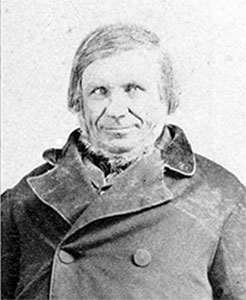 John "Orkney Johnnie" Inkster
(Archives of Manitoba)
In 1821 at the age of 22, John INKSTER embarked from Stromness aboard Prince of Wales, age 21, June 15, landed at York Factory on Aug 26, 1821 as an HBC servant (laborer). He was assigned to the Upper Red River District where he began his career as a stone mason, and later he became a farmer in the Red River Settlement.
** MORE ABOUT JOHN INKSTER in DCBO
On May 20, 1822, George SIMPSON reported to the board of governors of the HBC that he had established a fort at the junction of the Red and Assiniboine Rivers. He named it Fort GARRY (the Upper Fort). Around this fort was to grow the city of Winnipeg.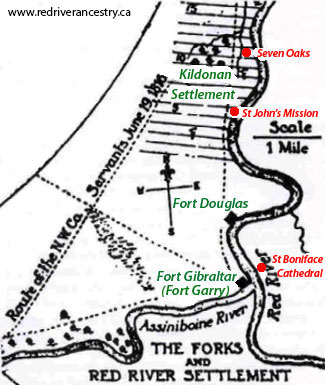 In 1824-25 John INKSTER retired from the HBC and settled in the Kildonan area.
In 1824 John's younger brother from Orkney, James INKSTER (1804-1865), also entered the service of the HBC at York Factory, and by 1826 he had joined his brother as a settler in Red River.
Marriage to Mary SINCLAIR
1826
On Jan 20, 1826 John INKSTER married Mary SINCLAIR, at the St John's, the 22 year old daughter of NAHOVWAY & William SINCLAIR  (1766-1818). Mary was born and raised at Oxford House. After her father died in 1818, her mother, NAHOVWAY, and the rest of the family had moved to St Andrews in 1824.
** MORE ABOUT NAHOVWAY and WILLIAM SINCLAIR
In the Red River Census of 1827 John was recorded as a 27 year old Orkney man with a wife and a baby daughter (Margaret). He had a house and stable; three cows, two oxen and three calves. He had a plow, harrow and canoe and he had six acres under cultivation.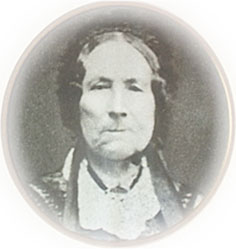 Mary (nee Sinclair) Inkster
Seven Oaks House
1851
In 1851 John began to build the historic Seven Oaks House, the oldest surviving residence in Manitoba.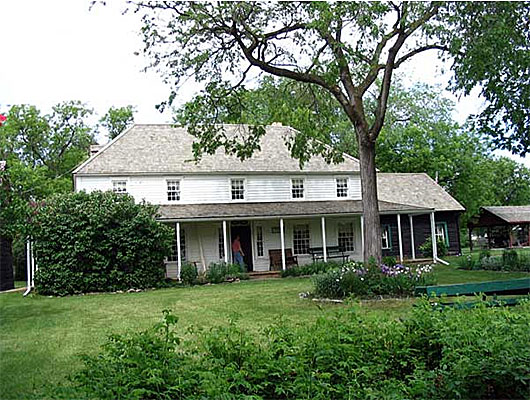 Seven Oaks House Museum (no date) (Photo by Tim Worth)
MHS - History of Seven Oaks House:  Colin INKSTER, son of John, writing about the origin of the name Seven Oaks, said: "It appears that in the immediate neighborhood where the battle was fought there were seven large oak trees of considerable size, which made the place conspicuous, and the creek which runs through Kildonan Park and empties into the Red River was called Seven Oaks Creek before the Battle of Seven Oaks was fought."
The foundations of Seven Oaks House were laid by John INKSTER, himself, in 1851. "My father did that part only," wrote Colin, "and I believe it was the only bit of masonry he did in this country."
By about 1856 eldest son John Jr. was married to Mary FOGERTY of uncertain origins, said to have been born about 1835 in Ireland.
Also in 1856 son William married Mary TODD at St John's, the daughter of Isabelle DENNET & Dr. William TODD (1784-1851), an HBC surgeon from Ireland. ** MORE ABOUT DR WILLIAM TODD
In 1858 daughter Jane married Robert TAIT at St John's, son of Mary AULD & William TAIT (1795-1872).
In 1861 eldest daughter Margaret married William Richard SUTHERLAND, son of Elizabeth CALDER & James SUTHERLAND (1803-1844) from Scotland, a Lord SELKIRK Settler. ** MORE ABOUT JAMES SUTHERLAND
In 1863 daughter Ellen married Archibald McDONALD, son of Penelope GRIEVE and Archibald McDONALD SR (1796-1879).
In 1868 daughter Harriet married Thomas McMURRAY, son of Jane CARDINALLE and Thomas MURRAY SR (1776-1849).
Census of 1870 in St John's Parish (Lot 6 in Kildonan): John INKSTER SR, age 72; wife Mary, age 67. Children at home: Mary (age 38), Colin (28) and George (age 21). Also Grandchildren; (children of Mary FOGERTY and John INKSTER JR): William (age 12), John (10), Mary (8) and Richard (age 6).
In 1871 son Colin married his sister-in-law, Anna TAIT at St John's, daughter of Mary AULD & William TAIT (1795-1872).
On June 30, 1874 John INKSTER died at Seven Oaks House in Kildonan, buried in the St Johns Cemetery.
Census of 1881 in Kildonan: Mary INKSTER (age 75) and her spinster daughter Mary (age 45).
Census of 1891 in Kildonan: Widow Mrs. John INKSTER (age 85); daughter Mary (age 58). With them is Niece Alice TAIT (age 22).
On Jan 29, 1892 Mary (nee SINCLAIR) INKSTER died at Seven Oaks House at the age of age 88; buried with her husband in St John's Cemetery.
In 1895 youngest son George Thomas married Caroline TURCOTTE, daughter of Madeleine CAPLETTE and Vital TURCOTTE (1818-1882).
In 1912 spinster daughter Mary 'Marak' INKSTER died at the age of 79, the last of the family to reside in Seven Oaks House. The house was then turned over to the City of Winnipeg to be used as a park. The city of West Kildonan became the owners in 1952 and soon started the restoration that resulted in the Seven Oaks Museum
Comments and queries at this link: FORUM DISCUSSING the JOHN INKSTER FAMILY
========================= Family Details =========================
Children:
1. Apr 24, 1827 MARGARET INKSTER (m. William Richard SUTHERLAND)
** MORE ABOUT WILLIAM RICHARD SUTHERLAND
2. Feb 6, 1829 CHARLOTTE INKSTER (Died age 16)
3. Dec 30, 1830 JOHN INKSTER JR (m. Mary FOGERTY)
4. Dec 15, 1833 MARY "MARAK" INKSTER (Never married)
5. Mar 6, 1834 JAMES INKSTER (Died in infancy)
6. May 4, 1836 WILLIAM INKSTER (m. Mary TODD)
7. Nov 17, 1839 JANE INKSTER (m. Robert TAIT)
8. Dec 12, 1840 ELLEN INKSTER (m. Archibald McDONALD)
9. Aug 3, 1843 COLIN INKSTER (m. Anna "Annie" TAIT)
10. Oct 8, 1846 HARRIET INKSTER (m. William McMURRAY)
11. Dec 12, 1849 GEORGE THOMAS INKSTER (m. Caroline TURCOTTE)