JOHN FREDERICK KENNEDY (1805-1859)
FANNY LEGAIC-PAUL (1818-1858)
(Last Updated: August 28, 2012)
John Frederick KENNEDY was born on Jan 29, 1805 at Cumberland House (SK), the half-breed son of Aggathas BEAR & Alexander KENNEDY (1781-1832), a Master Trader for the Hudson's Bay Company (HBC).
**MORE ABOUT ALEXANDER KENNEDY
In 1819 John (age 14) and his brother Alex (age 13) sailed for England with their father aboard the Prince of Wales. They were both enrolled in a school at St Margaret's Hope, South Ronaldshay in the Orkneys of Scotland; birthplace of their father.
In 1821 John's 14 year old sister, Mary KENNEDY, married Thomas ISBISTER (1793-1836) at Norway House, a 28 year old HBC Trader from the Orkneys.
In 1822, John's father (Alex) was assigned to the position of Chief Factor at Fort George in the Columbia District. He travelled there from Cumberland House with none other than the illustrious and prestigious new HBC Governor, Sir George SIMPSON (1786-1860). SIMPSON did not like Fort George so he decreed that a new one must be built. The new fort was completed by the time they left there in 1825; it was named Fort Vancouver.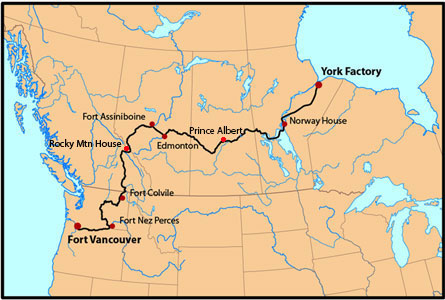 Map of the route of the York Factory Express, 1820s to 1840s
Modern political boundaries shown
The family returned back across the mountains all the way to York Factory. From there John's father sailed again to England aboard the Prince of Wales, this time taking little brother William (age 11) with him to be placed in the same school as his brothers.
It had been six long years since John had seen his father. His only memory of little brother William was when he was just a wee youngster. They had lots to say about their stint at Fort Vancouver and all their adventurous travels across the vast north country from coast to coast.
The following summer (1826), his father departed aboard the Camden to a new posting as Chief Factor at Fort Albany on James Bay. John was 21 years old now. He was able to go to the University of Edinburgh where he became the first Aboriginal person to obtain a medical degree from a European university. Now he eagerly looked forward to setting out on adventures of his own.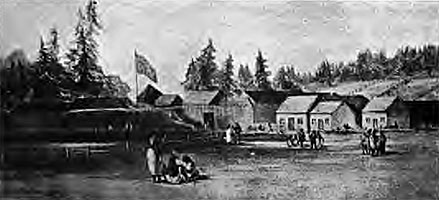 Fort Vancouver in 1825
On Jan 10, 1828 John applied for a position as a Ship Surgeon, perhaps a little prematurely. He wasn't accepted at first, but on his second try in 1829 his dreams were answered and he was indeed made a Ship Surgeon aboard the Isabella with a base at Fort Vancouver, just where he wanted to go.
Fort Simpson in the Columbia District
Marriage to a Fanny LAGAIC-PAUL
1831-1839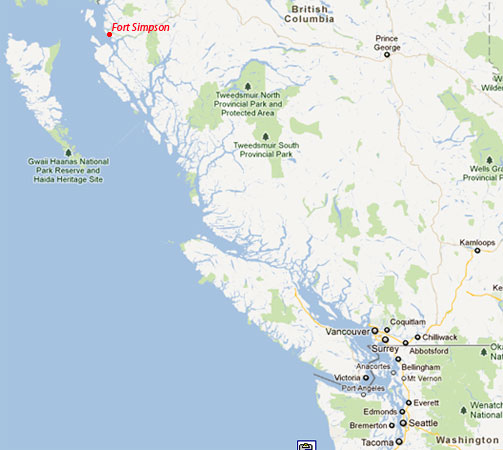 In 1831 John was appointed as a Clerk & Surgeon (Factor) in charge of Fort Simpson (Nass), also called Lax-Kw'alaams, an Indigenous village on the west coast of BC about halfway between the Nass River and the Skeena River, home of the "Nine Tribes" of the lower Skeena River. The post had been established a year earlier by Peter Skene OGDEN (1790-1854), primarily as part of the efforts by the HBC to undermine American dominance of the Maritime fur trade.
** MORE ABOUT LAX KW'ALAAMS in Wikipedia
Frequent visitors to Fort Simpson were the family of Chief LEGAIC who belonged to a line of powerful coastal Tsimshian chiefs who bore the LEGAIC title, originally a Bella Bella name meaning "chief of the mountains." He would later take the Christian name PAUL at his baptism. John soon fell in love with the chief's daughter Fanny who became his wife in 1832. ** MORE ABOUT CHIEF LEGAIC in DCBO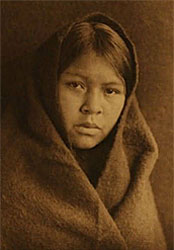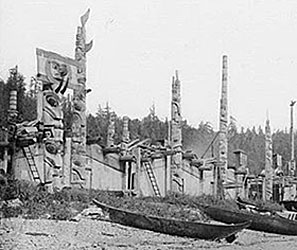 Haida Girl – Haida Village (Wikipedia)
In July of 1832 John's father (Alex) died on the streets of London while on a furlough there, leaving his mother (Aggatha BEAR-KENNEDY) a widow with four of his younger siblings George (age 16), Philip (age 14), Isabella (age 12) and Roderick (age 10). At that time they were living near the Old St Andrews Church on the Red River.
MNBC: In 1832, while he was carrying a heavy caseload from smallpox epidemics, John gave notice of his intention to retire as the country was in such an unhealthy state that it required two medical men.
In 1833 Chief Factor John McLOUGHLIN (1784-1857), also a physician, who was in charge of the entire Columbia District west of the Rockies, established his headquarters (Fort McLoughlin) just to the south of Fort Simpson on the north side of Campbell Island, just north of Bella Bella.
McLOUGHLIN had many interesting ties and numerous associations with Red River families. In 1812 he married Marguerite (nee WADDEN) McKAY, widow of Alexander McKAY (1771-1811). So McLOUGHLIN was the step-father of Marguerite's daughter Catherine McKAY who married Frank ERMATINGER (1798-1858). Step-daughter, Mary McKAY, was married to William SINCLAIR (1794-1863). Then there was step-son Thomas McKAY (1796-1849).
** MORE ABOUT JOHN McLOUGHLIN in Wikipedia
In 1833 Fort McLoughlin was established and in 1834 Fort Simpson (John's post) was moved to the Tsimsean Peninsula, about halfway between Nass River and the Skeena River.
November of 1835 represents the birthdate of John's first child, Eliza.
Mandan Smallpox Epidemic
1836-38
In the early autumn of 1836 smallpox reappeared among the Tsimshiam people at Fort Simpson, spreading north to the Nass by December that year.
HBC officials maintained that the epidemic claimed a third of the population on the North coast.
MNBC: In 1837 John's wife and two children had smallpox but recovered.  This indicates that a second child had been born by this time.
Fort McLoughlin
1839-1843
In 1839 John was "in charge" at Fort McLoughlin, Tacou [Takoo (Taku or Fort Durham)] & Upper Stikine. Fort McLoughlin was named after Dr. John McLOUGHLIN.
In 1839, after serving four years under McLOUGHLIN, Sir James DOUGLAS (1803-1877) became the Chief Factor at Fort Vancouver.
Another clue regarding John's children is provided in HBCA: On March 15, 1840, his two eldest sons went as passengers with him to Nisqually on the Beaver.  Today, Nisqually is shown as an Indian Community in Washington State, south of Seattle (about 150 miles south of Victoria).
McLOUGHLIN quarrelled with Governor SIMPSON regarding the treatment of American immigrants to the area.The two finally parted ways over the murder of John McLOUGHLIN JR.(1812-1842) at Stikine in 1842. Young McLAOUGHLIN was a Surgeon, same as KENNEDY.
First Party of Settlers from Red River to Oregon
1841
In 1841 the HBC organized a party of 23 families to emigrate to the Columbia River, hoping that, as settlers, they would strengthen British claims to the Oregon, then in dispute with the United States. James SINCLAIR (1810-1856) led the party across the plains and through the little-known southern Rocky Mountains. With his brother-in-law James BIRD and the Cree Maskepetoon as guides, they crossed White Man Pass (Alta/B.C.) to Red Rock Gorge (Sinclair Canyon, B.C.), arriving at Fort Vancouver (Vancouver, Wash.) on Oct 13.James SINCLAIR (1810-1856) was a son of Margaret NOHAVWAY-NORTON & William SINCLAIR (1766-1818).
In 1842 McLOUGHLIN's step-daughter Catherine SINCLAIR became the 4th wife of Francis ERMATINGER (1798-1858)
Fort Simpson
1843-1856
From 1843 to 1848 John KENNEDY was Clerk, Surgeon and Chief Trader at Fort Simpson (Nass) and Stikine.
In 1846 the Oregon Treaty established the 49th parallel as the US-British boundary. In response KENNEDY, along with sixteen others unsuccessfully laid claim to 640 acres (one square mile) of land around Fort Nisqually, land to which HBC/PSAC held possessory rights. That year Frank ERMATINGER went on furlough to England, leaving his wife and child with her grandparents, the McLOUGHLIN's. To his great dismay he was not allowed to return to the Columbia but was posted to Ft Chip. He sent immediately for his family, but ill health delayed his wife's departure and she had to stay at Ft Edmonton during the winter of 1848.  ERMATINGER's joy at being re-united with his family at Norway House the following summer soon turned to despair when he discovered that his wife was pregnant.  She had been led astray during the winter by young Alexander CHRISTIE JR, the educated son of the respected chief factor. 
MNBC: In 1847 John KENNEDY was appointed Chief Trader; was on furlough in outfit 1851-1852, and
on June 1, 1856 he was retired by the Company because he had "for a length of time fallen into habits of intemperance." In that same year he was elected as the representative for Nanaimo. (He did, however, purchase extensive acreage in the Victoria District between 1852-1857.)
In 1849 Fanny died (re BC-Metis)
In 1849 John's niece, Caroline ISBISTER, daughter of his sister, Mary KENNEDY & Thomas ISBISTER (1793-1836), married Alexander CHRISTIE (1818-1874). Also that same year, Alex  CHRISTIE had an illicit affair (and a child) with Catherine SINCLAIR b-1826, daughter of Mary WADDEN-McKAY & William SINCLAIR (1797-1868). Mary WADDEN-McKAY was a step-daughter of John McLOUGHLIN, John KENNEDY's boss.
Alex CHRISTIE was a brother of the Honourable William Joseph CHRISTIE (1824-1899) who married that same year (1849) to Mary SINCLAIR b-1830, daughter of Mary WADDEN McKAY & William SINCLAIR (1794-1863)
In 1851 Sir James DOUGLAS (1803-1877), known as the 'Father of British Columbia' became the Governor of the Colony of Vancouver Island.
In 1852 John went to Britain on a Furlough. When he returned in 1853 it was as a Chief Trader (disposable) until June 1, 1856, when he retired to Victoria, Vancouver Island.
In the 1856 election on Vancouver Island, John KENNEDY was elected for Nanaimo (Executive Council of BC).
On Feb 6th, 1858, Fanny KENNEDY died and on Apr 3, 1859 John Frederick KENNEDY died, both at his "Burnside" residence in Victoria. If we accept Fanny's birth-year to have been around 1818, she would only have been about 40 years old when she died (John about 54 years old). She was still young enough at that time to have had very young children.

Descendants?
The HBC Archives provide very little information about John's family. It states that he had 'several' children and the only one named in that bio was Alexander Augustus KENNEDY and no birth date is provided for him. Perhaps the most comprehensive list is the one provided by the BC Métis Mapping Research Project - Sponsored by the Métis Nation British Columbia. Here's the Link: METIS NATION BRITISH COLUMBIA
According to the list of children that I acquired from all sources found, there were five male KENNEDY children to carry on the family name as descendants of John KENNEDY (Frederick, James, Alexander, John George and John Philip).
Considering that all the sons had been raised at HBC posts and were well acquainted with all of the influential Company officers of their time, in all likelihood they would have become employees of the Company themselves. They were bilingual and familiar with the duties required of such employees. In fact they essentially served their apprenticeship by assisting their father in his duties. They would have had high potential for recruitment.Therefore it wouldn't be surprising that they in turn became HBC employees. As such they could have been sent off to just about anywhere in the vast domain of the Company. It was customary for new recruits to be moved about frequently to broaden their experience.
With the death of their parents these youngsters had very few adult relatives in the west to turn to for support. Most of their kinfolk were in Red River. Although she was now an old lady, Granma Aggathas was still living and there were numerous uncles and cousins there. Upon learning of her son's fate, it is certainly conceivable that Grandma KENNEDY may have sent a message to grandchildren requesting them to join her and the rest of the family in Red River. There are definitely several KENNEDY's in the Red River records whose family origins are yet to be found.
I am hoping someone will come forward with more definitive information about these children. I welcome comments, queries and discussions on this Forum: ** FORUM  DISCUSSING DESCENDANTS of JOHN FREDERICK KENNEDY
======================= Family Details =======================
Potential List of Children:
1. November, 1835 ELIZABETH (ELIZA) KENNEDY (Died age 15)
2. c1837 FANNY KENNEDY
3. c1849 JOHN GEORGE KENNEDY
4. c1851 JOHN PHILIP KENNEDY
5. c1851 MARY CAROLINE KENNEDY
6. FREDERICK KENNEDY
7. JAMES KENNEDY
8. ALEXANDER AUGUSTUS KENNEDY