GEORGE KIPLING (1805-1878)
ISABELLE LANDRY (1815-1881+)
(Last Updated: February 04, 2016)
George KIPLING was born around 1805 at Brandon House, the son of an Indian named Nancy and John KIPLING (1774-1850), a half-breed voyageur in the service of the Hudson's Bay Company (HBC).
** MORE ABOUT JOHN KIPLING
Arrival of the first Selkirk Settlers
Peter FIDLER takes charge at Brandon House
1812-1814
In the fall of 1812 Englishman Peter FIDLER (1769-1822) arrived with his family to take charge of Brandon House and to assist in settling the new settlers by surveying lots and helping them to build houses north of the Forks (Kildonan).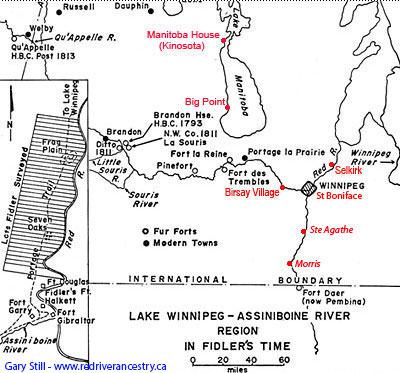 During the 1815-16 'Outfit year' George's father (John KIPLING) worked out of Manitoba House.Fortunately for the KIPLING family, they were safely settled in at Manitoba House when on June 1, 1816 Cuthbert GRANT and his Métis soldiers pillaged Brandon House.On June 19, 1816 at Frog Plains, Red River the Battle of Seven Oaks Massacre occurred when a contingent of 25 British invaders challenged/attacked General GRANT's Canadian Mounted Cavalry. One Métis and 20 British (including Governor SEMPLE and Captain ROGERS) were killed.
** MORE ABOUT PETER FIDLER and the SEVEN OAKS MASSACRE
HBC Service
1819
On Sep 21, 1819 George, a mere teenager, was engaged as a Labourer along with his crippled father (John) to work under Peter FIDLER in the Dauphin District which included Dauphin House, Partridge Crop (Fairford), Manitoba House (Kinosota), and finally at Long Point on Lake Manitoba, SE of the Narrows (west of Lundar).
The HBC – Northwest Company Merger
1821
In 1821 the union of the North West Company (NWC) and the Hudson's Bay Company (HBC) occurred, ending years of bitter rivalry for dominance of the fur trade in Western Canada. After the merger, almost 1,300 employees lost their jobs since the single HBC organization that emerged had no need for most of the voyageurs, laborers and retired fur traders.
George in St Andrews Parish
Marriage to Isabella LANDRY
1827
By 1827 the John KIPLING family had settled in St Andrews Parish, Red River. George would have been about 19 years old then, and had fathered a child with Isabella LANDRY, daughter of Margaret (Indian) and Baptiste LANDRY (b-1790). . ** In her Scrip affidavit Isabella states her parents as an Indian woman and Baptiste LANDRY, a half-breed. However, in Sprague & Frye, Census 1870, her father is indicated as Jos. (Joseph) LANDRY. The Scrip version would definitely be more reliable.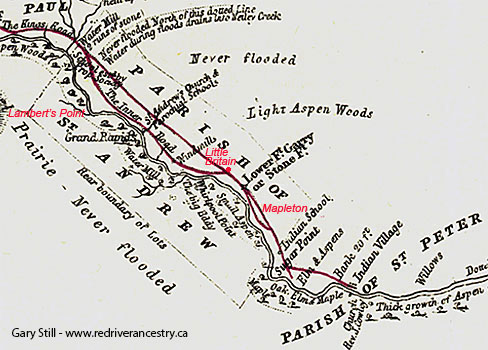 St Andrews Parish from Hind's Map of 1857
Map of St Andrews Parish 1835: George KIPLING owner of Lot 2, near the north boundary of St Andrews Parish (just north of Lower Ft Garry, about where River Road meets Hwy 9). By the winter of 1835 George would have had three children: Suzanne (age 7), Edward (4) and baby Thomas.
In 1844 eldest daughter Suzanne married John FIDLER in St Andrews Parish, son of Nancy HALLETT and Thomas Jonathan FIDLER (1795-1875).** MORE ABOUT THOMAS JONATHAN FIDLER
On June 25, 1845, George is on the Hayes River, mentioned by Robert Michael BALLANTYNE (1825-1894) as a Red River settler in charge of the Norway House brigade.  ** MORE ABOUT ROBERT MICHAEL BALLANTYNE in DCBO
In 1852 son Edward married Mary VOLLER in St Andrews, daughter of Nancy BIRSTON and James WALLER (1800-1876). ** MORE ABOUT JAMES WALLER
In 1858  son George Jr. married Maria BEAR in St Andrews, daughter of Margaret TAIT and William BEAR (1810-1875). ** MORE ABOUT WILLIAM BEAR
In 1859 son Tom married Jane HOURIE in St Andrews, the daughter of Jessie DENNETT and John HOURIE (1810-1896). ** MORE ABOUT JOHN HOURIE
George was said to have guided a US scientist to The Pas in 1860.  He was then described as "best guide in the country.  A fine, straight, honest-looking, wiry, sharp-featured fellow of about 55 yrs, with a short grizzly beard, and long black locks tinted with grey.  Good-natured and full of merriment, he wore a flat, pan-cake like Scotch cap set jauntily on one side of his head, a red flannel shirt, and a pair of trousers, shaped like a long bag, with very short legs." (The Beaver, Summer 1954)
Census of 1870 in St Clements Parish: George KIPLING (age 65); wife Isabella (age 55) and son John (age 20).
On July 9, 1875, both Isabella & George KIPLING of St Clements applied for their Half-breed Scrip.
On Nov 29, 1878 George KIPLING died.
Census of 1881: Isabella (age 60) with her son John KIPLING in St Andrews Parish.
In 1904 son John married Matilda LA VANNE in Rat Portage, daughter of Mary LANDRY and Benjamin LA VANNE (1861-1940).
Comments and queries at this link: FORUM DISCUSSING THE GEORGE KIPLING FAMILY
============================ Family Details ============================
Children:
1. Feb 25, 1828 SUZANNE KIPLING (m. John FIDLER)
2. Nov, 1831 EDWARD KIPLING (m. Mary WALLER)
3. Nov 10, 1834 THOMAS KIPLING (m. Jane HOURIE)
4. Jan 16, 1838 GEORGE KIPLING (m. Maria BEAR)
5. Feb 22, 1842 MARY KIPLING (Died in infancy)
6. Feb 18, 1846 JOHN KIPLING (m. Matilda LA VANNE)
7. Jan 20, 1849 MARGARET KIPLING (Died in infancy)