JOHN KIPLING (c1774-c1850)
NANCY (a Saulteaux Indian) (c1778-c1843)
(Last Updated: August 26, 2016)
John KIPLING was born around.1774 at Albany Fort on the west side of James Bay, son of an Indian woman named Nancy and John KIPLING SR (1724-1794) from Stockton-on-Tees, U.K. John's father left a wife and child in England to spend the rest of his life as a carpenter and fur trader with the Hudson's Bay Company (HBC) in the Albany District, west of James Bay, Rupert's Land. ** MORE ABOUT JOHN KIPLING SR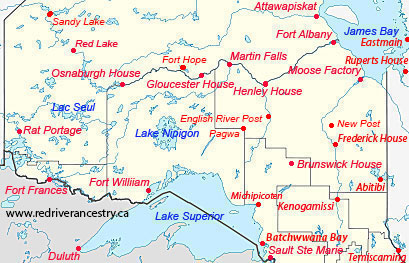 Although we have fairly good information about the career of John's English father, we are much less informed about his mother and about his childhood. John was the first/eldest indigenous child of his father and for about six years he was his only child. He probably spent much of his youth at Gloucester House on the Albany River, a remote inland post that his father built and managed. His father was said to have had several wives, so some of his younger siblings grew up with different mothers.
John was about 16 years old in the fall of 1790 when "Mad" Donald MACKAY (1753-1833), a veteran fur trader of the North West Company (NWC) and other opposing traders, decided to travel to Osnaburgh House to become an employee of the HBC which was trying to push inland to oppose their competitors. MACKAY had presented a brilliant proposal to extend trade from Fort Albany to Portage de l' Isle (near the junction of the Winnipeg and English rivers) and on to Lake Winnipeg in order to cut into the heart of the vital supply route.
In the fall of 1792 John's father (John Sr.) was discharged from Company service at Fort Albany due to illness (apoplexy; strokes). He sailed for England where he remained for a year and prepared his Will and Testament.
Brandon House with "Mad" McKAY
1793
In 1793, while his father was in England, John KIPLING Jr. (about 19 years old now) began his career with the HBC as a laborer-voyageur under the aforementioned Mad MACKAY. They set off from Osnaburgh House with three boats to establish Brandon House for the HBC on the Assiniboine River, in opposition to the NWC at Fort Souris. This is considered the first venture by the HBC into the previously colonized Red River Valley.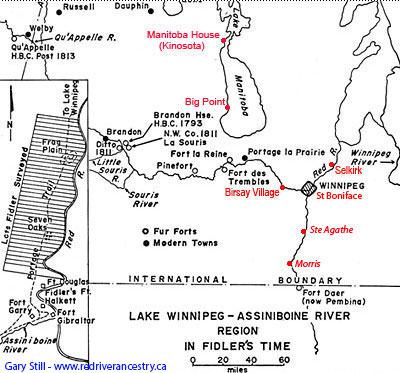 Building a post on the Assiniboine River at this time was a bold move on the part of the HBC. The Elder Cuthbert GRANT (1751-1799) of the NWC had just recently moved to Qu'Appelle (further upriver from Brandon House) to take charge of that company's interests in the area. The Nor'Westers already had a post at the mouth of the Souris River (Fort La Souris) not far from the site where Mad MACKAY was about to build his post. MACKAY was actually taken prisoner briefly by the one of GRANT's men ("Old AUGE") but GRANT ordered him released. This is the man who later became the father of the famous Métis leader, Cuthbert GRANT Jr. (1796-1854).
Mad MACKAY (and John KIPLING) remained at Brandon House until the fall of 1794 when MACKAY went home to Scotland (he returned to Albany in the summer of 1795). He was replaced as Post Master there by Robert GOODWIN (1761-1805) who had previously been the Chief Trader at Osnaburgh House on the Albany River.
Over the next 15 years most of the HBC men who were sent to Brandon House had worked in the Albany River District and John KIPLING knew most of them.
In 1794 John Jr. was about 20 years old when his father (John SR) died at Fort Albany after a long illness.
During 1794-95 John is said to have made trips between Osnaburgh House and Gloucester and Martin Falls, and to Lake St Ann's (Nipigon) as well.
In 1796 GOODWIN returned to England on a furlough and James SUTHERLAND (1751-1797) was transferred from Osnaburgh House to replace him as the Post Master at Brandon House. SUTHERLAND died in the spring of 1797.
John Jr. marries Nancy, a Saulteaux Woman
By 1797 John KIPLING had permanently moved to Brandon House, leaving Albany River country behind him for good. It was during this period that he was united with Nancy (a Saulteaux Indian).
In 1798 Robert GOODWIN returned from his furlough in England to once again assume the duties of post master at Brandon for the next three years (until 1801).
Around 1800 John's first recorded child, Thomas, was born at Brandon House.
In 1801 Robert GOODWIN was replaced as Post Master at Brandon House by John Richards McKAY (c1758-1810), the younger brother of Mad McKAY who originally built the fort there.
John's young siblings (Ram, Pisk and Margaret) join him at Brandon House
After their father died, John KIPLING JR. naturally became the only father-figure his younger siblings could relate to in their lives. In 1806 his youngest brothers were John Ram (about 18 years old) and Tom Pisk (about 12). His 16 year old sister Margaret soon became the wife of John LYONS (1786-1875). When the opportunity arose all of them decided they would join John Jr. at Brandon House.
That opportunity came in 1807 when a brigade of men (and a woman) arrived at Fort Albany laden with provisions and trade goods destined for Red River. Among this brigade were John SCARTH and Isobel GUNN alias John FUBBISTER (the famous young lady who joined the HBC disguised as a man – more about that below).
In May of 1807 the brigade embarked on an 1800 mile canoe trek to Marten Falls and later down to Red River where the young KIPLING siblings were finally united with their elder brother John KIPLING JR. and Englishman Hugh HENEY (born c1765) who had arrived there from Brandon House, bound for Pembina. (HENEY had only recently become an HBC employee). In September HENEY was the master of the party of HBC boats that arrived at Pembina.
Pembina Post with Hugh HENEY
1808-09
In 1808 the KIPLING brothers (John Jr., Ram & Pisk) were at Pembina Post with HENEY when the strange episode regarding Isobel GUNN aka John FUBBISTER (1780-1861) occurred there that summer. HENEY reported: "John KIPLING informs me that one of (our) men has turned out to be a woman, and was delivered of a fine boy at Mr. HENRY's House." Mr. HENRY was of course Nor'Wester Alexander HENRY the YOUNGER (1765-1814) who reported the event in great detail in his Journal.
** MORE ABOUT ISOBEL GUNN in Our Histories People
** MORE ABOUT ISOBEL GUNN in Wikipedia
John assigned to Brandon House
1810-1811
In 1810 the HBC divided Rupert's Land into two new jurisdictions, the Northern and Southern Departments. William AULD (1770-1830) was appointed Superintendant of the Northern Department (Churchill, York Factory, Winnipeg and Saskatchewan Districts). Thomas THOMAS (1765-1828) was appointed Superintendant of the Southern Department (Fort Albany, Moose Factory and Eastmain Factory).
North West Company (NWC) shareholders, often referred to as the Nor'Westers, already had a firm control of the fur trade in the interior from Lake Superior right through to the Columbia and Peace River districts with William McGILLIVRAY (1764-1825) at the helm. However, HBC competition was intensifying and the rivalry between the two companies was about to become very bitter indeed.
During the 1810-11 'Outfit year' John KIPLING was assigned to Brandon House at a salary of £8. An Outfit year ran from June 1 of one year to May 31 of the following year.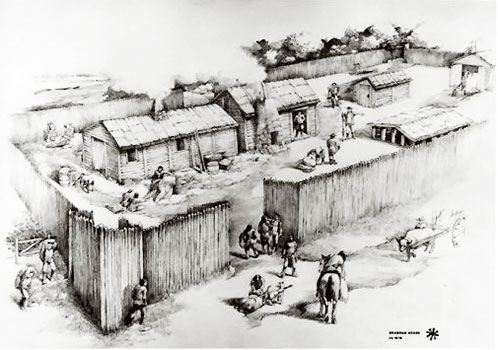 Artist's depiction of Brandon House around 1810
On July 5, 1810 John McKAY died at Brandon House; his replacement as Post Master was (first William YORSTON) the aforementioned Hugh HENEY. By February 1811 HENEY had quarrelled with the employees at the post; they mutinied against him, causing his abrupt departure for Pembina "where," as he writes, "the Company's interest calls me."  HENEY continued to run the HBC operations in the Pembina area from 1811 through 1813.
On Sep 30, 1810, William AULD (1770-1830) arrived at Churchill aboard the Eddystone from England; appointed as the Superintendant of Northern Factories (Churchill, York, Winnipeg and Saskatchewan Districts). From there, he proceeded to York Factory aboard the King George.
In June of 1811 Miles MacDONELL (1767-1828) was appointed by the HBC as Governor of the new District of Assiniboia; agent and superintendent for Lord SELKIRK; his main  responsibility: Red River Settlers.
In 1811-12 John KIPLING was assigned to HENEY at Pembina. Alexander KENNEDY (1781-1832) became Master and Trader at Brandon House (he arrived Sep 20, 1811).
Arrival of the first Selkirk Settlers
Peter FIDLER takes charge at Brandon House
1812-1814
During the 1812-13 'Outfit year' John KIPLING was assigned to the East Winnipic District. His salary had increased to £28.
On August 30, 1812, Miles MacDONELL arrived at the junction of the Red and Assiniboine rivers (the Forks) with the first (advance party) of Lord SELKIRK's settlers. It was too late for any crops to be planted or any other serious improvements to be undertaken, so MacDONELL proceeded to Pembina with the settlers. Around the same time Englishman Peter FIDLER (1769-1822) arrived with his family to take charge of Brandon House and to assist in settling the new settlers by surveying lots and helping them to build houses north of the Forks (Kildonan).
During the 1813-14 'Outfit year' John KIPLING was back at Brandon House working under Peter FIDLER. By Oct 15, 1813, Miles MacDONELL was back at the colony only to find that the crops had failed and buffalo meat was in short supply. It would again be necessary to send the settlers south to Pembina for the winter. This time their reception by the Métis there was not so friendly as before.
During the Outfit Year 1814-15 John KIPLING worked out of Portage la Prairie; rated as "Sober honest & can steer a boat".
Miles MACDONELL issues his Pemican Proclamation
Métis Rebellion
Cuthbert GRANT (1796-1854) and his Métis followers as well as the NWC leaders were violently opposed to the encroachment of settlers in what they considered their domain. They were determined to drive them out. Part of their strategy was to create a shortage of pemmican and buffalo meat by buying up all that was available and hoarding it away. Governor MACDONALL, unable to provide adequately for the group of settlers he already had, and anticipating the arrival of yet another large party from Churchill in the coming summer, made a fateful decision that would spark a Métis rebellion. On Jan 8, 1814 he issued his historical Pemmican Proclamation, prohibiting the export of provisions of any kind from the limits of Assiniboia without a special license from himself.
Pemmican Seizures by Sheriff John SPENCER and John WARREN
Upon the recommendation of William AULD, John SPENCER (1790-1881) was appointed as a Councilor and Sheriff of Assiniboia under the direction of Governor MacDONELL, to assist him in enforcing his Pemmican Proclamation. SPENCER's first action was to go to La Souris bearing the Governor's "Warrant for Seizure". He forcibly entered the fort there and seized the stashed provisions taken there and held by John PRITCHARD.At that time John PRITCHARD informed Dugald CAMERON of his intention to quit the NWC and to become a Red River settler himself.

While SPENCER was at Souris, John WARREN, with a party of armed HBC followers, scoured the country around Pembina for the Plain Rangers, and seized their pemmican stores. This was considered an arbitrary and ungrateful act towards those who had befriended the colonists
1815
During the 1815-16 'Outfit year' (until the spring of 1816) John KIPLING worked out of Manitoba House.
When FIDLER arrived at Brandon House on Dec 9 (1815), the men located there were: Peter FIDLER (in charge), James INKSTER (cooper), Thomas FIDLER (writer), Thomas FAVEL (interpreter), John LYONS ( hunter), Robert CLOUSTON (blacksmith), James ANDERSON (tailor), James MOORE, John FLETT, Dan DONOVAN, Harry GEAR, Rod CUNNINGHAM, Angus McIVER and John KIPLING.
On June 17, 1815, with the colony at Kildonan under threat of imminent attack by the Métis, Miles MACDONELL surrendered himself to the representatives of the NWC (CAMERON and his cousin Alex) in return for a promise that the settlers would not be harmed. Peter FIDLER then took temporary command of the Colony. On June 25, each remaining settler was served with notice signed by four Nor'Westers (Cuthbert GRANT, etc). That day, Peter FIDLER capitulated under an agreement consenting to the complete evacuation of the colony. John McLEOD (1788-1849), along with a few of his men, was allowed to stay in the ruined buildings of Fort Douglas to keep watch over the HBC property.
Two days later (June 27) the beleaguered settlers, made up of some 13 families; in all from 40 to 60 persons, who remained true to SELKIRK and the Colony; went forth (led by Archibald McDONALD) - - to Jack River (Norway House). The house of the Governor, the mill, and the buildings which the settlers had begun to build upon their lots were all set on fire and destroyed.
The Sacking of Brandon House
The Seven Oaks Massacre
1816
In March of 1816, the Métis appointed Cuthbert GRANT as "Captain - General of the Half-Breeds", and in May, he and his men set out to Brandon House with the intention of destroying it. 
John PRITCHARD reported: Towards the latter end of May, 1816 the Governor (Miles MACDONELL), feeling great anxiety for the safety of the provisions which were expected from Qu'Appelle, sent a freeman to Brandon House, in order to obtain intelligence (John ROGERS) - - The man was five or six days absent, and returned saying he had been intercepted on the road by the NWC servants, and conducted to their establishment at Rivière a la Souris, which is opposite Brandon House. When in the NWC fort, the Governor's letter was taken from him, and he was then allowed to visit Mr Peter FIDLER, of the HBC, upon condition of his bringing back no letter. John ROGERS of Cornwall, England was attached to the SELKIRK Establishment, not the HBC.
ROGERS recorded a visited to the hunting tents along the Souris River. In his Journal that year, John KIPLING was said to be "tenting" near Brandon House - - "this Jack KIPLING was born at Albany, he told me that his father was an Englishman; he has spent the whole of his life in the HBC service; three of his sons are now in the same service (these would be Jack (John Jr), Tom and George).  The old man is still active and cheerful."
In an HBC report it was indicated that on May 29, 1816 John KIPLING arrived at Manitoba House from Brandon with seeds and letters. The letter was "kept from the Canadians (GRANT's men)" by his wife.  The "banditos" seized their son, Thomas (Dirk) KIPLING (Rup interjects here that their son was Thomas, but NOT Pisk), who was accompanying them.  Tom was taken back to Brandon, and they told the old man that they would release him after they searched for letters. Son Tom was about 16 years old at that time.
Fortunately for John KIPLING and his family, they were safely settled in at Manitoba House when on June 1, 1816 Cuthbert GRANT and his Métis soldiers pillaged Brandon House.On June 19, 1816 at Frog Plains, Red River the Battle of Seven Oaks Massacre occurred when a contingent of 25 British invaders challenged/attacked General GRANT's Canadian Mounted Cavalry. One Métis and 20 British (including Governor SEMPLE and Captain ROGERS) were killed.
** MORE ABOUT CUTHBERT GRANT on a RAMPAGE in PETER FIDLER
John becomes a Cripple
We are told that it was in 1816 that John was seriously injured in a fall from his horse at "Portage des Prairies" (thereafter he is often referred to as 'Lame Jack'). He would have been about 42 years old at the time. It would be interesting to know more about how this injury occurred. He would have passed through Portage (where he was injured) on his way from Manitoba House to his new posting at Halkett House. Did it have anything to do with an encounter with Métis Rebels?
During the Outfit Year 1816-17 (until the spring of 1817), the elder John KIPLING was at Halkett House (near the Forks; also known as Fidler's Fort) working as an Interpreter. Due to his physical disability his salary was reduced to £15. He probably stayed with Peter FIDLER and his family there. FIDLER's daughter Polly was born there in the spring of 1817.
Recapture of Fort Douglas by Miles MacDONELL
Surrender of Cuthbert GRANT
1817-1821
On Jan 10, 1817, Miles MACDONELL and his men recaptured Fort Douglas, then in the hands of the NWC. After the re-establishment of the colony and the arrival of William B COLTMAN as commissioner from Lower Canada to inquire into the conflict in the northwest, Cuthbert GRANT, in August of 1817, gave himself up. He was taken to Montreal to face charges of murder, theft, and arson.
For the Outfit Year 1817-18 John KIPLING was sent back to Manitoba House; his salary further reduced to £12. In 1819 Peter FIDLER was appointed District Master at Fort Dauphin. Peter's health was failing; he was essentially retired to gardening and wheat farming. In his Report on the Manitoba District dated 1819-1820 at Fort Dauphin, FIDLER described John KIPLING Junior "a Cripple [who] is kept at the House as an Interpreter ... Tho unable to leave the House is very serviceable at it as he acts as an Interpreter and can do several things at the House: he got hurt by a fall from a horse Five Years ago when we had a Settlement at the Portage des Prairies. George his brother (?) a Youth about 14 or Fifteen also remains here." **Note: FIDLER is erroneously referring to George KIPLING as John's brother. This was actually his son. If George was only 14-15 years old in 1819-20 it would indicate he was born around 1805-06. John's father died in 1794 and his brother George was certainly not a teen-ager by this time.
The North West Company - Hudson's Bay Company Union
John KIPLING Retired
1821
The 1821 union of the North West Company (NWC) and the Hudson's Bay Company (HBC) occurred, ending years of bitter rivalry for dominance of the fur trade in Western Canada. After the merger, almost 1,300 employees lost their jobs since the single HBC organization that emerged had no need for most of the voyageurs and retired fur traders.
On Apr 13, 1821, at Ft Dauphin, FIDLER reported "Jack (John) wanted me to furnish his brother (son) George with several articles more than his whole years' wages, which I refused, as they intended to go away to their father & family at the Big Point (see map above), and, because they could not get it, they prepared to join their parents at that place." It was around this time that John KIPLING was retired from Company service. John would have been about 47 years old when he retired.
At the time of the HBC-NWC union, (Sir) George SIMPSON (1786-1860) became the Governor of Rupert's Land. On May 20, 1822, SIMPSON reported to the board of governors of the HBC that he had established a fort at the junction of the Red and Assiniboine Rivers. He named it Fort Garry (the Upper Fort at the Forks).
On Dec 17, 1822 Peter FIDLER died at Dauphin Lake House.
The KIPLING family moves to Red River
At some time after FIDLER died it seems that John moved his family down to Red River, most likely to the north of Kildonan. The Great Red River Flood occurred in the spring of 1826, the worst ever experienced by the settlers of the time. Settlement was severely disrupted and families were forced to relocate and rebuild their homes. More and more HBC retirees began to arrive and settlement progressed further down the river, all the way to The Rapids (now Lockport) and Mapleton; to the very edge of the Indian Settlement.
From Gail Morin's 1827 Red River Census: #111, Lot _, John KIPLING, age 61, Protestant, Rupert's Land, 1 married man, 1 woman, 2 sons (+16), 1 son (-16), 2 daughter (-15), 1 house, 1 horse, 1 cow, 1 calf, 1canoe, 2 acres; page 4. This record does not indicate the actual Lot number. Age 61 indicates a birth year around 1766 for John (close enough for our John); woman would be Nancy. Two sons over 16 would be George (age 22) and Edward (age 20). Son under 16 would be Peter (age 14). Two daughter (note daughter is singular) under 15 would be Jane (age 12). As far as I know, John only had one daughter. It seems that by this time son George had married Isabella LANDRY and the second 'daughter' may in fact have been George's wife Isabella who was very young at the time.
In November of 1831 daughter Jane became the second wife of Thomas Jonathan FIDLER (1795-1875), the eldest son of Peter FIDLER of Bolsover (1769-1822). They settled on the east side of the river across from what later became Lower Fort Garry and Mapleton. ** MORE ABOUT PETER FIDLER OF BOLSOVER
On May 1, 1832, the first St. Andrew's (or Lower) Church was opened and dedicated. Rev David JONES (1796-1844) suggested that a boarding school be established near the church to educate the sons of the gentlemen of the fur trade. It was decided that girls could attend as well. Construction of Lower Ft Garry was begun that year under the supervision of Alexander CHRISTIE (1792-1872).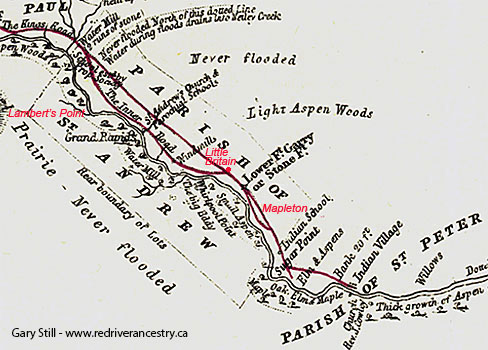 Part of Henry Hind's Map based on his observations of 1857
Nancy died between 1840 and 1843.
In 1846 son Peter married Angelique BERCIER, daughter of Josephte (Indian) and Alexis BERCIER (1772-1840).
** MORE ABOUT ALEXIS BERCIER
John KIPLING is said to have died after 1849, at which time he was about 80 years old.
Comments and queries at this link: FORUM DISCUSSING THIS JOHN KIPLING FAMILY
============================ Family Details ============================
Children:
1. 1800 THOMAS (DIRK) KIPLING (m1. Nancy INDIAN, m2. Sophia UNKNOWN)
2. c1805 GEORGE KIPLING (m. Isabelle LANDRY)
3. c1807 EDWARD KIPLING (m. Nancy UNKNOWN)
4. 1812 PETER KIPLING (m. Angelique BERCIER)
5. 1815 JANE KIPLING (m. Thomas Jonathan FIDLER)
** MORE ABOUT THOMAS JONATHAN FIDLER