ROBERT MASSEY (1823-1897)
SARAH HANNAH SMITH (1826-1906)
(Last Updated: February 10, 2014)
Robert MASSEY was born around 1823 at Lerwick in the Shetland Islands of Scotland, son of Clara ROBERTSON and William MASSEY (MASSIE).
In 1848 Robert arrived at York Factory on Hudson Bay as an employee of the Hudson's Bay Company (HBC).
Marriage to Sarah Hanna SMITH
1853
Robert married Nov 24, 1853 in St Paul (Middlechurch) to Sarah Hannah SMITH, daughter of Mary Ann SWAIN & William Robert SMITH (1797-1869).** MORE ABOOUT WILLIAM ROBERT SMITH
Canadian Confederation
A Red River Metis Rebellion
Manitoba becomes a Province
1867-1870
On July 1, 1867 the British colonies in North America were united under the British North American Act to become the Dominion of Canada. Sir John A MACDONALD (1815-1891) was appointed as Canada's first Prime Minister. William McDOUGALL (1822-1905) became the Minister of Public Works, and he began negotiations to acquire Rupert's Land from the HBC, sending out surveyors to prepare the way for an expected influx of settlers.
The Red River Rebellion began in 1869 and ended in1870 when Manitoba became a Province.
In 1870 Robert's family was recorded on Lot 102-104 in St Andrews Parish (Along the Lockport Road); children as Henry (age 22), Robert (15), James (13), John (11), Marianne (9), Thomas (6), Samuel (4) and Alexander (age 2).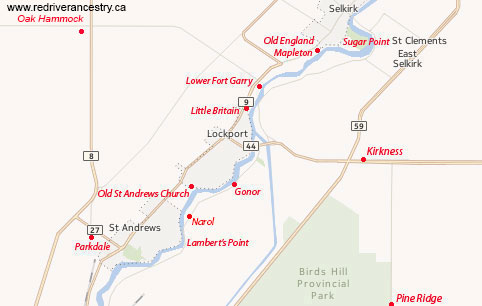 In 1875 Sarah (of St Andrews) claimed Scrip for their youngest children:  Mary Ann, George Thomas, Samuel and Andrew Charles.
Around 1878 daughter Mary Ann married Augustus John PEERS, son of Christina BELL & Augustus Richard PEERS (1821-1853). Around the same time, son William Robert married Catherine PARK, daughter of Margaret INKSTER and James PARK (1831-1900).
Around 1880 son James married Margaret Ann MORRISON, daughter of Isabella MATHESON and Norman MORRISON (1835-1912), an HBC Blacksmith from Scotland.
The 1881 Census in St Andrews (Lockport) recorded Robert MASSEY (age 52), his wife Sarah Hannah (age 55). Children as John (age 20), George Thomas (16), Samuel (14), Alex (12) and Benjamin (age 10). Eldest son William Robert (age 23), his wife Kate (nee PARK) and their son Robert are with them as well as daughter Mary Ann (age 18), her husband John PEERS (age 26) and their two children, Mary (age 1) and baby John PEERS.
In 1887 daughter-in-law Margaret Ann (nee MORRISON) died and in 1890 son James re-married to Jane Elizabeth HARRIOTT, daughter of Harriet Jane TAYLOR and John Edward HARRIOTT (1842-1924).
** MORE ABOUT JOHN EDWARD HARRIOTT
In 1893 son John Edward married Sophie SMITH, daughter of Madeleine LIZOTTE & Thomas SMITH (1843-1926).
** MORE ABOUT THOMAS JAMES SMITH
In 1894 son Samuel married Ethel Maud DIAMOND from England, daughter of Sarah Ann BURT and Francis Henry DIAMOND (b-1855).
In 1896 son George Thomas married Sarah Sadie CHALMERS of uncertain origins.
On March 9, 1897 Robert MASSEY died.
In 1901 Widow Sarah MASSEY (age 74) was recorded in Selkirk with daughter Mary Ann and son-in-law Augustus John PEERS who had a large family by that time.
On May 25, 1906 Widow Sarah MASSEY died in Selkirk at the age of 81.
Please post comments and queries at this link: FORUM DISCUSSING the ROBERT MASSEY FAMILY
============================= Family Details =============================
Children:
1. Jan 23, 1855 WILLIAM ROBERT MASSEY (m1. Catherine (Kathleen, Kate) PARK)              
3. Sep 15, 1855 JAMES ALLAN MASSEY (m1. Margaret Ann MORRISON, m2. Jane Elizabeth HARRIOTT)      
4. Jun 3, 1857 JOHN EDWARD MASSEY (m. Sophia "Sophie" SMITH)
** MORE ABOUT JOHN EDWARD MASSEY
5. Jun 4, 1859 MARY ANN MASSEY (m. Augustus John PEERS)
** MORE ABOUT AUGUSTUS JOHN PEERS
6. Nov 14, 1864 GEORGE THOMAS MASSEY (m. Sarah "Sadie" CHALMERS?)
7. Jan 10, 1867 SAMUEL MASSEY (m. Ethel Maud DIAMOND)
8. Mar 25, 1869 ALEXANDER CHARLES MASSEY
9. 1872 BENJAMIN MASSEY (Died age 18)