THOMAS JAMES SMITH (1843-1926)
MADELEINE-LOUISE LIZOTTE (1849-1935)
(Last Updated: January 26, 2016)
Thomas James SMITH was born July 30, 1843 in the St Peters Indian Settlement, son of Nancy FAVEL, the second wife of John James SMITH (1791-1850), a retired Hudson's Bay Company (HBC) trader born in England.
** MORE ABOUT JOHN JAMES SMITH
Canadian Confederation
Marriage to Madeleine LIZOTTE
Manitoba becomes a Province
1867-1870
On July 1, 1867 the British colonies in North America were united under the British North American Act to become the Dominion of Canada.  Sir John A MACDONALD (1815-1891) was appointed as Canada's first Prime Minister; a month later he won the first federal election.William McDOUGALL (1822-1905) became the Minister of Public Works, and he begannegotiations to acquire Rupert's Land from the HBC.
Around 1867 Tom was at Fort Vermillion on the Peace River in northern Alberta when he married Madeleine LIZOTTE there, daughter of Sophie TOURANGEAU and Michel LIZOTTE (1818-1916) from Quebec. 
Madeleine grew up along the Peace River, because her mother was born at Fort Chipewyan and died at Fort Vermillion in 1920. ** MORE ABOUT FORT VERMILION in WIKIPEDIA

** If anyone knows more about what our Thomas James SMITH was doing at Fort Vermilion at the time, we would love to hear from you on the Forum (link provided below). We do known that William Robert SMITH (1833-1919), an HBC voyageur, lived and died at Fort Vermilion, but unable so far to determine if or how they may have been related. Two of his children, William Robert SMITH Jr. (b-1862) and Isabelle SMITH (b-1874) married Madeleine LIZOTTE''s younger siblings, Felicite (b-1767) and Pierre LIZOTTE (b-18i72) respectively. These were grandsons of William Robert SMITH (1797-1869) who was a school teacher at Red River. ** MORE ABOUT WILLIAM ROBERT SMITH (1797-1869)
On July 15,1870 Manitoba became the fifth province of Canada, the Canadian Government having acquired the territory previously governed by the HBC.
Little Britain – Lockport
1870
By 1870 Thomas and his family had settled in Little Britain, just north of where today's Lockport Bridge on the west side of the Red River. That year their children were recorded as Thomas (age 4) and John James (age 2).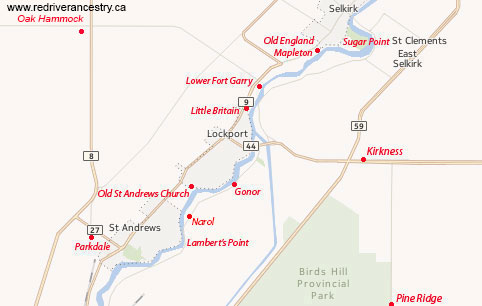 On June 15, 1882the Town of Selkirk was incorporated.
The 1891 Census of St Andrews Parish (Lockport): Thomas SMITH (age 47); wife Madeleine (age 41). Children: Thomas (age 23), John James (21), Henry (19), Sophia (17), Alex (15), Catherine (13), Mary (8), Nancy (6), Flora (4) and Christiana (age 2). Mother: Widow Nancy (nee FAVEL) SMITH, age 70.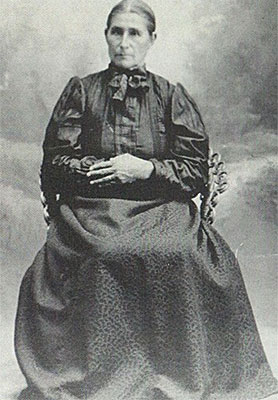 Madeline Lizotte-Smith – Daughter of Michel Lizotte
(Lizotte Family Tree)
In 1892 eldest son Thomas Jr. married Margaret Ann WILLIAMSONin St Andrews, daughter of Anne NORQUAY and John Johnston WILLIAMSON (1845-1914).
Also in 1892 son John James married Harriet McKAY, daughter of Caroline WALLER & Edward Richard McKAY (1845-1927). ** MORE ABOUT EDWARD RICHARD McKAY
In 1893 daughter Sophia married John Edward MASSEY, son of Sarah Hannah SMITH and Robert MASSEY (1823-1897) from Scotland. ** MORE ABOUT ROBERT MASSEY
In 1896 son Henry married Mary Ellen "Nellie" FOLSTER of uncertain origins.
Census 1901 at Lockport:  Thomas SMITH (age 57); wife Madeleine (age 51). Children still at home: Alex (age 25), Mary (18), Nancy (16), Flora (14) and Christiana (age 12).
In 1904 son Alexander married Emma BILLINGTON, daughter of Mary Ann (nee YOUNG) TAYLOR and William BILLINGTON (1850-1918). ** MORE ABOUT WILLIAM BILLINGTON
In 1905 daughter Mary married Alfred James SANDERS, son of Nancy COOPER and Richard SAUNDERS (1837-1910).
Also in 1905 daughter Nancy married Edward Alexander CALDER, son of Nancy LOUTIT and William CALDER (1852-1908). ** MORE ABOUT WILLIAM CALDER
In 1906 daughter Flora married her brother-in-law, Richard BILLINGTON, son of Mary Ann (nee YOUNG) TAYLOR and William BILLINGTON (1850-1918). ** MORE ABOUT WILLIAM BILLINGTON
Census 1906 at Lockport:Tom (age 63) and Madeleine, (age 56). Children at home are Flora,(age 19) and Christina (age 17).  Daughter-in-law Margaret (age 29) is with them as well as grandchildren: John (age 11), Catherine (7), Joseph (8), Frank (5) and Annie (age 2).  Margaret (nee WILLIAMSON) was son Tom Jr's wife.  Tom Jr. had died in a car accident.
Bridge and Locks built at Lockport
1910
By 1910 construction of the bridge and locks at Lockport was completed. It submerged the St. Andrews Rapids (a natural bridge) in order to make the Red River navigable both to and from Lake Winnipeg.
In 1910 youngest daughter Christiana married Arthur Mulvaney COX, son of Mary SANDERSON and Robert COX (1836-1890).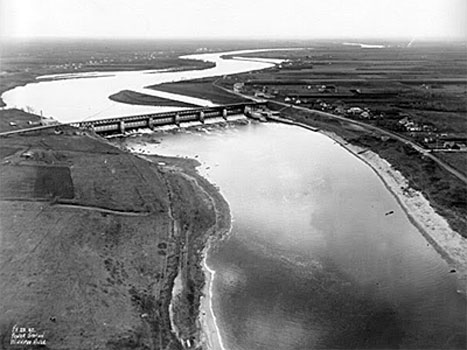 St Andrews Lock and Dam in 1923
Notice in the photo that the bridge approach on the West (right side) turns down onto
 River Road and does not proceed straight as it does now.
Census 1911 in Lockport: Thomas SMITH, age 67; wife Madeline, age 61. Son-in-law Arthur COX, age 25 & daughter Christiana, age 22;  son-in-law Richard BILLINGTON (age 27) and his wife, daughter Flora, (age 24);  grandchildren Ernest 4 & baby Madeline L BILLINGTON; grandchildren (Children of Thomas SMITH Jr.) John SMITH (age 15) & Joseph SMITH (age 13)
.
In 1912 widowed daughter-in-law Margaret (nee WILLIAMSON) re-married to William BOYDEN, son of Eliza CORRIGAL and George BOYDEN (1825-1907). ** MORE ABOUT GEORGE BOYDEN
In 1913, the Lockport Bridge was paved to allow for automobile and foot traffic, and a fishway was constructed at the East end of the bridge. A bascule lift or drawbridge was later added to allow tall ships to pass through the locks, but in the 1990s when the bridge underwent major reconstruction, the bascule lift was replaced with the fixed section you see at the West end of the bridge.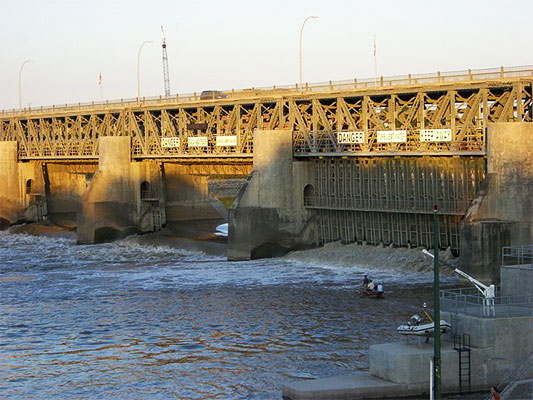 World War I
1914-1919
On Aug 4, 1914 Great Britain (Canada on Aug 5) declared war on Germany and Austria-Hungary to uphold treaties with France and Belgium which were under German attack. This marked the beginning of World War I.
Census 1916 at Lockport: Thomas SMITH, age 73; wife Madeleine (age 66), and Grandchildren, John (age 20) and Katie (age 17).
November 11, 1919, Armistice Day (Remembrance Day) marked the end of the First World War.
In 1921 widowed daughter Mary SAUNDERS re-married to Herbert Harry BECK of uncertain origins. (Alfred SAUNDERS died in 1916)
Census 1921 at Lockport: Thomas SMITH, age 77; wife Madeleine, age 72.
On May 4, 1926 Thomas James SMITH died in Lockport, age 82.
On July 1, 1935 Madeleine LIZOTTE-SMITH died in Lockport.
Comments and queries at this link: FORUM DISCUSSING the FAMILY of THOMAS JAMES SMITH
============================ Family Details ============================
Children:
1. Feb 26, 1868 THOMAS SMITH JR (m. Margaret Ann WILLIAMSON)
2. Aug 27, 1869 JOHN JAMES SMITH (m. Harriet Nancy McKAY)
3. Jan 26, 1872 HENRY WILLIAM RICHARD SMITH (m. Mary Ellen "Nellie" FOLSTER)
4. Feb 16, 1874 SOPHIA SMITH (John Edward MASSEY)
** MORE ABOUT JOHN EDWARD MASSEY
5. Mar 4, 1876 ALEXANDER SMITH (m. Emma Elizabeth BILLINGTON)
6. Mar 24, 1880 ANN ELIZABETH SMITH (Died in infancy)
7. Dec 12, 1882 MARY SMITH (m1. Alfred James SAUNDERS, m2. Herbert Hubert "Bert" BECK)
8. Mar 18, 1885 NANCY SMITH (m. Edward Alexander "Ed" CALDER)
9. Dec 24, 1886FLORA SMITH (m. Richard BILLINGTON)
10. Mar 28, 1889 CHRISTIE ANNA (CHRISTIANA) SMITH (m. Arthur Mulvaney COX)