EDWARD RICHARD McKAY (1845-1927)
CAROLINE WALLER (1851-1917)
(Last Updated: June 19, 2015)
On Nov 14, 1845 Edward Richard McKAY was born, probably at Norway House, son of Mary ENGLAND and John McKAY (1816-1922). ** MORE ABOUT JOHN McKAY
In 1855 Edward was about 10 years old when the McKAY family moved to St Clements Parish in Red River (the Lockport area).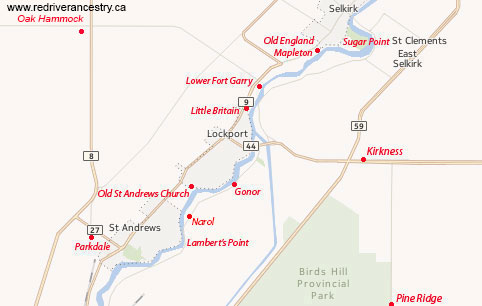 Canadian Confederation
The Riel Rebellion
Manitoba becomes a Province
1867-1870
On July 1, 1867 the British colonies in North America were united under the British North American Act to become the Dominion of Canada. Between 1869 and 1870, The Red River Rebellion occurred; led by Louis RIEL (1844-1885).
On Dec 26, 1867 Edward married Caroline WALLER in St Andrews, daughter of Nancy BIRSTON & James WALLER (1800-1876). ** MORE ABOUT JAMES WALLER
Son Thomas was born in 1868, followed by James in 1870 (James died at age 2).
On July 15,1870 Manitoba became the fifth provinceof Canada, the Canadian Government having acquired the territory previously governed by the HBC.
In 1875 both Caroline and Edward claimed their Half-breed Scrip as residents of St Andrews Parish.
Census of 1881: St Andrews Parish (Lockport area): E R McKAY, age 34; wife Caroline, age 26. Children: Thomas (age 12), Edward (8), Harriet (7), Eliza (3) and Charles (age 1). With them is Caroline's mother, Widow Nancy WALLER (age 62) who died two years later, 1883.
In 1881 son John was born, in 1884 son William and in 1889 son Colin was born (he died in 1892). William was the last child who survived to adulthood. Three other later children (Alex, Arthur and Alex) died in infancy.
In 1892 daughter Harriet married John James SMITH in St Andrews, son of Madeline Louise LIZOTTE and Thomas James SMITH (1843-1926). ** MORE ABOUT THOMAS JAMES SMITH
In 1893 eldest son Tom married Mary Eliza MOWAT in St Andrews, daughter of Annabella BALLENDINE and Edward MOWAT (1851-1890).
In 1897 son Edward married Jessie MUGGABERG at Rat Portage (Kenora, Ontario), daughter of Isabella SINCLAIR and Julius MUGGABERG (1834-1907) from Oslo, Norway. ** MORE ABOUT JULIUS MUGGABERG
In 1898 daughter Elizabeth married George McDONALD, son of Nancy SETTER and Kenneth McDONALD (1837-1881).
Census 1901 in Lockport area:  Edward (age 53), wife Caroline (age 49) and children: Charles (age 21), John (19), William (17) and Alice (age 8). Alice must have died before 1906. She was not recorded with the family in that census, nor in any of the later census records.
In 1904 son John married Catherine DENNETT in Selkirk, daughter of Isabelle LOUTIT and William DENNETT (1844-1916).
In 1909 son Charles married Jane Ann Mary MILLER, daughter of Victoria THOMAS and John MILLER (1858-1936).
In 1910 son William married his sister-in-law, Caroline DENNETT in Winnipeg, daughter of Isabelle LOUTIT and William DENNETT (1844-1916).
On Dec 9, 1917 Caroline McKAY died at Lockport, age 66.
On Apr 8, 1927 Edward Richard McKAY died at Lockport. He would have been about 82 years old.
Comments and queries at this link: FORUM DISCUSSING the EDWARD RICHARD McKAY FAMILY
============================= Family Details =============================
Children surviving to adulthood:
1. July 15, 1868 THOMAS "BIG TOM" McKAY (m. Mary Elizabeth MOWAT)
2. Aug 28, 1872 EDWARD McKAY (m. Jessie MUGGABERG)
3. Oct 25, 1874 HARRIET NANCY McKAY (m. John James SMITH)
4. 1877 ELIZABETH "ELIZA" JANE McKAY (m. George McDONALD)
5. May 11, 1879 CHARLES ALBERT McKAY (m. Jane Ann Nancy MILLER)
6. Nov 22, 1881 JOHN ROBERT McKAY (m. Catherine DENNETT)
7. Mar 18, 1884 WILLIAM McKAY (m. Caroline DENNETT)