JAMES STILL SR (1864-1936)
ELIZA ANN JEFFERY (1864-1950)
** Grandparents of Gary STILL **
(Last Updated: January 07, 2014)
In 1836, some 28 years before our James STILL was born, his father, George STILL (1827-1909) and his brother, Peter STILL (1834-1929), sailed from Scotland and arrived in Mono Centre, Ontario, along with their parents and their other STILL siblings, aunts and uncles. George was nine years old, Peter only two. For more information about Peter's youth, and more about our STILL ancestors, go to GEORGE STILL
In 1852 James' father, George STILL, married Elizabeth Jane ALLINGHAM, and in 1859 his brother, Peter STILL, married Ellen MADILL. They were both married in Simcoe County, Ontario.
Our James STILL SR was born Feb 25, 1864 in Shelburne, Ontario, the sixth and last child born to his mother, Elizabeth Jane, who died soon after he was born. Now a widower with five other youngsters to care for, his father (George) was obviously unable to properly care for a newborn baby. Brother Peter came to George's rescue, 'adopting' (as far as I know, not legally) infant James. Peter already had a four year old daughter of his own (Mary Ann STILL). Peter and Elizabeth, however, would have no more children of their own, but now they had a 'son', and Mary Ann had a little 'brother'.
Canadian Confederation
Manitoba becomes a Province
1867-1870
On July 1, 1867 the British colonies in North America were united under the British North American Act to become the Dominion of Canada.  Sir John A MACDONALD (1815-1891) was appointed as Canada's first Prime Minister. On July 15,1870 Manitoba became the fifth province of Canada.
It wasn't until 1869 that James' biological father (George STILL) re-married to Mary POTTER. It would have been possible now for the youngster to be returned to his father, and for Mary to assume the role of his step-mother. However, James was five years old now and he was old enough to express his own opinion on this matter. It was too late now; he refused to accept this strange woman as a mother. The bonds between him, Peter and Elizabeth, and with his sister, Mary Ann, were unbreakable. All involved finally agreed, James would stay where he was for the rest of his youth.
The Red River Métis Rebellion began in 1869; ended in 1870; and Manitoba became the fifth Province of Canada. The federal Government now undertook a bold campaign to attract Europeans to immigrate to Manitoba to augment the population which was then comprised mostly of Indian, Métis and French living near the junction of the Red and Assiniboine Rivers.  The competition for European immigrants was fierce because the US was shopping for colonists to populate some of its west-central states. The first Dominion Lands Office was established at Red River to handle the influx of settlers that had already arrived, and those that were anticipated to arrive in the years that followed.  Lands were granted to different groups that fulfilled certain criteria, including Homestead Grants.
In 1872,homesteading policies were written into the Dominion Lands Act. It offered 160 acres of land for a $10 administrative fee. The Act partitioned the land into townships. Each township was divided into 36 plots that measured one square mile, and each section was divided into quarters of 160 acres The homesteader had three years from the date of filing an affidavit, to build a permanent dwelling and cultivate 40 acres of land.
1872
Elizabeth COCKERAL & Thomas William JEFFERY
** Parents of Eliza Ann JEFFERY who married James STILL SR **
** Grandparents of my father, Jimmy STILL **
My great grandparents, Eliza (nee COCKERAL) & Thomas William JEFFERY (1831-1915), both came from England; married around 1857, and settled near Tillsonburg, Ontario. They were among the first of our ancestors to take advantage of the new homesteading opportunities in Manitoba.
In 1872 there were seven children in the JEFFERY family when they embarked for Manitoba by ox team, leading a cow behind to provide milk for their three week old baby, Albert. The route they took was known as the Dawson Trail. They lived in Winnipeg for a short time, and then moved to Seamo (Ideal Post Office District), near Clarkleigh (see map below).One of their daughters, Eliza Ann JEFFERY (born in 1864), later become my grandmother after marrying James STILL SR.
MIGRATION of our STILL RELATIVES FROM ONTARIO
HOMESTEADERS in the INTERLAKE REGION of MANITOBA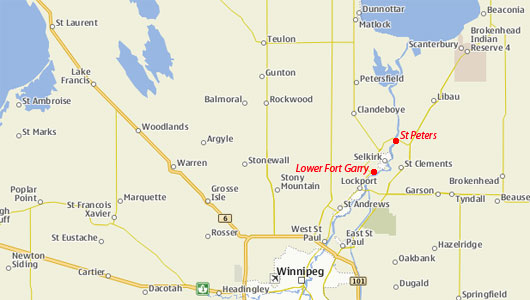 Interlake Region of Manitoba
1873
Harriet & JOHN CAMPBELL
** Parents of Joseph CAMPBELL who married Mary JEFFERY **
[Mary JEFFERY was a daughter of Tom JEFFERY (above)]
In 1873, John CAMPBELL SR (1810-1881) and his son Mark, left their home in Iroquois, near Morrisburg, ON, and with some other friends started for the west to find some of the New Country that would be suitable for settlement.  They arrived at Fort Garry in July, 1873, having travelled there via the Great Lakes and the Dawson Trail, erected a shanty on Wavey Creek, three miles WSW of Clandeboye (Dunara). John CAMPBELL SR returned to Ontario that fall, leaving behind his son, Mark, and a friend, Mr. FAREWELL, to spend the winter in Manitoba.In the spring of 1874, John CAMPBELL SR gathered the rest of his family and returned west via the same route.
1878
Ellen MADILL & Peter STILL
** Surrogate parents of James STILL SR **
Mary Ann STILL & William John MARTIN
(Daughter of Peter STILL ('sister' of James STILL SR) and her hubby)
Sophronia HANEY & "Old" John STILL
** Brother of James STILL SR **
** My Great Aunt and Uncle **
On Jan 16, 1878, Peter STILL's daughter (Mary Ann) married William John MARTIN (1847-1901). Shortly after this marriage, Elizabeth and Peter, daughter Mary Ann and her husband, and of course their surrogate son James, left for Manitoba. They travelled by boat via Owen Sound, ON - through Georgian Bay - Sault Ste Marie and Lake Superior to Duluth, MN.  From there they trekked overland to the Red River and up the Red to a place called Fisher's Landing (present day Winnipeg).  The old cow path they travelled on was later known as the Red River Trail.  Now it is Main Street, Winnipeg. ** MORE ABOUT PETER STILL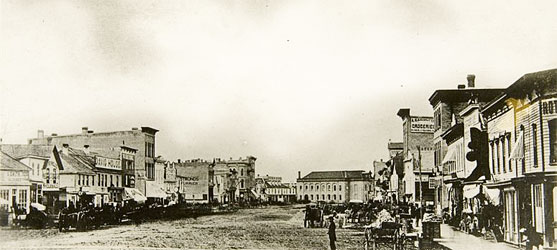 Main Street Winnipeg, north from Portage Avenue showing the wide mud road and boardwalks
as it appeared around the time the STILL family passed through on their way to their homestead.
(A & M Stovel Advocate Collection}
From Winnipeg, they continued on another 38 miles or so before they came to where their new home would be. The main trail heading north to what is now Teulon was called the Faith Trail.  This trail extended north of Stony Mountain where it split west and north at the most southerly corner of the horseshoe-shaped hill.  The west trail was called the Shoal Lake Trail, and the north trail was named the Whiskey Trail.  The Great Marsh (now often referred to as the Oak Hammock Marsh) was an immense area that extended from east of Stony Mountain to east of Teulon.  Just to the west of the marsh is a ridge which continues from west of Winnipeg to as far north as Narcisse.  The early settlers used this ridge as a highway, and established homesteads along its edge.  Just south of Teulon is the area known as Greenwood Township. This part of the province is referred to as the Interlake area (between Lake Winnipeg and Lake Manitoba in what is now the Rural Municipality (RM) of Rockwood. Actually, Teulon wasn't founded until 1919 by Charles CASTLE, and was named after his wife's maiden name, "TEULON".
On July 2, 1878, Peter STILL "took possession" of his homestead near Gunton. His daughter and son-in-law, Mary Ann & William MARTIN began their homestead nearby.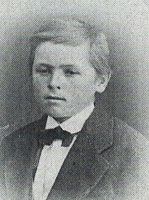 My Grandpa James Still not long after moving to Manitoba
That same year, James' older brother, John STILL, married Sophia HANEY, and on their honeymoon they travelled to Manitoba to visit his young brother and his Uncle Peter. We always referred to John as "Old John" or "Old Uncle John" because of his longevity (he would live to be almost 101 years old). He liked the area so much that he too applied for a homestead (SE of Gunton), and later that year he and Sophie moved there as well. 
After they moved to Manitoba, James may not have seen his biological father (George) again. George remained in Ontario the rest of his life. He did however keep in touch with Peter and James by correspondence, and he was always concerned about the well-being and progress of his young son.
Around 1881 the family of Tom JEFFERY moved from Seamo (Clarkleigh) over to the Gunton area where they settled near the homestead of Peter STILL. Tom's daughter Eliza Ann JEFFERY and Peter's 'son' James STILL were now close neighbors. They were both about 17 years old then, and romance soon blossomed.
James Marries Eliza Ann JEFFERY
1884
On May 6, 1884, James STILL married 20 yr old Ann JEFFERY in Greenwood Township (Balmoral). Their first child was Eliza Jane STILL, born on Jan 31, 1885. After he married, James worked in the stone quarry at Stonewall for several years.
1885 was the year that Louis RIEL and the Métis made their last stand at the Battle of Batoche in Saskatchewan, resulting in their defeat, and the hanging of RIEL in Regina.  In November of 1885, the "Last Spike" was driven in the CPR railroad at Craigellachie in B.C. The first Railway train to travel over the CPR rails, from Montreal to Vancouver, happened in 1886, the first train arrived Winnipeg on July 1 that year. 
The Census of 1891 recorded James and his family in Rockwood North (near Gunton). Eliza and James, both age 27. Their children: Eliza (age 6), Emma, Mary and baby Peter. The same census recorded their neighbours as his 'father' and 'mother' (Ellen and Peter STILL). Peter STILL Sr. was recorded as age 56. Also neighbours were his 'sister', Mary Ann (age 31) and her husband, William MARTIN (age 46), and their children: Ellen MARTIN (age 11), Robert, Elizabeth, Wilda and two year old Peter MARTIN.
A 'Pleasant' (?) Home near Komarno
After a laborious (and futile) effort to find something interesting about the next area where  our STILL ancestors  settled, about the only things I found were garter snakes, snake pits, mosquitoes, Ukrainian immigrants,  rock-strewn farmlands and stone quarries . The snakes and mosquitoes were immortalized with statues (sarcasm).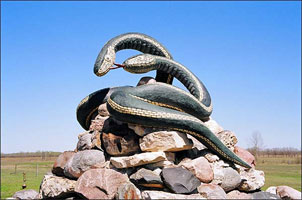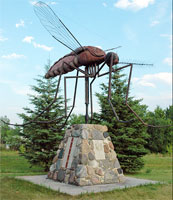 Left: S-s-sam & S-s-sarah the Snakes at Inwood (west of Komarno)
Right: Giant Mosquito at Komarno (near Pleasant Home)
Manitoba Photos.com
In 1891 Old Uncle John STILL (age 37) was enumerated in the Pleasant Home district (SE of Komarno) with his wife Sophronia (age 30) and four kids, May STILL (age 12), Ida, Hattie and George STILL (age 6). Komarno in Ukrainian means' mosquito infested'. In fact, in 1984 the village built a statue of a mosquito as a roadside attraction, declaring Komarno as the "Mosquito Capital of Canada" (see above).
On Jan 8, 1894, James Sr.'s fifth child, Thomas James STILL (My father) was born (near Gunton).
Their homestead in the Gunton area was very rocky, so in 1896 James decided to join Old John in the Pleasant Home district.
The First Wave of Ukrainian Immigrants to Manitoba
1897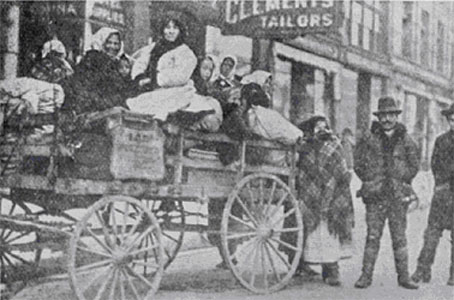 Ukrainian Immigrants leaving Winnipeg for their homestead in Manitoba. Date: 1898
Manitoba Archives
The first wave of Ukrainian immigration to Canada occurred in 1897, and many (11 families) settled in the same area where John was. Old John soon befriended these people and welcomed them as neighbours, but his wife Sophie soon revealed a prejudice toward them that was so intense that it would actually affect their marriage. Pleasant Home became an 'unpleasant home' for Old John. Sophie and John would later become permanently separated.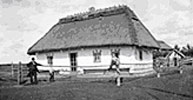 Plumb Ridge School in 1908
A school (Plumb Ridge School) was built there soon after James' family arrived. The students, of course, were of both English and Ukrainian descent. Young Jimmie STILL (my father) would begin his schooling there. He attended for six years.
By 1906 the family of James STILL SR had increased to eight youngsters with the addition of George, Pearl and baby Ena. The clearing of land was a slow process where they were living, for there were many trees and lots of rocks and stones. James was in his mid forties now, and the future was beginning to look a little bleak.
James' biological father (George) was an old man now (70 years old), but in his own way he still managed to play a pivotal role in his son's life by encouraging his relatives to communicate. He may have been far away, but his love and concern about his son never waivered. He always kept informed about his family ties, not just about James, but about his late wife's brother, Thomas (Tom) ALLINGHAM (1840-1923). In 1899 Tom (widowed) had moved with his family to Decker, Manitoba. Tom therefore was also a brother-in-law of Peter STILL and an uncle of our James STILL. Tom also remained in contact with his relatives in the Interlake area, frequently corresponding with them. His daughter, Jennie, was seven years older than James, but she frequently corresponded with her Uncles Peter and George, as well as her cousin James. Apparently it was Jennie who first recognized the difficulties that James was having in the Interlake country and suggested he should leave that God-forsaken place and join his relatives in the beautiful Assiniboine Valley. She expounded its virtues, particularly the fact that there was lots of open prairie there that would require little clearing. No snakes, few mosquitoes, and no great abundance of rocks and stones. James was easily convinced!
THE STILL FAMILY MOVES TO MINIOTA
1908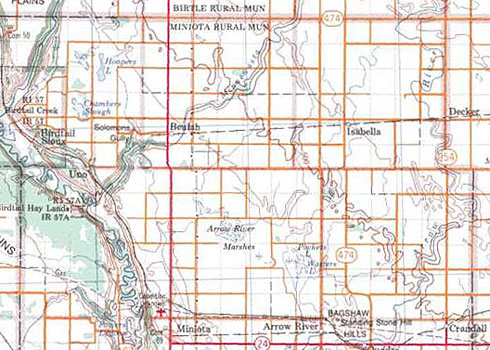 The Isabella district had been first settled in the late 1870's, followed by a substantial increase in the early 1800's, mostly by English speaking people from eastern Canada and the British Isles.
When the STILL family moved to Miniota in 1908, their eldest child, Eliza Jane was 23; Emma Maude 21; Mary Ellen 19; Peter 17; Jimmy Jr was 14; Albert 12; Pearl 9; and baby Ena was a two year old toddler. They brought all of their possessions with them, by train (as told by Auntie Ena), from Komarno to Crandall. From Crandall to the town of Isabella there were no roads or railways, just prairie trails. Transportation was 'horse and buggy' in the summer and sleighs in the winter.  The nearest stores and elevators were 10 miles away. They rented the CROZIER farm at Orrwold (NE of Decker).  Jim went to school there for a couple of weeks, then quit. He was needed on the farm. 
In 1909 James' biological father, George STILL, died in Shelburne, Ontario. He was 82 years old.
In 1909 the CNR Railroad was extended from Hallboro to Isabella; then the community began to thrive.
When the Census of 1911 was taken, James and his family were living northeast of Decker along the Arrow River. He and his wife Eliza were both 47 years old now. Their children: Eliza (age 26); Mary 22; Peter 20; Jimmy 17; George 14; Pearl 12; Ena, age four. Listed with them, as "Boarders", were Tom ALLINGHAM (age 69) and his 42 year old son, Ed ALLINGHAM. Daughter Emma Maude and son-in-law Herb ALLINGHAM had moved to an area near Minnewasta Creek, southeast of Birtle.
Apparently after the census was taken in 1911, Ed ALLINGHAM and his father (Tom) moved over to Beulah and James STILL and his family went with them. According to Auntie Ena, "James had a portable tractor and a horse-drawn thresher.  The wells were shallow and the water was in good supply from Minnewasta Creek, which ran right by their buildings". They stayed there for two years.
In 1912 daughter Eliza Jane married Jack BOCKWELL.
Around 1913 James made yet another move. This time to "Sunnybank Farm" (36-15-26), which they first rented, then purchased in 1914 from Messrs Andy and Arthur DOIG (This from 'Bridging the Years'}. This was also located along Minnewasta Creek, but further to the northeast. Now they were just to the north of their daughter and son-in-law (Emma Maud & Herb ALLINGHAM).
The Outbreak of World War I
1914-1919
On Aug 14, 1914 Great Britain declared war on Germany and Austria-Hungary to uphold treaties with France and Belgium which were under German attack.
On June 15, 1915, James Sr.'s surrogate mother (Ellen) died in Teulon at the age of 74.
When the Census of 1916 was taken, James and his family were still at their Sunnybank Farm. With them were their children Mary (age 23); George Albert (18); Pearl (17) and Ena Evelyn, age 10. They had an Oscar HAGEN living with them, a 20 year old from Ontario. For some reason, son Jimmy was recorded separately, in a different household, but yet very near to his parents. Son Peter had moved up to a piece of land he bought from Mr DOIG, very close to his sister (Emma Maude) and her husband, Herb ALLINGHAM, and not far from his father's Sunnybank Farm.
On Dec 10, 1917 sons, Jimmy (age 23) and his younger brother, George (age 21), both enlisted on the same day in Winnipeg (Canadian Armed Forces; 34th Fort Garry Horse).
On Feb 26, 1918, daughter Pearl Gladys married William "Billy" HICKMAN in Miniota. William was a son of Sarah BECKINSALE & Frederick HICKMAN from Curbridge, Oxfordshire, England. Billy and his brother, Fred HICKMAN JR, immigrated in 1911 to work as farm labourers for Thomas DORAN.
In the spring of 1918, James STILL SR was 54 years old. Hesold out and went to live with his son Peter.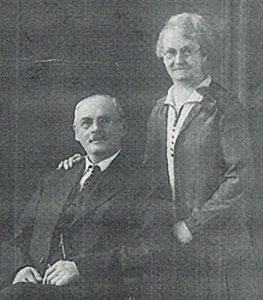 James Still Sr. and Eliza
On March 20, 1918, son Jimmy was transferred to the Machine Gun Corps, given three months training, and then moved to Ontario (Niagara). In June of 1918 he travelled on a cattle boat from Halifax to a segregation camp in Borley, England. Jimmy was trained and passed his tests in Gas, Wiring and Musketry.
On Dec 31,1918, daughter Mary Ellen married George Henry "Harry" SAWYER in Miniota. Harry was a son of Rachel Elizabeth NESBITT & Thomas SAWYER from England.
Jimmy left Aldershot, England, and arrived at Bologne, France on November 9, all prepared to join in the battle. But fate would intervene. He would never make it to the front lines. Only two days later, on Nov 11, 1918, the Armistice was signed.
After a short period of garrison duty in Belgium, Jimmy was on his way home. His unit was demobilized in Wales and he returned to Halifax on the Empress of Britain.From there he went on to the discharge depot at the Minto Barracks in Winnipeg, arriving on March 21, 1919.  The result was that he never got into the fighting but saw a lot of country.  He was 23 yrs old when he enlisted, 25 yrs old when discharged.
Sadly, fate had another more tragic surprise in store. A week after Jimmy arrived back in Winnipeg, on March 28, 1919, George Albert STILL died of pneumonia in Belgium. He was buried in the Belgrade Cemetery. He was only 22 years old. The war was over by the time George died. I have my father's (Jimmy's) actual Pay/Service Book, so it was easy to track his journeys. However, I don't know when the two brothers were separated, where or when George contracted his disease, or any of the circumstances leading up to his demise. Perhaps he had made it to the trenches.
After the War
In the spring of 1919 son Jimmy returned home to Isabella. It had been over 10 years now since the family had left the Teulon area, and Jimmy decided to go there to visit his old 'Grandpa' Peter STILL. Peter was 85 years old now and living with his daughter, Mary Ann MARTIN, who was 59 and widowed. Mary Ann was now in charge of the Teulon Post Office. While he was there, Jimmy got a job with Dave WOODS who had a lumber and machinery business in Teulon. About seven months later Jimmy travelled to Kentville, Nova Scotia, where he worked in a logging camp for a short time. In the summer of 1920 Charles COUPLAND from Teulon hired Jimmy to work for his brother, Dave COUPLAND, in Palmer, Saskatchewan.
In the fall of 1920 Eliza & James STILL SR moved over to the Assiniboine Valley, south of Miniota where they rented the farm of Widow Henrietta CURRIE. The only child at home now was 14 year old daughter Ena, but son Jimmy soon returned from Saskatchewan to join them for the next five years.

On Jul 5, 1923, son Peter marriedin Brandon to Lucy HICKMAN. Lucy was a sister of Billy HICKMAN who was married five years earlier to Peter's sister, Pearl Gladys STILL (See above).
In 1924 my Uncle Nelson CONRAD (age 34) rented the WARREN farm near Miniota. That fall, his 20 year old sister, Bessie CONRAD (my mother), came from Selkirk, MB, to cook for Nelson during the threshing season. Bessie also went to the neighbouring farm of Nick ROBINSON to help cook for a threshing gang there. This is where she met and fell in love with Jimmy STILL. On April 20, 1925 Jimmy married Bessie at the CONRAD home in Selkirk. Together they returned to the Assiniboine Valley to live with his parents. In the fall of 1925, James STILL SR rented the John HINDMAN farm southeast of Arrow River. Jimmy Jr worked for his father until November that year. 
In 1926 daughter Ena STILL married Chris ELLERINGTON in Miniota. They rented the Jack ARMSTRONG farm at Blaris and lived there fort the next four years.
In the fall of 1927 Eliza & James Sr. moved in with Ena & Chris ELLERINGTON at Blaris. In the fall of 1928 they moved again, to live on the WIGGIN's farm just south of Arrow River corner. 
On Jan 13, 1929 James Sr.'s surrogate father, Peter STILL, died in Winnipeg at the age of 95. He was buried in Teulon.
About 1929 Eliza & James Sr. went to live in the Glenlochar district, first with Pick SCUTT , and then in 1932 to the old MELLOR farm . James' health was failing now, and in 1933 they moved to Miniota town. After a series of strokes, James lived in Brandon for 'doctoring', came back to live with Harry and Mary SAWYER.
On March 13, 1936, James STILL SR died in Miniota.  He was 72 years old. 
Eliza died in 1950, age 86.
My Two Grannies
Left: Eliza Ann (nee Jeffery) Still - Right: Susan Maud (nee Graham) Conrod
Comments & queries welcomed at this link: FORUM DISCUSSING ELIZA & JAMES STILL
========================== Family Details ==========================
Children of Eliza JEFFERY & James STILL:
1. Jan 31, 1885 ELIZA JANE STILL (m1. Jack BOCKWELL, m2. Mr. LEWIS, m3. Harry HOWARD)
2. Aug 8, 1887 EMMA MAUDE STILL (m. Samuel Herbert "Herb" ALLINGHAM)
3. May 21, 1889 MARY ELLEN STILL (m. George Henry "Harry" SAWYER)
4. Mar 1, 1891 PETER STILL (m. Lucy HICKMAN)
In 1923 Peter married Lucy (born 1900), daughter of Sarah BECKINSALE & Frederick HICKMAN (born c1851 in England).
Children of Lucy HICKMAN & Peter STILL:
1. Jun 26, 1924 DONALD WILFRED STILL (m. Marion Patience HILLIER)
2. Feb 28, 1927 HARVEY MAURICE STILL (m. Elsie Doreen PHILLIPS)
3. Apr 19, 1930 GLEN LAWRENCE STILL (m. Margaret Beverley ATTWOOD)
4. Apr 7, 1933 RAYMOND PETER STILL (m. Bernice Lucille DORAN)
5. May 11, 1940 DALE ALLAN STILL (m. June Ann RITTALER)
5. Jan 8, 1894 THOMAS JAMES STILL (m. Bessie Lorena CONRAD)
** For more about Jim STILL: THOMAS JAMES STILL
6. Dec 9, 1896 GEORGE ALBERT STILL (Never married. Died age 22 during WW I)

7. Apr 1, 1899 PEARL GLADYS STILL (m. William "Billy" HICKMAN)
8. June 26, 1906 ENA EVELYN STILL (m. Christopher "Chris" ELLERINGTON)
On Mar 18, 1926 Ena married Chris Jr. (born 1902), son of Harriet JOHNSON & Christopher ELLERINGTON SR (born 1877 in England).
Children of Harriet JOHNSON & Chris ELLERINGTON:
1. Sep 5, 1927 LILLIAN ELLERINGTON (m. Thomas Leslie "Les" HORNER)
2. Mar 20, 1931 DOROTHY IRENE ELLERINGTON (m. Clarance Martin "Coke" ARGUE)