THOMAS JAMES STILL (1894-1980)
BESSIE LORENA CONRAD (1903-1994)
(Last Updated: May 17, 2016)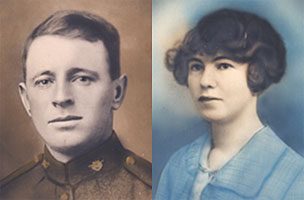 Jim & Bessie in 1939
Thomas James "Jim, Jimmy" STILL was born Jan 8, 1894, in Balmoral, Manitoba. He was the fifth child of Eliza Ann JEFFERY & James STILL SR (1864-1936).
For the details about Jim's youth and his bachelor years, click on this link: JAMES STILL SR
Bessie Lorena CONROD was born on Dec 3, 1903 in Chezzetcook, Nova Scotia, daughter of Susan Maud GRAHAM & Nelson Archibald CONROD (1860-1946). ** MORE ABOUT NELSON CONROD
Bessie was 10 years old when she moved from Nova Scotia with her parents and siblings to Dryden Ontario in 1913.
World War I
1914-1918
On Aug 4, 1914 Great Britain (Canada on Aug 5) declared war on Germany and Austria-Hungary to uphold treaties with France and Belgium which were under German attack. This marked the beginning of World War I.

On Dec 10, 1917 both James STILL and his younger brother George Albert STILL enlisted at Winnipeg (34th Fort Garry Horse Regiment). In their Attestations their address was indicated as Isabella (MB), next of kin: their father, James STILL SR, also of Isabella. Jim was described as 23 years old; 5' 7 ½", fair complexion, blue eyes and brown hair. His brother, George Albert, was 21 years old; 5' 7" medium complexion, blue eyes and dark brown hair.
On March 20, 1918 JIM was transferred to the Machine Gun Corps, 34th Squadron of the Fort Garry Horse. The barracks were set up under the grand-stand at the old exhibition grounds in Winnipeg.  It was cold enough in these quarters for the men to find it necessary to wear their balaclava (a woollen covering for the head and shoulders) and remain fully clothed when they retired.  However, they were provided with plenty of blankets.  Once a week they went to the YMCA for a bath.  After 3 months training, when volunteers were asked for, Jim transferred to the 56th Battalion of the Machine Gun Corps and was moved to Ontario.
On April 11, Jim was in St John's (Newfoundland). On May 7, he's in Toronto (quarantined for mumps and measles for 2 weeks).  After this period, a riot broke out in Quebec City because of conscription. Half of the corps was moved to Quebec City and half to St Jean, in which he was included, to be available as needed.  The revolt was quelled without any need for the soldiers at St Jean.  They remained there for 1 month)and May 31 Jim's at Niagara.
On June 14 he was transferred 'overseas' on the cattle boat, Nampkin.  July – Aldershot (England) Aug - Bourley Segregation Camp.
By Nov 10 he is shown as having been trained/passed tests in Gas, Wiring and Musketry (Canadian Machine Gun Corps). While there, spinal meningitis broke out, but he was not afflicted with it. He left Aldershot, England, two days before the Armistice was signed and landed in Bologne, France. 
On November 11, 1918 an armistice was signed between the Allies of World War I and Germany at Compiègne, France, for the cessation of hostilities on the Western Front. While this official date to mark the end of the war reflects the ceasefire on the Western Front, hostilities continued in other regions, especially across the former Russian Empire and in parts of the old Ottoman Empire. (On Nov 11, 1919 American President Woodrow Wilson proclaimed Armistice Day in commemoration of the hostilities the prior year.
From Bologne, Jim's Regiment went to Camp Abigille for about a month. Then they did a short period of garrison duty in Belgium. Jim spent Christmas at Aubin St Vasse. After Etaps, Le Havre, he was sent to Rille, Wales, where the unit was demobilized and he returned to Halifax on the Empress of Britain.
On Feb 26. 1919 Jim was in Halifax thence to the discharge depot at the Minto Barracks (Winnipeg) on March 21, 1919.
On March 28, 1919, after the armistice of the Belgium War, Jim's younger brother, 22 year old George Albert STILL, Private with the Fort Garry Horse, died of pneumonia. He was buried in Belgrade Cemetery, Namur, Belgium.
========================== // ==========================
In the spring of 1919 Jim came home to Isabella. He was we years old when he enlisted, 25 years old when discharged. Although he got to be a world traveller he never did really get into the action of the War. In June of 1919 The Fort Garry Horse was demobilized.
Jim later acquired employment at Teulon (MB) with Dave WOODS who had a lumber and machinery business.  He spent 6 to 8 months there and then went to Kentville, Nova Scotia, to work in a logging camp. After that, Charles COUPLAND of Teulon hired him to work for his brother, Dave COUPLAND, at Palmer, Saskatchewan, on a farm.  He worked there for 6 mos in the summer of 1920.  In the meantime, his parents had moved to the CURRIE farm in the Assiniboine Valley.  It was here that he returned to work for his father from 1920 to 1925.  He ran the threshing outfit, the Aultman Taylor separator and 25 horsepower International gas engine.  The CURRIE brothers (Brodie and Roy) were the last he remembered using this outfit which had threshed for about 20 seasons up to that time.
The CONROD Family moves to Selkirk, Manitoba
1923
In 1923 the CONROD family moved on to Selkirk, Manitoba. In the fall of 1924 Bessie went to the Assiniboine Valley in southwestern Manitoba to help her brother, Nelson CONRAD JR (1890-1963), who had rented the WARREN farm near Miniota, MB. During the threshing season she got a job as a cook. She was cooking at the neighboring farm of Nick ROBINSON when she met and fell in love with Jimmy STILL who was also helping out there during the harvest (In the evenings they used to pass notes to each other through a crack in the floor).
Bessie CONRAD was a beautiful slim, petite, fun-loving 23 years old with auburn hair and a twinkle in her eyes. Without a doubt she would have attracted the attention of all the young men in the threshing gangs. On the other hand, Jim STILL was definitely an eligible young bachelor too. At the age of 30, he was fairly tall (almost 5' 8"), muscular and handsome. He was already a veteran of the First World War. He had seen more of the world than anyone in his family. During his military training he had been to Winnipeg, Toronto, Niagara, Quebec City and Halifax. During his overseas war service he had been to England, France, Belgium and Wales. After his discharge in 1919, he spent time back in Teulon, Manitoba; in Kentville, Nova Scotia; Palmer, Saskatchewan, Wekusko (near Snow Lake, MB). He loved to travel.
Bessie and Jim's sister (Ena) soon developed a close bond of friendship that would last the rest of their lives. After the harvest, Jim STILL and Chris ELLERINGTON (Ena's bride-to-be) went to the Wekusko Mines in northern Manitoba (south of Snow Lake; east of Flin Flon) to find work.  They arrived to find that the mines had closed.  There was only one train a week out so while waiting for it they worked at a nearby logging camp for their board.
By the time Bessie returned to her home in Selkirk she and Jim had planned to marry. He soon sent her an engagement ring, and on April 20, 1925, they were married by Canon Lot SWALWELL at the CONRAD home in Selkirk.  Together they returned to the Assiniboine Valley to live with his parents at first. Jim worked for his father until November, and then he then rented an equipped farm from Mr BRADFORD for half crop shares. On Feb 20, 1926, their first child, James Gordon, was born at home in Arrow River.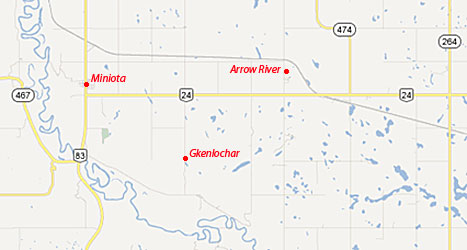 Assiniboia Valley – Miniota Region
To Bessie, farming was a new experience. It was just the life she had always dreamed of and the countryside was very beautiful with its rolling hills and open fields. Three neighbouring women became what she termed 'great friends', for without them it would have been a lonely life, because there were not many trips to town. These women lived on farms within walking distance. They were Mrs P. ILES, Mrs H. JOHNSON, and Mrs L WIGGINS.
Jim worked for Mr. DOWELL on a farm north of Arrow River for two months; then they moved to the stone house on Chris ELLERINGTON's farm for the next six months. By this time Chris ELLERINGTON had married Ena and they had a baby daughter (Lillian).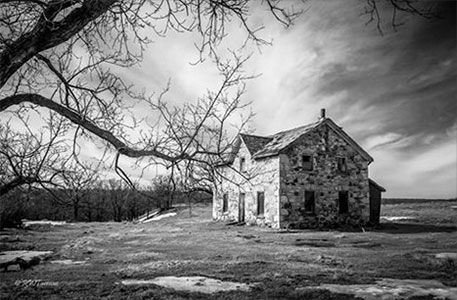 The Stone House near Miniota (Phot thanks to Lori Kearney)
THE GREAT DEPRESSION, THE DIRTY THIRTIES
1929-1939
Throughout the years of 1929 to 1939, there was a world wide Depression and Canada was one of the worst affected countries. Financially and economically the country began to collapse regardless of what was done by political power.
David Booth Quote: "A few of us farmers ploughed deep furrows around the fields to stop the earth from blowing away. Others thought it was hopeless to keep planting because their ploughs just turned up dry, fine dust that blew away in the wind. A few went to church and prayed for rain. For some, farming was becoming a slow way to starve."
Jim was hired by Nicholas ROBINSON from 1931 through to 1932. He worked and lived on the COLLIER farm (which his father had rented) in the Glenlochar district for two and a half years.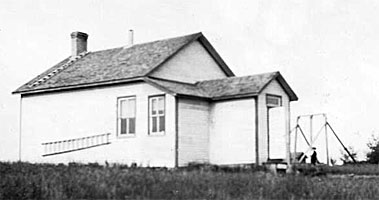 Glenlochar School
By 1932 Bessie had given birth (at home) to three more sons and a daughter at the WARREN place: George Everet (June 30, 1927); Ernest Wilburt (Nov 2, 1928); Charles William (Dec 23, 1929) and Almerna Joyce (Myrna) on Jan 27, 1832. Myrna would be the only girl in the family.
A fifth son, Denis Conrad, was born Nov 24, 1933, the first child born in a hospital. Bessie was kept busy with her children, her housework, making her own bread and butter, and sometimes soap, canning fruit and vegetables. Apparently the one thing she never learned, however, was how to milk a cow.
From an article that Bessie wrote 'In Praise of the Family Doctor CHALMERS' – "who was to become one of Miniota's most beloved citizens, arrived at Miniota in 1900 to carry on his profession and operate a drug store. [This was Dr. Robert Kennedy CHALMERS (1872-1949)]  Dr. CHALMERS was a typical country doctor who served Miniota and surrounding districts for 49 years. - - four of my (Bessie's) children were born at home.  In one case, complications set in and the good Doctor was obliged to stay till noon the next day, sleeping on the sofa when he could. We all knew that, when the Doctor was called, he got there, be it during a snow storm when he'd arrive all bundled up in a cutter.  Someone would take his horses to the barn to feed and water them.  In summer, he would make the trip in a buggy.  This was during the 1930's, when few people had cash, so the Doctor ended up being paid with wood, beef, or pork - anything we had that he could use.  No questions were asked".
In 1934, Jim's father sold out his belongings and moved to Miniota, while Jim hired out to Tom LONG on the ROWAN place. Here he kept 11 head of cattle. Mr LONG let him use the buildings and 35 acres of pasture.  Four cows were milking and they sold some cream.
Farming during the Dirty Thirties was next to profitless for the young STILL family. For all their stinting and plugging along, they had nothing to show for their toil. In desperation they too were forced to sell out. Good two year old steers brought about $12 a head and cows about $20 a head. The only solution was to find a regular paying job somewhere.
The STILL Family Settles in Mapleton, Manitoba
1936
In 1936 the family moved to Old England (Mapleton), just south of Selkirk, where Jim bought a four acre piece of land for $300.  Bessie's father (Nelson CONRAD SR) lived less than a mile to the south, and this is where the family stayed until Jim was able to clear enough brush to build house. There was one other home closer to the highway (probably that of Martin FERLICK), and from there in he cut a trail to the house. It was a four room house. The kitchen and living room were combined and there were two bedrooms downstairs, one for Jim & Bessie, the other for the youngest kids. The whole upstairs was one room (more like a loft), where the older boys slept.
Jim got a job on the Shipping Gang at the Manitoba Rolling Mills (MRM; the Mill), a stone's throw away from their home. There was only one strip of land between us and the Mill, owned by Mike STUPAK. We can all remember at night listening to the clashing and clanging of steel against steel, the moaning and groaning of the machinery as it processed the steel, iron and other metals.
The older boys (Gordon, Everet, Ernie and Billy) started school that September at the Mapleton School, about a mile south of our place.
To see a map of the Mapleton area, and to learn more about the school and the neighbours,go to MAPLETON SCHOOL
Ambrose PRUDEN dug the well. Apparently it turned out to be a difficult job. He had to drill very deep (90 feet?) and had a lot of problems. His drilling rig broke down and he abandoned it there. It remained a land mark on our property for many years. A log building (once the home of J.J. RATT) was dragged in to accommodate cows and pigs (I recall we also had a goat). A chicken house was added. Some land was cleared and cultivated for a garden. Of course we cannot forget 'ye old outhouse' with the traditional Sears catalogues for ass-wipe; add a huge wood-pile and a pile of manure. The other 'plumbing' was 'ye old slop-bucket' and chamber-pails that were used in the house during winter. Then there was the memorable old wood stove in the kitchen. For bathing we had the traditional metal tub, barely big enough to accommodate one's ass-end. Home entertainment: the radio (no phones or TV's in those days).
On June 12, 1938, son,John Burton, was born at Selkirk General Hospital.
THE WAR YEARS
1939-1945
World War II: On Sep 10, 1939, a special session of Parliament approved Prime Minister Mackenzie KING's request that Canada join the war in Europe. The decision, seen by most Canadians as inevitable, came exactly one week after England and France declared war on Nazi Germany. It was the first time that Canadians made their own declaration of war as a sovereign nation.
I (Gary Norman) came into this world on Dec 22, 1939. I'm told that I turned blue and almost died soon after I was born!
In 1940, while working at the Mill, Jim was injured when a load of hot steel tipped over and one of his legs was caught under the pile. It was a complete break and was splintered as well. There were also deep burns.  He was in hospital for four months and was laid up for a year. During this time, he received compensation and his hospital and doctor bills were paid. Jim went back to work at the Mill after his injury.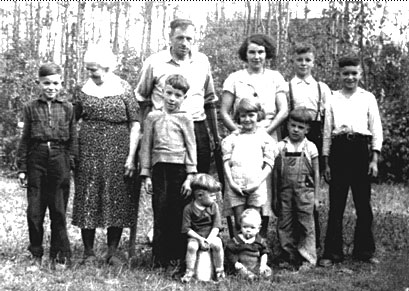 The Still Family in 1940
L-R, Back: Everet, Granny Conrad, Jim, Bessie, Gordon, Ernie
Middle Row: Billy, Myrna, Denis.
Front: John and Gary (Ken yet to be born).
Note that Dad is on crutches, suffering from a broken leg and severe burns.
Jim Joins the Veteran Guards of Canada, Kapuskasing, Ontario
1943
On May 24, 1940, the Department of National Defence (DND) created a new organization called the Veteran Guards of Canada (VGC). Most of the men recruited were First World War veterans too old for battlefront duty. The maximum age for duty was 50, but many slipped in despite their age. They assumed responsibility for guarding captured soldiers in May of 1941. In the late fall of 1943 trains carrying POW's began arriving in Kenora. Many prisoners arrived from Medicine Hat or Lethbridge, the two largest detention centers, while others came from internment camps like the one at Monteith, near Timmins, Ontario.
On Nov 24, 1943, Jim re-enlisted with the Veteran Guards at Fort Osborne Barracks. He was home just long enough to see the birth of his 9th and last child, Kenneth Graham, on Dec 7, 1943. I was only about four years old when Kenny was born, but I can still remember when he was brought home, one of the very first patches of memory still etched into this old brain.
Jim would spend the next 18 months at Kapuskasing, Ontario.  Kapuskasing is located in Northern Ontario, along Hwy 11, northwest of Timmins. It's about midway between Lake Superior and James Bay. The internment camp at Kapuskasing served two purposes for the government: it confined persons who supposedly posed a security risk, and it used their labour to clear forest for an experimental farm and develop new territory for future settlement (bush camps).The main POW camp was located at Monteith (closer to Timmins). Note: Kapuskasing is not included as a POW camp in any of the lists I have found. It is said that in addition to the main camps there were branch camps and labour camps (bush camps) where prisoners worked as logging crews. Jim must have been at one of these.
While Dad was away, eldest son Gordon (17 years old then) assumed the role as the 'man of the house'. I think it was around 1944 that Gordon enlisted in the R.C.A.F. Trained as a "Tail Gunner", he got as far as India but the war ended before he could enter the fray.
Lethbridge
1945
Germany surrendered unconditionally on May 7, 1945, after a final attack across the Rhine. Jim was transferred to Lethbridge (Camp 133), Alberta. He was assigned to escort prisoners to the sugar beet fields in Barnwell.
The guards' main job was snooping for escape-tunnels and settling disputes. A couple of prisoners escaped and got as far as Pincher Creek and Coaldale. The RCMP captured both of them. The Veterans Guard as well as the RCMP captured a man who got to Coaldale. There were quite a few more attempted escapes including balloons, crates, and a few more exotic things. Had all 12,000 POW's decided to walk out and escape, they could have. There weren't enough guards, guns or ammunition to stop them. The only thing that was stopping the POW's: there was no place to go.
Grandson Murray STILL vividly recalled stories his grandpa told of the POW camps. He remembered him saying that Jim broke into a bunk house in time to stop a fight between two drunken prisoners.  One prisoner drew a knife, and before anything further could happen, a third prisoner entered the picture, disarming the trouble-maker. Most prisoners were content though, to work the beet-fields or do manual labour.  In fact, the prisoners saw Mr STILL as a kind of "father image", and would do anything for him.
On July 31, 1945, Jim was discharged from the VGC (He was later awarded a Canadian Volunteer Services Medal).  He worked as a Watchman on the Dredge at Selkirk for the rest of the summer.
AFTER THE WAR
In 1946 Jim worked at the Manitoba Steel Foundries (MRM; Manitoba Rolling Mills).
On Nov 2, 1946, son Gordon married Jean McKENZIE, daughter of Charlotte LYONS and Hubert Douglas McKENZIE (1882-1970). ** MORE ABOUT HUBERT DOUGLAS McKENZIE
In 1947, Jim worked at the Motor Country Club at Lower Fort Garry, tending vegetable gardens. He worked as a Carpenter from 1948 to 1951. 
On March 23, 1949, Ernie, 21 yrs old, was seriously injured, almost died, after severely injured in a mine cave-in at the Starrit-Olson Goldmine at Red Lake, Ontario. Ernie would spend the next year in the hospital; the rest of his life using crutches and leg-braces.
On May 10, 1952, Everet married Pat WAKEFILED in London, Ontario, on May 10, 1952. 
On Aug 9, 1952, Ernie married Yvonne SHAND, child of Winnie SHAND and Howard OIG (1916-1942), son of Clara STEVENSON and Joseph Albert OIG (1896-1929). ** MORE ABOUT JOSEPH ALBERT OIG
The Old Still House on Sunnyside Road
1953
The original Still House on Sunnyside Road was built in 1936 to provide a home for our parents and six youngsters: Gordon (then age 10), Everet (9), Ernie (8), Billy (7), Myrna (4) and Denis (then age three). Considering the size of the family then, it was a relatively small building. The oldest sons (Gordon, Everet, Ernie and Billy) had their bedroom in the attic (top floor). In all likelihood they all had to sleep together in one (or two) beds. The barn was an old log building that used to be the home of JJ RAT who lived in it next to the highway across from Pruden Avenue (just south of the Rolling Mill). There was a chicken house full of chickens; the barn housed a milk-cow, pigs and even a Billy-goat. A large garden to the west provided vegetables for the family.
I haven't been able to find many pictures that show the old house. The one below was taken about 1953-54(my guess). It is rather precious photo because it shows the old house in the background to the right with the built on kitchen protruding outwards. It is shaded by a stately old elm tree next to which was the water pump.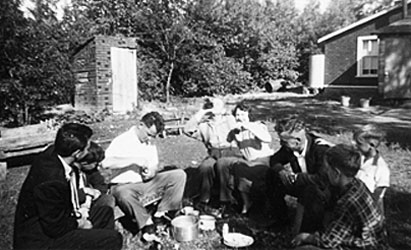 Boozin' at the Still place in the summer of 1953
Who's boozin' in the picture you ask? At the back with his bottle tipped up is Dad (Jim). He was having a hard time finding a job at that time. This was the first time I had ever seen him get tipsy from drinking. Mom & Dad (Bessie & Jim) hardly ever imbibed. Bessie only occasionally had a late night 'Hot Toddy' in those days. Also at the back next to dad with bottle raised is Yvonne, married to Ernie (front left of the picture). Yvonne had only recently given birth to a child (Paul). Next to Ernie is probably John and to the right of him is Gordon. That's me (Gary) at the bottom right. Next to me are Uncle Wilson CONROD and his son, Cousin David CONROD with his hand on his father's shoulder.
The picture prominently features the original precious old outhouse perched atop of a dugout pit. Every few years when the pit became too full with excrement, a new pit had to be dug and the outhouse relocated. In the earlier years there was no toilet paper. Instead, old newspapers, magazines and Sears catalogues provided ass-wipe. There was no plumbing; a drilled well and pump provided drinking water. At the back corner of the house you can see the barrel that gathered rainwater from the roof of the house in the summertime. That water was used for washing clothes and bathwater. To bath one had to heat a tub of water on the woodstove. This was an old galvanized tin tub barely large enough for one to submerge their backside in. In the winter time washing and bathing water was obtained by gathering snow which was melted and heated on the woodstove.
Previous to the time the above photo was taken, there was a large woodpile located at the same spot where the outhouse is shown. The fact that the woodpile is no longer there indicates that the picture was taken after an oil burning stove had been installed in the living room. The window is on Myrna's room. Being the only girl in the family she had her very own room.
This is an excellent backdrop on which to describe the situation of the rest of the family as it was around 1953. Not in the picture are Everet, Myrna, Billy and Kenny. Everet was then only recently married (to Pat WAKEFIELD) and was living in Trenton, Ontario. Myrna was then 21 years old and still single. Billy (age 24) would marry that fall to Sessly DOLL. Denis (age 20) was still single, and Kenny was about 10 years old.
=========================== // ===========================
On Aug 1, 1953 Billy married Sessilja DOLL, daughter of Gunnar DOLL (b-1910).
In May of 1955 Denis married Lorraine GROVE, daughter of Lorna CHASTELLAINE and William Henry GROVE (1906-1997). ** MORE ABOUT WILLIAM HENRY GROVE              
Various jobs kept Jim occupied until his retirement on a veteran's pension in 1956. He attended St Clements Church, served on the vestry there, and spent many days clearing trees and developing a Community Park in the 'flats' just below the St Clements Church.  He was a member of the Canadian Legion.
On Dec 6, 1956, Gary, 16 yrs old, with a youthful yen for adventure and travel, daparted for Weenisk, Ontario to work as a Clerk for the Fur Trade Division of the Hudson's Bay Company.  Six months later, June of 1957, homesick and looking for a more promising career, he was back home in Mapleton.
Six little grandsons all in a row, 1957
On Jun 28, 1958, Myrna married Mike CHOLOSKY, son of Tekla "Teenie" BILOWICZ & Karol CHOLOSKY (1887-1957).
On Oct 3, 1959, John married Beatrice BEGG, daughter of Sadie FAVEL and Robert James BEGG (1860-1951)
** MORE ABOUT ROBERT JAMES BEGG
On Jan 23, 1965, Ken married Dianne GOWEN, daughter of Bernice McKENZIE and Edward George GOWEN (1911-2000). ** MORE ABOUT GEORGE GOWEN
A new home on the Old Fidler Property
1966-67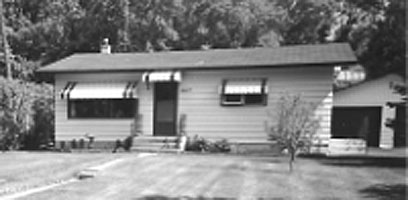 Around 1966 sons Bill, Denis, John and Gary got the entrepreneurial binge. We pooled our resources and formed a family investment club and thought we were going to make our fortune by buying shares in the Stock Market and in building and selling houses. Starting out small, we bought a small property at Clandeboye that had an old house on it. Eagerly, under Billy's supervision (he was the best carpenter in the family), we did some major renovations and within a year we sold it for a modest profit. For various reasons enthusiasm about these business ventures soon faded and group split up.
However, while still thinking about real estate, we discovered that the old FIDLER property came up for sale and facilitated its purchase for our parents. The MRM had a caveat on the old STILL property so it wasn't difficult to force them to buy the old deteriorating house and property on Sunnyside Road. This seemed was a perfect opportunity to build a new modern home for them. Jim was 73 years old now; Bessie 63.
The new STILL home was on River Lot 14, recently vacated by Widow Mary REID. This was an historic property on which stood a sizeable old log house that was built by William FIDLER (1858-1959) in the early 1900's. When Bill FIDLER died in 1959, his daughter, Mary Ann, widow of Frank REID (1879-1936) continued to live there.Mary REID was about 85 years old in 1966 and at that age probably could no longer maintain the place. She may have moved in with her adoptive daughter and son-in-law (Joyce REID; married to Ron HARBOUR). She died in 1975. This is the Mary REID who fostered Yvonne STILL as a toddler. ** MORE ABOUT FRANK RIED
Rather than build a new house, it was decided instead to purchase a prefabricated modular home that had to be moved all the way from the Elie area (west of Portage la Prairie). After we tore down the old Fidler house, a basement was excavated, a foundation laid and a septic tank and field provided modern day plumbing. By 1967 Jim & Bessie were able to move in. No more pumping water and hauling it to the house; no more melting snow on the old woodstove; no more trudging to the old outhouse in freezing weather. This was a new era for them.
Jim busied himself at tearing down the old house he had built on Sunnyside Road. At one point while dismantling the roof, it collapsed under him; fortunately he wasn't seriously injured by the fall. He picked himself up and carried on.
A Holiday in California
1968
The old Still house not long before it was torn down in 1968
That's my Camaro parked beside it
It was in 1968 that I (Gary) and my Cousin David CONROD took my parents on a trip to the USA. We dropped them off in California where they visited relatives while David & I continued on to Tijuana, Mexico.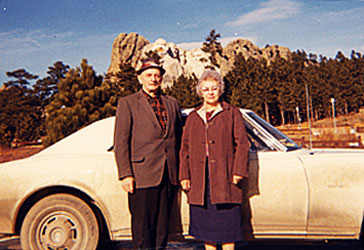 Jim & Bessie at Mount Rushmore
I (Gary) was the last in the family to surrender my bachelorhood. On Apr 17,1971, I came from Edmonton to marry Eldred THOMAS at St Clements Church in Mapleton,  daughter of Irene (DICKINSO0N) MOORE and Ventrice (FIDLER) THOMAS (1893-1984). ** MORE ABOUT VENTRICE THOMAS
THE LEAVES BEGIN TO FALL
1980
On Nov 16, 1980, Thomas James STILL died at home. He was 86. Dad was a strong, hard-working man, mild mannered, gentle and humble. He loved to travel; he loved the out-of-doors and nature. He loved farming, and he would have been happy and content to spend his entire life as a farmer. As fate would have it, he would never own a real farm. The Dirty Thirties put an end to that. He was forced into a life of hard labour, in places where he most likely would have preferred not to be.
The Tragic Death of Kenny
1982
On Apr 4, 1982, Kenny died. ** More about that later.
On May 26, 1984, Johnny died.
On Dec 20, 1990, grandson Carl CHOLOSKY died at the young age of 22.
Well into Bessie's 80's, senility began to creep in. Perhaps her old brain was overburdened by the hardships, grief s and tragedies that life had thrown her way; perhaps forgetting was a merciful way to cope. It wasn't safe to leave her alone at home any more.
Son Gordon converted/ renovated his attached garage into a special room just for her to move into. There he and Jean could keep a close vigil on her well-being. Son Everet took possession of the house on Lot 14.
Jean frequently took Bessie to Bingo Nights at the Legion in Selkirk, an activity that she thoroughly enjoyed.
Eventually it became necessary for her to be placed in the Betel Home in Selkirk.
Eldred & I saw her for the last time during the Christmas season of 1993. Tiny and withered, it broke my heart hen we first visited her at the Home. We first met her in the hallway, so tiny and fragile and alone, slowly shuffling her way to her room, I'll never forget her repeating in a soft quivery child-like voice "I' m scared, I'm scared!." We visited her every day while we were there, and when we finally had to leave to return to Alberta, a nurse came to her room to take her for dinner. Thinking this was an opportune time to slip away unnoticed, we bade her farewell. On our way out, we glanced through the window of the cafeteria and spotted her at a table not far away. It startled me when she seemed to suddenly appear fully aware and conscious of our presence. She smile warmly and waved good-bye. I would never see her again!
On Feb 2, 1994, Bessie STILL died at the age of 90.
Mom was the real rock of the family. She 'wore the pants'. Perhaps she was a bit short on discipline with her rowdy and mischievous children, but her love for them was deep, steadfast and unconditional. On occasion, when things got out of hand, her only disciplinary tool was a straw broom which she waved about threateningly; only rarely did it actually make contact with a wrong-doer. Nevertheless, her children would always hold a great respect for her. All it took was a slightest semblance of disfavour in her countenance, or on a few very rare occasions her tears, to evoke an immediate corrective response.
She was a great cook. Every Sunday, a chicken or two were roasted. Family and friends from everywhere gathered at the STILL home to enjoy a weekly feast. She learned how to make chocolates. She also learned how to mould plaster-of-Paris figurines, and managed to make a few dollars selling them. She had some skill at playing a mandolin. Had life been more favourable to her, with her compassion for other people, she most likely would have become a nurse. Perhaps she would have become a novelist (She did manage to write a story that was published in a magazine).
On Jan 26, 1997, daughter-in-law (my wife) Eldred (nee THOMAS) STILL died.
On Apr 4, 1998, Denis died.
On Apr 12, 2003, daughter-in-law (Billy's 2nd wife) Jean (nee MILLER-ERICKSON) STILL died.
On Feb 20, 2004, Ernie died.
On July 2, 2006 Billy died.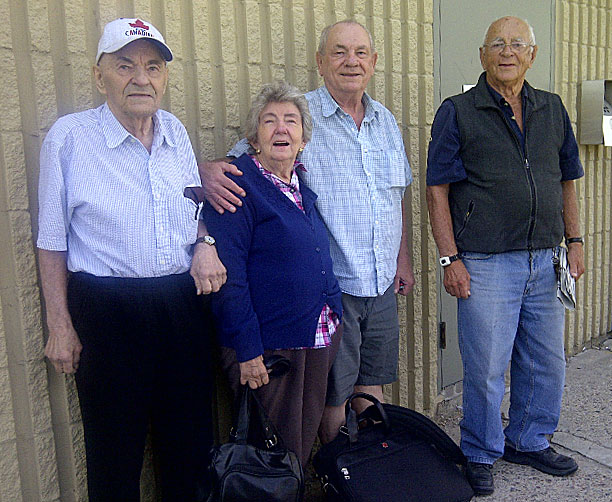 Four surviving Still siblings in August of 2012
L-R: Everet, Myrna, Gary & Gordon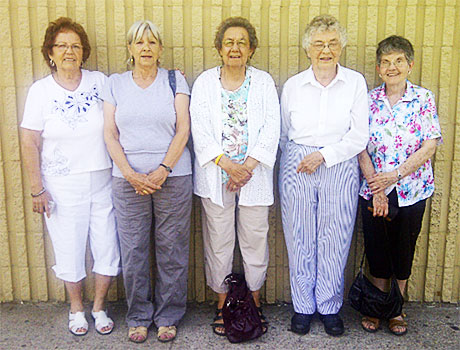 Surviving daughters-in-law in August of 2012
L-R: Yvonne, Dianne, Bea, Lorraine and Pat
I look forward to sharing stories and information about our family. Please do so at the following link:  FORUM DISCUSSING JIM & BESSIE STILL
========================== Family Details ==========================
Children:
1. Feb 20, 1926 JAMES GORDON STILL (m. Jean McKENZIE)
** MORE ABOUT JEAN & GORDON STILL
2. Jun 30, 1927 GEORGE EVERET STILL (m. Lillian Patricia "Pat" WAKEFIELD)
** MORE ABOUT PAT & EVERET STILL
3. Nov 2, 1928 ERNEST WILBURT "ERNIE" STILL (m. Yvonne (OIG) SHAND)
** MORE ABOUT YVONNE & ERNIE STILL
4. Dec 23, 1929 CHARLES WILLIAM "BILLY" STILL (m1. Sessilja Margaret DOLL, m2. Doris Jean MILLER)
** MORE ABOUT SESS & BILLY STILL
5. Jan 27, 1932 ALMERNA JOYCE (MYRNA) STILL (m. Michael "Mike" CHOLOSKY)
** MORE ABOUT MYRNA & MIKE CHOLOSKY
6. Nov 24, 1933 DENIS CONRAD STILL (m. Lorraine Helen GROVE)
** MORE ABOUT LORRAINE & DENIS STILL
7. Jun 12, 1938 JOHN BURTON STILL (m. Marilyn Beatrice BEGG)
** MORE ABOUT BEA & JOHN STILL
8. Dec 22, 1939 GARY NORMAN STILL (m. Eldred Merle THOMAS)
9. Dec 7, 1943 KENNETH GRAHAM STILL (m. Phyllis Dianne GOWEN)
** MORE ABOUT DIANNE & KENNY STILL