THOMAS THOMAS (1845-1926 )
MARGARET MOAR/ MOORE (1848- 1924)
(Last Updated: March 13, 2016)
Thomas (Tom) THOMAS, an Indian, was born Dec 24, 1845 in St Andrews Parish (south of Lower Fort Garry in the Lockport area), son of Catherine (nee MOORE) LINKLATER) and Simon THOMAS (1815-1888), also an Indian (who may have had  English ancestry). ** MORE ABOUT SIMON THOMAS
Marriage to Margaret MOORE
Canadian Confederation and another Red River Rebellion
Manitoba becomes a Province
1867-1870
Around 1867 Thomas THOMAS married Margaret MOORE, daughter of Nancy THOMAS & John MOAR aka MOORE (1804-1898). Many thanks are extended to Colleen (Gonzo) who posted valuable information on the Forum of this website, and for pointing out my previous errors regarding Margaret's parents, etc. ** MORE ABOUT JOHN MOAR aka MOORE
On July 1, 1867 the British colonies in North America were united under the British North American Act to become the Dominion of Canada.  Sir John A MacDONALD (1815-1891) was appointed as Canada's first Prime Minister.
In 1868 son Robert was born in St Andrews (Lockport).
On Oct 11, 1869, Louis RIEL (1844-1885) placed his foot on the surveyors' chain to tell them their work was finished! This marked the beginning of another Red River Métis Rebellion.
There are no indications that Tom THOMAS had any direct involvement in the Rebellion. The Provisional Government established by RIEL was composed mostly of the French-speaking population from along the Assiniboine River, St Boniface and southern parts of the province. From Kildonan north along the Red River the residents were almost all English-speaking half-breeds and members of the St Peters Indian Band under Chief Henry PRINCE (1819-1902).
When it was all over, RIEL's Provisional Government accepted the terms of the Manitoba Act and on July 15,1870 Manitoba became the fifth province of Canada, the Canadian Government having acquired the territory previously governed by the HBC.
In December of 1870 a Census of Red River was completed. The results recorded 5, 757 French-speaking Métis; 4, 803 white settlers and 558 Indians in the census region. This information would be later used to determine who would be eligible for Land Grants and Scrip. Thomas was recorded on Lot 92, St Clements Parish (Lockport area) with one son, Robert, age two.
In the Census of 1881 Tom is listed as an Indian (age 37), employed as a Labourer; wife Margaret is age 37 and their children are listed as Robert (age 13); Alfred (age 8); Margaret (age 12); and Catherine (age 6). His parents (Catherine & Simon THOMAS) and his sister (Kate) are his neighbours.
In 1882, Lot 92 (48 acres in St Andrews) was patented by his father (Simon) but Thomas is indicated as the occupant. His sister (Elizabeth-Margaret) and brother-in-law, James FIDLER (1822-1905) are his neighbours on Lot 96.
On Dec 7, 1889 a Robert James THOMAS died in St Andrews at the age of 12 (Vital Stats). This may have been Tom's son.
Thomas moves to Ponemah Beach
1890
In the Census of 1891 he (age 46) and Margaret (age 44) were enumerated in the Ponemah Beach area on the west side of Lake Winnipeg, apparently having moved there from St Andrews soon after his father died in 1888. They were alone (no children).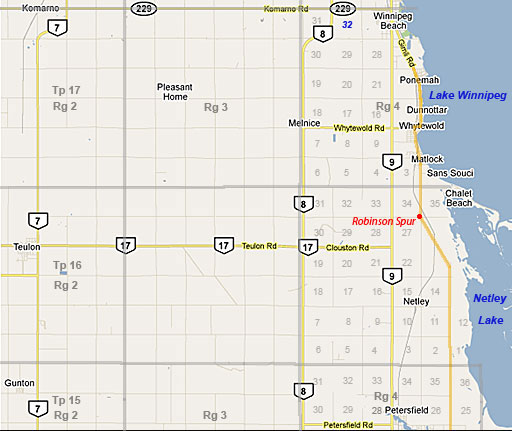 Old Gimli Road (orange line)
Western Land Grants: Dated Mar 29, 1895: Thomas THOMAS, NE-22-17-4-EPM (Ponemah Beach)
Adoption of Ventrice
Move to Robinson Spur
1898
It was around 1898 that Margaret & Tom THOMAS adopted five year old Ventrice, the illegitimate child of Caroline SAYER & James FIDLER (1870-1929). Ventrice was a biological grandson of William FIDLER (1845-1929); thereby a nephew of Tom's wife and brother-in-law. Lower Fort Garry was the social hub for St Andrews parishioners, so Tom and Margaret undoubtedly had met Ventrice there on many occasions when he was just a youngster.
Ventrice (my father-in-law) remembered the day he was put in a boat at Mapleton and taken down the river to Matlock to live with Margaret &Thomas THOMAS. He told me (Gary) he was only about five years old at the time.
** MORE ABOUT VENTRICE and JAMES FIDLER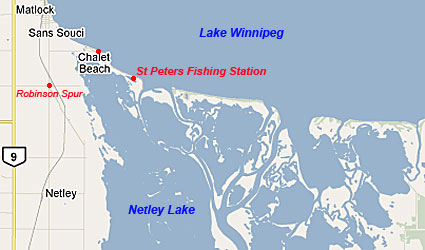 Thomas Thomas lived near Robinson Spur and Chalet Beach
Margaret and Tom THOMAS decided to move further south to the vicinity of the mouth of the Red River where the young Ventrice could get some schooling. Ventrice was their only child now and he no doubt became the main focus of their affections and attention  for the rest of their lives.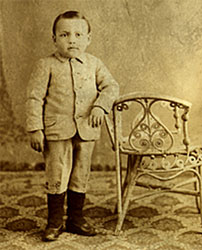 Ventrice about age five
We don't know if Ventrice was ever legally adopted, but we do know that his surname became THOMAS and that would be the surname of all of his descendants.
Ventrice did remember his biological parents (Caroline & James FIDLER) as well as his grandmother (Emma SAYER) and he certainly continued a relationship with his mother (Caroline); he was after all Caroline's only biological child. In 1899 Caroline re-married to Anthony ANDERSON (1856-1922), a widowed Norwegian sailor and became the step-mother of perhaps two of his young children (Fred & Martin ANDERSON). They lived in Selkirk.
Ventrice told me that about the only thing he remembered about his father (Jim FIDLER) was that he had "red whiskers". His mother (Caroline) told him about his ancestor, Peter FIDLER (1769-1822) from England, and Ventrice was able to relate to me that his forefather had travelled extensively across the far regions of the Northwest.
As previously stated Ventrice knew very little about his biological father, Jim FIDLER, who later had several wives and had little, if any, personal contact with his biological son.

In 1901 the little Mustard Seed Chapel was built at the Mouth of the Red River, not far from Matlock. The little church also served as a school with Reverend Benjamin McKENZIE (1837-1928) as the local clergyman and school teacher. Ventrice attended this school to Grade 6 and even became a vestryman at the church in later years.
** MORE ABOUT MATLOCK and REVEREND BENJAMIN McKENZIE
The THOMAS family, like most of their neighbours, essentially lived off the land by fishing, hunting, trapping and farming. As young Ventrice grew into manhood he learned these skills too, and became well acquainted with native traditions and superstitions. He learned about medicinal herbs and various cures for both men and beasts; he became known as a good 'horse doctor'.
It was in 1913 that the first automobile arrived at Winnipeg Beach, and it took most of the day to make the trip from Winnipeg by way of Stony Mountain, Stonewall, Gunton, Teulon, and finally landed in Winnipeg Beach with broken springs, blow outs and an empty gas tank.  The roads at that time were mere trails.
Across the east side of the Lake and a short distance up the Winnipeg River was the Fort Alexander Indian Reserve (Sagkeeng First Nation). Most of the natives from Fort Alex were of French-Métis descent while those of the Matlock area were mostly English Half-breeds. Fishermen from both sides frequently met around the south end of the lake and social gatherings were common. Ventrice was in his early twenties when he fell in love with Catherine GUIMOND from Fort Alexander, daughter of Marianne FONTAINE and Joseph GUIMOND (b-1875). On Aug 18, 1919 they were married.
Margaret THOMAS died Oct 3, 1924, age 77.

Thomas THOMAS died on Dec 8, 1926. He was 92 years old.
Please post comments & queries at this link: FORUM DISCUSSING the THOMAS THOMAS FAMILY
============================ Family Details ============================
Children of Margaret & Thomas THOMAS:
1. c1868 ROBERT THOMAS (Died age 21?)
2. c1869 MARGARET THOMAS
3. 1873 ALFRED THOMAS
4. 1875 CATHERINE THOMAS (m. Philip STEVENSON)
Adopted in 1898:               
1. June 23, 1893 VENTRICE FIDLER-THOMAS (m1. Catherine GUIMOND; m2. Irene Tena MOORE)