JAMES "JIM" FIDLER (1870-1929)
ANNABELLA MARY CATHERINE McKENZIE (1869-1891)
CAROLINE "CARIE" SAYER (1873-1948)
MATILDA HARRIET UNKNOWN (1871-1921)
EDITH MAY FLETT (1906-1925)
(Last Updated: March 13, 2016)
James "Jim" FIDLER was born on July 25, 1870 in St Clements Parish, Manitoba, on the east side of the Red River across from Mapleton, a son of Jane YOUNG & William FIDLER (1845-1929). ** MORE ABOUT WILLIAM FIDLER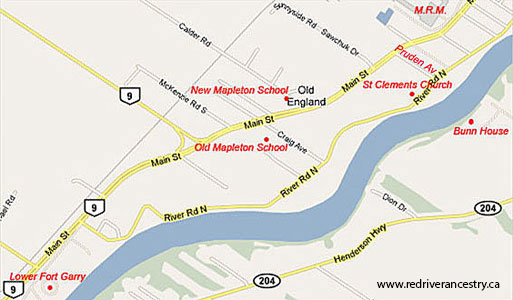 The Red River Census of 1881 indicated that Jim was 10 years old and "going to school". This would have been West Mapleton School, across the river from Jim's home. At that time a ferry was located below the home of Thomas BUNN. The west landing was near the St Clements Anglican Church. To get to school, Jim would have had to walk over the frozen river in winter during the cold and blizzards, and cross by ferry or boat during the summer months. He would have been unable to attend school during the spring break up or winter freeze over. More likely he stayed with his uncle, Henry FIDLER (1831-1908) who was then living in West Mapleton or with one of his older cousins (Henry Thomas FIDLER (1856-1940) or William FIDLER (1858-1959) who also lived there.
Jim's schoolmates in West Mapleton undoubtedly included Catherine McKENZIE (his first wife-to-be) as well as Caroline "Carrie" SAYER (his second wife-to-be).
Jim was 12 years old in 1882 when the Town of Selkirk was incorporated; 14years old in 1884, when the first Selkirk Newspaper published and the region's first Mental Health Centre (also known as the Selkirk Asylum) was constructed. He was 16 years old in 1886, the year that the first CPR transcontinental passenger train travelled from Montreal to the Pacific; 17 years old, when the first Merchants' Hotel was built in Selkirk. There were still wooden sidewalks along the main streets of Selkirk. 
Jim's brief marriage to Catherine McKENZIE
1889-1891
On Sep 18, 1889 Jim FIDLER married in Selkirk to Catherine McKENZIE, the daughter of Christiana BELL and Alexander Black McKENZIE (1828-1873). ** MORE ABOUT ALEXANDER BLACK McKENZIE
Both Catherineand Jim were around 19 years old and living in Mapleton at the time of their marriage.Catherine's father had died in 1873 and she had been living with her sister (Alice, later known as Granny LYONS) and her brother-in-law William LYONS (1856-1939).
Their first child, Mary, was born on Jan 30, 1890, and in the Census of 1891 they were enumerated in Mapleton with their baby. Jim was working as a "farm labourer".
There would be little festivity for Jim FIDLER during the Christmas of 1891 in Mapleton, only tragedy. Catherine died giving birth to their second child (Arabella) on Christmas Day. She was only 22 years old. The next day, Boxing Day, baby Arabella was baptized, and her mother was buried in the St Clements Churchyard (her grave is unmarked).
Jim FIDLER & Caroline SAYER
1892-1898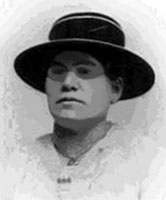 Caroline SAYER
Caroline "Carrie" SAYERwas born in 1872, a daughter of Emma CAMPELL and George SAYER (1845-1892).
** MORE ABOUT GEORGE SAYER
Carrie SAYER, Cathy McKENZIE and Jim FIDLER had all been close friends and school-mates since childhood. Sadness and grief had brought Jim and Cathy McKENZIE together, and now sadness and grief would unite Jim and Carrie; and there would be much more tragedy soon to come.
On Aug 3, 1892 Carrie's father (George SAYER) died. The old adage "misery loves company" certainly would apply to this pair. They moved in together, and twomonths later, inOctober of 92, they conceived a child. By the spring of 1893 Jim still had his little baby Mary to feed and clothe, and now another baby was on the way. There was very little income as a casual "farm-hand" in those days. They were destitute, and Jim needed to find a job.
With the new railroad coming through to Winnipeg, Rat Portage had become a thriving community. It had its beginnings as an HBC fur trading post in 1860. It was known as the "roughest town in Canada" for many years.  It was re-named Kenora in 1895.  Lake of the Woods was the world's largest source of caviar (sturgeon roe) then and commercial fishing was a major activity. Four steamers ran regularly between Kenora and Fort Frances, making round trips weekly.  Mining, pulp and paper, and lumber industries thrived, as well as tourism.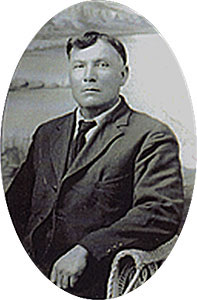 Jim FIDLER
Several of Jim's cousins had moved to Rat Portage and had found work there, and in the summer of 1893 Jim decided to try his luck, taking Carrie and toddler Mary along with him. There, they had a brief taste of joy with the birth of a baby boy on June 23. This was Ventrice, who would one day become my father-in-law, and the grandfather of my children. Joy soon turned to grief with the death of little Mary. We don't know exactly when Mary died, but I suspect it was during or soon after Carrie was giving birth to Ventrice.
There would be no job at Rat Portage that summer. Jim and Carrie returned to Mapleton where they buried little Mary on June 28, 1893 in the St Clements Cemetery. She was only three years old. On July 2 young Ventrice was baptised at St Clements Anglican Church in Mapleton.
On Oct 10, 1896 Carrie's 50 year old widowed mother (Emma) remarried in Selkirk to widower Cornelius IRVINE (1849-1910).Emma still had Carrie's five brothers with her (Duncan SAYER, Alfred, George, Alexander and Donald SAYER). This family made their residence on Eveline Street in Selkirk.
Jim FIDLER and Carrie SAYER are parted
1898
It was apparently around 1898 that Jim FIDLER & Carrie SAYER parted ways, because Ventrice remembered he was about five years old when he was put in a boat at Mapleton and taken down the river to Matlock to live with Margaret and Thomas THOMAS (1845-1926).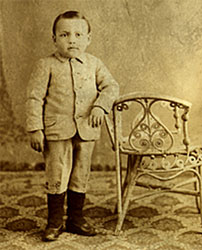 Ventrice
** Go to this link to continue Ventrice's story:  MORE ABOUT VENTRICE & THOMAS THOMAS
Jim FIDLR & Mathilda
1899-1923
Around 1899 Jim moved to the Brokenhead district where he attempted to become a farmer, and perhaps find work at the Stone Quarries nearby. In October or November that year he conceived a child with a Cree woman named Mathilda (last name not known).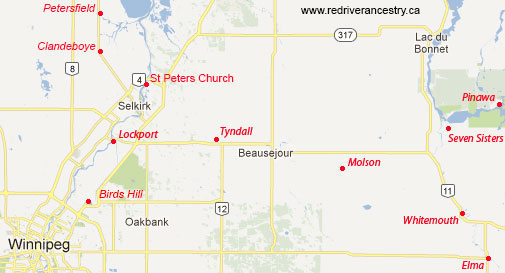 On June 7, 1900, Caroline SAYER married Anthony ANDERSON (1856-1922).  Tony was 44 yrs old sailor from Sweden, a widower with a two year old son named Martin. ** MORE ABOUT CARRIE & ANTHONY ANDERSON

On June 20, 1900, Mathilda gave birth to a daughter, Henrietta FIDLER. In the spring Census of 1901 Jim (age 30), Matilda (age 30) and baby Henrietta were enumerated as a family living on Section 13-6-E1; (Tyndall area).
In the Census of 1906 we find Jim, Matilda and eight year old daughter Henrietta back in Mapleton with or near his parents (both families on Lot 94).
In 1910 the Lockport Bridge was completed. The City of Winnipeg had become a busy place. The population had increased from 42,000 in 1901 to 136,000 in 1911, and it was considered the 3rd largest city in Canada, with 24 rail lines converging on it and over 200 wholesale businesses.  Winnipeg had many problems.  Along with the squalor and disease of the North End, the city was plagued with an overabundance of prostitutes.  Winnipeg had a reputation as the 'wickedest city in the Dominion'. 
Before 1911 James & Matilda (and 14 year old Henrietta); his parents (Jane & William FIDLER) and his brothers (Alex & Edgar) all moved from Mapleton to Section 31-12-9-E1 at Molson (MB). Molson is a small community off Hwy 44 east of Beausejour, at the western edge of the Agassiz Provincial Forest. Even today it is an isolated, out-of-the-way place. I used to Molson (about 25 years ago). When I was there, I could only see a number of old dilapidated houses in the area, but there were certainly lots of people living there.
Census 1911:  Selkirk (#22), SD-8 (Sec 31-12-9-E1, Molson, MB), pg 2, HH-20:  James FIDLER, age 40 (born July, 1870);  wife Matilda Harriet, age 40 (born July, 1870);  adopted:  daughter Henrietta FIDLER, age 14 (born June, 1897) & Frank SMITH, age 10 (born Feb, 1901) (Frank was the son of Margaret WILLIAMSON & Thomas SMITH JR b-1868 (Tom SMITH died 1904 in a car accident. His wife Margaret re-married in 1912 to William BOYDEN b-1882. William BOYDEN was uncle to Edith FLETT, who James FIDLER would marry in 1924) - See THOMAS SMITH JR 1868 **).  Next-door is Jim's parents, Jane & William FIDLER b-1806
On Apr 19, 1912 daughter Henrietta died in the Brokenhead district at the age of 14.
In 1916 Jim and Matilda (both age 45) were still living at Molson. His 66 year old mother (Jane) died that year.
Matilda Harriet FIDLER died Jan 18, 1921 in RM of Springfield, age 50. Jim FIDLER was about 49 years old when Matilda died.
Jim FIDLER & Edith May FLETT
1923-1925
In the fall of 1923 Jim FIDLER (a 53 year old widower) conceived a child with 17 year-old Edith May FLETT, his neighbour's daughter. Edith's parents were Margaret BOYDEN and Archibald FLETT (1858-1945).
Edith gave birth to Robert James FIDLER on March 2, 1924.  About two weeks later (April 17) at St George's Anglican Church in Transcona (Winnipeg) , both Edith and baby Robert were baptized and Edith and Jim were married. Less than three weeks later (May 7) baby Robert died ( of "indigestion"?); two days later (May 9) Robert was buried at St James Anglican Church, Beausejour.
On Dec 6, 1925 (two weeks before Christmas), Edith May died of tuberculosis at Molson, Manitoba.  She was only 20 years old!
Last Years of Jim FIDLER
1926-1929
Jim's father (William FIDLER) died Jan 17, 1929 (age 84) in Selkirk. He was buried in St Clements Cemetery in Mapleton.
On Feb 27, 1929, James FIDLER died at Molson at the age of 58. He was buried with Edith at Beausejour on March 1.
What a strange, sad, tragic and troubled life!
We don't know what became of daughter Henrietta, but his only other child to survive to adulthood was his illegitimate son, Ventrice. Ventrice was 36 yrs old when his father died; married to Katherine GUIMOND and living in Selkirk with three youngsters. As far as I know, Ventrice had long ago forgotten his biological father; he probably wasn't even aware that he had died.
Comments and queries at this link: FORUM DISCUSSING the JAMES FIDLER FAMILY
============================= Family Details =============================
Children with Catherine McKENZIE:
1. Jan 3, 1890 MARY FIDLER (Died in infancy)
2. Dec 25, 1891 ARABELLA CATHERINE FIDLER (Died in infancy)
Child with Caroline SAYER:
1. June 23, 1893 VENTRICE THOMAS (FIDLER) aka SAYER
Child with Mathilda:
1. June 20, 1900 HENRIETTA FIDLER (Died age 14)
Child with Edith FLETT:
1. March 2, 1924 ROBERT JAMES FIDLER (Died in infancy)