ALEXANDER BLACK McKENZIE (1825-1873)
CHRISTINA (nee BELL) PEERS (1829-1888)
(Last Updated: March 13, 2016)
Alexander Black McKENZIE was born April 30, 1828 at Fort William (Lake Superior) to Angelique MALLOTTE, (an Ojibwe woman) and Roderick McKENZIE (1772-1859) from Scotland, a Chief Trader with the Hudson's Bay Company (HBC).
I have the document entitled 'Angelique and her Children' written by Elizabeth Arthur, perhaps the most comprehensive and credible review I have seen regarding the early lives of the children of Angelique & Roderick McKENZIE. Arthur was a Professor of History at Lakehead University. Unfortunately she makes only a few references to our Alex.  Numerous historical documents and even the stories presented by some of his descendants, erroneously state that Alex was born in Scotland. From all of my research there is little doubt that he was a half-breed; his mother an Ojibway woman.
** MORE ABOUT ANGELIQUE & RODERICK McKENZIE
While his father was still in the Nipigon area, Alex's older brothers received a good education, probably in Montreal. However, not long after Alex was born, the family moved to Ile a la Crosse and it would seem that Alex probably didn't receive any formal schooling at this remote location; he was more likely home-schooled by his father.
Alex never got to know his older siblings very well except through his father who kept him informed of their activities. In 1832 older brother Benjamin McKENZIE (1807-1837), through the influence of his father had with HBC Governor George SIMPSON (1786-1860), was assigned the position of a Clerk-Accountant to the Columbia District (Fort Vancouver), a significant achievement for a person of mixed-blood in those days.
Sadly, in 1837 Benjamin became gravely ill from tuberculosis (TB) and was sent to Honolulu in hopes that a better climate would help him recover. He died near the Hawaiian Islands before his ship arrived there. Alex was only 11 years old then. His young niece and nephews, Angelique, Colin and Benjamin Jr. (and their mother) were sent from Fort Vancouver to Ile a la Crosse to become part of their grandparents' family there. ** MORE ABOUT BENJAMIN McKENZIE
Alex begins his HBC career in the Mackenzie River District
1846
In 1846 Alex, 18 years old, began his career with the HBC as an Apprentice Clerk in the McKenzie River District. Elizabeth Arthur refers to a letter from Alex's father to Governor George SIMPSON, July 20, 1846, regarding the "departure of Alexander for his post in the Mackenzie District". Thereafter, the story of Alex's early career in the HBC is closely linked with several famous and historically well documented early Arctic explorers and fur traders with whom he associated.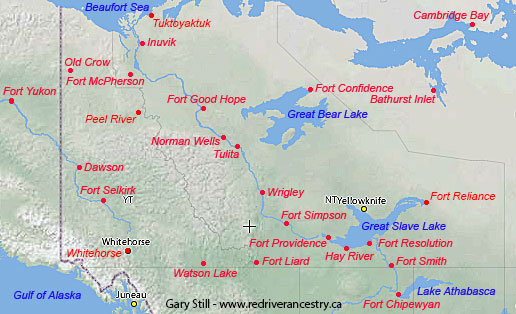 The Mackenzie River originates at Great Slave Lake and flows north into the Beaufort Sea
and the Arctic Ocean. It is the longest river in Canada (4, 241 km; 2, 635 miles).
Alex's father (Roderick) is said to have been a cousin of Sir Alexander MACKENZIE (1764-1820) after whom the Mackenzie River was named. When young Alex began his career with the HBC he essentially retraced the same route as that of his famous namesake who made the trip some 40 years before he was born, from Great Slave Lake to the Arctic Ocean.
Alexander Black McKENZIE's future wife, Christina BELL, was born and raised in this remote frontier (Nov 7, 1829 at Fort Good Hope), about 18 years before Alex arrived on the scene. She too was a descendant of famous explorers and early fur traders. She was the daughter of Ann DEASE & John BELL (1796-1868) from Scotland, a famous Arctic explorer. Her maternal grandfather was Peter Warren DEASE (1788-1863), also a famous Arctic explorer.
It was Christina's father (John BELL) who discoverer the Yukon River where Alex was about to begin his career. That was back in 1839, when Christina was only 10 years old. BELL then travelled along the lower reaches of the Peel River, looking for a breach in the mountains that would take him west. In 1840 he opened Peel's River Post, later renamed Fort McPherson. In 1845 he reached the junction of the Porcupine and Yukon rivers and it was upon his recommendations that the HBC decided to establish a post there (Fort Yukon).
** MORE ABOUT JOHN BELL
Fort Yukon
1847-1850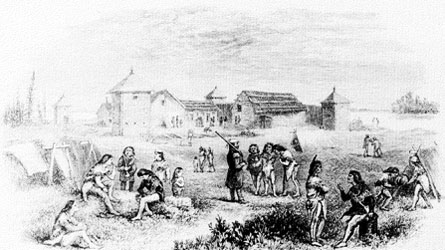 Fort Youcon. This post, situated where the Porcupine flows into the Yukon River,
opened in 1847, two years after Bell's exploration of the region.
(lustration from Frederick Whymper's Travel and Adventure in the Territory of Alaska)
In 1847 Alexander Hunter MURRAY (1815-1874) of the HBC set out from Fort McPherson to established Fort Yukon at the location recommended by John BELL (At that time this was still Russian Territory. It wasn't until 1869 that the Americans purchased the area from the Russians to create the State of Alaska). Alex McKENZIE was part of this expedition and he assisted MURRAY in building the first fort there. It became an important trade center for the Gwich'in Indians, who inhabited the vast lowlands of the Yukon Flats and River valleys.
The following spring (1848), after the departure of MURRAY, Alex was left in command of the fort for a short time. The HBC Archives indicate that he remained at Fort Yukon from 1848 to 1850 as an Apprentice Clerk.
** MORE ABOUT FORT YUKON and ALEXANDER HUNTER MURRAY in DCBO

During the Outfit Year 1847-48 (spring to spring) Augustus Richard PEERS (1821-1853), a 26 year old Englishman, was transferred from Fort Norman to take charge of the Peel River Post (Fort McPherson) for the HBC. It was here that PEERS began a relationship with Christina BELL. On May 31, 1848, Christina gave birth to a son, Augustus John PEERS.
Coates: John BELL's work on exploration was not done. The Hudson's Bay Company took an active part in the attempt to locate the lost Franklin expedition. In 1847, Governor SIMPSON assigned John BELL to assist with an expedition, led by Drs. John RICHARDSON and John RAE that searched the coast between the Mackenzie and Coppermine rivers. BELL's primary responsibility was to provide logistic support for the venture; during 1848, for example, BELL built Fort Confidence on Great Bear Lake as a wintering station for the expedition. At the completion of RICHARDSON and RAE's journey, BELL returned to his fur trade duties and was assigned to Fort Liard.
1850-1853
For the Outfit Year 1850-51 (spring to spring) Alex McKENZIE was an Apprentice Post Master at Frances Lake (Northwest of Fort Liard); then during 1851-52 at Big Island (at the outflow of Great Slave Lake into the Mackenzie River; better known as Fort Providence).
In 1852 Alex's 80 year old father (Roderick), having finally retired from the HBC, settled at Little Britain along the Red River. Both of Alex's parents died there in 1859.
For the Outfit Year 1852-53, Alex was a Clerk at Fort Halkett (Southwest of Fort Liard; on the Liard River) under James PRUDEN (1823-1902), the Post Master in Charge.
Fort McPherson
1853-1856
Death of Augustus PEERS
On March 15, 1853 Augustus PEERS died and was buried at Fort McPherson (Peel River). PEERS had made it known to his wife and friends that in the event of his death he did not want his bones to lie permanently at Fort McPherson. Nonetheless that is where they were buried and there they would rest for the next six years. No one knows what brought about the demise of PEERS.Roderick Ross MACFARLANE (1833-1920) later commented that he was a healthy man at the time.
After the death of PEERS, Alex McKENZIE was transferred to McPherson to fill his vacant clerking position for the next three years. It was undoubtedly during this period that he really got to know the grieving young Widow Christina and his affection toward her thereafter grew stronger.
Fort Liard
Widow Christina BELL-PEERS becomes the wife of Alexander Black McKENZIE
1856-1859
From 1856 to 1859 Alex was at Fort Liard (on above map) working under John BELL. It was during this posting that Alex began a life-long relationship with the 'boss's daughter', Widow Christina BELL-PEERS, daughter of Nancy DEASE and John BELL (1799-1868). ** MORE ABOUT JOHN BELL
** In the 1970's I had the great fortune to make a thrilling trip down the Nahanni River to Fort Liard for the Canadian Forest Service; in a jet-boat with the Park Warden of Nahanni National Park. I also did helicopter surveys along the Mackenzie River as well as the mountain slopes to the west.
The Ghost of Augustus Richard PEERS
1859-60
It was in 1859 that Christina requested the long-delayed transfer of her deceased previous husband's remains from Fort McPherson up-river to Fort Simpson. It was decided this would take place during the winter of 1859-60.
The Chief Trader at Fort McPherson, Charles Philip GAUDET (1828-1917) exhumed PEERS' body from the frozen ground and had it transferred to a new coffin. - - GAUDET arrived with his consignment at Fort Good Hope on Mar 1, 1860, and he delivered the body to Roderick Ross MACFARLANE (1833-1920), Clerk in Charge there.
It was MACFARLANE who first told of the ghostly events that occurred during the transport of the body of Richard PEERS from Fort Good Hope to Fort Simpson. His story appears in The Beaver Magazine (Canada's History); Spring of 1939. Other authors wrote variations, including Mary Mindness in Winnipeg Free Press (Mar 8, 1865; The Ghost that Followed the Dog Train) and John Colombo in 'Ghost Stories of Canada'. The original story can bee seen by clicking on the following Link: ** MORE ABOUT MACFARLANE and the GHOST of RICHARD PEERS
Fort Resolution
1860-1864
Between 1860 and 1864 Alex was posted to Fort Resolution along the south side of Great Slave Lake not far from the mouth of the Athabasca River. It was here that Christina gave birth to their first two children together, daughters Christina (Aug 3, 1860) and Alice (May 12, 1862.
Green Lake
1864-1868
In 1864 Alex was moved to Green Lake in the English River District where he would remain until his retirement four years later. Green Lake (SK) is located southwest of Lac La Ronge between Meadow Lake Provincial Park and Prince Albert National Park. All the rest of Alex's children were born here; Peter Lawrence (around 1864), Annabella Catherine (around 1866) and Alex George (around 1867).
Canadian Confederation and a Red River Rebellion
Creation of the Province of Manitoba
Alex retires to Red River (Mapleton)
1867-1870
On July 1, 1867 the British colonies in North America were united under the British North American Act to become the Dominion of Canada.  Sir John A MacDONALD (1815-1891) was appointed as Canada's first Prime Minister.
On Oct 11, 1869, Louis RIEL (1844-1885) placed his foot on the surveyors' chain to tell them their work was finished! This marked the beginning of another Red River Métis Rebellion.
Verna Wright-Gamache:  When Alice was 5 (1867), she and her two brothers [Peter (age 3) & Alex Jr (age 2?)] were brought by her mother, Christina BELL McKENZIE, to Lower Fort Garry by York boat via the long river and lake route.  ALICE stayed with her grandmother (?), Mrs Roderick McKENZIE (Angelique) at Cuber Feigh. ** I need to check this out with Verna. Seems to me her grandparents were both dead by that time.
Alex was at Green Lake when he retired in 1868. He then moved to Red River (Mapleton/ Old England) to join Christina and his children. The Red River Rebellion ended in 1870 when Manitoba became a Province.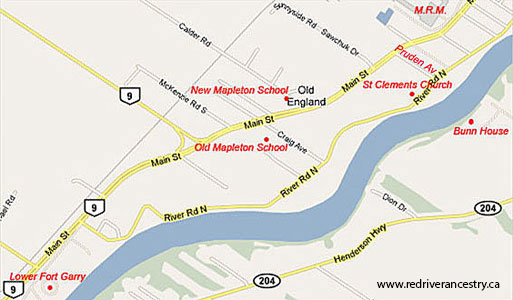 Alex settled on Lot 16 (just south of the Calder Road as shown on this map)
In 1870 Alex and his entire family (except for 22 year-old step-son, Augustus PEERS) were recorded on River Lot 16 (Old England). Augustus received a Half-breed Grant in St Paul Parish that year.
Alex's 38 year-old niece, Angelique McKENZIE, had a family now and was living not far away in Little Britain as the wife of Alexander GUNN (1829-1905). Back in 1837, when Alex himself was only 11 years old at Ile a la Crosse, Angelique (age 5) and her younger siblings (Benjamin & Colin) came to live with Alex's parents after their father died. Alex probably considered them more like his siblings than as niece and nephews. However, after a few years they were sent to school at Red River
.
In 1871 John KIPLING established the Mapleton Post Office. He resigned in 1873 and on Aug 1, 1873 Alexander McKENZIE was appointed as the Postmaster.
Railton's St Clements Church History:  Before the Town of Selkirk had a post office of its own, mail was sent to, and given out at, the home of Alexander McKENZIE.  His daughter, Alice Margaret, recalled handing out the mail to the SIFTON's, JW SR, and his son Sir Clifton SIFTON, who used to spend the summers at Selkirk with his family at the time.  "They had quite a fancy carriage!" she recalled.  Her home was a school house after Mrs DAVIS School closed down.  "I remember people came down from Winnipeg all the time to stay at the Inn (Tom TAYLOR's Old England Inn), as well as travellers."
Death of Alexander Black McKenzie
Dec 6, 1873
On Dec 6, 1873 Alexander Black McKENZIE died in Mapleton (age 45); buried in St Clements Cemetery.
After Alex died, on July 1, 1874, his step-son John PEERS was appointed as the Mapleton Post Master. He resigned on Jun 21, 1875, and on Jan 31, 1876 the Mapleton Post Office was closed.
Around 1878 step-son John PEERS married Mary Ann MASSEY, daughter of Sarah Hannah SMITH & Robert MASSEY (1823-1897). On Dec 11, 1878 daughter Alice married William LYONS, son of Charlotte PRUDEN & Thomas LYONS (1825-1897). ** MORE ABOUT WILLIAM LYONS
In 1880 Alex's nephew, now the Reverend Benjamin McKENZIE (1837-1928) arrived from Cumberland House to work under Archdeacon Abraham COWLEY (1816-1887) as a missionary to the St Peters Indians.
In the Census of 1881 Widow Christina (age 52) was enumerated in Mapleton. With her were daughter Christina (age 20) and her 24 year old husband, William SINCLAIR, son of Mathilda FIDLER & William SINCLAIR (1836-1858).
Town of Selkirk Incorporated
1882
On June 15, 1882 the Town of Selkirk was incorporated with James COLCLEUGH (1841-1918) as the first Mayor. At that time it was still believed that the new CPR mainline from the east would pass through Selkirk. There were already branch lines on both sides of the river, from Winnipeg to Selkirk and East Selkirk, with Selkirk at the crossroads
Christina McKENZIE died in Mapleton on Nov 13, 1888 (age 59).
In 1889 daughter Catherine married James FIDLER in Selkirk, the son of Jane YOUNG and William FIDLER (1845-1929). ** MORE ABOUT WILLIAM FIDLER
In 1893 son Peter Lawrence married Eliza FIDLER, daughter of Nancy PRUDEN and Henry FIDLER (1831-1908).
** MORE ABOUT HENRY FIDLER

In 1898 son Peter died after fathering two children. Eliza FIDLER then re-married to John Thomas BIRSTON, the eldest son of Nancy FOLSTER and Henry George BIRSTON (1849-1918). ** MORE ABOUT HENRY GEORGE BIRSTON
Comments and queries at this link: ** FORUM DISCUSSING the ALEXANDER BLACK McKENZIE FAMILY
========================== Family Details ==========================
Children by Christina BELL & Richard PEERS:
1. May 31, 1848 AUGUSTUS JOHN PEERS (m. Mary Ann MASSEY)
** MORE ABOUT AUGUSTUS JOHN PEERS
2. c1853-54 JANE ANN PEERS aka McKENZIE
Children by Christina BELL & Alex McKENZIE:
1. Aug 3, 1860 CHRISTINA JANE BELL McKENZIE (m. William SINCLAIR aka McLEOD)
2. May 12, 1862 ALICE MARGARET "Granny Lyons" McKENZIE (m. William LYONS)
3. c1864 PETER LAWRENCE CLARKE McKENZIE (m. Eliza FIDLER)
4. 1866 ANABELLA MARY CATHERINE McKENZIE (m. James FIDLER)
5. 1867 ALEXANDER GEORGE McKENZIE