WILLIAM "BILL" FIDLER (1845-1929)
JANE YOUNG (1849-1916)
(Last Updated: March 09, 2017)
William "Bill" FIDLER was born May 18, 1845 in St Clements Parish (East Mapleton), east of the Red River. He was the youngest child of Jane KIPLING, the second wife of Thomas Jonathan FIDLER (1795-1875). 
** MORE ABOUT THOMAS JONATHAN FIDLER
Bill, his mother (Jane) and four of his siblings were all baptised on Feb 27, 1849 at the St Andrews Anglican Church (construction had just been completed by stonemason Duncan McRAE).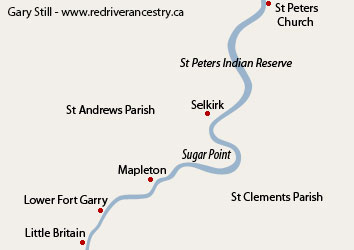 William FIDLER lived on the east side of the Red River, across from Mapleton
On Feb 27, 1849, Bill (age 4) and four of his siblings were baptised at this church, which was consecrated on Dec 19, 1949 by the Rev David ANDERSON (1814-1885), the first Bishop of the Anglican Diocese of Rupert's Land.
In 1853 a school was established at Sugar Point with Donald McDONALD as the Master. Bill was probably one of the first students.
In 1855, when Bill was 10 years old, the first post office in Western Canada opened in Winnipeg (William ROSS Postmaster).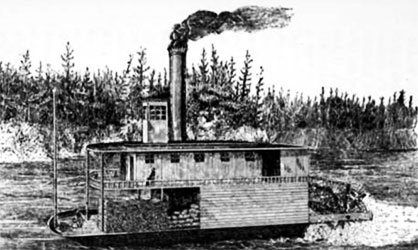 The Anson Northrop. The name changed to the 'Pioneer' in 1860
Bill was 14 years old in 1859 when the Anson Northrup (built at Lafayette, North Dakota) became the first steamboat to navigate the Red River. It reached Upper Fort Garry that year, beginning a new era in transportation.
Sam TAYLOR (1812-1894) was the Chief Builder of the St Clements Anglican Church (at Mapleton). In his diary, he noted in some detail the building of the church. "On December 1861, Sunday 1st, the Church of St Clements was opened for divine worship by Lord Bishop of Rupertsland and Mr (James) HUNTER. The church was full of people from up above and down below. Indeed, many had to go home as it was rather cold that evening". In 1862 TAYLOR notes the hanging of the "John West Bell" in the St Clements church. Everyone who grew up in Mapleton is familiar with the sound of this old bell.
St Clements Church at Mapleton
Bill FIDLER Marries Jane YOUNG
1866
On Nov 2, 1866 William (Bill) FIDLER (age 21) was married at the St Clements Church to Jane YOUNG, the 17 year old daughter of half-breed Isabella (nee STEVENS) and Englishman James YOUNG (1822-1870).
Canadian Confederation
A Red River Rebellion
Manitoba becomes a Province
Signing of Treaty Number One
1867-1871
On July 1, 1867 the British colonies in North America were united under the British North American Act to become the Dominion of Canada.  Sir John A MACDONALD (1815-1891) was appointed as Canada's first Prime Minister. William McDOUGALL (1822-1905) became the Minister of Public Works, and he began negotiations to acquire Rupert's Land from the HBC; surveyors were sent to Red River to prepare the way for an expected influx of settlers.
On Oct 11, 1869, Louis RIEL (1844-1885) placed his foot on the surveyors' chain to tell them their work was finished! This marked the beginning of the historic Red River Métis Rebellion.
On July 15, 1870 the Rebellion ended when RIEL's Provisional Government accepted the terms of the Manitoba Act and Manitoba became the fifth province of Canada.
Census of 1870 in St Andrews Parish: William FIDLER, age 24; wife Jane, age 22. Children: Jane (age 3), William (2) and James (age 1).
In 1871 Chief Henry PRINCE or RED EAGLE (1819-1902) signed Treaty Number One on behalf of the St Peters Indians.
** MORE ABOUT CHIEF HENRY PRINCE
In the winter of 1872 Dominion Land Surveyors came through the Parish of St Clements. In 1873 Winnipeg was incorporated as a City (population about 2,000).  Selkirk's population was about 400. Three contingents of the newly formed North-West Mounted Police were stationed at Lower Ft Garry (1873-74). Land for a transcontinental railway was surveyed at Whitemouth.
Métis Scrip
1875
In June of 1875 the government began taking applications for Métis Scrip that would be distributed according to parish to those Métis living within the "Postage Stamp" province of Manitoba at the census or 1871. Individuals living in the province who were married prior to July 15, 1870 were eligible. Both husbands and wives were each to receive 160 acres of land. The intent was to extinguish Indian title by granting land (or money) to individual half-breeds.
On July 8, 1875, both Jane & William made application for their Métis Scrip, and on July 12 Bill claimed scrip on behalf of the heirs of his deceased father.
The Indian Settlement began to take on the appearance of a booming town. There was news that a railroad was going to be built, and that it would run through Selkirk. The land grab began. The Selkirk Town site was soon largely in the hands of 3 speculators, John Christian SCHULTZ (Riel's agitator), Samuel BEDSON, and AGB BANNATYNE. 
On Sep 4, 1877 CPR Engine No.1, the Countess of Dufferin, arrived in Winnipeg. A stagecoach was established with round trips from Winnipeg to Selkirk taking two days.  Stony Mountain Penitentiary was erected.
Census of 1881 in St Clements Parish: William FIDLER, age 35; wife Jane, age 30. Children: Jane (age 13), William (12), James (10), Henry George (8), Annabella (6), John Robert (4) and baby Sarah (age 8 months).
In 1888 eldest daughter Jane became the second wife of William Thomas MOOREin St Clements, the son of Elizabeth McKAY and Thomas MOORE (1829-1864).
In 1889 son James married Catherine McKENZIE in Selkirk,the daughter of Christiana BELL and Alexander Black McKENZIE (1828-1873). ** MORE ABOUT ALXEXANDER BLACK McKENZIE
Census of 1891 in St Clements Parish:William FIDLER, age 45; wife Jane, age 40. Children: William Thomas (age 22), Henry George (18), Annabella (16), John Robert (14), Sarah (12), Donald (6), Florence (4), Bertha (2) and baby Alexander.
In 1891 son William Thomas married Isabella COOPER, daughter of Catherine THOMAS & Jeremiah COOPER (1842-1904).
In 1896 daughter Anabella gave birth to an illegitimate son named Edgar PRUDEN (I do not know who Edgar's father was). Edgar was essentially raised by his FIDLER grandparents. In December that same year Annabella married Frank RILEY in Selkirk, son of Elizabeth MORDEN and WILLIAM RILEY (1849-1928).
In 1896 son Henry George married Jane ISBISTER in Selkirk, the daughter of Sarah CAPLETTE and James ISBISTER (1849-1880).
In 1899 daughter Sarah married Alexander Donald McLEOD at St Clements, son of Clementine HARPER and John McLEOD (1835) from Scotland. ** MORE ABOUT JOHN McLEOD
Census 1901 in St Clements Parish: William FIDDLER, age 65 (error, he's only about 55);  wife Jane, age 50. Children: John (age 24), Donald (16), Florence (14), Bertha (12), Alexander (10) and Pearl (age 7). Grandson Edgar PRUDEN (age 5).
Census 1906 in St Clements Parish: William FIDLER, age 59; wife Jane, age 56. Children: John R (age 27), Donald (21), Bertha (17), Pearl (13), Herbert (14) and Edgar FIDLER (age 10; Annabella's boy). 
In 1907 daughter Bertha married Charles Edwin HODGSON at St Clements, son of Jane Mary PRUDEN and Edwin HODGSON (1857-1907). ** MORE ABOUT EDWIN HODGSON SR
Molson, Manitoba
1911
Census of 1911 at Molson, MB (east of Beausejour):  William FIDLER, age 65; wife Jane, age 62; daughter Pearl, age 18; grandson Edgar FIDLER, age 16 (Edgar is daughter Annabella's illegitimate child).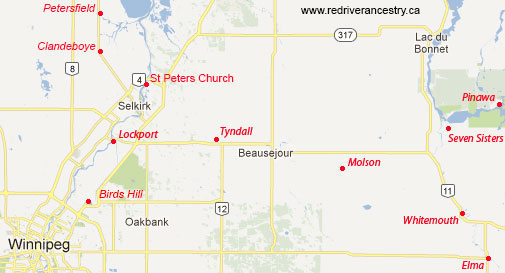 World War I
1914-1918
On Aug 4, 1914 Great Britain (Canada on Aug 5) declared war on Germany and Austria-Hungary to uphold treaties with France and Belgium which were under German attack. This marked the beginning of World War I.
In 1914 son John Robert married Amelia SAUNDERS in St Andrews, daughter of Caroline PRUDEN and John Henry SAUNDERS (1866-1924). In January of 1916 John Robert enlisted at Selkirk.
Also in 1914 son Donald married Victoria COOPER in Selkirk, daughter of Catherine THOMAS and Jeremiah COOPER (1842-1904).
Census of 1916 at Molson: William FIDLER, age 72; wife Jane, age 65; son Alex Herbert (age 24); grandson Edgar FIDLER (age 20) and granddaughter Marion McLEOD, age 12 (Sarah's child).
On Oct 15, 1916 Jane (nee YOUNG) FIDLER died in Mapleton. She was buried in St Clements Anglican Churchyard.  Her passing was reported in the Selkirk Record newspaper on Oct 20, 1916.
In 1918, when son Alex enlisted, William was still living in Molson, MB.
November 11, 1918, Armistice Day (Remembrance Day) marked the end of the First World War.
In 1919 son Alexander married Edith SINCLAIR in TyndalL (MB), daughter of Eleanor SMITH and Thomas SINCLAIR (1861-1933).

In 1919 youngest daughter Pearly married Thomas Joseph YOUNG in Winnipeg, son of Julia RILEY and Alfred YOUNG (b-1863 from Nova Scotia).
William FIDLER spent the last years of his life with his son, William Thomas FIDLER, and folks can fondly remember him sitting in his chair by the side of the house, his white head and kindly face soaking in the warmth of the sun, his homemade cane for support, and comfort - - and always a story of the old days willingly shared with those who stopped by.
On Jan 17, 1929 William FIDLER diedin Selkirk at the age of 84. His funeral was held at his daughter Bertha's home. She was still Mrs HODGSON at that time.  He was buried Jan 19, 1929, at St Clements Churchyard, Mapleton.  There is no marker on his grave. 
Comments and queries at this link: FORUM DISCUSSING the WILLIAM FIDLER FAMILY
========================== Family Details ==========================
Children:
1. Sep 21, 1867 JANE MARIE FIDLER (m. William Thomas MOORE)
2. 1868 MARY ANNIE FIDLER (Died in infancy)
3. Feb 14, 1869 WILLIAM THOMAS FIDLER (m. Isabella COOPER)
** MORE ABOUT WILLIAM THOMAS FIDLER

4. Jun 25, 1870 JAMES FIDLER (m1. Catherine McKENZIE, 2. Caroline SAYER, 3. Mathilda, 4. Edith FLETT)
5. Nov 5, 1872 HENRY GEORGE FIDLER (m. Jane ISBISTER)
6. Dec 30, 1874 ANABELLA FIDLER (m1. PRUDEN, m2. Frank RILEY)
7. Jul 20, 1878 JEMIMA FIDLER (Died in infancy)
8. Sep 19, 1879 JOHN ROBERT FIDLER (m. Amelia SAUNDERS)
9. Jul 31, 1880 SARAH HARRIET FIDLER (m. Alex Donald McLEOD)
** MORE ABOUT ALEX DONALD McLEOD
10. Jul 24, 1882 FRANK FIDLER (Died in infancy, age 4)
11. Apr 11, 1884 DONALD PATRICK FIDLER (m. Victoria COOPER)
12. Mar 11, 1886 FLORENCE FIDLER (Died age 16)
13. Feb 15, 1888 SAMUEL LAWRENCE FIDLER (Died in infancy)
14. Mar 3, 1889 BERTHA FIDLER (m. Charles HODGSON)
15. Feb 11, 1891 ALEXANDER HERBERT FIDLER (m. Edith "Ida" SINCLAIR)
16. Jun 11, 1893 PEARLY FIDLER (m. Thomas Joseph YOUNG)