GEORGE SAYER (1845-1892)
 EMMA CAMPBELL (1848- )
(Last Updated: June 12, 2017)
George SAYER was born around 1845, probably in Headingly Parish (west of Winnipeg). His father, George SAYER SR (1812-1882), was a Métis voyageur, carpenter, trapper, fisherman and his mother, Catherine CAPLETTE, a French woman from St Boniface. ** MORE ABOUT GEORGE SAYER SR
George was a descendant of Englishman John SAYER (1750-1818) and his Ojibway wife, OBEMAU UNOQUA.
George was born during a brief period (1844-45) when his father was working in the Red River district where he met and married his mother, Catherine CAPLETTE, daughter of Angelique GUIBOCHE and Joseph CAPLETTE (1770-1862) from St Boniface. By 1845 the family had returned to the Lac La Pluie District.
In 1849 George's Uncle, Pierre Guillaume SAYER (1796-1853) from St Francois Xavier (SFX; Manitoba) was arrested and brought to trial on the charge of violating the HBC Charter by trafficking in furs. This would prove to be a significant even in the history of the western fur trade. ** MORE ABOUT PIERRE GUILLAUME SAYER in DCBO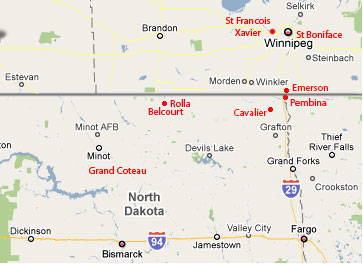 The Epic Battle of the Grand Coteau occurred in 1851 between the
Métis buffalo hunters from the St Francois area and the Dakota Sioux
Some of George's uncles may have been involved
George remained with his parents in the Lac La Pluie district until about 1853 when they returned to live in the Baie St Paul - St Francois Xavier area of the Red River district.
Canadian Confederation
1867
On July 1, 1867 the British colonies in North America were united under the British North American Act to become the Dominion of Canada.  Sir John A MACDONALD (1815-1891) was appointed as Canada's first Prime Minister; a month later he won the first federal election. William McDOUGALL (1822-1905) became the Minister of Public Works, and he began negotiations to acquire Rupert's Land from the HBC.
In 1868 McDOUGALL went to London to negotiate the transfer of the HBC territory to Canadian title. And as minister of public works he took practical steps to realize the plan. He initiated the construction of a road (previously known as the Dawson Trail, now called the Dawson Road) from Upper Fort Garry (Winnipeg) to Lake of the Woods.
George marries Emma CAMPBELL
1868
It was around 1868 that George began a life-long relationship with Emma CAMPBELL, the daughter of Marie Nancy HENRY and Duncan CAMPBELL (1810-1885), both Métis. Emma was born in the Headingly area in 1848, but by 1850 her family had moved to the Parish of St Andrews. ** MORE ABOUT DUNCAN CAMPBELL
By that time George had become a voyageur like his father. He probably met Emma at Lower Fort Garry, the main HBC depot and distribution centre from which furs and trade goods were transported to and from York Factory.
On Jan 25, 1869 their first child, Emma Jane, was born in St Clements Parish; she was baptised in May that year at St Peters Anglican Church.
RIEL and the Metis Rebellion
1869-70
On Oct 11, 1869, Louis RIEL (1844-1885) placed his foot on the surveyors' chain to tell them their work was finished. This marked the beginning of another Red River Métis Rebellion.
RIEL established a Provisional Government that was composed mostly of the French-speaking population from along the Assiniboine River, St Boniface and southern parts of the province. From Kildonan north along the Red River the residents were almost all English-speaking half-breeds and members of the St Peters Indian Band under Chief Henry PRINCE (1819-1902).  Mapleton's representative in RIEL's Provisional Government was Thomas BUNN (1830-1875) who lived directly across the river from the St Clements Church. ** MORE ABOUT THOMAS BUNN and the RED RIVER REBELLION
When it was all over, RIEL accepted the terms of the Manitoba Act andon July 15,1870 Manitoba became the fifth province of Canada, the Canadian Government having acquired the territory previously governed by the HBC. In December of 1870 a Census of Red River was completed. The results recorded 5, 757 French-speaking Métis; 4, 803 white settlers and 558 Indians in the census region. This information would be later used to determine who would be eligible for Land Grants and Scrip.
George settles in Mapleton
1870
Although George's paternal ancestry was English, he and his siblings were perhaps more identifiable as a French-Métis, that being the ethnicity of their maternal ancestors and the fact that they were residents of the St Francois Xavier region which was primarily a French-Métis settlement. It is well known that the English-Half-breeds in the settlements north of Kildonan bore a certain hostility and distrust of their French Métis counterparts from the south and west. Nevertheless in 1870 George, perhaps with some trepidation, decided to settle in Mapleton, a settlement of predominantly English-Half-breeds. If he wished to be with Emma and his daughter Emma Jane he had no other choice; Emma certainly wasn't about to move to a French-Métis community.
Son Donald was born in 1871, Caroline Ann "Carrie" was born in 1872 and Catherine was born in 1875 (she died in infancy, only lived for 10 days). Son Duncan was born in 1876.  Daughter Emma Jane died in 1878 (age 9). A son Edward was born in 1879, died in infancy (about 6 months old).
The Census of 1881 recorded George (age 38) and Emma (age 33) in Mapleton with four children: Ann Caroline, age 9; Duncan 4; Alfred 2; and baby George.
In 1882 George's father (George Sr.) died in St Boniface.
The family moves to Selkirk
When the Census of 1891 was taken, George had moved the family to Selkirk. He was 48 years old and Emma was 42. The family had increased to six children as follows: Carrie (age 19); Duncan 15; Alfred 13; George 10; Alexander (age 8) and Donald (age 5). A daughter Isabella was born in 1887 but she died in infancy (about 6 months old) and was buried in the St Clements Cemetery in Mapleton.
George SAYER died on Aug 3, 1892. He was buried directly behind the St Clements Church in Mapleton, next to his daughter Isabella. (I found their grave markers with their surnames spelt SYRS)
Daughter Caroline was 19 yrs old the year that her father died.  About two months later, Caroline had an affair with widower James FIDLER in October of 1892, by which Eldred's father Ventrice was conceived (he was born Jun 6, 1893).
Widow Emma SAYER marries Cornelius IRVINE
1896
On Oct 10,1896 Emma re-married in Selkirk to Cornelius IRVINE (1848-1910) from Catfish Point (Petersfield) who's wife (Catherine LAMBERT) had died six years earlier (in 1890), leaving him with seven children. Cornelius was the son of Margaret PARK and John IRVINE (1820-1904). ** MORE ABOUT JOHN IRVINE
Cornel moved in with Emma and her five sons who were living on Eveline Street (near Vaughan Ave) in Selkirk. The IRVINE children remained at Petersfield where Cornel's eldest son, John IRVINE (1856-1922) and his wife (Sarah SINCLAIR) took over the family home and assumed the role as the head of the family and guardian to his younger siblings.
A SAYER-FIDLER Family Break-up
1898
When Emma SAYER re-married, daughter Carrie, her common-law husband Jim FIDLER and their son Ventrice were still in Mapleton. However, by 1898 they had parted ways. Jim FIDLER began a relationship with a Cree woman named Matilda and moved away to the Tyndall area; Carrie SAYER moved to Matheson Island with a widowed Swedish Lake Winnipeg sailor named Anthony ANDERSON (1856-1922). Carrie & Jim's five year old son Ventrice was packed in a boat and sent to the Matlock area to begin a new life as an adopted child of Margaret and Thomas THOMAS (1845-1926).
** To continue with Grandson Ventrice's story, click on this link: THOMAS THOMAS
** MORE ABOUT CAROLINE & ANTHONY ANDERSON
** MORE ABOUT JIM FIDLER
Census 1901 recorded Emma & Cornelius IRVINE in Selkirk (Eveline St & Vaughan Ave) with Emma's sons (Duncan SAYER, Alfred, George, Alexander and Donald SAYER). Two of Emma's sons died in 1901, Alfred at the age of 33, and George, who drowned on Lake Winnipeg that year.
On Aug 21, 1903 son Duncan SAYER married in Selkirk to Elizabeth BEAR.
Cornelius IRVINE died on Nov 20, 1910 in Selkirk, age 62.
Son Alfred SAYER died on Dec 21, 1911 in Selkirk. He was only 33 years old.
Emma died on Nov 27, 1912 in Selkirk.
Around 1912 son Alexander "Sandy" SAYER was united with Flora Belle KENNEDY. They were formally married on Feb 18, 1915. Flora was the daughter of Catherine TRAVERSE and Alexander KENNEDY (1872-1951).
** MORE ABOUT ALEXANDER KENNEDY
In 1918 son Donald SAYER enlisted during World War I. He died a bachelor in 1954 at the age of 69.
Please post comments & queries at this link: FORUM DISCUSSING EMMA & GEORGE SAYER & FAMILY
============================ Family Details ============================
Children of Emma & George SAYER:
1. Jan 25, 1869 EMMA JANE SAYER (Died in infancy, age 9 or 14)
2. Feb 14, 1872 CAROLINE SAYER (m1. JAMES FIDLER, m2. Anthony ANDERSON, m3. Howard WATERS)
** MORE ABOUT CAROLINE & ANTHONY ANDERSON
3. Oct 30, 1875 CATHERINE SAYER (Died in infancy)
5. Aug 24, 1876 DUNCAN SAYER (m. Elizabeth BEAR)
6. Aug 2, 1878 ALFRED SAYER (Died age 33)
7. June, 1879 EDWARD SAYER (Died in infancy, 6 mos)
8. Dec 2, 1880 GEORGE SAYER (Died 1901, age 20)
9. Dec 11, 1882 ALEXANDER "SANDY" SAYER (m. Flora KENNEDY)
10. May 12, 1885 DONALD SAYER (Never married)
11. Oct 30, 1887 ISABELLA SAYER (Died in infancy, 6 mos)