DUNCAN CAMPBELL (1810-1884)
NANCY (nee HENRY) PRUDEN (c1810- ?)
(Last Updated: January 29, 2014)
Duncan CAMPELL was born around 1810, probably at Ile a la Crosse (SK), the eldest child of Catherine (Indian) and John Duncan CAMPBELL (1773-1835).  ** MORE ABOUT JOHN DUNCAN CAMPBELL
Union of the North West Company with the Hudson's Bay Company
John Duncan Retire to Montreal
1821
In 1821 the union of the North West Company (NWC) and the Hudson's Bay Company (HBC) occurred, ending the years of bitter rivalry for dominance of the fur trade in Western Canada. ) George SIMPSON (1786-1860) became the Governor of Rupert's Land. ** MORE ABOUT GOVERNOR GEORGE SIMPSON
Many former NWC employees were dismissed or retired after the union, including Duncan's father (Duncan Sr.) who moved to Montreal and re-married to Elizabeth McDONALD. In doing so, he essentially abandoned Duncan Jr's mother Catherine and his sister, Marie, probably somewhere in Red River. Turning off a native wife by a white trader in those days was not always a malicious act. Native wives and half-breed children did not fare well in the upper society of the east. However, to date, I have not found whether he made any compensations for his native family.  Duncan Jr was around 11 years old in 1821, his little sister, Marie, was only five. His mother, Catherine, would have been around 36.
From 1831 to 1834 Duncan is listed as an HBC Contract Employee, middleman (voyageur) in the Red River District, probably working out of the Lower Fort Garry distribution centre.
In 1836 Duncan's sister, Marie, married William McGILLIS in the St Francois Xavier-Headingly area.
Duncan and Widow Nancy (nee HENRY) PRUDEN
1847
In 1847 Duncan conceived a child (Emma) with Nancy (nee HENRY) PRUDEN, the eldest daughter of Agathe LETENDRE & William HENRY (1784-1864). ** MORE ABOUT WILLIAM HENRY
Nancy HENRY was the widow of William PRUDEN (1804-1844), the eldest son of Nancy PATASEGAWISK and John Peter PRUDEN (1778-1868).  ** MORE ABOUT WILLIAM PRUDEN
On Aug 1, 1848 Nancy gave birth to Duncan's child, Emma CAMPBELL in St Clements Parish. On Sep 29, 1850 their second daughter, Elise, was born in St Andrews Parish.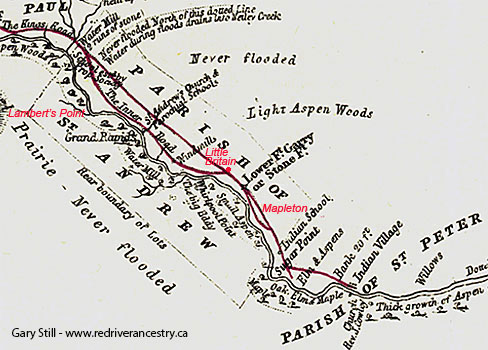 St Andrews Parish from Hind's Map of 1857
Around 1851 youngest step-son John PRUDEN married Betsy SLATER, daughter of Maria ROWLAND and William SLATER (1820-1855).
In 1853 step-daughter Nancy PRUDEN married Henry FIDLER, the son of Nancy HALLETT & Thomas Jonathan FIDLER (1795-1875).** MORE ABOUT HENRY FIDLER
In 1854 step-son William Albert PRUDEN married his sister-in-law, Maria FIDLER, daughter of Jane KIPLING and Thomas Jonathan FIDLER (1795-1875).
** MORE ABOUT THOMAS JONATHAN FIDLER


In 1864 step-son Cornelius PRUDEN married Jane ROWLAND, daughter of Betsy BALLENDINE and William ROWLAND (1799-1873). ** MORE ABOUT WILLIAM ROWLAND
A Child with Catherine HALCROW?
Heather Hallett in Children of the Rivers (Pg 33): According to Avis Anderson Halcro and Ruth Slide, Catherine (HALCROW) had a child before she was married. The child was Frances Elizabeth CAMPBELL. They say her father was Duncan CAMPBELL. I have not been able to find any record of this. Frances Elizabeth does not mention her biological father in her claim for Scrip. However, I (Heather) think they are correct as the child was raised by Catherine's sister Margaret and her husband James (DUCHARME) MONKMAN. ** My Notes: These scenarios are rather dubious and further evidence is needed to substantiate them. We will look forward to debate and discussion on the Forum (link below).
Canadian Confederation
Red River Rebellion
Manitoba becomes a Province
1867-1870
On July 1, 1867 the British colonies in North America were united under the British North American Act to become the Dominion of Canada.  Sir John A MACDONALD (1815-1891) was appointed as Canada's first Prime Minister. William McDOUGALL (1822-1905) became the Minister of Public Works, and he began negotiations to acquire Rupert's Land from the HBC, sending out surveyors to prepare the way for an expected influx of settlers.
Around 1868 daughter Emma CAMPBELL married George SAYER, son of Catherine CAPLETTE and George SAYER SR (1812-1882). ** MORE ABOUT GEORGE SAYER SR
On Oct 11, 1869, Louis RIEL (1844-1885) placed his foot on the surveyors' chain to tell them their work was finished. This marked the beginning of the Red River Metis Rebellion.
** MORE ABOUT THE RED RIVER REBELLION in WIKIPEDIA

On July 15, 1870 Manitoba became the fifth province of Canada, the Canadian Government having acquired the territory previously governed by the HBC. The Rebellion was essentially over.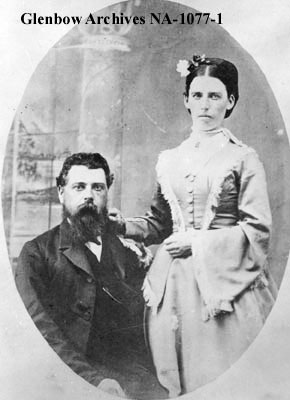 Duncan Campbell and Mrs. Campbell of Fort Garry. Date: 1872
On Jul 8, 1875 both Duncan, and his wife Nancy (HENRY), applied for Scrip. They were living in St Clements Parish at that time.
Around 1879 (perhaps earlier) daughter Elise was married to Thomas FIDLER, the youngest son of Jane KIPLING) and Thomas Jonathan FIDLER (1795-1875).** MORE ABOUT THOMAS JONATHAN FIDLER
Around 1880 alleged daughter Frances Elizabeth CAMPBELL married John Thomas BIRD, youngest son of Venus "Bennie" HAY and William BIRD (1803-1885). ** MORE ABOUT WILLIAM BIRD
On July 31, 1884 Duncan CAMBELL died.
In the 1891 Census Widow Nancy CAMPBELL (age 70) was recorded with her daughter Eliza and son-in-law Thomas FIDLER in Selkirk. Daughter Emma and son-in-law George SAYER were their neighbours.
When and where did Nancy CAMPBELL die? If anyone knows, please let us know on the Forum.
Comments and queries at this link: FORUM DISCUSSING DUNCAN CAMPBELL and his CHILDREN
============================= Family Details =============================
Children by NANCY HENRY & Duncan CAMPBELL:
1. Aug 1, 1848 EMMA CAMPBELL (m1. GEORGE SAYER, m2. Cornelius IRVINE)
2. Sep 29, 1850 ELISE\ELIZABETH CAMPBELL (m. THOMAS FIDLER)