WILLIAM PRUDEN (1804-1844)
MARIE NANCY OGDEN (nee HENRY) CAMPBELL (1810-)
(Last Updated: August 14, 2014)
William PRUDEN was born in 1804 at Acton House (Rocky Mountain House area, AB), the eldest son of Nancy PATASEGAWISK and John Peter PRUDEN (1778-1868). ** MORE ABOUT JOHN PETER PRUDEN
Much of William's younger years, after 1808, were spent at Fort Carlton (in the area of Prince Albert, SK). 
In 1824 William's father (John Peter) sailed to London to spend a year's furlough. During his absence the PRUDEN children were left in the care of John STUART (1780-1847) who filled in as Chief trader at Carlton.
During 1825-26, after returning from his furlough, his father (John Peter) was temporarily in command at Norway House but then returned to Carlton in 1826.
Marriage to Nancy HENRY
1826
On Sep 4, 1826 William married Nancy HENRY at St Johns, daughter of Agathe LETENDRE and William HENRY (1784-1864). Reverend William COCKRAN performed the wedding which was witnessed by William Robert SMITH and Peter PRUDEN. ** MORE ABOUT WILLIAM HENRY
It seems that, after marrying Nancy HENRY, William was living Red River Settlement. 
Red River Census of 1827: William PRUDEN (age 25) and his wife. He has a house and a canoe; two horses, a cow and a calf. He's farming one acre of land.On Nov 26, 1827 their first child, Maria, was born in St Andrews.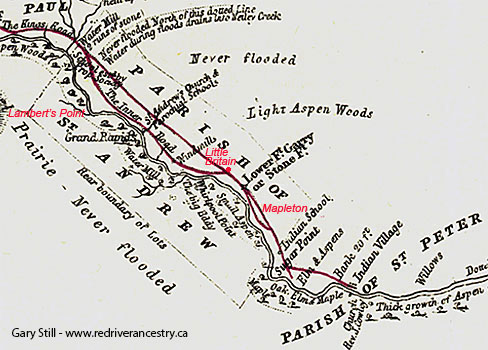 St Andrews Parish from Hind's Map of 1857
In 1835 William was recorded on Lots 67-68 in St Andrews Parish (north of the Old St Andrews Church). There were six people in his household. He had one horse and 10 cattle. He had three farm implements and two carts and he was farming eight acres of land. This indicates they had four children who would have been Maria (age 8), Charlotte (6), Cornelius (4) and William Albert (age 3).
In 1837 William's father and the rest of the PRUDEN family retired from Carlton to Red River, and William's mother Nancy died there in 1839.
William PRUDEN Dies
1844
On Jan 17, 1844 William PRUDEN died in St Andrews at the young age of 39. He was buried in the St Andrews Churchyard near Lockport.
On Mar 28, 1844 eldest daughter Maria married William FOLSTER, the son of Jane (Cree) and James FOLSTER (1775-1830) from the Orkneys. ** MORE ABOUT JAMES FOLSTER
Nancy was only about 33 years old in 1844, a young widow, with children still at home as follows: Charlotte (age 15). Cornelius (age 13), William Albert (12), Nancy (7) John (age 6) and Caroline (age 3).
In 1846 daughter Charlotte married Thomas LYONS, son of Margaret KIPLING & John LYONS (1786-1875), both half-breeds.  ** MORE ABOUT JOHN LYONS
============================ //  ============================

Widow Nancy re-marries to Duncan CAMPBELL
1847
Around 1847 Nancy re-married to Duncan CAMPBELL, son of Catherine (Indian) and John Duncan CAMPBELL SR (1773-1835). ** MORE ABOUT PRUDEN CHILDREN and DUNCAN CAMPBELL
In 1853 daughter Nancy married Henry FIDLER, the son of Nancy HALLETT & Thomas Jonathan FIDLER (1795-1875) ** MORE ABOUT THOMAS JONATHAN FIDLER
In 1854 son William Albert married his sister-in-law, Maria FIDLER, daughter of Jane KIPLING & Thomas Jonathan FIDLER.
Around 1864 son Cornelius married Jane ROWLAND.at St Johns, daughter of Elizabeth BALLENDINE and William ROWLAND (1799-1873). ** MORE ABOUT WILLIAM ROWLAND
Comments and queries at this link: FORUM DISCUSSING the WILLIAM PRUDEN FAMILY
============================ Family Details ============================
Children:
1. Nov 26, 1827 MARIA PRUDEN (m. William FOLSTER)
2. Jan 17, 1829 CHARLOTTE PRUDEN (m. Thomas LYONS)

3. Jan 13, 1831 CORNELIUS PRUDEN (m. Jane ROWLAND)
** MORE ABOUT CORNELIUS PRUDEN
4. May 29, 1832 WILLIAM ALBERT PRUDEN (m1. Maria FIDLER, m2. Matilda (nee GUNN) ATKINSON)
** MORE ABOUT WILLIAM ALBERT PRUDEN
5. c1834 JANE PRUDEN (Died in infancy?)
6. Oct 6, 1837 NANCY "ANN" PRUDEN (m. Henry FIDLER)

7. 1838 JOHN PRUDEN (m. Betsy SLATER)
8. 1841 CAROLINE PRUDEN (Died age 5)