WILLIAM ALBERT PRUDEN (1832-1890)
MARIA FIDLER (1836-1880)
MATILDA (nee GUNN) ATKINSON (1831-1914)
(Last Updated: August 13, 2016)
William Albert PRUDEN was born May 29, 1832 in St Andrews Parish, Red River, son of Nancy HENRY and William PRUDEN (1804-1844). ** MORE ABOUT WILLIAM PRUDEN
William was 12 years old in 1844 when his father died, and in 1847 his mother (Nancy) re-married to Duncan CAMPBELL (1810-1884). ** MORE ABOUT DUNCAN CAMPBELL
Marriage to Maria FIDLER
1854
On Mar 16, 1854 William Albert married Maria FIDLER at St Andrews Anglican Church. Maria b-1836 was the daughter of Jane KIPLING & Thomas Jonathan FIDLER (1795-1875). ** MORE ABOUT THOMAS JONATHAN FIDLER
Canadian Confederation
Red River Metis Rebellion
Manitoba becomes a Province
1867-1870
On July 1, 1867 the British colonies in North America were united under the British North American Act to become the Dominion of Canada. Sir John A MACDONALD (1815-1891) was appointed as Canada's first Prime Minister. William McDOUGALL (1822-1905) became the Minister of Public Works, and he began negotiations to acquire Rupert's Land from the HBC. Surveyors were sent out to prepare the way for an expected influx of settlers.
On Oct 11, 1869, Louis RIEL (1844-1885) placed his foot on the surveyors' chain to tell them their work was finished. This marked the beginning of a Red River Métis Rebellion.
** MORE ABOUT THE RED RIVER REBELLION in WIKIPEDIA
On July 15,1870 Manitoba became the fifth province of Canada, the Canadian Government having acquired the territory previously governed by the HBC. The Rebellion was essentially over.
In 1870 William and his family were recorded on River Lot 67 in St Andrews Parish, Red River; children as William (age 16), John (14), Ann (11), Jane (6), Caroline (4), Maria (3) and Cornelius (age 1).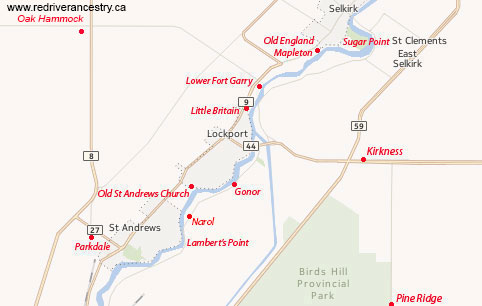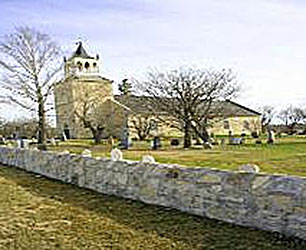 William's River Lot 67 was located not far down-river from the old St Andrews Church.
In 1875 William and Maria both claimed Half-breed Scrip for themselves and for their children.
On July 3, 1876 their last/ youngest child, Thomas, was born. That same year, eldest son William married Margaret JOHNSTON at St Johns, daughter of Nancy DANIEL & Donald JOHNSTON (1805-1875+).
In 1879 eldest daughter Ann Elizabeth married Robert BALLENDINE, son of Frances Lee "Fanny" LEWIS and James BALLENDINE (1807-1864)
On Feb 27, 1880 wife Maria PRUDEN died. She was buried in the old St Andrews Churchyard.
Around 1880 son John married Jane Mary SANDERSON, daughter of Mary ANDERSON and Alexander SANDERSON (1844-1926).
In 1881 daughter Jane married Joseph SMITH, son of Charlotte MOWAT & William SMITH (1828-1884).
Census of 1881 St Andrews: William PRUDEN, a 49 year old widower. Children still at home were Jane (age 16), Caroline (14), Maria (12), Cornelius (10) and Thomas (age 4).
In 1883 eldest son William, widowed, re-married to Widow Emma (nee BALLENDINE) MAHONEY, daughter of Annie HEYWOOD and John BALLENDINE (1835-1880).
In 1885 daughter Caroline married John Henry SAUNDERS, son of Mary SMITH and Roderick SAUNDERS (b-1826).
** MORE ABOUT RODERICK SAUNDERS
In 1886 daughter Maria married George MOORE, son of Jane BIRSTON & CHARLES MOORE (1832-1906).
Marriage to Widow Matilda (nee GUNN) ATKINSON
1887
On July 9, 1887 William Albert re-married to Widow Mathilda (nee GUNN) ATKINSON, daughter of Margaret SWAIN and Donald GUNN (1797-1878). ** MORE ABOUT DONALD GUNN

William was 55 years old when he married Matilda, the 56 year-old widow of John "Cootetis" ATKINSON who died five years earlier.
On Sep 25, 1890 William Albert PRUDEN died at the age of 57. He was buried in the Old St Andrews Churchyard.
On Aug 22, 1914 Matilda ATKINSON-PRUDEN died in Winnipeg at the age of 82. Manitoba Vital Statistics records her death as Matilda ATKINSON.
Comments and queries at this link: FORUM DISCUSSING the WILLIAM ALBERT PRUDEN FAMILY
================== Family Details =================
Children by Maria FIDLER:
1. Jan 3, 1855 WILLIAM PRUDEN (m1. Margaret JOHNSTON, m2.Emma BALLENDINE,
m3. Caroline BALLENDINE)
2. Jul 12, 1857 JOHN PRUDEN (m. Jane Mary SANDISON)
3. Jul 17, 1859 ANN ELIZABETH PRUDEN (m. Robert BALLENDINE)
4. Dec 29, 1861 SARAH PRUDEN
5. Jan 22, 1864 JANE PRUDEN (m1. Joseph SMITH, m2. John William FLETT)
6. Jun 24, 1866 CAROLINE PRUDEN (m. John Henry SAUNDERS)
7. Jun 24, 1868 MARIA PRUDEN (m. George MOORE)
8. Apr 17, 1870 CORNELIUS PRUDEN (m. Jane (Elizabeth) SINCLAIR)
9. Aug 11, 1872 ISABELLA FRANCES PRUDEN (Died in infancy)
10. July 3, 1876 THOMAS PRUDEN