JOHN CAROL BANNISH (1853-1936)
THERESA TENA PRZEDNOWEK (1857-1958)
(Last Updated: May 26, 2016)
John Carol BANAS aka BANNISH was born Jul 28, 1854 in Poland, son of Catharina STECKIEWICZ and Adalbertus BANAS (b-1833).
** These are the great-great grandparents of Jennifer Wiebe who made a donation and who did most of the research regarding her ancestors and is cooperating in the production of related Family Pages.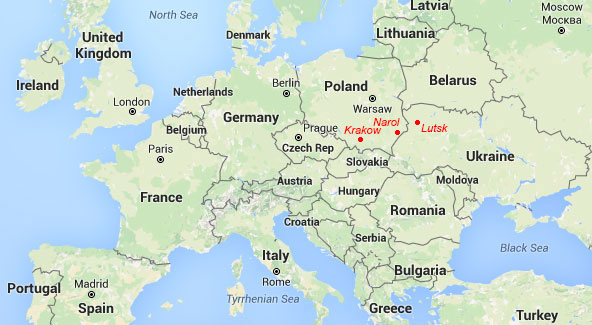 On Jan 30, 1883 John married Theresa Tena PRZEDNOWEK / PHEDNOVEK in Narol, Poland, daughter of Apolonia PRZEDNOWEK and Martine PAWELEC (b-1853).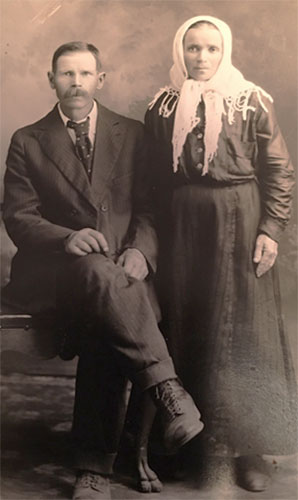 John Karol Bannish and his wife Theresa Przednowek
The BANNISH Family Immigrates to Canada
1904
In 1904 John BANNISH and his family came to Canada and settled in the East Selkirk district of Manitoba. All of their children were born in Poland except son John who was born Oct 1, 1905 in Manitoba.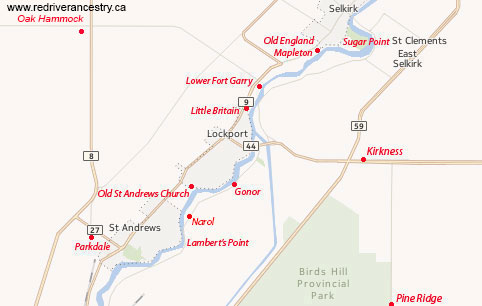 Census of 1906 in St Clements Parish (Lot 71):John BANNAZ, age 50; wife Theresa, age 44. Children: Stanislaus (age 20), Peter (16), Josef (13), Pearl (10), Landig (8), Katy (6), Caroline (4) and baby John.
By 1910 son Stanley was married to Annie MAKUCH who was born about 1881 in Poland.
World War I
1914-1918
On Aug 4, 1914 Great Britain (Canada on Aug 5) declared war on Germany and Austria-Hungary to uphold treaties with France and Belgium which were under German attack. This marked the beginning of World War I.
In 1916 son Peter married Annie WOZNY, daughter of Xenia and Anthony WOZNY from Galacia.
Census of 1916 in St Clements Parish: John BANNISH, age 67; wife Lena, age 57. Children: Joseph (age 23), Pearl (20), Richard (17), Katherine (14), Christy (12) and John (age 9).
Around 1916 daughter Pearl married Nicholas Herbert HAMMOND (1896-1982) from Austria.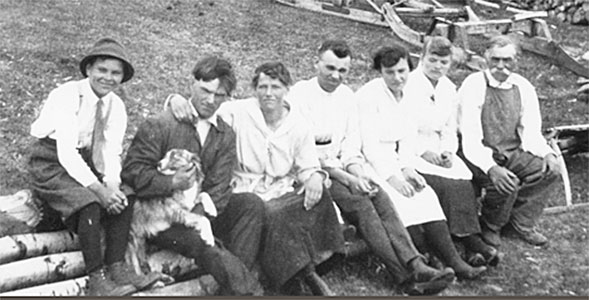 The Bannish Family
L-R: John, Peter, Annie Wozney, neighbour, Christina, Katie and John Karol (and Higgins the dog)
(From Jennifer Wiebe)
November 11, 1918, Armistice Day (Remembrance Day) marked the end of the First World War.
Census 1921: Selkirk (#35), SD-5 (RM of St Andrews), pg 7, HH-69 (Lot 17): John BANNISH, age 68 (born 1853 in Narol, Poland; immigrated 1904; wife Tena, age 58 (born 1863 in Poland). Children: Joseph (age 25), Alex (21), Christie (age 16) and John (14).
In 1924 daughter Christina BANNISH married Harold HILLIAR in St Andrews. ** These are Jennifer WIEBE's great grandparents. ** MORE ABOUT HAROLD HILLIAR
On Mar 11, 1936 John Carol BANNISH died in St Andrews at the age of 81 (Vital Stats).
World War II
1939-1945
On Sept 4, 1939 Canada and Britain declared war on Germany, beginning World War II.
On May 7, 1945 Germany surrendered and the War in Europe ended; the next day, May 8, was declared VE Day. On August 14, 1945 Japan surrendered - VJ Day. The Second World War was officially over.
On April 1, 1951 Mrs. John BANNISH (Tena) celebrated her 94th birthday at the home of her son Joseph in Selkirk. The Winnipeg Free Press reported the event, indicating that Mrs. BANNISH was the oldest resident of Cloverdale, and was now making her home with her daughter Miss Katherine BANNISH in Selkirk.
Free Press articles reporting the birthdays of Mrs. BANNISH appeared again in 1952, 1953, 1955, 1956, 1957 and 1958.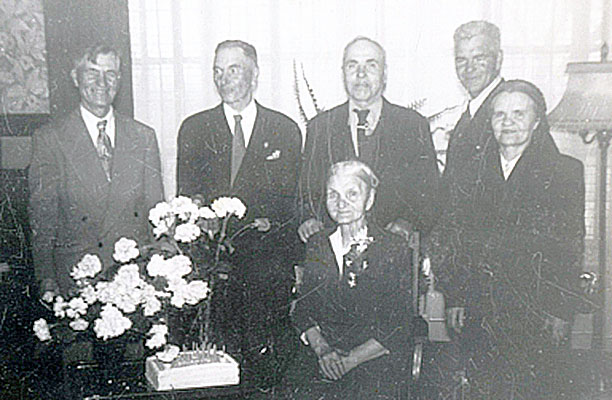 1955 Birthday Party for Mrs. Bannish
On June 19, 1958 Theresa (nee PRZEDNOWEK) BANNISH died at her residence at 319 Taylor Avenue in Selkirk at the age of 101
.
In 1959 son Alexander married Ruth MORRISON (born 1917 in Scotland) who he met in 1941 in Great Britain during the War.
Comments and queries at this link: FORUM DISCUSSING THE FAMILY OF JOHN BANNISH
========================== Family Details ==========================
Children:
1. Mar 25, 1885 STANLEY (STANISLAUS) CARL BANNISH (m. Annie MAKUCH)
2. Jan 20, 1888 LADISLAUS BANAS (Died in infancy)
3. Mar 30, 1889 PETRUS PETER BANNISH (m. Annie WOZNY)
4. Dec 15, 1891 JOSEPH BANNISH (m. Rose Victoria)
5. 1896 PEARL BANNISH (m. Nicholas HAMMOND)
6. Aug 15, 1898 ALEXANDER WALTER RICHARD BANNISH (m. Ruth MORRISON)
7. Sep 8, 1898 KATHERINE (KATIE) BANNISH
8. 1903 CAROLINE CHRISTINA (CHRISTIE) BANNISH (m. Harold Aitkin HILLIAR)
9. Oct 1, 1905 JOHN BANNISH