HAROLD AITKIN HILLIAR (1897-1973)
CAROLINE CHRISTINA BANNISH (1903-1991)
(Last Updated: May 10, 2016)
Harold Aitken "Shorty" HILLIAR was born 1897 in Brick Falls, Ontario.
Census of 1916 near Craik, Saskatchewan (24-27-W2): Harold HILLER, age 22 (bon in Ontario), a lodger in the household of Mabel and F.J. RICH (born 1877 in England). Craik is located along Hwy # 11, midway between Chamberlain and Davidson (See map below).
Census of 1921 near Tugaske, SK (19-23-2-W3): Harold HILLIAR, age 23 (born 1898 in Ontario). ** Tugaske is shown on the map below (NE of Central Butte).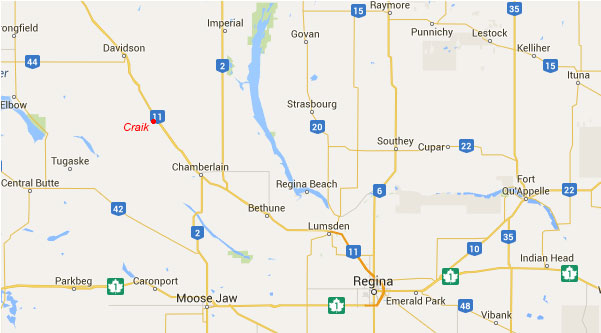 Marriage to Christina BANNISH
1924
On July 2, 1924 Harold HILLIAR of Tugaske, Saskatchewan, married Christina BANNISH in St Andrews (MB), daughter of Theresa Tena PRZEDNOWEK and John BANNISH (1854-1936). ** MORE ABOUT JOHN BANNISH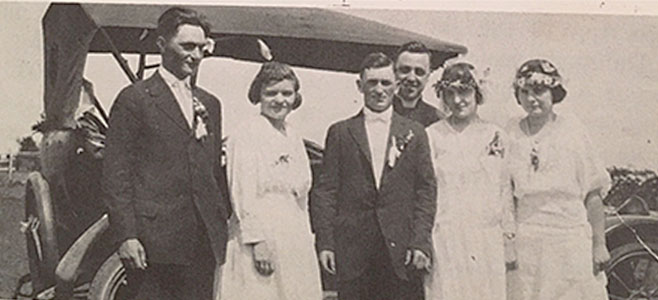 Wedding of Christina Bannish and Harold Hilliar by Father J Bertrand (at back in photo)
Front, L-R: Alex and Katie Bannish, Harold and Christina Hilliar and Mariam Peterson (bridesmaid)
In 1944 daughter Muriel married John KORINETZ in Ituna (SK), son of Mary PALANYCHKA and John KORINETZ SR (1873-1930).
In 1949 daughter Irene married Joseph KORINETZ (her brother-in-law's brother) in Saskatoon, SK, son of Mary PALANYCHKA and John KORINETZ SR (1873-1930).
In 1953 daughter Margaret married Gilbert GARNER in Selkirk (MB), son of Ethel Irene LOCKHART and Herbert GARNER (1903-1976). ** MORE ABOUT HERBERT GARNER
In 1956 daughter Elizabeth married Edward Arthur ZUTZ (1932-1993).
On Oct 10, 1973 Harold Aitkin HILLIAR died in Ituna, SK.
On Dec 19, 1991 Christine (nee BANNISH) HILLIAR died in Ituna, SK
Comments and queries at this link: FORUM DISCUSSING THE FAMILY OF HAROLD HILLIER
========================== Family Details ==========================
Children:
1. 1925 MURIEL HILLIAR (m. John KORINETZ)
2. 1927 EARL HILLIAR
3. Apr 14, 1931 IRENE HILLIAR (m. Joseph KORINETZ)
4. Aug 29, 1934 MARGARET HILLIAR (m. Gilbert Hugh GARNER)
5. VIOLET HILLIAR
6. ELIZABETH HILLIAR (m. Edward Arthur ZUTZ)