HERBERT GARNER (1903-1976)
ETHEL IRENE LOCKHART (1902-2002)
(Last Updated: May 10, 2016)
Herbert "Bert" GARNER was born Sep 30, 1903 in Newton, Lancashire, England, son of Emma BARTON and Alfred William GARNER (1879-1960).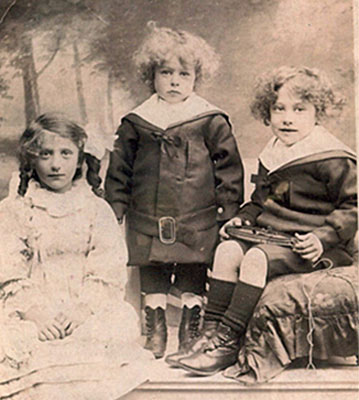 Garner siblings: L-R: Emily, William and Herbert (From Jennifer Wiebe)
Immigration to Canada
1911-12
It was in 1911 that Bert's father (Alfred) first came to Canada. That year he was recorded as a 32 year old lodger in a Montreal household; occupation: Boiler Maker. That same year, wife Emma was recorded back in England (Parish of Stockford) as a 29 year old Assistant Caretaker with their children: Emily (age 8), Herbert (7) and William (age 5).
On Sep 13, 1912 the ship Empress of Britain arrived in Quebec from Liverpool England. On the passenger list were Emma GARNER (age 31) and her children: Emily (age 11), Herbert (9) and William (age 7). Destination: Winnipeg (to Husband).
World War I
1914-1918
On Aug 4, 1914 Great Britain (Canada on Aug 5) declared war on Germany and Austria-Hungary to uphold treaties with France and Belgium which were under German attack. This marked the beginning of World War I.
Jennifer: In July of 1915, Herbert's father (A.W.) enlisted and the kids went to stay with family in England. Herbert recalled visiting his grandfather's orchard.  A.W. was injured during the war and eventually came back to Canada to convalesce.

November 11, 1918, Armistice Day (Remembrance Day) marked the end of the First World War.
In the spring of 1919, having spent the War years in England, Herbert (age 16) and his siblings (Emily and William) returned to Winnipeg via Liverpool – Quebec (From passenger list).
Employed by the Hudson's Bay Company
1920
About 1920 Bert joined the Hudson's Bay Company (HBC) as an office boy in Winnipeg where in the Census of 1921 he was recorded as age 17, with his parents at 189 Johnson Avenue.
Census of 1921 in Winnipeg: Herbert (age 17) with parents at 189 Johnson Avenue.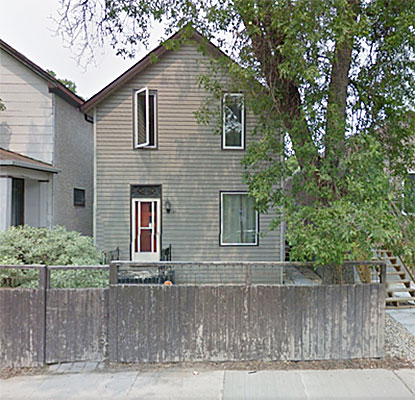 189 Johnson Avenue (Google Map Street View in 2015)
Bert remained with "The Company" in various capacities for more than 40 years.
Marriage to Ethel Irene LOCKHART
1927
On May 21, 1927 Bert married Ethel Irene LOCKHART in Winnipeg, daughter of Annie McBEAN and Andrew Alexander LOCKHART (1870-1961). ** MORE ABOUT ANDREW ALEXANDER LOCKHART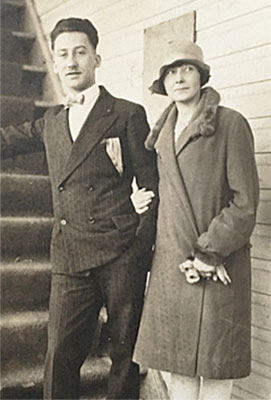 Herbert and Ethel Garner (From Jennifer Wiebe)
In 1953 son Gilbert married Margaret HILLIAR in Selkirk, Manitoba, daughter of Christie BANNISH and Harold Aitkin HILLIAR (1897-1973) from Ontario. ** These were the grandparents of Jennifer Wiebe.
** MORE ABOUT HAROLD AITKIN HILLIAR
In 1955 son Stanley married Irene Lily DERRIER in Transcona, daughter of Catherine and Charles H DERRIER.
In 1965 daughter Shirley married Reg ROMANS, son of Elva Gladys Armstrong and Clarence Pickrem Romans. ** See Jennifer Wiebe's comments on the Forum.
In 1968 Bert retired from the HBC in the position of Warehouse Manager, Blanket Division.
On Aug 4, 1976 Herbert (Bert) GARNER of 29 Blackmore Avenue in Winnipeg died in the St Boniface Hospital at the age of 72.
Widow Ethel moves to Chilliwack, BC
1986
In 1986 Widow Ethel moved to Chilliwack, BC, where she lived independently until she moved into the McIntosh Lodge Care Centre in March of 2002.
On Apr 29, 2002 Ethel Irene (nee LOCKHART) GARNER died at the McIntosh Lodge at the age of 101, late of Chilliwack, BC.
Comments and queries at this link: FORUM DISCUSSING THE FAMILY OF HERBERT GARNER
========================== Family Details ==========================
Children:
1. SHIRLEY GARNER (m. Reg ROMANS)
2, Nov 9, 1927 GILBERT HUGH GARNER (m. Margaret HILLIAR)
3. STANLEY GARNER (m. Irene Lily DERRIER)