ANDREW ALEXANDER LOCKHART (1870-1961)
ANNIE McBEAN (1871-1975)
(Last Updated: May 05, 2016)
On June 24, 1870 Andrew Alexander LOCKHART was born in Abitibi River country (NE of Timmins, Ontario), son of Annie McLEOD and James Andrew LOCKHART (born March, 1831 in Ireland), the Hudsons's Bay Company Chief Trader at Abitbi. ** MORE ABOUT JAMES ANDREW LOCKHART
Marriage to Annie McBEAN
1898
On Oct 16, 1898 Andrew married Annie McBEAN in Winnipeg, the daughter of Elizabeth TURNER and William George Shaw McBEAN (1832-1893). ** MORE ABOUT WILLIAM GEORGE SHAW McBEAN
Census of 1901 in Winnipeg: Andrew LOCKHART, Teamster, age 31; wife Annie, age 30. Children: Chester (age 2) and Andrew (age 8 months).
Census of 1906 in Winnipeg: Alex LOCKHART, age 36; wife Annie, age 35. Children: Chester(age 7), Andrew (5), Ethel (4), Herbert (3) and Edna (age 1).
Census of 1911 in Winnipeg (414 Powers): Winnipeg (#24), SD-14, ,pg 57, HH-565: Amdrew LOCKHART, Carpenter, age 40; wife Annie, age 41. Children: Chester (age 12), Andrew (10), Ethel (9), Herbert (8), Robert (3), Lawrence (2) and baby Kenneth (14 days old).
World War I
1914-1918
On Aug 4, 1914 Great Britain (Canada on Aug 5) declared war on Germany and Austria-Hungary to uphold treaties with France and Belgium which were under German attack. This marked the beginning of World War I.
Census of 1916 in East Kildonan, MB: Alexander LOCKHART, Carpenter, age 46; wife Annie, age 46. Children: Chester (age 17), Andrew (15), Ethel (14), Herbert (12), Edna (10), Robert (8), Lawrence (7) and Kenneth (age 5).
November 11,1918, Armistice Day (Remembrance Day) marked the end of the First World War.
Census of 1921 in East Kildonan (247 Sutherland Ave): Andrew LOCKHART, Carpenter, age 50; wife Annie, age 51. Children: Ethel (age 19), Herbert (18), Edna (16), Robert (13), Lawrence (12) and Kenneth (age 10).
In 1927 daughter Ethel married Herbert GARNER in Winnipeg, son of Emma BARTON and Alfred William GARNER (1879-1960) from England.
In 1930 son Herbert married Loretta Winnifred McKAY in St Vital.
World War II
1939-1945
On Sept 4, 1939 Canada and Britain declared war on Germany. On May 7, 1945 Germany surrendered and the War in Europe ended; the next day, May 8, was declared VE Day. On August 14, 1945 Japan surrendered - VJ Day. The Second World War was officially over.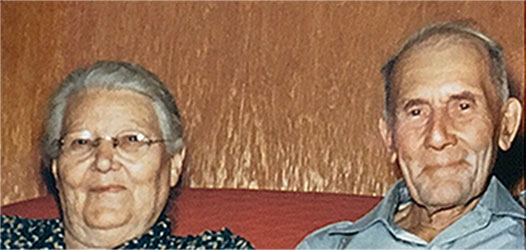 Annie (nee McBean) and Andrew Alexander Lockhart (From Jennifer Wiebe)
In 1940 son Robert married Catherine ROKOSH in East Kildonan.
On July 10, 1961 Andrew Alexander LOCKHART SR died in Winnipeg.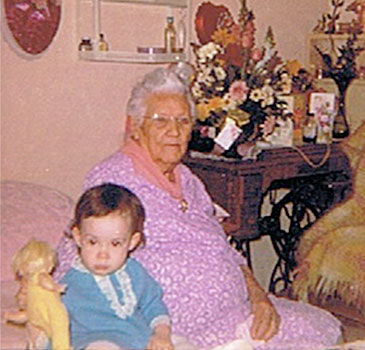 Grandma Lockiart & Angie abt 1973 (From Linda Dyck)
On March 27, 1974 Annie LOCKHART celebrated her 103rd Birthday Anniversary at 20 Blackmore Avenue in St Vital where she was residing with her daughter and son-in-law, Etnel and Herbert GARNER.
Comments and queries at this link: FORUM DISCUSSING the FAMILY OF ANDREW ALEXANDER LOCKHART
========================== Family Details ==========================
Children:
1. May 12, 1899 CHESTER WELLSLEY LOCKHART (m. Esther GOURLEY)
2. Aug 19, 1900 ANDREW ALEXANDER LOCKHART (m. Evelyn (Eva) CHASE)
3. Jan 10, 1902 ETHEL IRENE LOCKHART (m. Herbert GARNER)
4. 1903 HERBERT SINCLAIR LOCKHART (Loretta Winnifred McKAY)
5. 1905 EDNA ANN LOCKHART (m. Grant McDOUGALL)
6. 1908 ROBERT LOCKHART (m. Catherine ROKOSH)
7. Mar 13, 1909 LAWRENCE JOHN LOCKHART
8. May 17, 1911 KENNETH BRUCE LOCKHART (m. Dora Frances CLUBB)