WILLIAM GEORGE SHAW McBEAN (1832-1893)
ELIZABETH TURNER (1843-)
(Last Updated: May 01, 2016)
William George Shaw McBEAN was born May 19, 1832 in Inverness, Inverness-shire, Scotland, son of Elizabeth SHAW and Donald McBEAN (b-1812).
In the Service of the Hudson's Bay Company
1859
Around 1859 William was hired by the Hudson's Bay Company (HBC) and sent to Moose Factory on Hudson Bay as a general Laborer.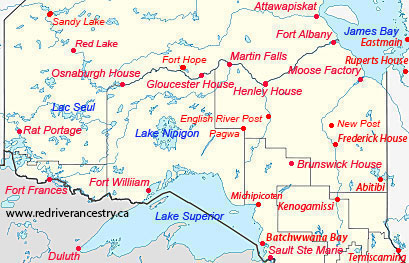 Marriage to Elizabeth TURNER
1862
On Oct 21, 1862 William married Elizabeth TURNER at Moose Factory, daughter of Jane Chisholm BOLAND and Phillip TURNER (1812-1882). ** MORE ABOUT PHILIP TURNER
The marriage was probably performed by Reverend John HORDEN (1828-1893) of the Church Missionary Society (CMS).
** MORE ABOUT BISHOP JOHN HORDEN in DCBO
On June 15, 1864 their first child, Donald Philip was born. On July 24 that year he was baptized by Reverend John HORDEN. Reverend HORDEN would baptize several of William's children.
From 1865 to 1884 William is shown as a Joiner and Carpenter in his service record.
Canadian Confederation
1867
On July 1, 1867 the British colonies in North America were united under the British North American Act to become the Dominion of Canada.  Sir John A MACDONALD (1815-1891) was appointed as Canada's first Prime Minister.
From 1884 to 1892 William was a Storesman/ Storekeeper.
In 1886 daughter Isabella Catherine married George McLEOD at Moose Factory, son of Jane TURNER and Alexander James McLEOD (1825-1885). ** MORE ABOUT ALEXANDER JAMES McLEOD

In 1886 daughter Elizabeth Jessie married Sutherland NORQUAY at Moose Factory. He was born Mar 28, 1853 in Scotland and came to Canada in 1873.
In 1893 William was retired at Moose Factory with a pension of 10 pounds per annum.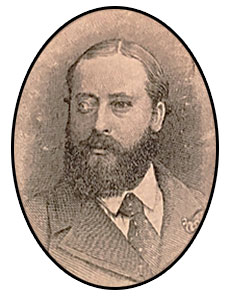 Here's a picture of William GS McBean. (From Jennifer Wiebe)
He took his retirement after he lost an eye. I guess it was all fun and games until then.
On May 18, 1898 William McBEAN died in Winnipeg at the age of 66 (Vital Stats).
In 1898 daughter Annie married Andrew Alexander LOCKHART in Winnipeg, son of Annie McLEOD and James Andrew LOCKHART (born March, 1831 in Ireland). ** MORE ABOUT JAMES ANDREW LOCKHART
Also in 1898 daughter Margaret married William BRYAN in Winnipeg.  He was born 1874 in England and came to Canada in 1891.
Census of 1901 in Winnipeg: Widow Elizabeth McBAIN, Char Woman, age 58. Children: George F (age 21); John F (19) and Ellen M (age 17).
In 1904 youngest daughter Ellen Mary married Joseph PARKIN in Winnipeg. He was born 1860 in England.
Comments and queries at this link: FORUM DISCUSSING the FAMILY OF WILLIAM GEORGE SHAW McBEAN
========================== Family Details ==========================
Children:
1. Jun 15, 1864 DONALD PHILIP McBEAN
2. Nov 13, 1865 ELIZABETH JESSIE McBEAN (m. Sutherland NORQUAY)
3. Jan 28, 1867 ALEXANDER JOSEPH McBEAN (Died age 9)
4. Feb 5, 1869 ISABELLA CATHERINE McBEAN (m. George McLEOD)
5. Mar 27, 1871 ANNIE JANE McBEAN (m. Andrew Alexander LOCKHART)
** MORE ABOUT ANDREW ALEXANDER LOCKHART
6. Mar 1, 1873 WILLIAM MALCOLM McBEAN (Died age 20)
7. Oct 25, 1875 MARGARET BARBARA McBEAN (m. William BRYAN)
8. Nov 21, 1879 GEORGE THOMAS McBEAN
9. Oct 7, 1881 JOHN FODEN McBEAN
10. Feb 1, 1884 ELLEN MARY McBEAN (m. Joseph PARKIN)