ALEXANDER McLEOD (c1825-1885)
JANE TURNER (1834-1886)
(Last Updated: March 06, 2017)
Alexander McLEOD was born around 1825 in Caithness, Scotland.
In 1847 Alexander McLEOD began his career with the Hudson's Bay Company (HBC) as a Labourer and apprentice post master in the Timiscaming District (east of Sault Ste Marie).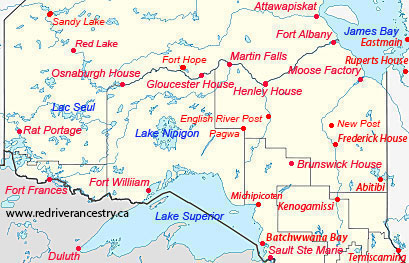 Albany and Moose River Forts
Alex marries Jane TURNER
1854
On Nov 14, 1854 Alexander married Jane TURNER in Moose Factory, daughter of Emma GOOD & Joseph TURNER (1783-1865), a Half-breed Interpreter, Guide and voyageur who worked in the Albany River District.
Canadian Confederation
1867
On July 1, 1867 the British colonies in North America were united under the British North American Act (BNA) to become the Dominion of Canada.  Sir John A MacDONALD (1815-1891) was appointed as Canada's first Prime Minister; a month later he won the first federal election. William McDOUGALL (1822-1905) became the Minister of Public Works, and he began nnegotiations to acquire Rupert's Land from the HBC.
At the time of Confederation Alex & Jane had about six children. Alex was then a Carpenter in the Abitibi District. His final years were spent at New Post in the community of the Taykwa Tagamou First Nation (Cree) located along the Abitibi River to the southwest of Moose Factory (Moosonee).

New Post Falls - - from the Top
(Photo by Shelley Leach)
In 1869 daughter Annie was in a relationship with James LOCKHART in Abitibi.
Perhaps about 1880 daughter Jane married William MOORE (1855-1935), son of Thomas MOORE (1829-1922).
In 1884 son Alexander Joseph married Jane POLSON in Timiskaming, daughter of Jane AIBANAK (Ojibway) and John POLSON (1839-1920).
Alexander McLEOD died in 1885 (60 years old) and Jane died on Jan 19, 1886. She would have been about 52 years old.

(Photos by Shelley Leach)
Left: Sacred to the memory of Alexander McLeod - a native of Caithness Scotland who died at New Post Hudson's Bay - 3rd September 1885 - aged 60 years - and - Jane Turner his wife - who departed this life at New Post Hudson's Bay - 19th of January 1886 - aged 50 years - Blessed be the name of the lord - Erected by their surviving children who deeply deplore their loss
Right: In Memory of William Squirrel - Died at Newpost - 28th Nov 1912-Aged 34 years - erected by his sorrowing wife
More about Shelley at this link: Website of Shelley Leach, Landscape Artist
In 1878 eldest daughter Annie married her cousin, Robert TURNER, at Moose Factory, son of Jane BOLAND and Philip TURNER (1812-1882), her mother's brother.
In 1886 son George married Isabella Catherine McBEAN at Moose Factory, daughter of Elizabeth TURNER and William George Shaw McBEAN (born May 19, 1832 in Inverness Shire, Scotland).
** MORE ABOUT WILLIAM GEORGE SHAW McBEAN
In 1900 youngest son Charles married Annie LINKLATER at Moose Factory, daughter of Isabella POTTS and James LINKLATER (1830-1901).

In 1903 son Richard married his sister-in-law Clara LINKLATER, daughter of Isabella POTTS and James LINKLATER (1830-1901).
Please post comments & queries at this link: ** FORUM DISCUSSING JANE & ALEXANDER McLEOD
========================== Family Details ==========================
Children:

1. Feb 13, 1855 ANNIE McLEOD (m1. James Andrew LOCKHART; m2. Robert TURNER)
2. Jun 14, 1857 ALEXANDER JOSEPH McLEOD (m1. Jane POLSON, m2. Christine BLACK ICE)
3. Jun 23, 1859 JANE SUTHERLAND McLEOD (m. William MOORE)
4. 1861 GEORGE McLEOD (m. Isabella McBEAN)
5. 1866 JOHN JAMES McLEOD
6. 1868 WILLIAM "LONG WILLIE" McLEOD (m. Elizabeth Ann MARK)
7 1870 SINCLAIR DAVIDSON or DAVID SINCLAIR McLEOD (Died age 11)
8. 1871 RICHARD McLEOD (m. Clara LINKLATER)
9. 1874 HERBERT (ALBERT) PHILIP McLEOD
10. 1876 MARY HARRIET McLEOD (m. James MORRISON)
11. 1878 ELIZABETH McLEOD
12. 1879 CHARLES McLEOD (m. Isabel  Annie LINKLATER)
=========================== Notes & References ===========================
To see each of the Bios yourself, here are the links:
ALEXANDER McLEOD 'A'
ALEXANDER McLEOD 'B'
ALEXANDER McLEOD 'C'