JOSEPH TURNER (1782-1865)
EMMA (1790-1875)
(Last Updated: November 03, 2016)
Joseph TURNER was born in June of 1782 at Moose Factory, half-breed son of an Ojibway woman & Philip TURNOR (1752-1799) from England, the famous Surveyor. There are un-sourced references to Joseph's mother being an Eskimo woman. However in my opinion that is debatable hearsay and is a good topic for debate in association with the following: 
In 1787, when Joseph was only about four years old his family was at Frederick House (see map below). His father (Philip) sailed for England that year and didn't return until the fall of 1789. The family then moved to Cumberland House in the Saskatchewan District.
In 1792, when Joseph was about nine years old, his father (Philip) left his mother and his children at Cumberland House and returned to England where he died in 1799. Joseph would have been about 16 years old then, and that same year he began his career with the Hudson's Bay Company (HBC) as a Labourer and voyageur at Moose Factory. The Chief Trader at Moose at that time was John THOMAS (1751-1822). ** MORE ABOUT JOHN THOMAS
In 1804 Joseph became the Assistant Trader at Moose Factory. His career is outlined in the HBC Archives (HBCA) which can be seen by clicking this link: HBCA BIOGRAPHY of JOSEPH TURNER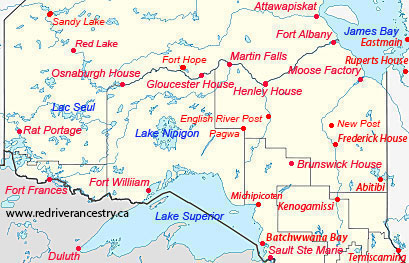 Albany River HBC Posts
Frederick House
Marriage to Emma
1805-1809
From 1805 to 1809 Joseph became the Post Master at Frederick House (see map above). It was there that a half-breed named Emma became his spouse. ** There are un-sourced references to Emma as being Emma GOOD, alleged daughter of Richard GOOD (1780-1850). That too is rather suspect and needs to be supported by plausible evidence of some kind.
From 1810 on, for the rest of his HBC career Joseph had various assignments including Assistant Trader, Interpreter, Voyageur and Guide at various places in the Moose Factory, Albany River, Lake Superior and Lake Huron districts.
Around 1814 daughter Hannah married Thomas HUMPHREYVILLE, son of an Indian woman & Edward UMFREVILLE aka HUMPHREYVILLE (b-c1755). ** MORE ABOUT EDWARD HUMPHREYVILLE
Union of the HBC with the North West Company
1821
In 1821 union of the North West Company (NWC) and the Hudson's Bay Company (HBC) occurred, ending years of bitter rivalry for dominance of the fur trade in Western Canada.
In 1837 son Philip married Jane Chisholm BOLLAND at Moose Factory, the daughter of Elizabeth PENACHEQUAY and William BOLLAND (1757-1804). ** MORE ABOUT WILLIAM BOLLAND
From 1838 to 1841 Joseph BEIOLEY (1785-1859) was the Chief Factor at Moose Factory in the Moose District.
In 1840 Reverend George BARNLEY arrived at Moose Factory, and on Jun 18 that year (with the permission of Chief Factor BEIOLEY) he performed the marriage of Elizabeth TURNER to William ISBISTER of uncertain origins.
When Joseph's daughter, Charlotte, married (1841) to James HARPER, Joseph wrote this to his future son-in-law:  "James HARPER I this day consent to be your father in law and by the blessings of the ald mite god join you to my beloved Daughter Charlet TURNER hoping that you will consider your self well married to her as if you were joined by a minister."
Joseph in Lake Superior-Lake Huron
1841-1849
From 1841 to 1845 Joseph was an Interpreter in the Lake Superior Region; 1845-46 in the Lake Huron District.
Around 1845 daughter Elizabeth re-married to Charles ROUSSAIN (b-c1821), according to some of his descendants.
During the outfit year 1846-47 Joseph was in the New Brunswick District, then for the next two years (1847-49) back in the Lake Superior District again.
Emma & Joseph's Final Years in the Moose Factory District
1849-1875
In 1849 he returned to his original posting in the Moose Factory District.
Around 1850 daughter Jane married Alexander McLEOD (1825-1885) from Scotland, an HBC apprentice post master from the Timiscaming District (east of Sault Ste Marie).
In 1853-54 James Steward CLOUSTON (1826-1874) was the Chief Factor at Moose.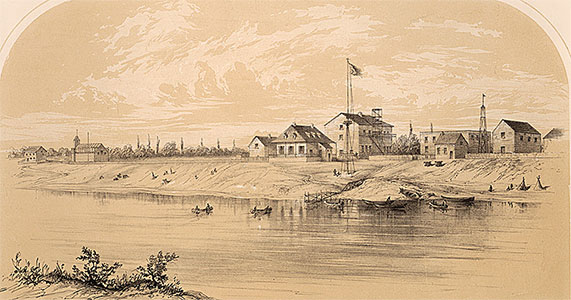 Moose Factory 1854
(Ontario Archives)
Around 1858 daughter Mary married James MORRISON in Moose Factory, the eldest son of Mary TURNER and James MORRISON SR (1789-1872), an HBC Blacksmith from the Orkineys of Scotland.
** MORE ABOUT JAMES MORRISON SR
From 1863 until he died, Joseph was a 'Freeman' (retired) in the Moose Factory district.
In 1864 youngest daughter Harriet married Gundar UDGAARDEN, an HBC Cook and Mess Steward who was born around 1827 in Norway.
On Mar 16, 1865 Joseph TURNER died at Moose Factory.

On Jun 23, 1875 Emma died Jun 23, 1875 at Moose Factory.
In 1887 daughter Matilda married William LONGWORTH in Sault Ste Marie, son of Sarah and William LONGWORTH SR.
Please post comments and queries at this link: FORUM DISCUSSING the JOSEPH TURNER FAMILY
========================== Family Details ==========================
Children:
1. Oct 27, 1806 HANNAH TURNER (m. Thomas HUMPHREYVILLE)
** MORE ABOUT THOMAS HUMPHREYVILLE
2. 1812 PHILIP TURNER (m. Jane Chisholm BOLAND)
3. c1816 JOSEPH TURNER JR (m. Sarah HUMPHREYVILLE)
** MORE ABOUT JOSEPH TURNER JR
?4. 1820 RICHARD TURNER (m. Jane)
** Said to have been a step-son
5. 1823 ELIZABETH TURNER (m1. William ISBISTER, m2. Charles ROUSSAIN)
6. Jun 15, 1824 MARY TURNER (m. James MORRISON)
6. 1826 ALEXANDER TURNER
7. July 11, 1828 CHARLOTTE TURNER (m. James HARPER)
** MORE ABOUT JAMES HARPER
8. 1832 MATILDA TURNER (m. William LONGWORTH)
9. Apr 7, 1834 JANE TURNER (m. Alexander McLEOD)
** MORE ABOUT ALEXANDER McLEOD
10. 1835 JAMES TURNER
11. 1837 HARRIET TURNER (m. Gundar UDGAARDEN)
** MORE ABOUT GUNDER UDGAARDEN