JAMES MORRISON (1818-1895)
MARY TURNER (1824-1901)
(Last Updated: April 25, 2016)
James MORRISON was born about 1818 at Fort Albany on James Bay, the eldest son of Frances SANDERSON and James MORRISON SR (1789-1872), an HBC Blacksmith from the Orkineys of Scotland.
** MORE ABOUT JAMES MORRISON SR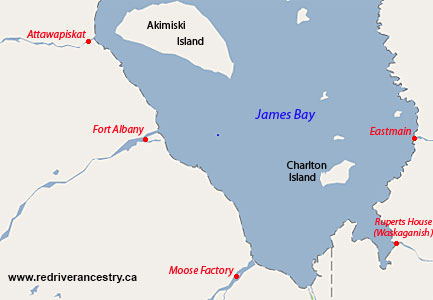 An Apprentice at Albany Post, Hudson's Bay Company
1831
In 1831 James (age 13) became an employee with the Hudson's Bay Company (HBC) at Fort Albany where he served as an apprentice for the next eight years, undoubtedly under the supervision of his father (James Sr) from whom he learned the skills of boat building and carpentry.
Moose Factory
1839
In 1839 James was moved to Moose Factory where the HBC records indicate he worked as a Boat Builder for the rest of his life.
Marriage to Mary TURNER
1857
Around 1858 James' wife was Mary TURNER, probably the daughter of Emma GOOD and Joseph TURNER (1783-1865), an HBC interpreter at Moose. On Jan 18, 1858 their first child, Emma was born there.
Canadian Confederation
1867
On July 1, 1867 the British colonies in North America were united under the British North American Act to become the Dominion of Canada.  Sir John A MACDONALD (1815-1891) was appointed as Canada's first Prime Minister.
By 1870 James had four children at Moose: Emma (age 12), James (8), Elizabeth (3) and Anne (age 1).
In 1880 eldest daughter Emma Rachel married George MOORE at Moose Factory, son of Helen ALDER and Joseph MOORE (1818-1885).
Census of 1881 in Moose Factory: James MORRISON, Boat Builder, age 64; wife Mary, age 57. Children: James (age 19), Elizabeth (14) and Anne (age 12).
Around 1888 daughter Elizabeth married Augustus George BECK (1857-1900) who was born in Berlin, Germany, and died in 1900 in the Algoma District (ON), after which Elizabeth re-married to John Henry PARRY (1870-1908) from England.
On Mar 8, 1895 James MORRISON died at Moose Factory.
On Jun 18, 1901 Mary (nee TURNER) MORRISON died at Moose Factory.
Comments and queries at this link: FORUM DISCUSSING THE FAMILY OF JAMES MORRISON JR
========================== Family Details ==========================
Children:
1. Jan 18, 1858 EMMA RACHEL MORRISON (m. George MOORE)
2. 1862 JAMES MORRISON
3. 1867 ELIZABETH SOPHIA MORRISON (m1. Augustus George BECK; m2. John Henry PARRY)
4. 1869 ANNE MORRISON